Funeral held for slain Moody police officer Williams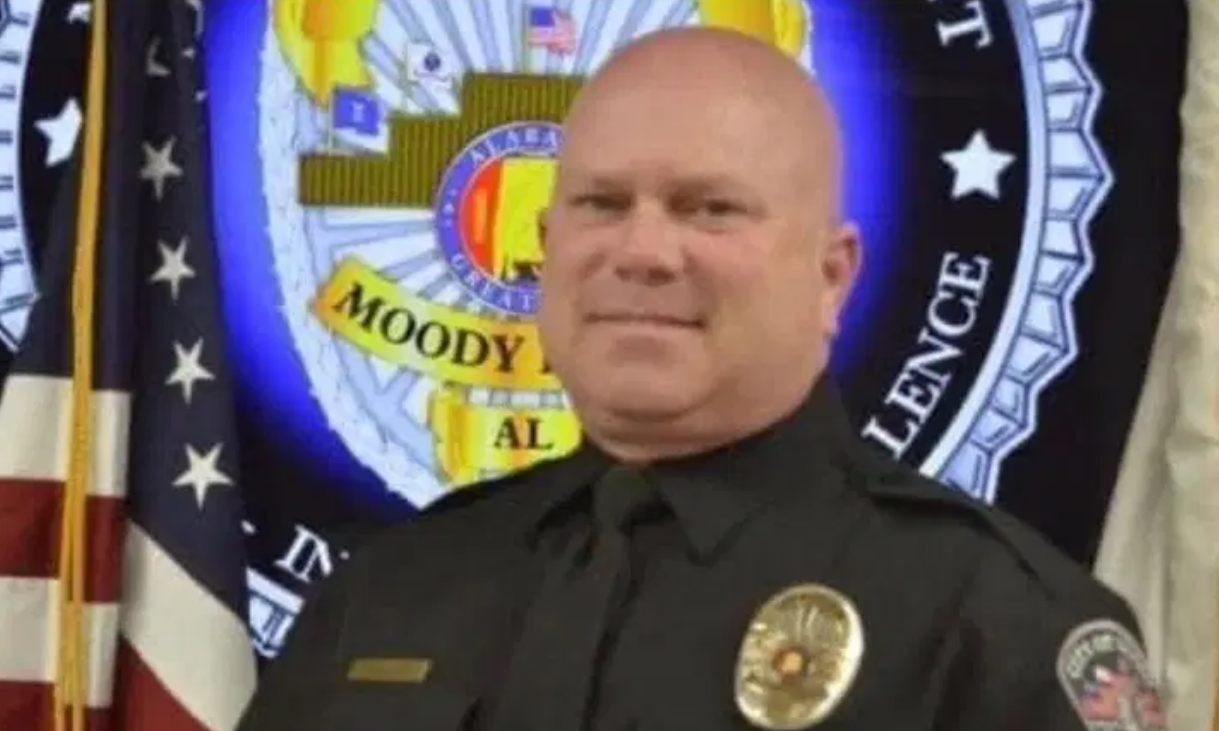 Monday, slain Moody police officer Lt. Stephen Williams was buried less than a week after he was killed in the line of duty.
Williams was responding to a report of a disturbance at the Super 8 Motel on Highway 411 in Moody when he and a police trainee were fired upon.
"Fallen Moody PD Lt. Stephen Williams was laid to rest today," said U.S. Attorney Jay Town. "Law enforcement from around Alabama and the entire country gathered to pay tribute to a brother whose end of watch came much too soon. I was honored to be among them. We must forever remember his sacrifice in the protection and service to his community. My thoughts and prayers are with the Williams family, Moody PD, and all who knew him."
Also on Monday, the St. Clair County District Attorney's office announced that a judge has denied bail for the Birmingham couple that have been charged with killing Lt. Williams. Tapero Johnson, age 27, and Marquisha Tyson, age 28 were both charged with capital murder for the shooting death of Lt. Williams. The two could potentially receive the death penalty.
Birmingham couple charged in the slaying of Moody police officer
Tyson and Johnson were arrested at the scene after a long standoff with authorities. A number of weapons were found at the scene as well as illegal drugs. Many details of the crime have not yet been released.
"This is a very ongoing, complex, and intense investigation. We are by no means complete," said St. Clair County Sheriff Billy Murray.
Williams' funeral was held at Moody First Baptist Church. Hundreds of law enforcement officers representing agencies from across the state attended the services and then joined Lt. Williams's body on its final journey. Hundreds of Moody residents lined the roadway to pay their last respects to Williams. Williams was laid to rest in Montevallo.
Officer Williams patrol cruiser has been on display in front of the Moody Police station. People have left flowers, notes, wreaths, bows, and other items in tribute to Williams.
Williams worked for three years with the Moody Police Department, but he worked in law enforcement for 23 years. Williams served for several years with the Alabaster Police Department and also worked at Calera and Bessemer.
On Friday, Moody Police Chief Thomas Hunt announced that Sergeant Williams had been promoted to Lieutenant, a position that Williams had been in discussion with the department about.
"He was awesome. He was awesome – just a good man, good person, funny to be around, won officer of the year award a couple years ago," Hunt said. "He made the rank of sergeant last year, worked night shift for us. Very thorough in his paperwork, very thorough as a sergeant, a good teacher and a good mentor. Lot of guys looked up to Stephen. He was a very good close friend."
Sen. Doug Jones won't support SCOTUS nominee before Nov. 3 election
"Certainly, power grabs are not uncommon in our political system, but few are accompanied by such blatant hypocrisy as we are witnessing now," Jones said.
Sen. Doug Jones, D-Alabama, on Friday said he would not support any nominee to the U.S. Supreme Court before the outcome of the Nov. 3 election is determined. 
Speaking during a livestreamed briefing, Jones said that while Republicans appear to have enough votes to replace the late Justice Ruth Bader Ginsburg, he will not be a party to denying the people a voice in the process in the election of the next president "in just under 44 days." 
President Donald Trump said Saturday that he plans to nominate Amy Coney Barrett to replace Ginsburg, who on Friday became the first woman, and first Jewish person, to lie in state at the U.S. Capitol. 
Several Republicans who voiced opposition to President Barack Obama's nomination of Judge Merrick Garland to the Supreme Court more than 10 months before the 2016 election have reversed course, and now say they support Trump nominating a selection with election day just a little more than a month away. 
"Certainly, power grabs are not uncommon in our political system, but few are accompanied by such blatant hypocrisy as we are witnessing now," Jones said. "In fact, I believe that the level and intensity of hypocrisy being displayed by Senator McConnell and the president, with regard to the rush to confirm Justice Ginsburg's successor, is unmatched in the history of our constitutional government." 
Jones said what McConnell and other Republicans should be focusing on instead is getting another round of much-needed COVID-19 aid to small businesses and people impacted by the pandemic. 
"Rather than pushing this confirmation to the top of the Senate calendar, the majority leader should turn his focus instead to protecting the lives and livelihoods of the American people. We should pass a new bipartisan COVID-19 stimulus package to give Americans and businesses the relief that they desperately need, and that economists say if required to shore up the economy now," Jones said. 
Jones expressed concern as well for what medical experts are warning could be a new spike in COVID-19 nationwide. 
"There could be an even greater urgency, if our health care professionals' warnings come to pass," Jones said. "And that is as temperature drops and people go indoors that this virus spikes, and we see another surge." 
Asked why his opponent, Tommy Tuberville, won't debate Jones, he said, "It's pretty simple. He doesn't know what he's talking about."  
"He has no clue. He is Coach Clueless," Jones said. 
Jones noted that when asked recently on his thoughts on extending the John R. Lewis Voting Rights Act of 2020, Tuberville stumbled through an answer that indicated he wasn't sure what the Voting Rights Act was.
"He had no earthly idea," Jones said. 
Jones said Tuberville isn't going to debate him because Tuberville doesn't want to talk about issues.
"He doesn't want to talk about a plan. His plan is simply this: Whatever Donald Trump says, I'm good," Jones said, "and if Donald Trump says or does something that is not good, it's crickets coming from Coach Tuberville." 
Jones noted that after multiple news outlets, including Fox News, confirmed reporting that Trump had said disparaging things about veterans who died in combat, Tuberville has not spoken out against Trump's comments. 
Jennifer Griffin, senior national security correspondent for Fox News, reported that she has spoken to senior U.S. officials who backed up reporting by The Atlantic, and said Trump said of the Vietnam War "anyone who went was a sucker." 
"He has not said a thing about what was confirmed by Fox News about the president's comment," Jones said of Tuberville. "That's just disgraceful."