Auburn students who attended gatherings, bar worker test positive for COVID-19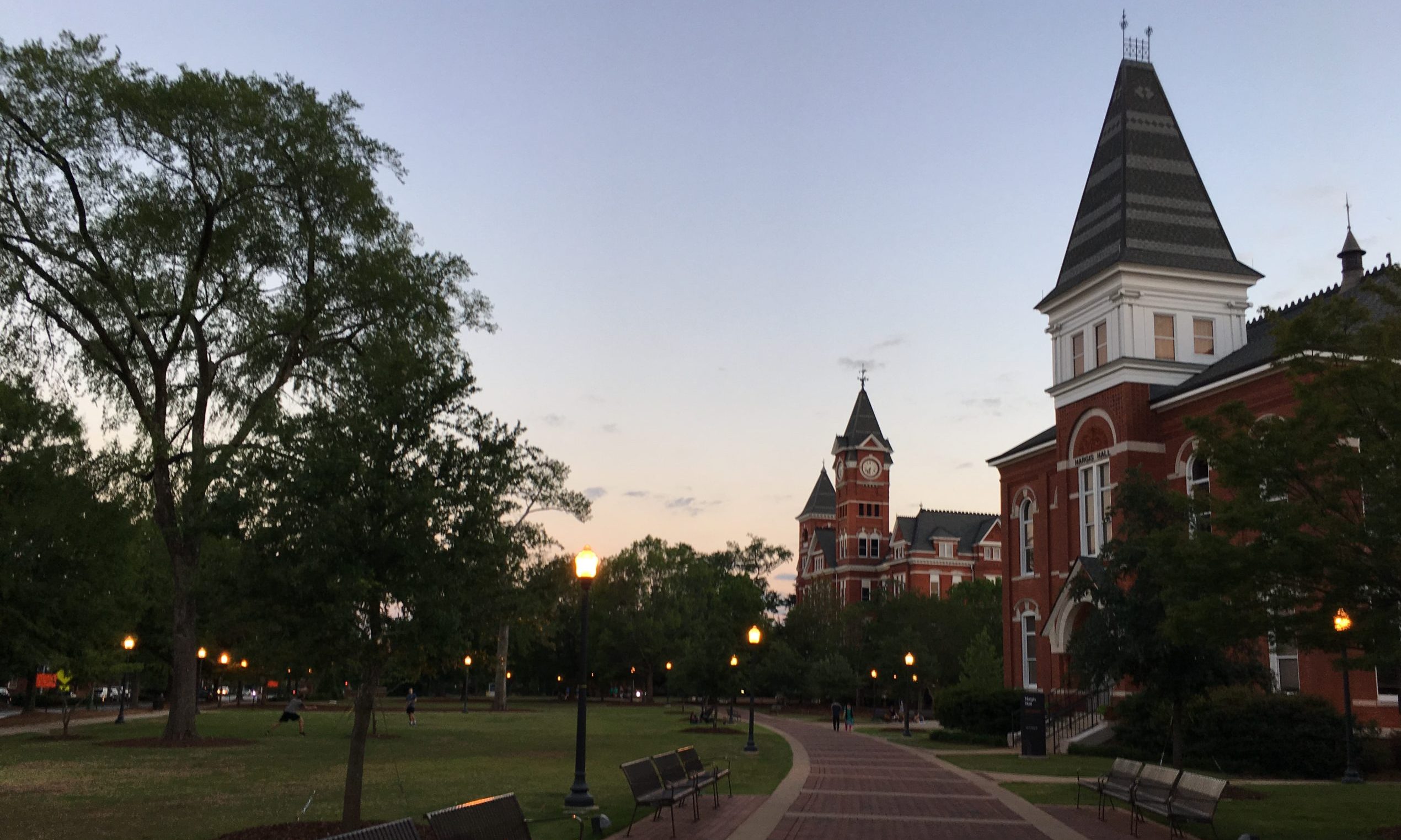 Twenty-four Auburn University students and a worker at an Auburn bar have all tested positive for COVID-19, a sign that social gatherings and the state's loosening of restrictions is resulting in a spike of cases there, according to local health experts. 
The 24 Auburn students who tested positive for the virus had been to birthday parties, lake parties and trips to downtown social establishments, according to an article by the East Alabama Medical Center, first reported by Opelika-Auburn News. 
"We are clearly seeing more confirmed cases of COVID-19," said Dr. Fred Kam, medical director at the Auburn University Medical Clinic, who added that the availability of more testing and the lifting of restrictions are probably contributing factors. 
"There is no doubt in my mind we are seeing the after effects of Memorial Day parties, weekends at the lake or beach, and visits to some downtown venues," Kam said. "I do not believe we have seen cases related to the protests, but it is still early in the timeline." 
Southeastern Bar in a Facebook post Monday said that an employee tested positive for COVID-19 Monday morning. 
"Even though none of our team members were presenting symptoms while at work, we will be closing our facility out of an abundance of caution. We will deep-clean the facility and have each of our employees tested so that we can reopen safely for our customers and staff," the post reads. 
The number of new COVID-19 cases in Lee County jumped 21 percent within the last week. As of Sunday there were 710 confirmed cases in the county, and 35 people there had died from the virus. 
Alabama reported 5,302 new COVID-19 cases over the last seven days, which was the highest number of reported new cases over seven days since the outbreak began. At least 7,646 cases have been confirmed in the last two weeks — also the most in a two-week period.
Dr. Jeanne Marrazzo, director of UAB's infectious diseases division, said Monday that the state's surge in new COVID-19 cases is coming at the time when we should be seeing the effects of the state's reopening. 
"We now have widespread, sustained community spread," Marrazzo said. "There's so much infection out there." 
Kam said in the East Alabama Medical Center article that he's concerned over the public's disuse of masks. 
"What is most frustrating to me as a physician who keeps up daily with COVID information is the seemingly lax attitude that people, young and old, have toward adhering to the only preventive strategies that have worked so far," Kam said. "Seeing people in the grocery stores and home improvement venues without masks and not making an attempt to keep a distance from others is incredibly frustrating, especially from those whom would be considered vulnerable."
Alabama reports record-breaking 2,164 new COVID-19 cases
Thursday's number of new cases hit 2,164 and blew past the previous daily record set on July 3 by 406 cases.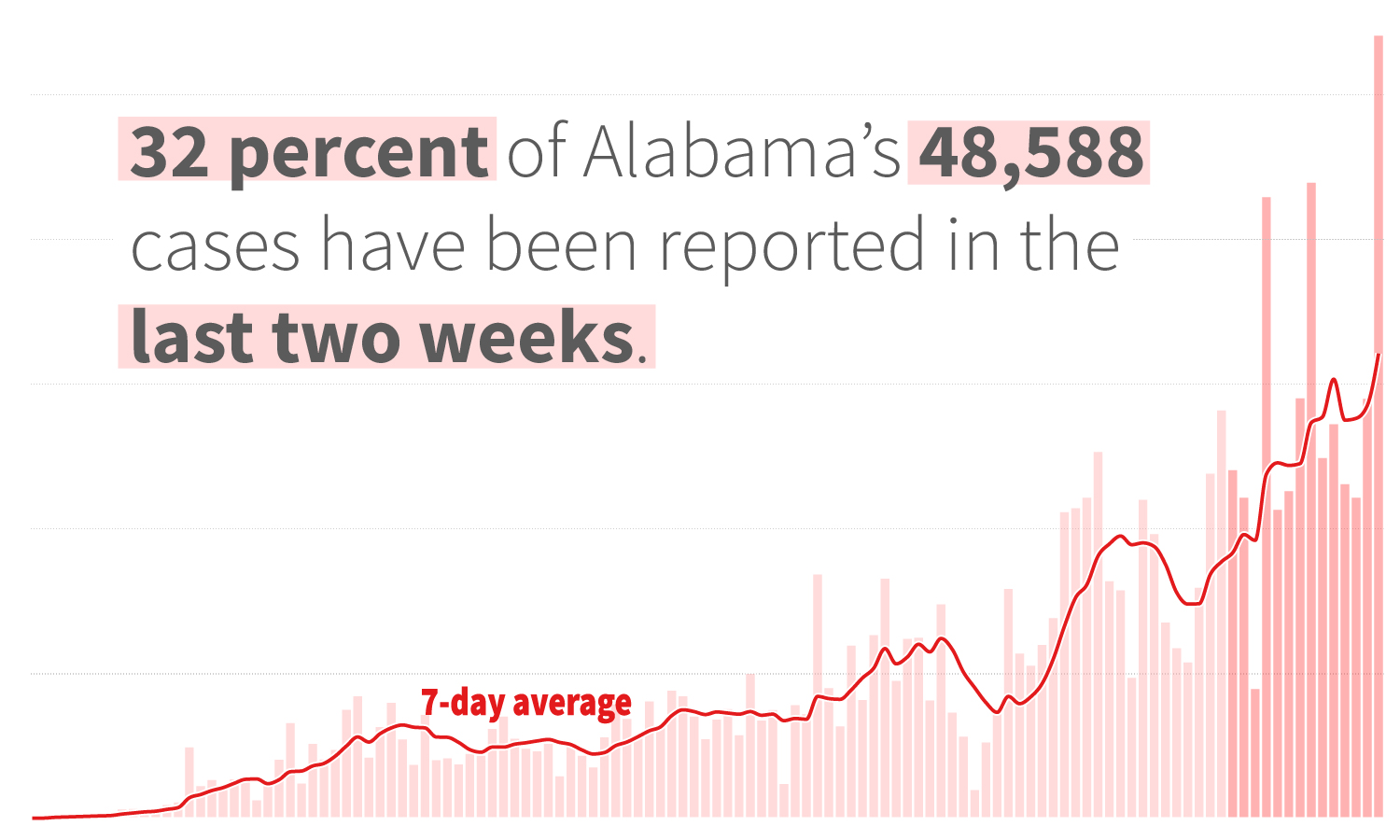 New COVID-19 cases in Alabama on Thursday jumped by nearly double from the day before, and for the first time broke 2,000 in a single day, according to the latest data from the Alabama Department of Public Health.

Thursday's number of new cases hit 2,164 and blew past the previous daily record set on July 3 by 406 cases. Both the seven-day and 14-day rolling average of new daily cases in Alabama were also at record highs Thursday. 
Thirty-two percent of the state's 48,588 cumulative confirmed cases have been added within the last two weeks. 
The Alabama Department of Public Health did not publish Wednesday an update to the total number of tests performed, which throws off the day's figures for the percentage of tests that are positive, but on average, over the last week, the state's seven-day rolling average of percent positivity has roughly 15 percent. 
Public health experts say the percent positivity should be at or below 5 percent — otherwise there isn't enough testing being done and cases are going undetected. 
Along with surging new cases, the number of COVID-19 patients hospitalized on Wednesday was higher than it's been since the beginning of the pandemic. On Wednesday 1,110 coronavirus patients were being treated in state hospitals, which was the fourth straight day of record current hospitalizations. 
UAB Hospital's COVID-19 Intensive care units were nearing their existing capacity Tuesday. The hospital has both a COVID ICU and a COVID acute care unit designated to keep patients separated from those who don't have the virus, but it has more space in other non-COVID units should it need to add additional bed space.

Hospitals in Madison County this week are also seeing a surge of COVID-19 patients. Paul Finley, the mayor of the city of Madison, told reporters Wednesday that local hospitals were reporting record numbers.

Hospitals there were at 80 to 90 percent capacity.
"Our ambulances yesterday had their greatest number of runs since this started," said Crestwood Hospital CEO Dr. Pam Hudson on Wednesday, adding that in about 20 percent of calls staff is having to wear full personal protective equipment. "That indicates that they are working with patients who have symptoms that could be compatible with COVID."
Meanwhile, Madison County set a new daily record, adding 286 cases Thursday, the first time the county has surpassed 200 cases a day. The county was largely spared early on in the pandemic, with low case counts and low death rates, but roughly 42 percent of Madison County's total case count since March has been reported in the last week as 803 new cases have been added.
Jefferson County and Madison County, over the last week, have accounted for 26 percent of the state's new cases.
Jefferson County led the state in the most new cases Thursday with 343 and has added 1,498 cases in the last week. The county's total cases increased by 33 percent from last week, and stood at 6,030 confirmed COVID-19 cases Thursday.
While Jefferson County and Madison County are seeing the state's most intense increases, other large counties including Shelby County, Baldwin County and Tuscaloosa County have also seen record increases and rising percent positive rates.
At least 81 people have died from COVID-19 in the last week, and 162 people have died in the last two weeks.
At least 1,042 people have died from COVID-19 since March, and at least 26 other deaths are listed as "probable" COVID-19 deaths.