Since the first case of COVID-19 arrived in Alabama in March, Dr. Donald Williamson, the president of the Alabama Hospital Association, has said he's confident the state's hospitals can handle an influx of coronavirus patients.
That changed Tuesday morning, when the state recorded the most COVID-19 patients ever being cared for across the state and, on the same day, had the fewest available intensive care beds since the pandemic began.
"For the first time, I would have to say, I'm growing worried about the system," Williamson told APR. Before Tuesday, Williamson has expressed concerns about individual hospitals or cities, but not the state as a whole.
On Tuesday, there were 678 COVID-19 patients across the state's hospitals, 73 of whom were admitted on Tuesday, Williamson said, the largest number of admissions in a single day since the pandemic began.
Of the state's 1,600 available ICU beds, on Tuesday morning, just 268 were available, the lowest since the COVID-19 crisis began.
"This morning we theoretically had three ICU beds in the Montgomery region," Williamson said. "The truth is, by the time they get that report, I suspect those beds were filled."
However, about 58 percent of the state's supply of ventilators — the lifesaving devices that are so often needed to keep the worst-off COVID-19 patients alive — were available Tuesday morning.
The Tuscaloosa area had a single ICU bed available Tuesday morning, Williamson said.
"And what I'm worried about is I'm now looking at Huntsville, and I'm looking at Birmingham and their ICU bed availability is beginning to decrease," Williamson said.
For more than 10 days, the state has been running at around 600 admitted COVID-19 patients daily, and if that pace keeps up into the fall, when hospitals begin seeing regular flu patients in need of that same care, it could quickly overwhelm the state's hospital system, Williamson said. It's the worst-case scenario, he said.
Williamson said he's concerned that the public is no longer taking the need to social distance and wear masks seriously, and it's showing in the continued increase of coronavirus cases and hospitalizations.
With Fourth of July celebrations nearing, businesses reopening and churches beginning to hold in-person gatherings, Williamson said he's concerned we could be in for a "very, very bad July."
"I'm worried that in the flu season with COVID-19 not under control, that's when we potentially create the greatest stress on the system," Williamson said.
Jackson Hospital in Montgomery recorded the largest number of COVID-19 patients on Tuesday, with 62 patients being cared for.
Baptist Health's three hospitals in the Montgomery area on Tuesday had 117 COVID-19 patients. Combined, the Montgomery area hospitals are caring for more patients than at any point since the pandemic began.
Despite Alabama's continued rise in cases and hospitalizations, Vice President Mike Pence in a call with governors on Monday, encouraged them to tell the public that new coronavirus outbreaks is due to a rise in testing, a statement that data from numerous states shows to be incorrect — including in Alabama.
"I would just encourage you all, as we talk about these things, to make sure and continue to explain to your citizens the magnitude of increase in testing," Pence said on a call with governors, as reported by The New York Times. "And that in most of the cases where we are seeing some marginal rise in number, that's more a result of the extraordinary work you're doing."
"But also encourage people with the news that we are safely reopening the country," Pence continued. "That, as we speak today, because people are going back to hospitals and elective surgery and getting ordinary care, hospitalization rates may be going up. But according to our most current information, hospitalizations for coronavirus are going down across the country."
Pence's suggestions do not match the reality in Alabama, where the rise in new COVID-19 cases isn't attributed solely to increases in testing, and where hospitalizations of coronavirus patients specifically continue to increase.
The 7-day rolling average of the percent of tests that are positive statewide in Alabama doubled within the last two weeks, from 7 percent to nearly 14 percent.
The positivity rate was as high as 23 percent on April 12, but the data was misleading, as the state was not capturing all negatives. At the time, fewer commercial labs consistently reported their negatives, according to Alabama State Health Officer Dr. Scott Harris speaking to APR then, meaning that the positivity rate could have been artificially higher.
Taking that into account, since the state started collecting nearly all negative tests performed by labs, making it possible to calculate a somewhat reliable positivity rate, the state's 7-day rolling average positivity rate of 14 percent today is as high as it's ever been since the pandemic began.
Such a high positivity rate suggests the state is missing many more undiagnosed cases and is not performing enough tests. Public health experts say the positivity rate should be at least below 5 percent.
Hospitalizations of COVID-19 patients are also as high as ever before.
The state's 7-day rolling average of hospitalizations on Monday was at 618 patients, a record high, and the daily number of COVID-19 patients being treated on Monday was 640, third highest yet. The other two highest daily COVID-19 patients happened on June 10 and June 11.
By Tuesday, that number rose to 678.
Across the country many states continue to hit record numbers of hospitalized COVID-19 patients. The Washington Post reported that ten states  — Alabama, Arkansas, California, Florida, Nevada, North Carolina, Oklahoma, South Carolina, Tennessee and Texas — saw record high hospitalized patients on Sunday.
And in Mobile, where President Donald Trump plans to soon hold a rally for Tommy Tuberville, who's running against former U.S. Attorney General Jeff Sessions, the data shows continued community spread of the virus.
Within the last week, Mobile County saw 284 new coronavirus cases, trailing behind just three other counties which had more new cases in that time, including Tuscaloosa, Jefferson and Montgomery counties.
As of Monday, only Montgomery County had more confirmed cases than Mobile County.
For the weekend ending June 13, Mobile County recorded the second highest number of COVID-19 patients attributed to community spread, meaning the patients weren't from a nursing home or long-term care facility.
That week county hospitals were treating 248 COVID-19 patients, according to the Mobile County Health Department.
The number of confirmed COVID-19 cases in Mobile County increased by 162 percent between April 30, when Gov. Kay Ivey's "stay at home" order ended, and June 16, when the county recorded 2,771 cases.
After the lifting of the "stay at home" order  Ivey issued a "safer-at-home" order that loosened restrictions. The state has since relaxed more restrictions twice, allowing more businesses, churches and entertainment venues to reopen with social-distancing restrictions and sanitation guidelines.
Trump's planned rally is to be held at the Ladd-Peebles Stadium in Mobile, where in August 2015 Trump held a rally that drew between 20,000 and 30,000 people. Before the event hundreds gathered outside tailgating as if before a football game, according to news accounts.
Attempts to reach Mobile Mayor Sandy Stimpson this week for comment on the planned rally were unsuccessful.
Brad Parscale, Trump's campaign manager,  on Monday tweeted that rally goers in Tulsa will each get hand sanitizer,  have temperature checks and be given masks, although the masks won't be required.
The campaign hasn't mentioned anything publicly about social distancing at the Tulsa rally.
Alabama reports record-breaking 2,164 new COVID-19 cases
Thursday's number of new cases hit 2,164 and blew past the previous daily record set on July 3 by 406 cases.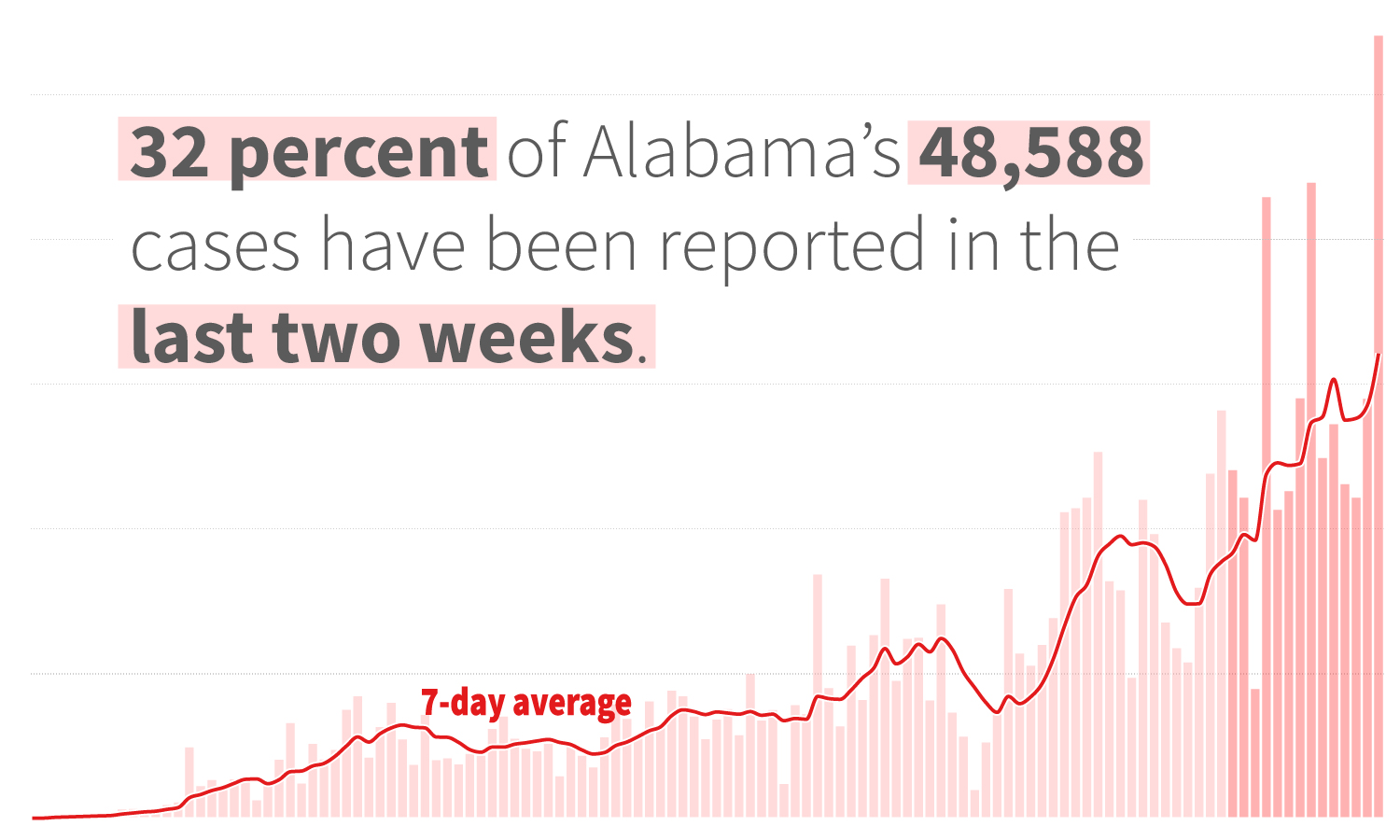 New COVID-19 cases in Alabama on Thursday jumped by nearly double from the day before, and for the first time broke 2,000 in a single day, according to the latest data from the Alabama Department of Public Health.

Thursday's number of new cases hit 2,164 and blew past the previous daily record set on July 3 by 406 cases. Both the seven-day and 14-day rolling average of new daily cases in Alabama were also at record highs Thursday. 
Thirty-two percent of the state's 48,588 cumulative confirmed cases have been added within the last two weeks. 
The Alabama Department of Public Health did not publish Wednesday an update to the total number of tests performed, which throws off the day's figures for the percentage of tests that are positive, but on average, over the last week, the state's seven-day rolling average of percent positivity has roughly 15 percent. 
Public health experts say the percent positivity should be at or below 5 percent — otherwise there isn't enough testing being done and cases are going undetected. 
Along with surging new cases, the number of COVID-19 patients hospitalized on Wednesday was higher than it's been since the beginning of the pandemic. On Wednesday 1,110 coronavirus patients were being treated in state hospitals, which was the fourth straight day of record current hospitalizations. 
UAB Hospital's COVID-19 Intensive care units were nearing their existing capacity Tuesday. The hospital has both a COVID ICU and a COVID acute care unit designated to keep patients separated from those who don't have the virus, but it has more space in other non-COVID units should it need to add additional bed space.

Hospitals in Madison County this week are also seeing a surge of COVID-19 patients. Paul Finley, the mayor of the city of Madison, told reporters Wednesday that local hospitals were reporting record numbers.

Hospitals there were at 80 to 90 percent capacity.
"Our ambulances yesterday had their greatest number of runs since this started," said Crestwood Hospital CEO Dr. Pam Hudson on Wednesday, adding that in about 20 percent of calls staff is having to wear full personal protective equipment. "That indicates that they are working with patients who have symptoms that could be compatible with COVID."
Meanwhile, Madison County set a new daily record, adding 286 cases Thursday, the first time the county has surpassed 200 cases a day. The county was largely spared early on in the pandemic, with low case counts and low death rates, but roughly 42 percent of Madison County's total case count since March has been reported in the last week as 803 new cases have been added.
Jefferson County and Madison County, over the last week, have accounted for 26 percent of the state's new cases.
Jefferson County led the state in the most new cases Thursday with 343 and has added 1,498 cases in the last week. The county's total cases increased by 33 percent from last week, and stood at 6,030 confirmed COVID-19 cases Thursday.
While Jefferson County and Madison County are seeing the state's most intense increases, other large counties including Shelby County, Baldwin County and Tuscaloosa County have also seen record increases and rising percent positive rates.
At least 81 people have died from COVID-19 in the last week, and 162 people have died in the last two weeks.
At least 1,042 people have died from COVID-19 since March, and at least 26 other deaths are listed as "probable" COVID-19 deaths.