Byrne supports Senate Republicans police reform bill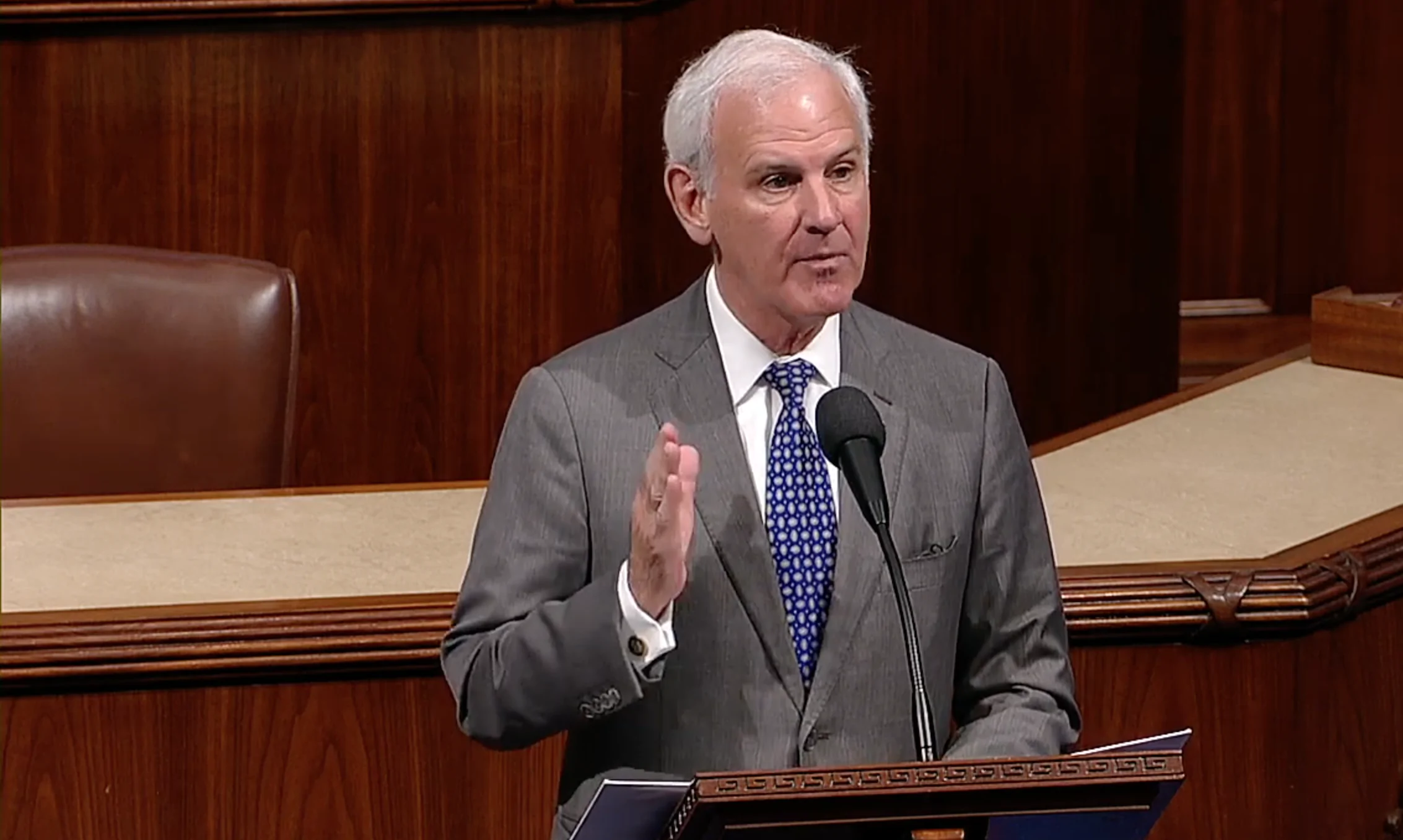 Congressman Bradley Byrne, R-Montrose, on Wednesday announced that he was supporting of Sen. Tim Scott, R-South Carolina, and Senate Republicans' plan to reform policing in this country, the JUSTICE Act.
"I applaud Senator Tim Scott for his leadership on the #JUSTICEAct, and I hope Congress will come together in a bipartisan manner to pass this bill and send it to President Trump for his signature," Rep. Byrne said on social media. "Instead of ridiculous partisan ideas like 'defunding the police,' Senator Scott has put together a commonsense proposal to address concerns about policing policies across the country in a way that actually promotes more transparency and better community policing."
Congressman Byrne has written against the "Defund the Police" movement that has gripped a number of major cities.
"The 'defund the police' movement is not the answer," Byrne wrote recently. "My colleagues Rep. James Clyburn of South Carolina, Rep. Bennie Thompson of Mississippi, and Delegate Eleanor Holmes Norton of the District of Columbia, all members of the Congressional Black Caucus, spoke out against it last week. Ms. Norton said that the poorest of the people she represents live in the parts of town that experience the most homicides and crime. 'I'm not sure I would hear them saying we ought to reduce the number of police, I may hear them saying just the opposite,' she said."
"Neither does it make sense to paint all of law enforcement with a broad and negative brush," Byrne continued. "We all need law enforcement and we are blessed that the vast majority of our officers are good professionals, often doing their jobs under dangerous circumstances. Last year 89 officers died in the line of duty in the U.S. Many more were injured. Most of us don't work in a job where it is unclear whether we will return home at the end of the day safe and sound. But they do."
Sponsors say that the Just and Unifying Solutions to Invigorate Communities Everywhere (JUSTICE) Act provides long-term solutions focused on police reform, accountability and transparency, while also promoting efforts to find solutions to systemic issues affecting people of color such as education and health disparities.
"Now is the time for reform," Scott said. "The murder of George Floyd and its aftermath made clear from sea to shining sea that action must be taken to rebuild lost trust between communities of color and law enforcement. The JUSTICE Act takes smart, commonsense steps to address these issues, from ending the use of chokeholds and increasing the use of body worn cameras, to providing more resources for police departments to better train officers and make stronger hiring decisions. I want to thank Leader McConnell and the entire task force not just for their hard work on putting this bill together, but for their commitment to finding real solutions."
"I really appreciate Senator Scott's leadership putting together a police reform proposal that will make a difference," stated Senator Lindsey Graham, R-South Carolina. "This proposal reinforces the need for better community policing, best practices and creating more transparency when it comes to reporting encounters with law enforcement throughout the country. I hope our Democratic colleagues will take this proposal seriously, and that all of us work together to find common ground to bring reform to policing in America."
"When I spoke with George Floyd's family last week, they asked me for one thing: justice. That is what we set out to do with this legislation," said Sen. John Cornyn, R-Texas. "The JUSTICE Act is a package of significant reforms that already have bipartisan support, so there's no excuse for Democrats to reject them out of hand. Although many of the changes to reform policing in our communities will happen at the local level, we can help stem racial inequality and ensure America's police are more responsibly serving our communities."
The JUSTICE Act strengthens the training methods and tactics throughout law enforcement jurisdictions, especially regarding deescalation of force and the duty to intervene, providing law enforcement with new funding to do so, and will also end the practice of utilizing chokeholds.
The bill will reform hiring practices by providing more resources to ensure the makeup of police departments more closely matches the communities they serve. It also ensures that when a candidate is interviewed, the department looking to hire will have access to their prior disciplinary records
The JUSTICE Act will put more body cameras on the streets and ensure that departments are both using the cameras and storing their data properly. The bill requires a report establishing best practices for the hiring, firing, suspension, and discipline of law enforcement officers. Currently, only about 40 percent of police officers from jurisdictions nationwide report to the FBI after an incident where an officer has discharged his or her weapon or used force.
The bill will require full reporting in these two areas The JUSTICE Act will also make lynching a federal crime. It creates two commissions to study and offer solutions to a broader range of challenges facing black men and boys, and the criminal justice system as a whole.
Congressman Bradley Byrne represents Alabama's 1st Congressional District. He is not seeking re-election.
Jones: Trump executive orders are "more for show than actual help for the Americans people"
Democratic Alabama Sen. Doug Jones had harsh words for recent executive orders that President Donald Trump signed in lieu of continuing to pursue a bipartisan legislative COVID relief package. Jones said that Trump's executive orders extending coronavirus relief are "more for show than actual help for the American people."
"While the President is attempting to give the appearance that he is leading the cavalry coming to the rescue of the American people, these executive orders are anything but that," Jones said. "The executive order to extend the now-lapsed emergency unemployment assistance will cut benefits by $200 a week or more for Alabamians and asks states, whose budgets have already been burdened by the pandemic, to foot part of the bill. The payroll tax collection moratorium is a way for President Trump to follow through with his promise to defund Medicare and privatize social security by putting the solvency of these programs at risk while still leaving open the possibility that those taxes may need to be paid in a lump sum next year."
"By signing these executive orders that are more for show than actual help for the American people, President Trump has confirmed that his administration has not acted in good faith and had no intention of reaching bipartisan agreement on legislation that would benefit all Americans," Jones said. "The Senate, which absolutely should not have recessed without passing a relief package, needs to immediately return to Washington to pass legislation that provides adequate support for the Americans who are suffering as a result of this virus as well as our economy. We need to come to a bipartisan compromise that deals with the full slate of urgent issues facing our country: we need a national strategy for COVID testing and contact tracing, to extend federal eviction moratoriums, to provide much-needed funding for state and local governments, and to ensure schools have the resources they need to reopen safely — among so many other needs."
Both parties wanted a fifth coronavirus aid package passed before Congress broke for August recess, but negotiations broke down between Democrats and the White House over the size of the aid package.
"It's completely inexcusable that Mitch McConnell waited over two months after the House of Representatives passed the HEROES Act to begin negotiations on this relief package, knowing full well that many of the programs that Americans have relied on during this crisis would expire at the end of July," Jones continued. "The failure to negotiate an adequate bipartisan deal speaks to a broader breakdown in leadership in Washington, and I strongly urge my colleagues to put partisanship aside to come together to pass a relief bill as soon as possible. Lives and livelihoods are at stake, and each day we spend arguing over politics is another day that our institution fails the American people."
Some Democrats have threatened to challenge the president's executive actions in court. Treasury Secretary Steven Mnuchin said that Democrats would have a lot of explaining to do if they challenged the White House's efforts to get enhanced unemployment benefits to Americans.
"We've cleared with the Office of Legal Counsel all these actions," Mnuchin said on "Fox News Sunday." "If the Democrats want to challenge us in court and hold up unemployment benefits to those hardworking Americans that are out of a job because of COVID, they're going to have a lot of explaining to do."
The president's executive actions would provide $400 in increased federal unemployment benefits, which is down $200 from the $600 enhancement that they were getting.
"We thought $400 was a fair compromise. We offered to continue to pay $600 while we negotiate, and the Democrats turned that down," Mnuchin said.
The Democratic proposal that passed the House, the HEROES Act, would have added $3.4 trillion to the national debt.
Jones is trailing Republican candidate Tommy Tuberville in the race for U.S. Senate according to a poll released last week.