Rev. Robert Turner had just finished a talk with God — a talk in which he promised God that he would be more attentive and more responsive to the prodding that God might send his way — when his cell phone buzzed with an incoming text message. 
It was God. 
Or, well, at least in Turner's mind, it was God. And He had a new pathway for Turner's life — one that he never envisioned. One that would take him far away from his comfort zone and his home in Alabama. One that would thrust him into a fractured city brimming with racial tension and the site of the country's worst race riot. 
The text message originated not from the Almighty, but instead from a church bishop in Tulsa, OK. He wanted Turner to come lead the 100-plus-year-old Vernon AME Church in the Greenwood neighborhood of Tulsa. 
Turner knew nothing of Tulsa, nothing of the Vernon AME church and nothing of the city's painful history and troubled present. But he did know that he had just made a promise to God. 
"What do you say at that point?" Turner asks, laughing. "I said the only thing I could say: I accept. I didn't know the salary. I didn't know the name of the church. I didn't know anything about the place. And I hadn't even asked my wife about it."
It has certainly worked out as if a higher power arranged it.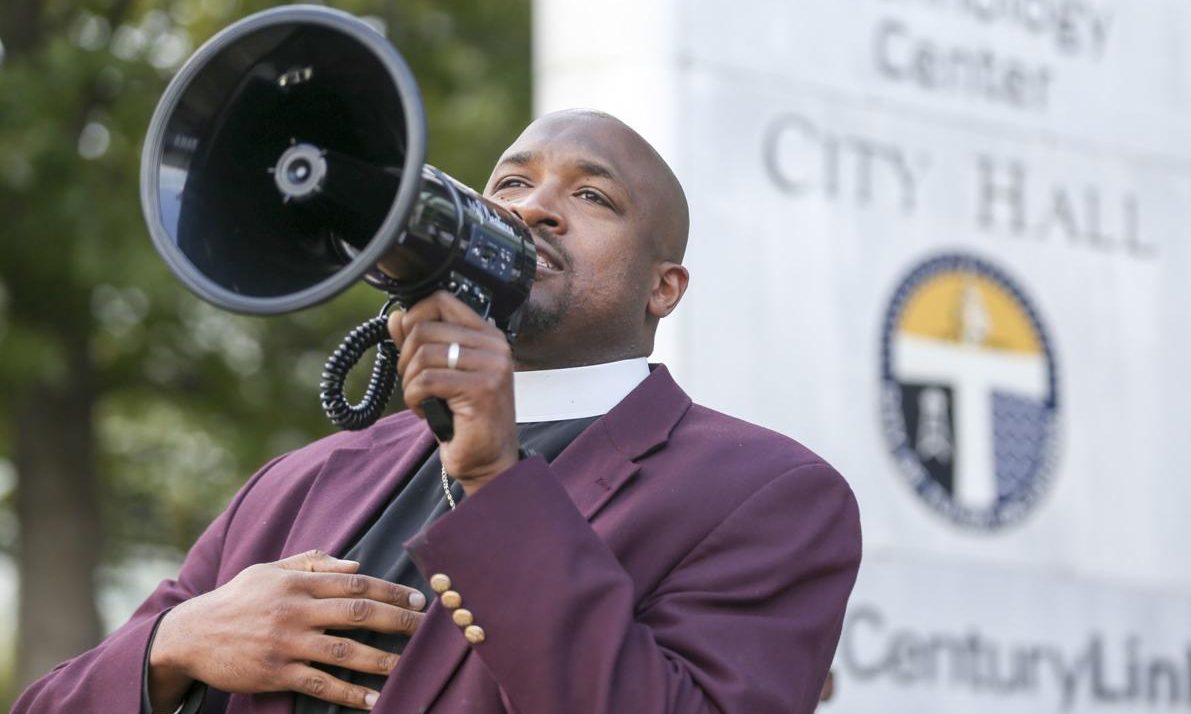 Last year, Turner was named "Tulsan of the Year" by the Tulsa World newspaper. He has become a fixture around town, and one of the most widely known and respected men in Tulsa. And he has helped establish Vernon AME as a center point in the town's reckoning over its ugly racial history. 
"For an Alabama boy, they're treating me pretty well," Turner joked. "Honestly, it's been like a dream. From the moment I got here, I knew I came here for a reason. It just felt right and good."
Turner and his church have been, and will likely continue to be, a focal point this weekend, as President Trump holds a rally in the town. That rally, in the midst of the COVID-19 pandemic and a day after the Juneteenth holiday (it was originally scheduled on that day), has been widely criticized, including by Turner. 
In a recent interview on MSNBC, Turner said he was "disgusted" that Trump chose his city on that historic holiday (his comments came before the rally date was changed) to relaunch his campaign. "I believe he cares more about black votes than he does about black people," Turner said. 
The politics of it all isn't lost on Turner, nor is he novice in that field. Prior to going into ministry, Turner was a well-known figure in Alabama political circles. 
Born on the campus of Tuskegee, Turner said he was raised in the New South and Alabama Democratic Conference. He graduated from the University of Alabama with a political science degree, interned for Sen. Richard Shelby and Alabama Supreme Court Justice Harold See and worked with the Alabama Education Association. 
In 2005, he was enrolled in law school at Alabama when he couldn't shake the feeling that he was supposed to do something else. He dropped out and went on a mission trip to Africa. Turner said he knew immediately that he had found his calling. 
Over the course of the next several years, Turner would earn his masters of divinity and doctorate of ministry and go on to lead five other churches in Alabama prior to the call from Tulsa. 
"Like with the text message from the bishop that night, I've had these moments in my life where I felt an incredible pull to go down a certain pathway," Turner said. "Leaving law school was one of the toughest decisions of my life, but I knew quickly that it was the right thing. The same is true here in Tulsa."
While Turner's success in Tulsa is obvious now, it wasn't exactly an easy path. Almost 100 years removed from the Tulsa race riots — or "massacre," as Turner more accurately refers to it — the city is still very much scarred and broken. Old resentments remain, and Turner believes it will take massive concessions to ever repair them. 
Given that past, it's not hard to understand why. 
Tulsa was once the African-American mecca of the United States. In the Greenwood community, where Turner's Vernon AME Church stands, black businesses thrived — so much so that the area was dubbed "Black Wall Street." 
In the early 1900s, black men and women in Tulsa were every bit as wealthy as white people, and in many cases were more so. Six different black families in the city owned their own airplanes. Jobs were plentiful, housing was affordable and the citizens of Greenwood were happy and content. 
Then the Tulsa Tribune reported that a black man had attempted to rape a white woman. An angry mob formed. And the terror began. 
For three days, whites in Tulsa burned businesses and houses. They destroyed any semblance of a community. More than 300 people were killed. More than 800 were injured. And at least 35 city blocks were burned to the ground. And the Black Wall Street was killed. 
It is a story that has been whitewashed from many American history books. It is not taught in most schools. And because of those omissions, the story sounds like an exaggerated tale of misery that can't possibly be true. 
Yet, it is. A commission formed in 2001 examined the events closely and released a detailed report. Those details are horrific. 
"It was a massacre," Turner said. "Innocent women and children and babies were murdered in their homes. For no reason." 
That commission report also made a number of recommendations — most controversial among them was the idea of reparations paid by the city to the victims' families. That recommendation was based on the fact that city officials, operating in their official capacity, actively participated in the riots. 
Turner has latched onto that report, and the idea of reparations, and has become a thorn in city leaders' sides. Each Wednesday, prior to city council meetings, Turner takes a bullhorn and stands on the steps of city hall, where he preaches and excoriates those who he feels are blocking the progress. He has met with city officials and pushed to get the commission's recommendations implemented, and he has attracted national attention for doing so.
His passion and his unwavering dedication to the cause have endeared him to the church and much of the town. And Vernon AME, under Turner's leadership, has become a leader in the town, as well. 
During the COVID-19 pandemic, as businesses all around the church began to close, Turner made the decision to offer meals to anyone who needed a meal. He had no plan, no budget and no idea how — or even if — any of it would work. 
"We hoped to feed about 50 people, if we could. That's all our limited budget could manage," Turner said. 
To date, they've fed nearly 50,000 people. 
"It's just … crazy," Turner said. "There's no business plan for this. There's no way we thought we could ever do that much. We're not set up for it. But never doubt God."
While Turner seems to have made a home in Tulsa, the Alabama in him hasn't been completely neutralized, particularly when it comes to football and barbecue. The UA grad took some real heat when his beloved Crimson Tide throttled Oklahoma in the 2018 Orange Bowl. And once you've had Archibald's or the original Dreamland, well, nothing else is really barbecue. 
But he's adjusting. 
"I was called here for a reason — I know that," Turner said. "There was a plan for me here. When the text came through that night, it might as well have been God."