Tuberville: Supreme Court put "political correctness ahead of the rule of law"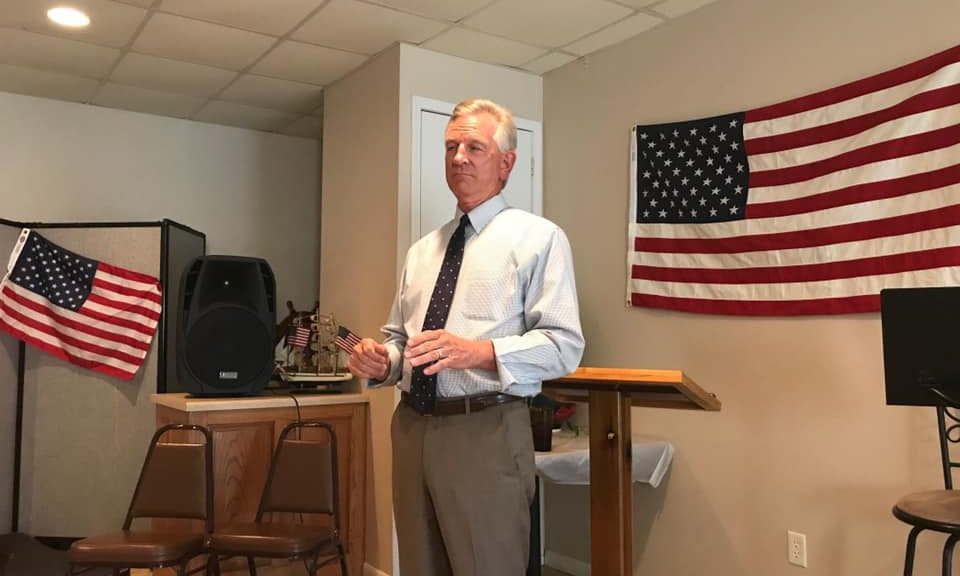 U.S. Senate candidate Tommy Tuberville, on Thursday, denounced the Supreme Court decision blocking efforts by the Trump administration to end the DACA program.
"The Supreme Court put swampy political correctness ahead of the rule of law and the everyday, hardworking Americans who have joined President Trump in making our country great again," Tuberville stated on social media. "Our tax dollars should NOT be used to provide for those who break our laws with their simple presence!"
The Deferred Action for Childhood Arrivals (DACA) program was started by Pres. Barack H. Obama (D) in 2012. It created by executive order a temporary legalization of undocumented immigrants who provided evidence that they were brought to this country as minors. Pres. Donald J. Trump (R) and then Attorney General Jeff Sessions had attempted to end the program, The Trump administration argues that DACA was illegal from its inception and that an executive order by one president can be reversed by the executive order of a following president. Thursday's ruling put several legal hoops for the administration to go through in order to end DACA, effectively keeping DACA in place until after November's presidential election.
Congressman Mike Rogers, R-Saks, said that he was "Shocked" by the Supreme Court decision,
Tuberville is a former Auburn head football coach. He was also the head coach at the University of Mississippi, Texas Tech University, and Cincinnati University as well as the defensive coordinator at Texas A&M and the University of Miami. Tuberville is running in the July 14 Republican Party primary runoff. His opponent is former U.S. Senator Jeff Sessions.
Sessions, who was Alabama's Senator from 1997 to 2017, is running claiming that he is stronger on fighting illegal immigration than Tuberville, a point that Tuberville disputes.
"As U.S. Senator, I will work with President Trump to add more conservative judges with backbone to the Supreme Court. We need more Scalias, Thomases, and Kavanaughs, NOT more Roberts."
Conservative justices Clarence Thomas, Brett Kavanaugh, Sam Alito, and Neal Gorsuch all found in favor of the administration, while Chief Justice John Roberts, though a Bush appointee, sided with the court's four liberal justices in the majority decision.
"I will always fight to confirm judges who support our Constitution and reflect our conservative Alabama values," Tuberville promised.
President Trump has endorsed Tuberville over Sessions, his former Attorney General.
Tuberville and his wife Suzanne live in Auburn. They have two sons.
The winner of the Republican primary runoff will face incumbent Sen. Doug Jones, D-Alabama, in the November 3 General Election.
Voter Protection Corps recruiting local organizers in Alabama
The national nonprofit March On is recruiting regional leaders for its Voter Protection Corps, a grassroots network of organizers who will be trained to spot and counteract voter suppression ahead of the 2020 election in 14 key states, of which Alabama is one.
"With closed polling places, broken machines, long lines and the assault on mail-in ballots, voter suppression efforts have reached dangerous new heights in 2020," said Andi Pringle, March On's director of strategic and political campaigns. "Coupled with a global pandemic, these efforts threaten our ability to hold a free, fair and safe election in November. March On is looking for young leaders who are fired up to turn out the vote and protect democracy."
Selected recruits will function as captains who then recruit at least five volunteers to form a squad. There will be about 20 squads in each state, Pringle said.
Captains will be trained by lawyers to know the ins and outs of their local election laws. They will train their squads to help voters exercise their rights to mail-in voting and early voting and will establish relationships with local election protection initiatives, election officials and community leaders.
Voter suppression can take many forms, Pringle said, including misinformation about polling locations, voter ID laws and various legal and administrative obstacles that can prevent average people "who don't live and breathe this stuff" from casting their vote. Fighting such tactics is generally talked about in terms of attorneys and happens on or after Election Day, but that doesn't prevent bureaucratic disenfranchisement that occurs in the days and weeks before the election, Pringle said.
"So the vote is already suppressed before they even get to the polls," she said.
March On is recruiting captains from the Divine 9 Black fraternities and sororities, as well as women, veterans, young professionals, college students and recent graduates. It plans to have more than 7,000 corps members nationally.