Internal polling shows Tuberville, Jones would be a tight race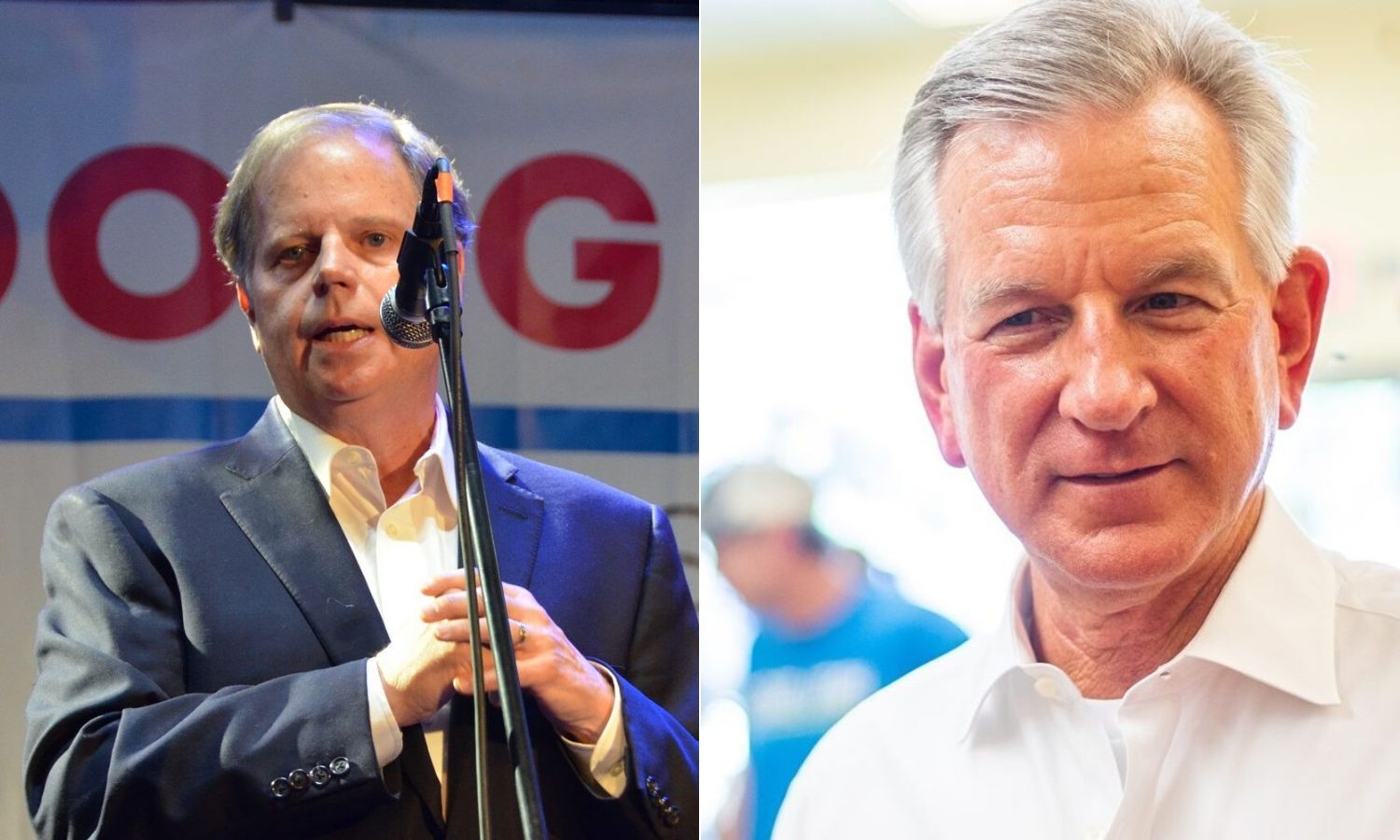 Sen. Doug Jones' campaign released an internal poll Monday showing that the incumbent Democratic senator and Republican Senate candidate Tommy Tuberville would be in a tight head-to-head battle should Tuberville win next month's runoff.
The poll shows Tuberville slightly edging Jones 47 percent to 44 percent, but the difference is within the poll's margin of error of 4 percent.
The poll was prepared by FM3 Research. The survey of 601 likely November general election voters show a highly competitive race between incumbent Jones and Tuberville. Nine percent are still undecided.
A key factor could be Black voters. In the 2017 special election Doug Jones received 96 percent of the Black voters' support while Republican nominee Roy Moore received less than four percent of the vote. According to the FM3 Research poll if Jones can pull a repeat performance and somehow manage to receive even 92 percent Black support in November, the race would be dead-even at 46 to 46 percent.
The poll shows that Tuberville continues to hold a wide lead over Sessions among Republicans most likely to vote in the July 14 Republican primary runoff. Tuberville's advantage is more than 20 percentage points: 54 percent to 32 percent.
Little changed since a poll conducted after the March 2020 primary in which Tuberville led Sessions 54 percent to Sessions 32 percent.
The FM3 poll surveyed 601 Alabama registered voters likely to cast a ballot in the November 2020 Election. The survey also includes an oversample of Republicans who are likely to vote in the July U.S. Senate runoff election. The interviews were conducted via landline and cell/mobile telephone by live interviewers. The margin of error for the November general election results is plus or minus four percent. The margin of error for population subgroups will be higher.
In response, the Sessions campaign accused the Jones campaign of trying to pick their general election opponent.
Sessions' spokesman John Rogers said, "This is classic Chuck Schumer. They want to trick Alabama Republicans into picking the weakest candidate so they can beat him. Tuberville is weak, and Jones and Schumer know it. On July 14th, Alabama Republicans will tell these Washington insiders to back off and get lost."
The Sessions campaign claims that Sen, Sessions is gaining in the polls and is now within striking distance of Tommy Tuberville.
The Sessions campaign claimed that "Tuberville sent a desperate plea to his ultra-wealthy campaign donors begging for money. The memo states, "A new poll shows that Coach holds a lead in this primary runoff… but also that Jeff Sessions is rapidly closing the gap!""
The Sessions campaign claimed that Tuberville is sinking in the polls as voters weigh the choice between a proven conservative fighter like Jeff Sessions and an amateur like Tuberville."
"Doug Jones desperately wants to run against a weak candidate like Tommy Tuberville," Rogers said. "That's why he is releasing this poll today – Jones wants to pick the Republican primary winner whom he believes he can beat."
The Sessions campaign told the Alabama Political Reporter that Sessions beats Jones in every poll they have conducted.
The Tuberville campaign also disputes the Jones poll and shared a poll with APR by Montgomery based Cygnal showing Tuberville with a 14 point general election lead over Jones.
Sewell: Confirming Barrett before the election would undermine Supreme Court's legitimacy
"The nomination of Judge Amy Coney Barrett is clearly tainted by the hypocrisy of Senate Republicans to go back on their own promise," Sewell said.
Saturday, Congresswoman Terri Sewell (D-Alabama) released a statement claiming that President Donald J. Trump's (R) nomination of Judge Amy Coney Barrett to replace Justice Ruth Bader Ginsburg as Associate Justice on the Supreme Court was tainted by the hypocrisy of Senate Republicans and that confirming Judge Barrett would undermine the legitimacy of the Supreme Court.
"The Supreme Court nomination by President Trump today, with the 2020 presidential election only 38 days away, denies the American people a voice in this very important decision," Rep. Sewell said. "The nomination of Judge Amy Coney Barrett is clearly tainted by the hypocrisy of Senate Republicans to go back on their own promise not to fill a vacancy on the Supreme Court so close to a presidential election. This standard articulated by Senate Republicans was applied against President Obama's nomination of Judge Merrick Garland eight months before the 2016 presidential election. This blatant power grab by Trump and Senate Republicans is especially disturbing given that the voting process has already begun with hundreds of thousands of voters having cast their ballots in the 2020 presidential election."
"Fairness and comity demand that the Senate not confirm any vacancy on the Supreme Court until the American people have chosen the next president," Sewell concluded. "To do otherwise, I believe would undermine the very legitimacy of the Supreme Court."
Friday before Barrett was even nominated, U.S. Senator Doug Jones (D-Alabama) announced that he will not support any Trump nominee for the Supreme Court for the vacancy created by Justice Ruth Bader Ginsburg's passing. Jones stated, "I will not support the confirmation of any Supreme Court justice nominee before the election."
"Justice Ginsburg was a role model and an inspiration," Sen. Jones said. She was a brilliant and tireless advocate, a champion for fairness and equality, and her efforts have brought our country closer to the ideals upon which it was founded."
"It is a poor reflection of the state of our national politics that, just hours after Justice Ginsburg's passing, we were thrust into a divisive partisan fight over her successor, denying the nation the time to mourn this extraordinary American's death," Jones continued. "Just weeks from a national election, we are confronting a blatant power grab by Senate Majority Leader Mitch McConnell and the President that will undermine the court and subvert the will of the American people."
"Just four years ago, Leader McConnell held open a Supreme Court seat for ten months before a presidential election because he said time and again that, in an election year, we must let the American people decide," Jones said. "If confirming a Supreme Court justice ten months prior to a presidential election would have denied the American people a voice, then isn't he now denying the American people a voice by rushing to confirm a justice just weeks before a presidential election?"
"I believe the answer to this question is a resounding YES," Jones continued. "This is especially true given the urgent legislative work we have yet to do. Leader McConnell should turn his focus instead to protecting the lives and livelihoods of the American people by bringing a new bipartisan COVID-19 relief package up for a vote. We also need to pass the National Defense Authorization Act to support our military. We need to pass our annual funding bills instead of kicking the can down the road with yet another costly continuing resolution. We need to pass the John Lewis Voting Rights Advancement Act, which has languished in this Senate, in order to protect the right of all Americans to vote and participate in our democracy."
"Consequently, under these circumstances, I will not support the confirmation of any Supreme Court justice nominee before the election," Jones explained. We should not force the country into a brutal and divisive partisan confirmation fight while Americans are already voting to choose the next President. If President Trump is re-elected, I will evaluate any pending or future nominee on their merits and vote for or against the nominee based solely on their qualifications."
Trump has already appointed Neil Gorsuch and Brett Kavanaugh to the U.S. Supreme Court. President Barack H. Obama (D) only got to select two of his nominees to the court. When conservative icon Supreme Court Justice Antonin Scalia died in 2016 – the previous election year, Republicans led by McConnell and Sen. Richard Shelby (R-Alabama) blocked Obama's appointee, Merrick Garland.
Jones also voted against previous Trump nominee Brett Kavanaugh.
Congresswoman Terri Sewell represents Alabama's Seventh Congressional District. Sewell has no Republican general election opponent.