Rogers congratulates Trump on completion of 200 miles of border wall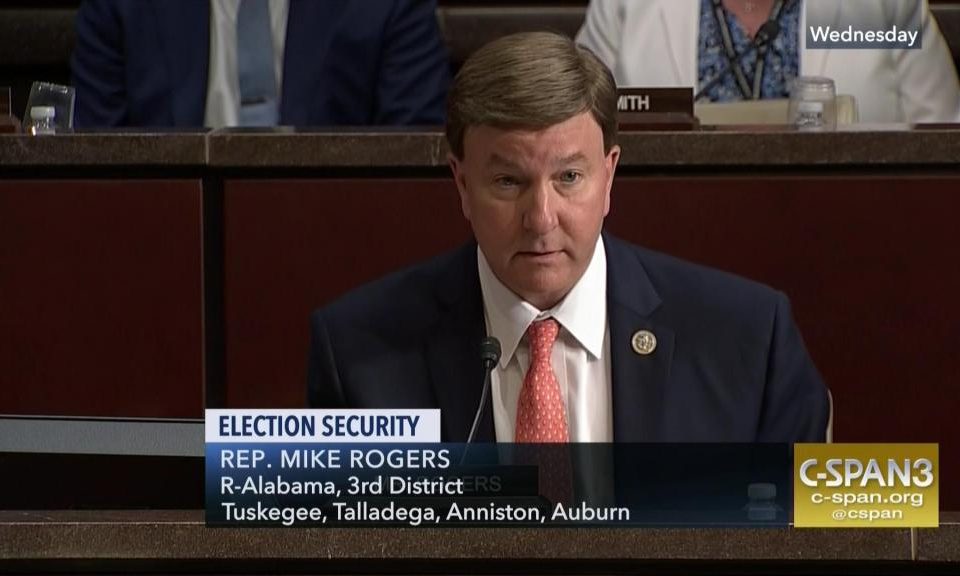 Tuesday, President Donald J. Trump (R) visited the U.S. southern border to observe the completion of the construction of over two hundred miles of the border wall. Rep. Mike Rogers (R-Saks), the Ranking Member of the House Homeland Security Committee, congratulated the President following Trump's celebrated visit to Yuma, Arizona.
"Congratulations to President Trump on this huge milestone," Congressman Rogers said. "Since the start of President Trump's campaign, he has promised to make our country safer by ensuring the border wall system is built. The barrier deters illegal crossings, impedes drug trafficking, and enhances safety for our Border Patrol Agents. I'm thankful to this Administration and our border law enforcement officers for their work on an all-of-the-above strategy to secure our southern border including 21st century technology, all-weather patrol and access roads, additional agents, and the physical barrier the President viewed today."
"We're on pace to complete 450 miles by the end of the year, and 500 miles almost immediately thereafter," the President said at a roundtable in Yuma. "Our border has never been more secure!"
"Illegal immigration is down 84 percent from this time last year," Trump continued. "Illegal crossings from Central America are down 97 percent."
Nearly 450,000 pounds of illegal drugs have been intercepted by the U.S. border patrol this year alone. According to the White House as of today, U.S. Customs and Border Protection has built approximately 216 miles of new wall system. Six miles have gone up in just the past week. Construction is underway now for 339 additional miles in high-priority locations along the southern border.
"My administration has done more than any administration in history to secure our southern border," President Trump said. "Border security is national security."
The President said that criminal organizations, including drug traffickers and human smugglers, have long exploited America's porous southern border to put the lives of both U.S. citizens and law-abiding immigrants at risk. Tragically, children are often the biggest victims. Vicious, transnational gangs such as MS-13 pray on minors and commit heinous attacks in communities across America.
The White House said that under President Trump, the rule of law is being restored, legal immigration is being protected, and American neighborhoods are being kept safe from drugs and violence.
67,367 Americans died from drug overdoses in 2018 alone.
Trump has made improving border security, including building the border wall, a top priority of the administration, despite opposition from congressional Democrats. Congressman Rogers has been a vocal supporter of the President's Homeland Security priorities.
To see President Trump deliver his comments:
America's southern border has never been more secure.

"Illegal immigration is down 84 percent from this time last year. Illegal crossings from Central America are down 97 percent." pic.twitter.com/m7zoNHvHNU

— The White House (@WhiteHouse) June 23, 2020
Mike Rogers is currently serving in his ninth term representing Alabama's Third Congressional District.
Alabama Democratic Party: Mitch McConnell, Senate GOP are playing politics at the expense of families
The Alabama Democratic Party this week released a statement blaming Senate Majority Leader Mitch McConnell, R-Kentucky, and Senate Republicans for the inability of the two parties to come together to pass a bipartisan coronavirus aid bill before adjourning for the August recess.
"We are furious. You should be too. Mitch McConnell and Senate Republicans are once again playing politics at the expense of Alabama families," the Alabama Democratic Party wrote in an email to its donors and supporters. "Mitch McConnell waited over two months after the House of Representatives passed the HEROES Act to begin negotiations on a new relief package. He knew full well that many of the programs that Americans have relied on during this crisis would expire at the end of July. Now, many Alabama families are in dire straits and facing evictions. As Senator Doug Jones said, 'this is completely inexcusable.'"
Negotiations on a deal failed Thursday night, and Trump responded to the impasse by passing a series of executive orders to extend benefits for the unemployed and provide a break from payroll taxes.
"The President's executive order is a thinly veiled attempt to fulfill his promise of cutting Medicaid and privatizing Social Security," the Alabama Democrats responded to the President's actions. "His payroll tax collection moratorium also leaves open the possibility that the taxes may need to be paid in a lump sum next year. We need a bipartisan solution from the Senate, not political stunts, and hollow executive orders."
House Democrats wanted a $3.4 trillion stimulus while the Republicans want to limit it to just $1 trillion.
"Tell Senate Republicans to extend unemployment benefits to 600 dollars weekly by signing our petition," the Alabama Democratic Party wrote. "Alabama workers, displaced by the pandemic, should be able to provide for their families and pay their bills. Tell Mitch McConnell to quit playing games and act now."