Jefferson County mask order goes into effect Monday amid surge in COVID-19 cases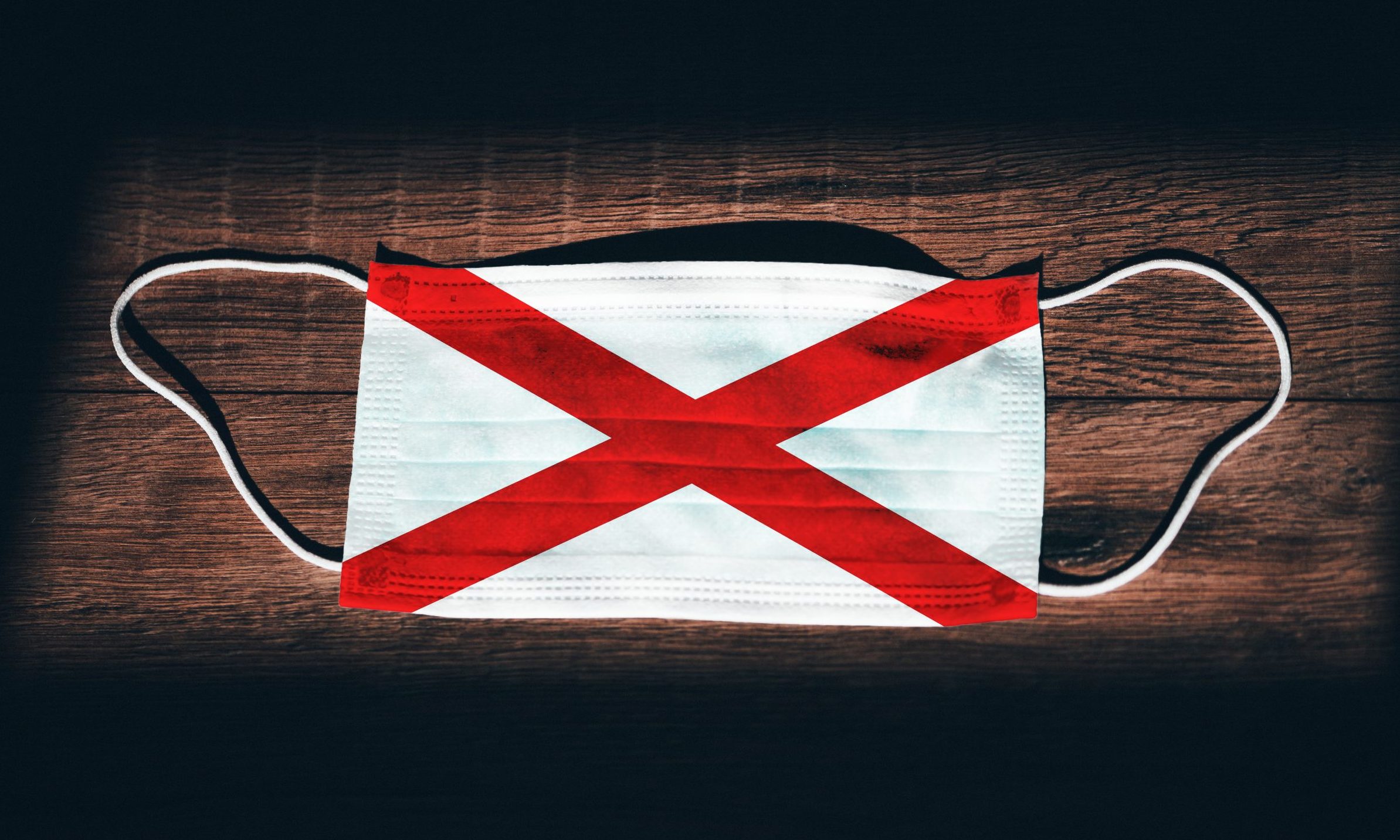 As new cases and hospitalizations of COVID-19 continue to surge in Jefferson County, the county's health officer on Friday announced an order that will require people to wear masks while in public.
Jefferson County Health Officer Dr. Mark Wilson, in a press briefing Friday, said the mask order for the public will be effective as of 5 p.m. on Monday. 
All people over the age of 8 will be required to wear masks inside businesses that are open to the public and while taking public transportation, Wilson said. 
Outdoor spaces are not covered by the mask order, except for when more than 10 people gather outside, or when a person cannot maintain six feet of distance from others.
Places of worship and schools aren't included in the mask order either. 
"They may use their own discretion," Wilson said of churches. "However, face coverings are strongly recommended during worship service, especially while there's congregation singing or speaking, or in situations where people are not able to maintain a safe distance from each other." 
Wilson said his order is to remain in effect until the county's COVID-19 numbers warrant a change. 
Wilson's order essentially extends the scope of a separate mask ordinance in the city of Birmingham to now include communities outside the city.
The reopening of schools makes Wilson "a little nervous," he said, but that local schools have been planning for how to do it safely, and that the education of children is important for the students' health as well. 
"We need ongoing discussions about that. It's complicated, for sure," Wilson said of schools and COVID-19. 
Jefferson County saw 149 new cases on Friday, the largest single-day new case count recorded in the county, bringing the county's total case count to 3,481.
Over the last week, Jefferson County added 690 cases, and if the trend continues the county could soon surpass the county with the most recorded cases, Montgomery County at 3,521.
Alabama's 964 new cases on Friday was the third-highest daily count since the pandemic began, and came the day after the state recorded its highest daily new cases — with 1,129 recorded on Thursday.
Hospitalizations are up as well. On Thursday, there were 694 hospitalized COVID-19 patients across the state, the highest single-day of hospitalizations since the crisis began. The total dropped to 658 on Friday with fewer hospitals reporting data.

Dr. Michael Saag, an expert in infectious diseases and a professor and associate dean at UAB's School of Medicine, said during the briefing that masks work, and that doing nothing will only lead to more pain and death. 
"If we do nothing, the numbers will continue to go up. This virus is here — not going away," Saag said. 
Saag described COVID-19 as "one of the most infectious agents we've ever encountered" and called on the public to take it seriously and wear masks. 
"This is a call out to our community to come together, to be patriots, to do the right thing, not only to protect ourselves, but to protect our family and our community," he said.

Saag said there is a projection that shows  that without action, there could be another 180,000 deaths in the U.S. by September, and 2,000 new deaths in Alabama in that time. If people wear masks Saag said that projection drops to 1,300 in the state and would save 700 lives. 
"You and me, we have the ability right now to prevent 700 people from dying in the next couple of months," Saag said. "If we do what I would call a patriotic duty to protect our community, to protect ourselves and our families."
Saag said there are hotspots all across Alabama, and encouraged people to stay at home when at all possible, practice social distancing when you can't stay home, and always wear masks in public. 
"The cases that we're going to see in the hospital, the cases we're going to see in Montgomery County and every county, for that matter, two weeks from now, were transmitted yesterday," Saag said. 
"We've got a lot of work in front of us and we've got to work as a community," Saag said. 
Every hospital in the Birmingham area is being stressed due to an influx of COVID-19 patients, Saag said, and he predicts it will only get worse in the coming weeks. 
The thought of not having enough space or equipment to care for all patients who need it keeps him up at night, Saag said. 
"Please, please work with us. Help us to mitigate this epidemic," Saag said. 
Johnjalene Woods of Gadsden said during the press briefing that she lost her father, sister and nephew to COVID-19 in five days' time. She survived the virus, but was hospitalized, as were numerous other members of her family, nine of whom tested positive for COVID-19. 
"I wasn't going to come, because I said people are not listening," Woods said. "But I think God afforded me this opportunity. One more chance to warn, please wear your mask." 
Woods stopped talking during the press briefing, paused and seemed to choke back tears when she spoke about seeing people without masks in public. 
"It's insulting to me, and I try not to take it personal because everyone is doing what they want to do, but to lose three family members in five days…" Woods said. 
The family buried those three loved ones while several of them were still COVID-19 positive. 
"I just plead with you and everyone, just please wear your mask,' Woods said.
Alabama reports record-breaking 2,164 new COVID-19 cases
Thursday's number of new cases hit 2,164 and blew past the previous daily record set on July 3 by 406 cases.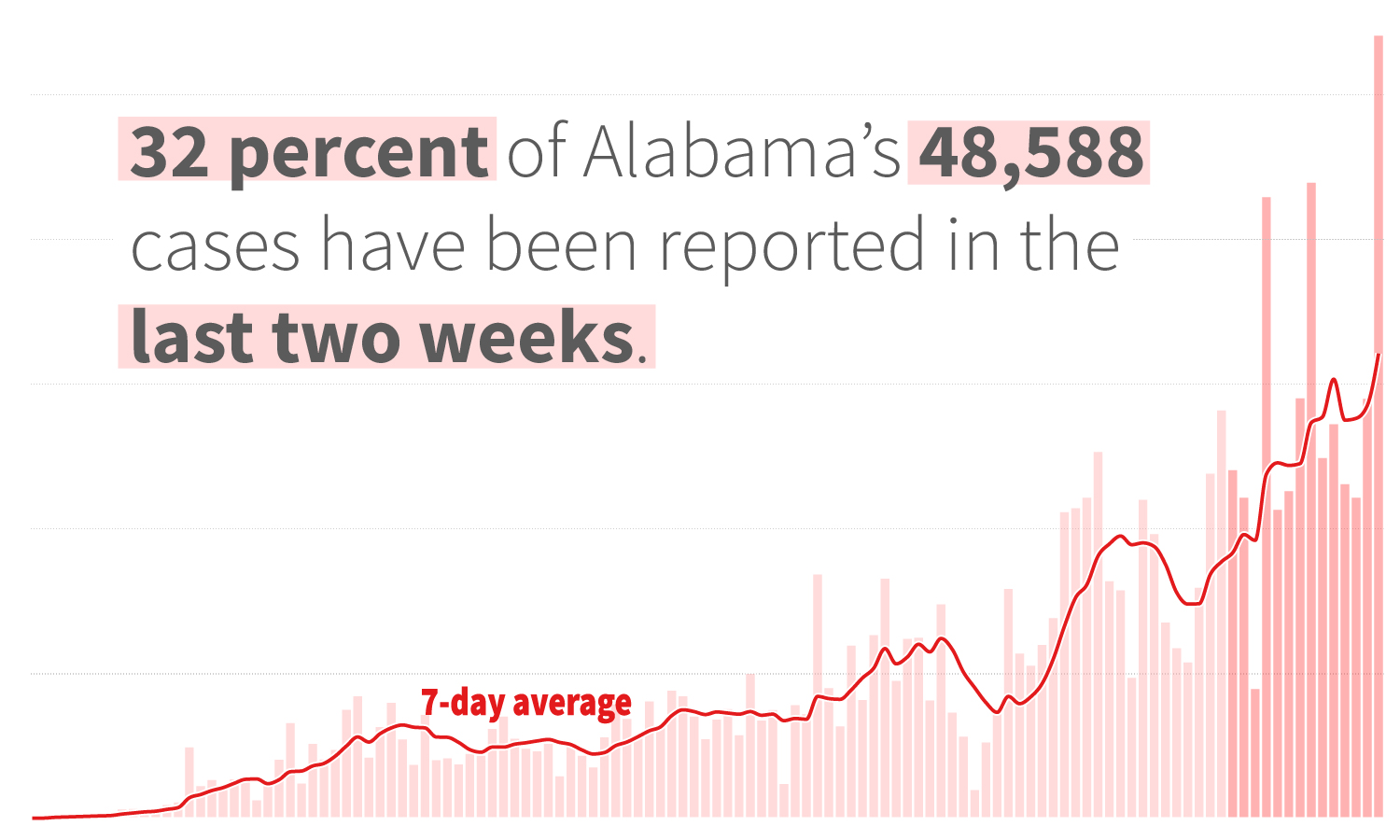 New COVID-19 cases in Alabama on Thursday jumped by nearly double from the day before, and for the first time broke 2,000 in a single day, according to the latest data from the Alabama Department of Public Health.

Thursday's number of new cases hit 2,164 and blew past the previous daily record set on July 3 by 406 cases. Both the seven-day and 14-day rolling average of new daily cases in Alabama were also at record highs Thursday. 
Thirty-two percent of the state's 48,588 cumulative confirmed cases have been added within the last two weeks. 
The Alabama Department of Public Health did not publish Wednesday an update to the total number of tests performed, which throws off the day's figures for the percentage of tests that are positive, but on average, over the last week, the state's seven-day rolling average of percent positivity has roughly 15 percent. 
Public health experts say the percent positivity should be at or below 5 percent — otherwise there isn't enough testing being done and cases are going undetected. 
Along with surging new cases, the number of COVID-19 patients hospitalized on Wednesday was higher than it's been since the beginning of the pandemic. On Wednesday 1,110 coronavirus patients were being treated in state hospitals, which was the fourth straight day of record current hospitalizations. 
UAB Hospital's COVID-19 Intensive care units were nearing their existing capacity Tuesday. The hospital has both a COVID ICU and a COVID acute care unit designated to keep patients separated from those who don't have the virus, but it has more space in other non-COVID units should it need to add additional bed space.

Hospitals in Madison County this week are also seeing a surge of COVID-19 patients. Paul Finley, the mayor of the city of Madison, told reporters Wednesday that local hospitals were reporting record numbers.

Hospitals there were at 80 to 90 percent capacity.
"Our ambulances yesterday had their greatest number of runs since this started," said Crestwood Hospital CEO Dr. Pam Hudson on Wednesday, adding that in about 20 percent of calls staff is having to wear full personal protective equipment. "That indicates that they are working with patients who have symptoms that could be compatible with COVID."
Meanwhile, Madison County set a new daily record, adding 286 cases Thursday, the first time the county has surpassed 200 cases a day. The county was largely spared early on in the pandemic, with low case counts and low death rates, but roughly 42 percent of Madison County's total case count since March has been reported in the last week as 803 new cases have been added.
Jefferson County and Madison County, over the last week, have accounted for 26 percent of the state's new cases.
Jefferson County led the state in the most new cases Thursday with 343 and has added 1,498 cases in the last week. The county's total cases increased by 33 percent from last week, and stood at 6,030 confirmed COVID-19 cases Thursday.
While Jefferson County and Madison County are seeing the state's most intense increases, other large counties including Shelby County, Baldwin County and Tuscaloosa County have also seen record increases and rising percent positive rates.
At least 81 people have died from COVID-19 in the last week, and 162 people have died in the last two weeks.
At least 1,042 people have died from COVID-19 since March, and at least 26 other deaths are listed as "probable" COVID-19 deaths.