Rep. Sewell leads 83 members of Congress to push for $86 billion for broadband expansion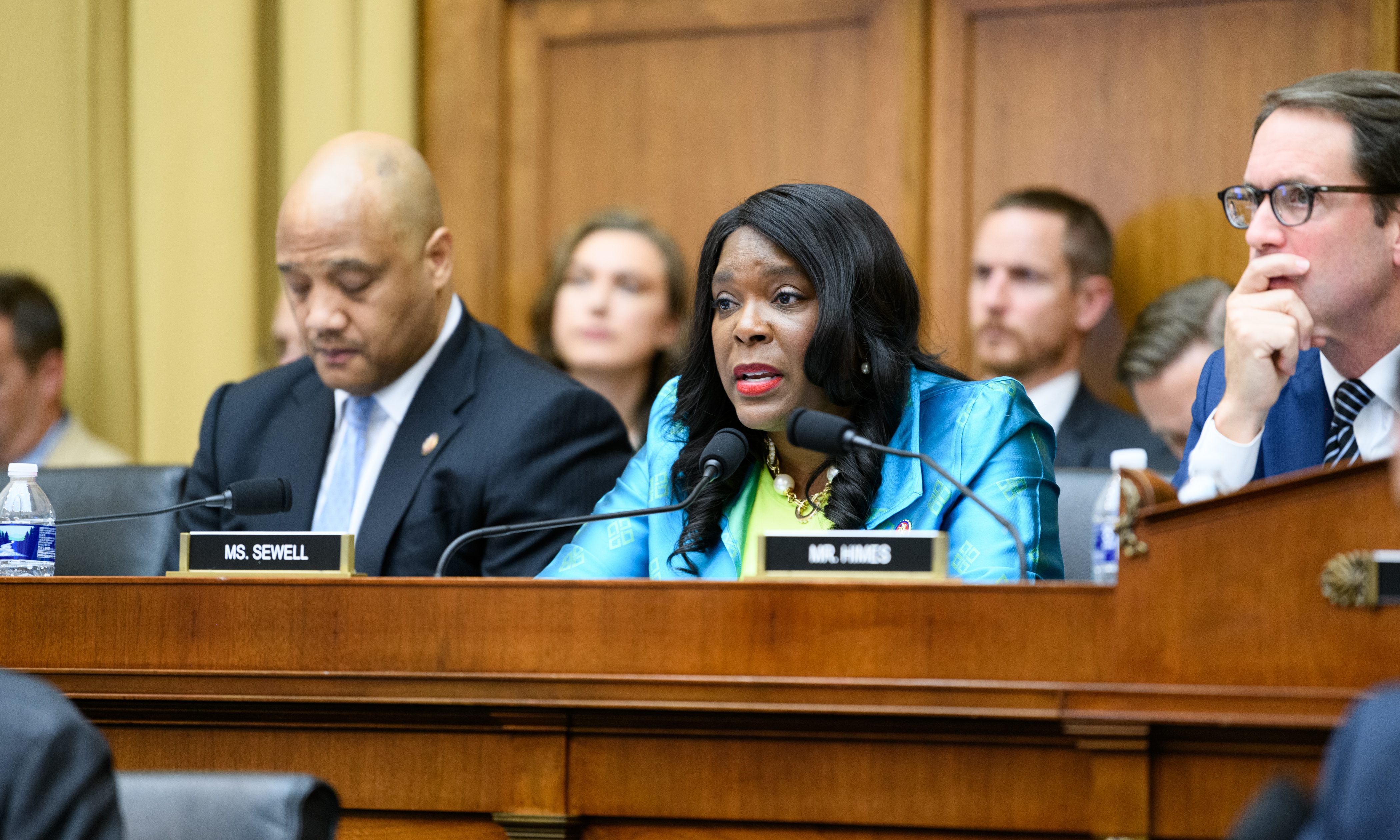 U.S. Rep. Terri Sewell, D-Alabama, and David Trone, D-Maryland, led 82 of their colleagues in sending a letter Tuesday to leaders of the House and Senate urging them to include in any future COVID-19 relief package at least $86 billion for the deployment of high-speed broadband internet.
Sewell and Trone sent the letter to House Speaker Nancy Pelosi, House Minority Leader Kevin McCarthy, Senate Majority Leader Mitch McConnell, and Senate Minority Leader Chuck Schumer.
"The coronavirus has only further highlighted the importance of high-speed, affordable internet, as lack of access has made it more difficult for Alabamians to learn from home, access telehealth service and telework during the pandemic," Sewell said. "It is beyond time that high-speed internet is treated as a basic utility and rolled out to every community across the country. The letter provides the framework for a future relief package that acknowledges just how critical broadband access is and calls on leadership to make a significant investment in its implementation."
"The coronavirus pandemic has shown that swaths of this country are being left behind by insufficient broadband infrastructure," Trone said. "It's time to invest in digital highways to bring the entire country into the 21st century and global economy. I want to thank Congresswoman Sewell and Whip Clyburn for joining in the effort to ensure this critical infrastructure is included in the next Congressional stimulus package."
According to Microsoft, about 25 million Americans lack access to reliable, high-speed internet and about 3.3 million Alabama residents do not have the minimum broadband speeds needed for video conferencing or streaming at home. The divide disproportionately impacts rural residents — with 19 million of the 25 million Americans without broadband living in rural areas.
"Future stimulus packages should support the deployment of secure and resilient broadband, provide hotspots for students to close the homework gap and allow for distance learning, and expand access and affordability for unserved and underserved communities with sufficient speed and data that reflects American families' increased reliance on internet access," they wrote in their letter. "We cannot wait to invest in high-speed broadband deployment necessary to reach every unserved and underserved American family, hospital, school and small business. … If we fail to invest now, millions of American will be disconnected from the economic recovery on the other side of this crisis."
Racial disparities also exist between which Americans have access to broadband and which do not. According to a 2017 Joint Economic Committee report, 82 percent of white households have access to high speed internet while just 70 percent of Black households do. Seventy-four percent of Hispanic households do and just 65 percent of Native American households do.
"We believe that in the response to the COVID-19 crisis an overall investment of $86 billion is needed," the letter continued. "This would expedite high-speed broadband deployment and expand funding to ensure that Americans who need broadband service can remain connected during this public health crisis and recovery. This includes expanded service for low-income consumers that meet the demands of telework, telehealth and telelearning. For instance, two tools ready to address these issues are the Federal Communications Commission's (FCC) existing Lifeline and E-Rate educational connectivity programs."
"The COVID-19 pandemic has made it increasingly clear that having access to high speed broadband is a necessity," the letter said. "We must invest in expanding affordable and reliable high-speed Internet access in the next emergency relief package. We thank you for your attention to this critical issue and looking forward to working in tandem to bring broadband to communities that are in desperate need of this essential tool for life in the 21st Century."
There is wide bipartisan support for increasing broadband access.
"COVID19 highlights the need for more broadband access in America," Congressman Mo Brooks, R-Alabama, said. "According to the Federal Communications Commission, 31 percent of rural Americans do not have broadband access at home. During the pandemic, school children without broadband access have been unable to attend classes digitally or complete online homework assignments. Adults have been similarly hamstrung in an increasingly digital economy."
Sewell is in her fifth term representing Alabama's 7th Congressional District.
Sewell votes in favor of National Apprenticeship Act
The bill would invest more than $3.5 billion to create nearly one million new apprenticeship opportunities.
Congresswoman Terri Sewell, D-Alabama, last week voted in favor of the National Apprenticeship Act, legislation to reauthorize the National Apprenticeship Act for the first time since its enactment in 1937.
The new National Apprenticeship Act will create one million new apprenticeship opportunities over the next five years. Registered apprenticeships provide workers with paid, on-the-job training, and are the nation's most successful federal workforce training program.
"As a long-time supporter of expanding registered apprenticeships, I am thrilled to support today's legislation to provide 1 million new apprenticeship opportunities over five years," Sewell said. "Our Nation is facing the worst economic downturn since the Great Depression and estimates show that more than 7 million of the pandemic's job losses will be permanent. We need bold investments like those in the National Apprenticeship Act to accelerate the economy and help get the American people back to work in stable, good-paying jobs of the future."
The bill invests more than $3.5 billion over the next five years.
The act establishes a $400 million grant program to support the expansion of apprenticeship opportunities, including pre-apprenticeships and youth apprenticeships, which will increase $100 million annually to reach $800 million by 2025.
The legislation also codifies and streamlines standards for registered apprenticeship, youth apprenticeship and pre-apprenticeship programs to make it easier for both apprentices and employers to participate in high-quality apprenticeships and codifies the Department of Labor's Office of Apprenticeship.
It directs the office to convene industry leaders, labor organizations, educators and others to expand apprenticeships into new occupations and sectors.
Supporters say the bill could yield $10.6 billion in net benefits to U.S. taxpayers in the form of increased tax revenue and decreased spending on public-assistance programs and unemployment insurance, and that nothing is more effective at breaking the cycle of poverty than a well-paying full-time job.
Sewell is about to enter her sixth term representing Alabama's 7th Congressional District.