Rep. Sewell leads 83 members of Congress to push for $86 billion for broadband expansion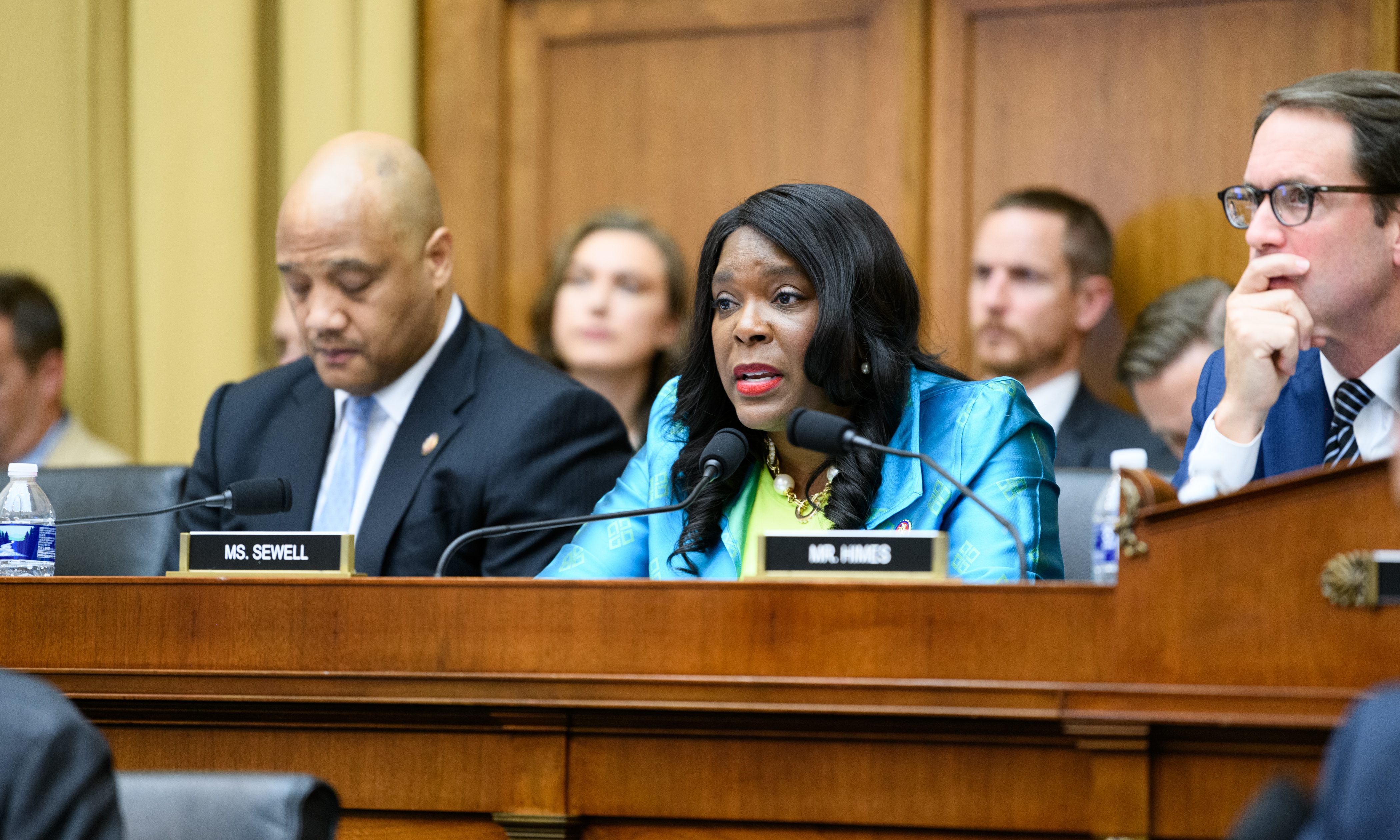 U.S. Rep. Terri Sewell, D-Alabama, and David Trone, D-Maryland, led 82 of their colleagues in sending a letter Tuesday to leaders of the House and Senate urging them to include in any future COVID-19 relief package at least $86 billion for the deployment of high-speed broadband internet.
Sewell and Trone sent the letter to House Speaker Nancy Pelosi, House Minority Leader Kevin McCarthy, Senate Majority Leader Mitch McConnell, and Senate Minority Leader Chuck Schumer.
"The coronavirus has only further highlighted the importance of high-speed, affordable internet, as lack of access has made it more difficult for Alabamians to learn from home, access telehealth service and telework during the pandemic," Sewell said. "It is beyond time that high-speed internet is treated as a basic utility and rolled out to every community across the country. The letter provides the framework for a future relief package that acknowledges just how critical broadband access is and calls on leadership to make a significant investment in its implementation."
"The coronavirus pandemic has shown that swaths of this country are being left behind by insufficient broadband infrastructure," Trone said. "It's time to invest in digital highways to bring the entire country into the 21st century and global economy. I want to thank Congresswoman Sewell and Whip Clyburn for joining in the effort to ensure this critical infrastructure is included in the next Congressional stimulus package."
According to Microsoft, about 25 million Americans lack access to reliable, high-speed internet and about 3.3 million Alabama residents do not have the minimum broadband speeds needed for video conferencing or streaming at home. The divide disproportionately impacts rural residents — with 19 million of the 25 million Americans without broadband living in rural areas.
"Future stimulus packages should support the deployment of secure and resilient broadband, provide hotspots for students to close the homework gap and allow for distance learning, and expand access and affordability for unserved and underserved communities with sufficient speed and data that reflects American families' increased reliance on internet access," they wrote in their letter. "We cannot wait to invest in high-speed broadband deployment necessary to reach every unserved and underserved American family, hospital, school and small business. … If we fail to invest now, millions of American will be disconnected from the economic recovery on the other side of this crisis."
Racial disparities also exist between which Americans have access to broadband and which do not. According to a 2017 Joint Economic Committee report, 82 percent of white households have access to high speed internet while just 70 percent of Black households do. Seventy-four percent of Hispanic households do and just 65 percent of Native American households do.
"We believe that in the response to the COVID-19 crisis an overall investment of $86 billion is needed," the letter continued. "This would expedite high-speed broadband deployment and expand funding to ensure that Americans who need broadband service can remain connected during this public health crisis and recovery. This includes expanded service for low-income consumers that meet the demands of telework, telehealth and telelearning. For instance, two tools ready to address these issues are the Federal Communications Commission's (FCC) existing Lifeline and E-Rate educational connectivity programs."
"The COVID-19 pandemic has made it increasingly clear that having access to high speed broadband is a necessity," the letter said. "We must invest in expanding affordable and reliable high-speed Internet access in the next emergency relief package. We thank you for your attention to this critical issue and looking forward to working in tandem to bring broadband to communities that are in desperate need of this essential tool for life in the 21st Century."
There is wide bipartisan support for increasing broadband access.
"COVID19 highlights the need for more broadband access in America," Congressman Mo Brooks, R-Alabama, said. "According to the Federal Communications Commission, 31 percent of rural Americans do not have broadband access at home. During the pandemic, school children without broadband access have been unable to attend classes digitally or complete online homework assignments. Adults have been similarly hamstrung in an increasingly digital economy."
Sewell is in her fifth term representing Alabama's 7th Congressional District.
Jones: Trump executive orders are "more for show than actual help for the Americans people"
Democratic Alabama Sen. Doug Jones had harsh words for recent executive orders that President Donald Trump signed in lieu of continuing to pursue a bipartisan legislative COVID relief package. Jones said that Trump's executive orders extending coronavirus relief are "more for show than actual help for the American people."
"While the President is attempting to give the appearance that he is leading the cavalry coming to the rescue of the American people, these executive orders are anything but that," Jones said. "The executive order to extend the now-lapsed emergency unemployment assistance will cut benefits by $200 a week or more for Alabamians and asks states, whose budgets have already been burdened by the pandemic, to foot part of the bill. The payroll tax collection moratorium is a way for President Trump to follow through with his promise to defund Medicare and privatize social security by putting the solvency of these programs at risk while still leaving open the possibility that those taxes may need to be paid in a lump sum next year."
"By signing these executive orders that are more for show than actual help for the American people, President Trump has confirmed that his administration has not acted in good faith and had no intention of reaching bipartisan agreement on legislation that would benefit all Americans," Jones said. "The Senate, which absolutely should not have recessed without passing a relief package, needs to immediately return to Washington to pass legislation that provides adequate support for the Americans who are suffering as a result of this virus as well as our economy. We need to come to a bipartisan compromise that deals with the full slate of urgent issues facing our country: we need a national strategy for COVID testing and contact tracing, to extend federal eviction moratoriums, to provide much-needed funding for state and local governments, and to ensure schools have the resources they need to reopen safely — among so many other needs."
Both parties wanted a fifth coronavirus aid package passed before Congress broke for August recess, but negotiations broke down between Democrats and the White House over the size of the aid package.
"It's completely inexcusable that Mitch McConnell waited over two months after the House of Representatives passed the HEROES Act to begin negotiations on this relief package, knowing full well that many of the programs that Americans have relied on during this crisis would expire at the end of July," Jones continued. "The failure to negotiate an adequate bipartisan deal speaks to a broader breakdown in leadership in Washington, and I strongly urge my colleagues to put partisanship aside to come together to pass a relief bill as soon as possible. Lives and livelihoods are at stake, and each day we spend arguing over politics is another day that our institution fails the American people."
Some Democrats have threatened to challenge the president's executive actions in court. Treasury Secretary Steven Mnuchin said that Democrats would have a lot of explaining to do if they challenged the White House's efforts to get enhanced unemployment benefits to Americans.
"We've cleared with the Office of Legal Counsel all these actions," Mnuchin said on "Fox News Sunday." "If the Democrats want to challenge us in court and hold up unemployment benefits to those hardworking Americans that are out of a job because of COVID, they're going to have a lot of explaining to do."
The president's executive actions would provide $400 in increased federal unemployment benefits, which is down $200 from the $600 enhancement that they were getting.
"We thought $400 was a fair compromise. We offered to continue to pay $600 while we negotiate, and the Democrats turned that down," Mnuchin said.
The Democratic proposal that passed the House, the HEROES Act, would have added $3.4 trillion to the national debt.
Jones is trailing Republican candidate Tommy Tuberville in the race for U.S. Senate according to a poll released last week.