Sessions says that he will never stop fighting for law enforcement officers
Republican U.S. Senate candidate Jeff Sessions said on social media that he will "never stop fighting" for law enforcement officers. This was in response to the Saturday slaying of Ohio police officer Anthony Dia.
"We must end the violence against police," Sessions said. "The last words of Officer Anthony Dia before he died on Saturday was 'Tell my family I loved them.'"
"The disrespect and even attacks on our courageous law enforcement officers have reached a totally unacceptable level," Sessions continued. "It is immoral and insane."
Sessions prioritized good relations with law enforcement while he was U.S. attorney general.
"I understand how difficult their job is and how important it is for the peace and safety of our people," Sessions said. "I will never stop fighting for them. Let us remember Officer Dia and pledge that we will not forget his sacrifice."
Toledo Police Officer Anthony Dia was 26-years old when he responded to a call about an intoxicated man in a store's parking lot. When he "approached the male to check his safety," the man turned around and fired a single bullet from a handgun, police said, citing witnesses account.
"He bled out, pretty much. They did what they could with lifesaving measures, but there was nothing they could do," Dia's widow Jayme told the Toledo Blade newspaper. "The last thing he said over the radio was, 'Tell my family I love them.' He lived for his family, and he loved, just loved, being a police officer."
American law enforcement has come under heavy criticism by politicians, the media and the public alike following the death of George Floyd during an arrest by the Minneapolis Police Department.
Sessions served in the Senate from 1997 to 2017, when he was confirmed as U.S. attorney general in the Trump administration. Sessions is also a former U.S. attorney, Alabama attorney general and assistant U.S. attorney.
Following his service as U.S. attorney for both the Ronald Reagan and George H.W. Bush administrations, Sessions was chairman of the Alabama Republican Party. Sessions is a former U.S. Army reserve officer. He has a bachelor's degree from Huntingdon College in Montgomery and a law degree from the University of Alabama School of Law.
Sessions and his wife, Mary Blackshear Sessions, started the first college Republican club at Huntingdon College. They have three children as well as grandchildren. Jefferson Beauregard Sessions III was born outside of Camden in Wilcox County in 1946. Sessions is a native Alabamian. He is 73 years old.
Sessions is running in Tuesday's Republican primary runoff. His opponent is former Auburn University head football Coach Tommy Tuberville. The winner of the GOP nomination will face incumbent Sen. Doug Jones, D-Alabama, in the Nov. 3 general election. Defeating Jones is considered critical for Republicans efforts to try to retain control of the Senate.
AFL-CIO endorses Adia Winfrey for Congress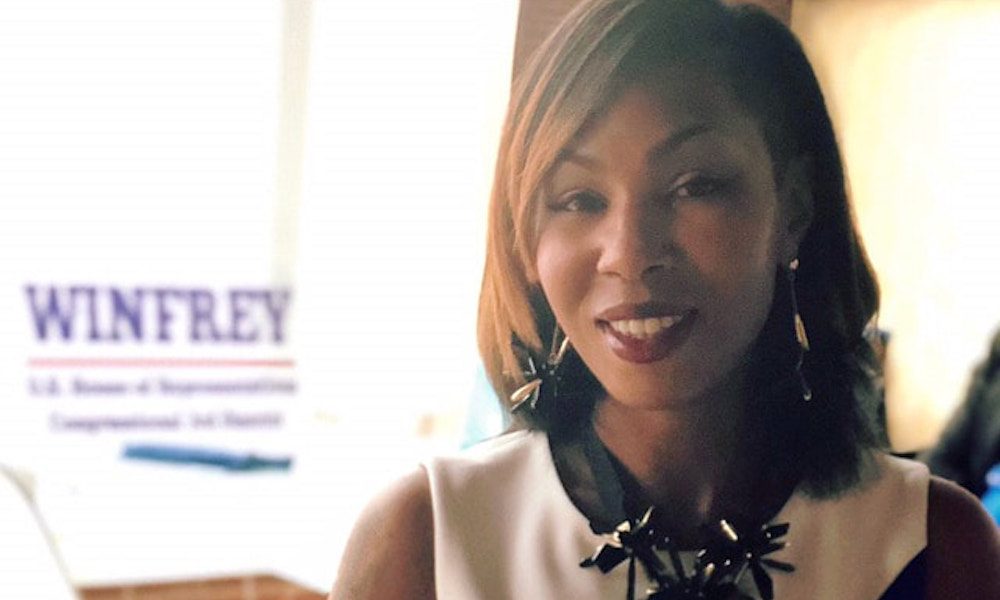 Democratic congressional candidate Adia Winfrey's campaign announced Monday that she has received the endorsement of the Alabama AFL-CIO in Alabama's 3rd Congressional District.
At their annual convention last week, union leaders from across the state recognized Winfrey's "passion, ability to lead and attentiveness to the issues affecting working men and women" as reasons to endorse the Democratic challenger against incumbent Congressman Mike Rogers, R-Alabama.
"Labor unions have long been a leading force in our nation's economy," Winfrey wrote. "Workplace safety standards, employee benefits, equal pay for women, non-discrimination policies and so much more can be attributed directly to union members who were willing to speak up for what is right. I look forward to being a voice for Alabama's hard-working men and women in Congress."
Winfrey is challenging Rogers, a nine-term incumbent, in the Nov. 3 general election. During his 18 years in Congress, Rogers has earned only a 16 percent lifetime rating by the AFL-CIO for his votes.
"For seven generations, my family has called Talladega, Alabama, home," Winfrey said. "I am the mother of four amazing children, a doctor of psychology, author, founder of the H.Y.P.E. (Healing Young People thru Empowerment) Movement, and … I am running for Congress in Alabama's 3rd Congressional District! I believe in the future of our beautiful state and nation. It is time for leadership with a new vision which is #FocusedOnAlabama."
Winfrey has a bachelor's degree in psychology from Wilberforce University and a doctorate of clinical psychology degree from the Wright State University School of Professional Psychology.