Rogers leads Homeland Security Committee Republicans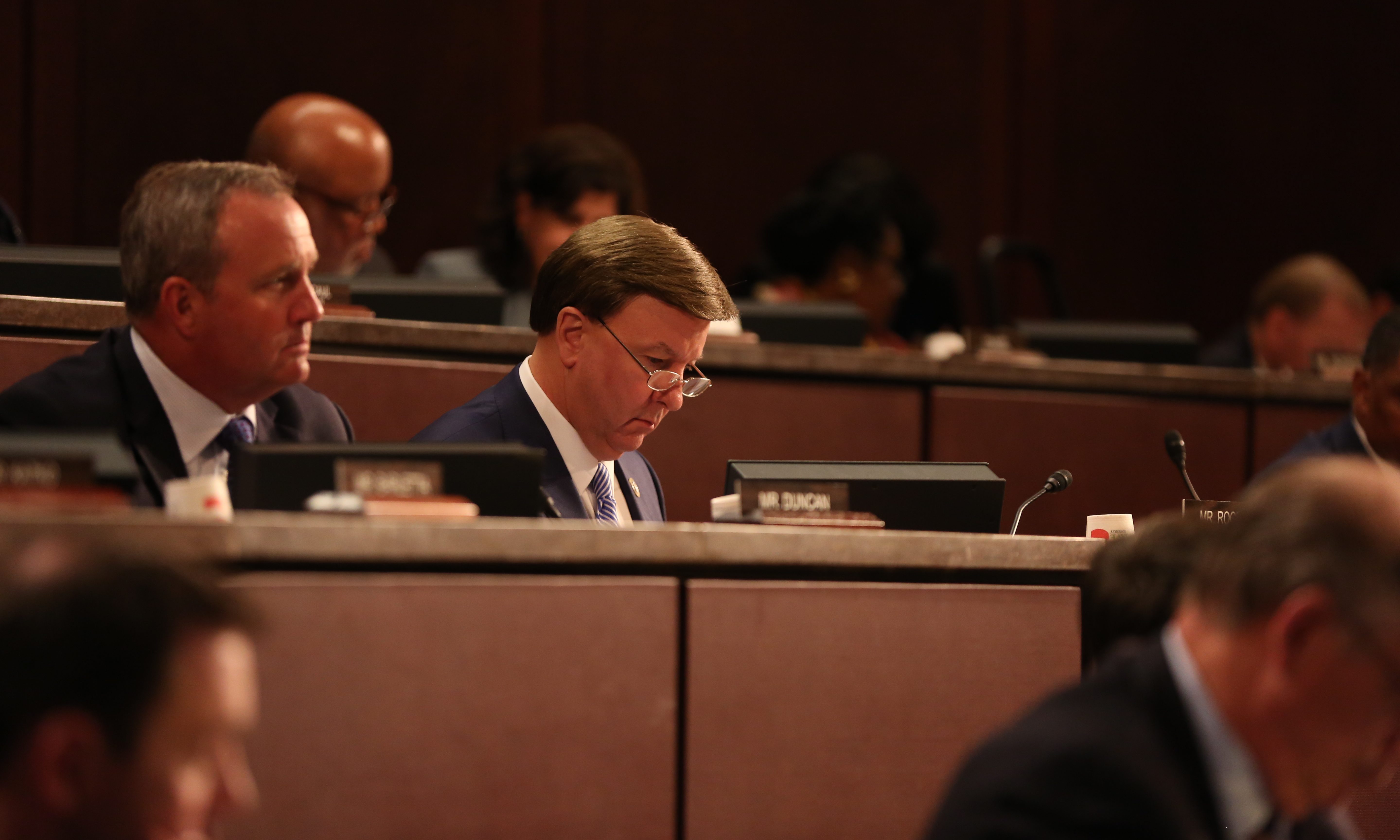 Congressman Mike Rogers, R-Alabama, on Thursday delivered an opening statement highly critical of the Chinese government at a Homeland Security Committee hearing in Washington entitled "Examining the National Response to the Worsening Coronavirus Pandemic."
"I appreciate you granting my request to allow Members to use the hearing room today," Rogers said. "We should be conducting our important oversight and legislative business here in Washington. We are much more productive when Members are here, in person, doing our work together. We've already proven we can do it safely. I hope we will return to regular order as soon as possible."
"As you know, I strongly disagree with the Speaker's unilateral decision to shut down the House of Representatives," Rogers explained. "We should be conducting our important oversight and legislative business here in Washington. We are much more productive when Members are here, in person, doing our work together. We've already proven we can do it safely. I hope we will return to regular order as soon as possible."
"As I said before, our hearts go out to those who have lost their loved ones to COVID-19 and those who are currently undergoing treatment," Rogers continued. "COVID-19 is an unprecedented global pandemic that requires an unprecedented response."
Rogers was highly critical of the Chinese government and their role in the global pandemic.
"Unfortunately, we lost precious time early in the response when China hid the disease from the world," Rogers said. "For weeks the Chinese Communist Party refused entry to outside medical experts. The Chinese suppressed journalists from reporting. Worst of all, China deliberately withheld evidence of the virus' structure and deadly spread. During this, the Chinese hoarded life-saving medical supplies and encouraged foreign travel, seeding the virus across the globe. I want to commend Ranking Member McCaul's work on the Foreign Affairs Committee to extensively document this deadly cover-up in a recent report."
"It's clear that China has pulled out all the stops to manipulate everyone from media outlets to the World Health Organization," Rogers continued. "The WHO maintained for months that China had promptly self-reported COVID-19. They did not. And after months of lying the WHO has come clean. The WHO now says it found out about COVID from media reports and whistleblowers from China. The Chinese Communist Party once again has been caught with blood on its hands."
"Facing an extraordinary public health crisis and China's deadly coverup, the Trump Administration has responded with a whole of government response," Rogers stated. "To date, the Administration has – Prohibited the entry of travelers from global hot spots; Invoked the Defense Production Act to increase supplies of critically needed medical equipment, such as ventilators; Coordinated the delivery of over 167 million respirators, 682 million surgical masks, and 17 billion gloves; Sent over $125 billion to the states to support the medical response to COVID-19; Distributed over $500 billion in PPP loans to small business; and Helped facilitate the testing of over 36 million tests. In fact, we are now capable of conducting over 700,000 tests per day. That's the good news. The bad news is that the number of positive tests are rising in many areas. That's why it's so important for all Americans to continue to heed the advice of our federal, state, and local public health officials."
"I am pleased to see a couple of public health and emergency response officials on the panel today," Rogers said. "Colonel Hastings currently serves as the Director of Alabama's Emergency Management Agency. He had a very distinguished 30 year career in the Air Force. For the last 3 years, he has done a tremendous job leading EMA's response to several natural disasters and now the COVID-19 pandemic. Colonel, thank you for joining us today. I appreciate all the witnesses for appearing. I look forward to hearing how you all are using the emergency funding and resources provided by Congress and the Administration to respond to this crisis."
"I am also interested in knowing what more Congress can do to help you effectively respond," Rogers said. "Our country has faced outbreaks of serious disease in the past. In each case, we've marshalled our collective resources and ingenuity to overcome the crisis. I'm confident that will be the case with COVID-19.
Rogers is the ranking member of the House Homeland Committee.
More than three million Americans have been diagnosed with the coronavirus, including more than 48,000 Alabamians. The novel strain of the coronavirus, SARS-CoV-2, shows no sign of slowing anytime soon as 61,864 Americans were diagnosed just on Wednesday. The virus was first identified late in 2019 in Wuhan City, Hubei Province, China late in 2019. The first positive test for the virus in Alabama was in mid-March.
Rogers represents Alabama's 3rd Congressional District.
Sens. Doug Jones, Cory Gardner introduce the American Dream Down Payment Act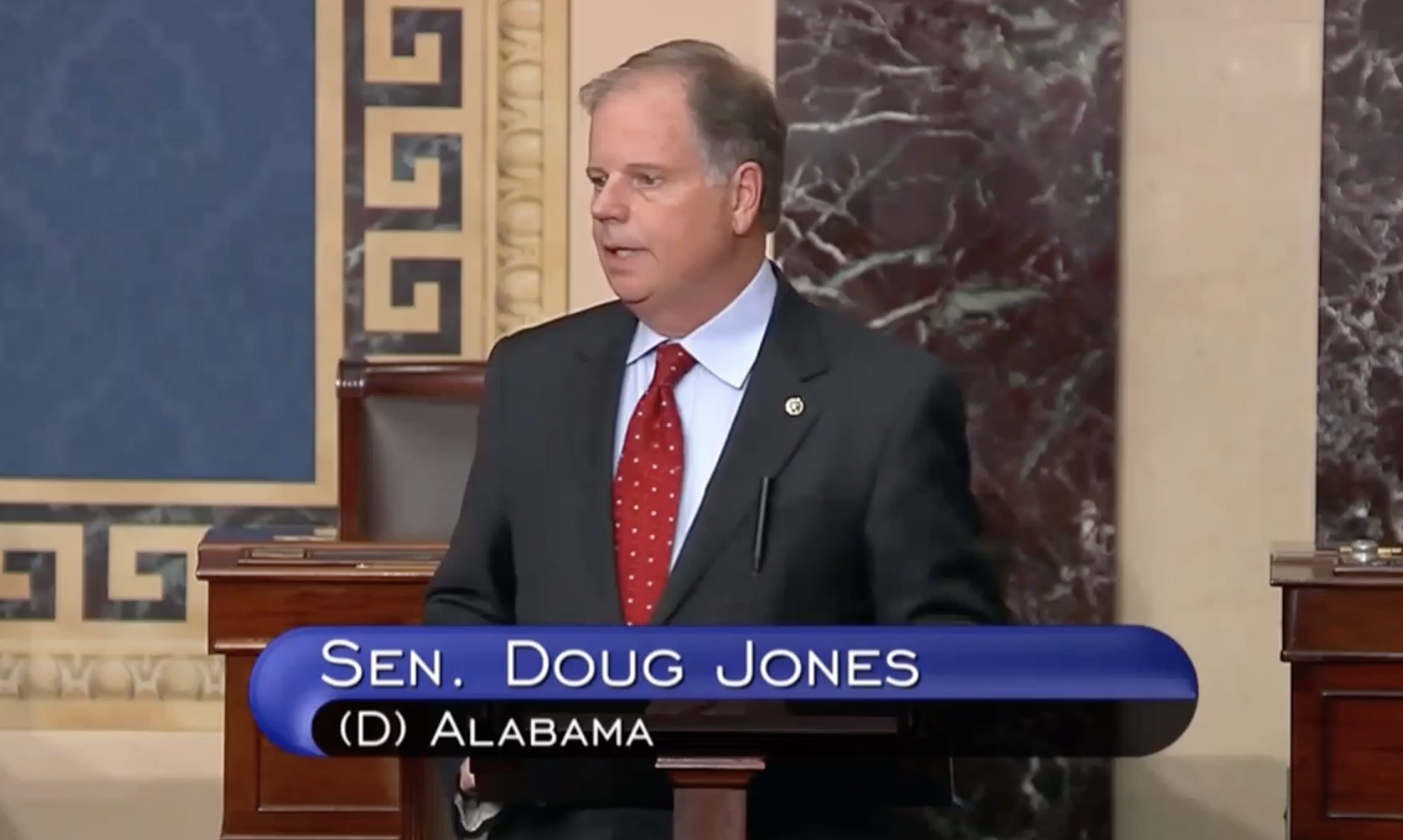 Democratic Alabama Sen. Doug Jones and Republican Colorado Sen. Cory Gardner have introduced the American Dream Down Payment Act of 2020, a bipartisan piece of legislation that would help prospective homeowners save for a traditional 20 percent down payment by creating special tax-advantaged savings accounts for eligible housing costs.
"As the coronavirus pandemic continues to devastate our nation's economy, it is getting even harder for many folks in Alabama and across the country to put money away in savings and to work toward the American dream of owning a home," Jones said. "Down payments are the biggest barrier to homeownership for first-time homebuyers, especially among low-income and minority Americans, and make it harder to build generational wealth that is often tied to home-ownership. Our legislation would provide a new path to help make the dream of buying a home a reality by making it easier to save money for down payments and other housing-related costs."
"A down payment on a home can be a significant barrier to becoming a homeowner," Gardner said. "Inspired by the popular 529 education savings accounts, this bipartisan bill will make it easier for people to save for a down payment, which will aid both our unique housing challenges in Colorado and our economic recovery from the COVID-19 pandemic. I'm proud to work with Senators Jones and Brown to help more families achieve the American Dream and own a home."
These accounts would be similar to the popular 529 Plan accounts that encourage people to save pre-tax money to pay for future education expenses. Sen. Sherrod Brown, D-Ohio, is the ranking member of the Senate Banking and Housing Committee and an original co-sponsor of the legislation.
The sponsors cite a recent survey by the Urban Institute that found that more than two-thirds of renters view down payments as a barrier to owning a home. As rents and student loan debt rise, it can be harder for prospective homeowners to save for a down payment, especially if they are a first-time homebuyer or aren't able to receive help from family members.
"Borrowers of color have been locked out of affordable homeownership for decades," Brown said. "The gap in Black and white homeownership rates remain as large now as it was before the Fair Housing Act was signed into law. These troubling and persistent inequities in homeownership rates have prevented generations of Black and brown families from obtaining the American dream of owning a home. The American Dream Down Payment Act is a new tool to help make homeownership a reality."
Even though the nationwide homeownership rate is relatively stable, there are significant disparities in homeownership by age, race and ethnicity. The Black homeownership rate, which peaked just prior to the Great Recession, has fallen to a 50-year low in 2016, at just 41.7 percent. That remains nearly 30 points below the white homeownership rate. This is before the recent COVID-19 economic panic. Millennials are less likely to own a home by age 34 than their parents or grandparents were. If these trends continue, a growing number of Americans will be locked out of homeownership.
"The introduction of the American Dream Down Payment Act offers Black American families and individuals the opportunity to build legacy wealth through homeownership," Brown added. "The ability to accumulate tax-free savings funds breaks down/eliminates one of the most prominent barriers to achieving homeownership, the down payment. This Act serves as a tangible springboard to increase Black homeownership and real wealth-building prospects which the National Association of Real Estate Brokers (NAREB) includes in the meaning of its time-honored slogan, Democracy in Housing," said Donnell Williams, National President, National Association of Real Estate Brokers."
The American Dream Down Payment Act would let states establish American Dream Down Payment Accounts, which they would manage in the same way they manage 529 Plan accounts today. It would also allow prospective homeowners to save up as much as 20 percent of today's housing cost, indexed for inflation, to use for an eligible down payment and other housing costs. It would facilitate long-term savings for a down payment and allow contributions from family and friends and allow homebuyers using their American Dream Down Payment Account savings and earnings to use those funds tax-free at withdrawal for eligible expenses.
To protect American Dream Down Payment Account holders, the Securities and Exchange Commission would be required to set standards for the investments of eligible accounts and allowable fees.
This legislation is supported by the National Association of Realtors, Habitat for Humanity and the National Association of Real Estate Brokers.
Jones is a member of the Senate Banking and Housing Committee. Both Jones and Gardner face tough re-election battles this year.