Opinion | Voting doesn't have to be a health risk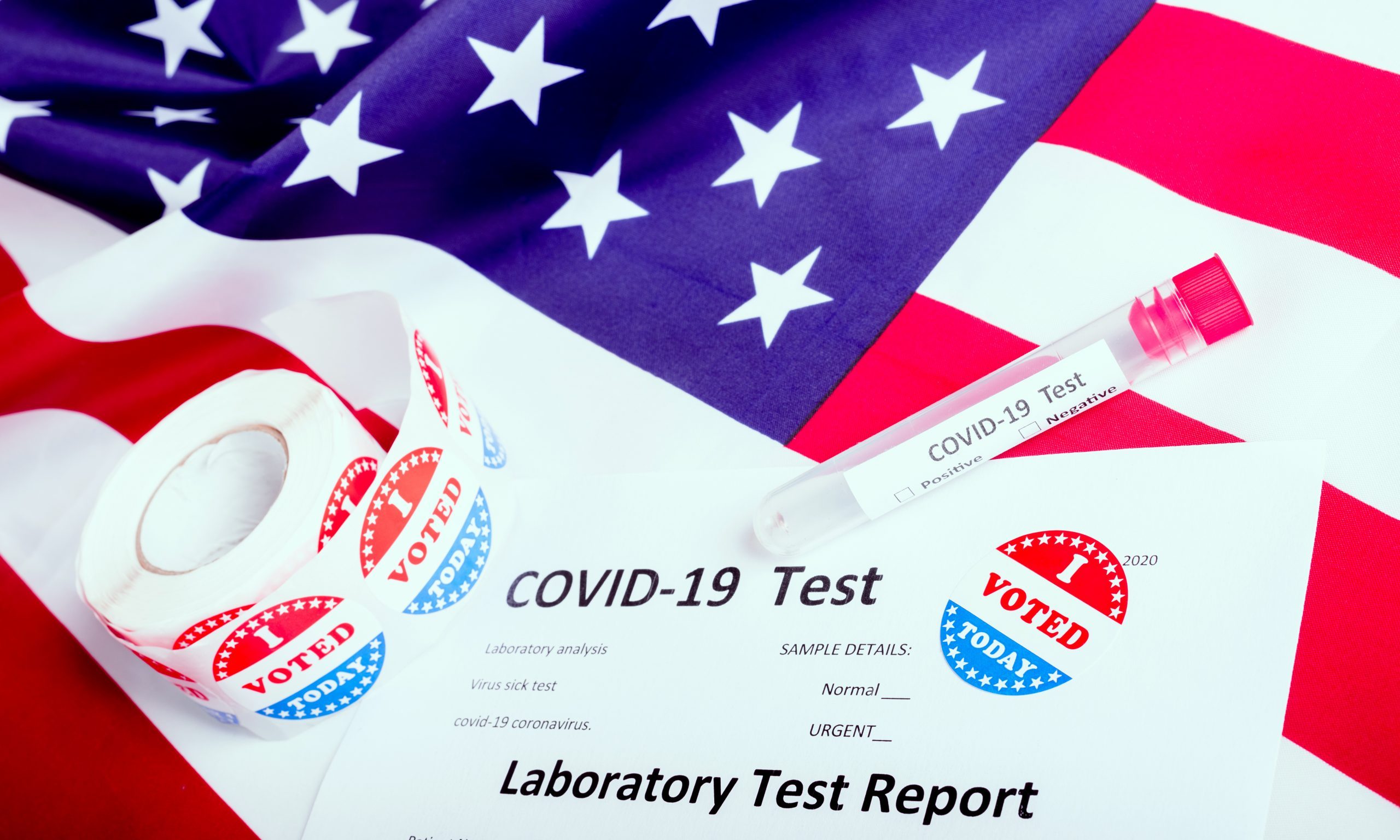 My vote was suppressed Tuesday. I didn't vote because I was not going to submit myself to walking into a polling station, even masked, during a coronavirus pandemic that is raging out of control.
There were attempts to require masks of voters and poll workers. It's the law in Jefferson County. But Secretary of State John H. Merrill and State Attorney General Steve Marshall opposed that. I could have participated in curbside voting, as one judge ordered, but Merrill and Marshall fought that in the courts, too, and won.
Hardly a better example of active voter suppression than going to the courts to make sure voting is as difficult as possible.
Yes, I could have applied for an absentee ballot, but there are hurdles there, too. The only real race on the Democratic Party ballot was one for Jefferson County Treasurer. So I let my vote be suppressed. Without a pandemic, I would have just run into my polling place and out, taking less than five minutes.
Sometimes, when you have a wife whose immune system is compromised, it's better to keep a low profile and not be present where the disease may have a presence. I don't miss voting in many elections, but I decided this one just posed too many risks for me to participate.
So Merrill's voter suppression strategy worked, at least on me. Congratulations, Mr. SoS! Your Republican masters are no doubt very proud of you.
Actually, voter turnout was just above 17 percent, according to Merrill's office, which for a runoff postponed from March and during a COVID-19 surge probably isn't too bad. Turnouts have been worse during times free of pandemic.
And not just to pick on Merrill – I do that because he knows there are many barriers to folks having an easy route to voting in Alabama, but he acts like there aren't – but the biggest voter suppressor on Tuesday was the pandemic. The Democratic Party runoff was pretty low-profile, except for a U.S. House runoff in the First District.
The featured event was the Republican Party runoff for the U.S. Senate nomination between former Attorney General Jeff Sessions, trying to win his old Senate seat back, and former Auburn football coach Tommy Tuberville, a political novicewho doesn't seem to have a clue. It wasn't much of a campaign. Tuberville pretty much spouted platitudes about Donald Trump and little else, while Sessions spent most of his time pathetically begging voters to return him to the post he held for two decadesbefore selling out to Trump, who later stabbed Sessions in the back and endorsed Tuberville.
Tuberville won handily, and will face Sen. Doug Jones, the Democrat, on Nov. 3. Don't count out Jones, though a lot of people already have. Jones, no left-wing liberal by any measure, is a scrapper who won't go down without a fight, even though his Senate seat is considered the most vulnerable for Democrats this election year. But at some point, Tuberville is going to have to do something besides praise Trump, whose poll numbers are in free fall, and on the issues, Tuberville is nowhere near Jones' league.
Now we wait for the Nov. 3 General Election, where Trump is up against former Vice President Joe Biden. Biden is ahead in the polls, even in some states that haven't voted Democratic in a while. But as we saw with Democrat Hillary Clinton in 2016, Democrats cannot be cocky; too often, they find a way to blow an election.
There are all sorts of character flaws in Trump, including that he's an unabashed racist. But he is a good campaigner, especially to his base. True, that base doesn't generally feature the sharpest minds around, but they do turn out, and won't be deterred even with the current plague running amok.
Should Biden select an African-American woman as his vice president, and if Biden's campaign continues working hard across the country to make sure his voters show up, the former vice president could win in a landslide. But not if voters, especially suburban women and African Americans, don't go to the polls.
Turnout will be the key, and there's nothing to indicate that on Nov. 3 we still won't be in the throes of this damned virus that has disrupted everybody's lives.
Yes, Trump mishandled the response to COVID-19. But he's made it clear where the virus is concerned, he's done. The 135,000-plus American deaths doesn't move him at all. He argues that if we just didn't test as much, we wouldn't have as many virus cases. That's a ridiculous statement, and he's been ridiculed for it. The cases are there whether we test or not. Trump is more than just goofy; he's mentally unstable.
So from now to November, Merrill should be working with the governor and other state officials to come up with a plan to make voting safe and easy. The best alternative, of course – the one that scares Republicans to death – is mail-in ballots. But Merrill and others will complain that risks voter fraud, a claim never substantiated in any significant way by the Republicans who are masters at voter suppression.
In November, I won't have the luxury of not really having something to vote for. We must get this pathological narcissist out of the White House, and many of us will put our lives on the line, if necessary, to do it.
It's really up to state officials, led by Merrill, to make sure Alabama voters can do that in as safe a way as possible, and the safest way cannot factor voter suppression into the mix. That may be too big a task for Merrill.
Opinion | Tommy, can you hear me?
That Morning Consult poll of Alabama voters that showed Republican Tommy Tuberville with a 17-point lead over incumbent Democratic Sen. Doug Jones for the U.S. Senate was such a stunner, a Jones campaign aide rushed out an email fundraiser trying to quell any panic.
Until now, most polls have shown Jones to be competitive against an unnamed Republican and, specifically, Tuberville, the former Auburn football coach who defeated Jeff Sessions to win the Republican nomination.
"I would never respond to an outside poll, but a new poll is out there showing Doug Jones losing by … wait for it … 17 points," writes Joe Trippi, senior adviser for the Doug Jones for Senate campaign.
"Here is my comment," Trippi writes. "No way."
Unfortunately, in Alabama, there is a way.
Republicans in the state tend to vote straight ticket in overwhelming numbers. Alabama is one of a handful of states that even allows straight-ticket voting, but the reality is, it does. So voters who want to cast their ballot for, say, Donald Trump in November, but who also like Jones, will have to split their ticket.
The Morning Consult poll showed that a large number of independent voters are undecided, and that could swing the election toward Jones. But straight-party voting can be a hope killer.
Not yet, though. It's still early. The election is still nearly three months away. We've not seen Tuberville do much of anything but bow before Trump, who endorsed him over his former attorney general. But that's Trump loyalty for you.
Indeed, the country is going so poorly right now, one wonders other than the hard-core racists, who still supports Trump.
I know, I know: Alabama is different (plus, we still have more than our share of hard-core racists). But c'mon, folks, more than 157,300 Americans are dead from the COVID-19 pandemic, completely mismanaged by the Trump administration. There have been more than 4.7 million cases. In Alabama, there have been more than 90,000 cases and more than 1,600 deaths.
Meanwhile, the U.S. and Alabama economies are in shambles and getting worse, not better. Trump has sided with Confederate statues and flags over eliminating the systemic racism found in police departments and other government agencies. Plus, most recently, Trump sent his secret army of unidentified goons to sweep protesters off the streets in American cities.
Trump is nobody's friend but his own.
Then there's Tuberville. A decent if mediocre football coach, Tuberville certainly is no Nick Saban. Tuberville isn't even a Gus Malzahn.
Sessions tried to argue that Tuberville wasn't a resident of Alabama, either, but that's not fair. Where Sessions is concerned, unfair is a character trait.
While Tuberville does maintain properties in Florida, he and his wife have owned a home in Auburn for at least three years. Too, they both are registered voters in Alabama, though Sessions said Tuberville cast his ballot in Florida during the 2018 midterms.
What's more important is where Tuberville stands on the issues. And that, we don't know much about. We know Jones is a moderate who works with members of both parties. He clearly represents Alabama's best interests as well as any U.S. senator who has served from Alabama.
Though the loons try to paint Jones as a liberal-socialist-communist bogeyman, he's nowhere close. Certainly, he's different from Sessions, who held that Senate seat for two decades before becoming Trump's attorney general. He's different from Sessions in that he actually gets legislation through the Senate. Sessions mainly interfered with progress while a senator.
The first U.S. senator to support Trump's candidacy, Sessions identified with Trump most likely because they're both die-hard racists. Trump rewarded that loyalty by back-stabbing Sessions out of Washington.
At some point, though, Tuberville must make his positions clear, and not simply that he'll support anything Trump does. That would be a disaster for Alabama, as much as Trump is a disaster for the United States.
The former Auburn University football coach can't just continue being a sycophant for Trump, whose own poll numbers are tanking and who is likely not going to win re-election.
Should Alabama send a Republican to represent the state with a Democratic president, a likely Democratic Senate and a solidly Democratic House? That would be useless.
But Trippi, in his email, did show how Tuberville wins easily: "One bad poll turns all of us off … you write the race off, and Tuberville coasts to victory because no one is paying attention," says Trippi. "Everyone abandons Alabama except Mitch McConnell, who is ALL IN to beat Doug. The proof is in the money he (McConnell) is spending now."
It's true that McConnell is working hard to unseat Jones to protect Republicans' wobbly control of the U.S. Senate, and if they weren't concerned that Jones has a good shot at winning re-election, McConnell would spend that campaign money in another state.
Tuberville must do more than hide behind Trump. We need to hear Tuberville's plan, where he stands on the issues and what he'll bring to Alabama that Jones hasn't already.
Let's hear it, Coach Tommy. But you'll have to scoot back a bit first.