Byrne praises House passage of NDAA authorizing additional Austal ship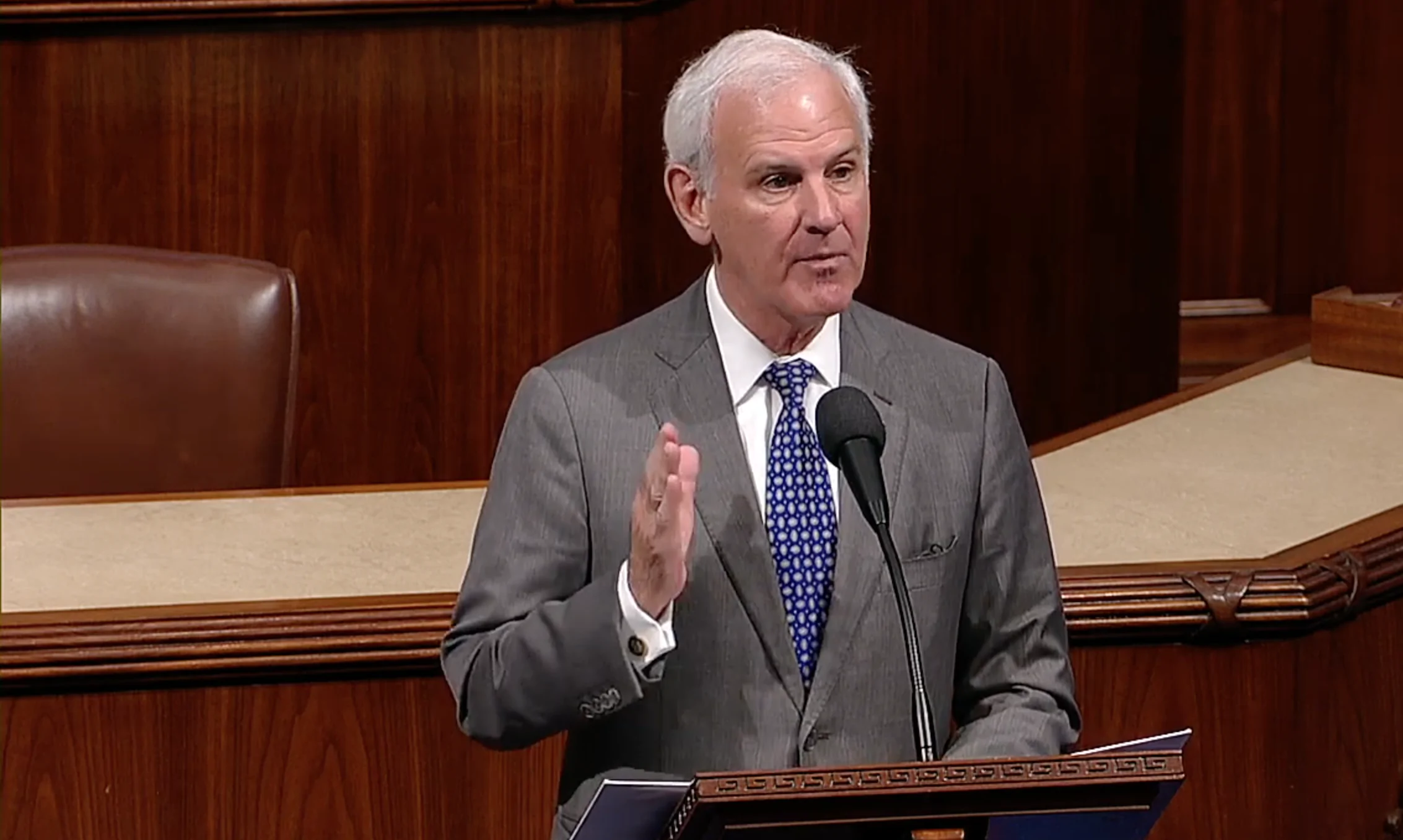 The U.S. House of Representatives on Tuesday passed the William "Mac" Thornberry National Defense Authorization Act for Fiscal Year 2021 by a vote of 295 to 125. Congressman Bradley Byrne is a member of the House Armed Services Committee, which passed an earlier version of the NDAA on July 1, 2020, by a vote of 56 to 0.
The bill includes an amendment authored by Byrne authorizing $260 million to construct an additional Expeditionary Fast Transport vessel at Austal Mobile. This year's NDAA is named for Ranking Member Mac Thornberry, R-Texas, who chaired the committee during the 114th and 115th Congresses.
"The men and women of our Armed Services deserve our complete support, and I'm pleased that the House came together in a largely bipartisan manner to give our warfighters the resources necessary to protect us," Byrne said. "Both in committee and on the House floor, all Members provided input to strengthen this bill, a practice that occurs far too little in today's House. While I do not agree with everything in the bill, it remains worthy of support, and I'm hopeful that some of the partisan provisions added on the House floor will be removed through compromise with the Senate."
Byrne said the additional Austal ship is important for Southwest Alabama.
"Importantly for Southwest Alabama, this bill passed with my amendment to authorize the construction of an additional EPF at the Austal shipyard in Mobile," Byrne said. "I appreciate my Congressional colleagues for acknowledging Austal and the EPF's importance to our national defense and for their support of the work performed by the 4,000 skilled men and women at Austal Mobile. Construction of this world-class vessel will move us even closer to the Navy's goal of a 355-ship fleet."
The NDAA sets policy and authorizes funding for the entire United States military and has been passed by the House each year for the previous 59 years. The Senate is currently considering its own version of the NDAA.
Byrne pointed out several highlights from this year's NDAA including that it adheres to last year's bipartisan budget agreement and fully funds the Trump administration's request.
The bill includes $740.5 billion total for National Defense Discretionary programs, including $130.6 billion for procurement of advanced weapons systems and $106.2 billion for Research Development Test and Evaluation. The bill also funds a vital nuclear modernization programs to ensure that nuclear deterrent is safe and reliable. It fully funds the B-21 bomber, a new Columbia Class submarine along with an additional attack submarine, and begins work on the W93 warhead that will be critical to meet STRATCOM Commander requirements for the sea-based deterrent.
Byrne says the NDAA also takes a tough stance on China by laying the foundation for an Indo-Pacific Deterrence Initiative to deter China, modeled on the European Deterrence Initiative. The NDAA increases funding in emergent technologies, such as AI, to maintain a technical edge against China, and starts taking financial actions to pursue China's graduation from the World Bank and greater transparency with China's debt.
Byrne said that the NDAA provides support for troops and families, including a 3 percent pay raise.
Byrne said that the bill also deals with the COVID-19 response. It ensures that the Department of Defense has the diagnostic equipment, testing capabilities, and personal protective equipment necessary to protect our Armed Forces. It requires the National Security Strategy to address the provision of drugs, biologics, vaccines and other critical medical equipment to ensure combat readiness and force health protection.
Byrne said that the NDAA includes almost $600 million above the President's Budget Request for science and technology and investments in critical emerging technology areas including artificial intelligence, autonomous systems and biotechnology.
The bill changed considerably on the floor of the House. Some GOP Congressmen including Mo Brooks, R-Alabama, voted for the bill in committee and against the bill on the House floor because of some of those changes. President Donald Trump has threatened to veto the bill unless changes to the bill are made before it reaches his desk.
The Senate and House versions will go to a conference committee where a compromise version will be drafted that can pass both Houses.
Byrne represents Alabama's 1st Congressional District. He is leaving Congress at the end of the year.
Mark McDaniel reappointed to NASA Human Exploration and Operations Advisory Committee
Congressman Mo Brooks, R-Huntsville, announced Thursday NASA administrator Jim Bridenstine's reappointment of Huntsville's Mark McDaniel to a two-year term on the Human Exploration and Operations Committee of the NASA Advisory Council.
Brooks initially recommended McDaniel in 2018 to Bridenstine. Bridenstine is a personal friend and former House colleague of Brooks. Brooks cited McDaniel's past record of exemplary service on the NASA Advisory Council. The NAC is NASA's highest civilian advisory board.
"Mark McDaniel has done an exemplary job advising NASA on its future missions as a member of NASA Advisory Council's Human Exploration and Operations Committee," Brooks said, praising the decision. "Mark's past service and qualifications make him an excellent choice for reappointment to another term on the committee. I congratulate Mark on his reappointment."
"I greatly appreciate my friend NASA Administrator Jim Bridenstine for his thoughtful consideration in reappointing Mark McDaniel," Brooks continued. "Jim's leadership at NASA has been exemplary, and I am glad he recognized Mark's contributions to this important NASA advisory committee."
"Mark McDaniel has been a dedicated member of the NAC for several years, and we look forward to him continuing to provide his expertise to the Committee," said Bridenstine. "As we prepare to go forward to the Moon and beyond, it is critical that NASA has top experts like Mark on our team. His wealth of knowledge is a great benefit to the Artemis program, as well as our mission to send human explorers to Mars."
"Congressman Mo Brooks has provided great leadership to our nation, state and NASA," McDaniel said. "I thank Congressman Brooks for recommending my reappointment to the NASA Advisory Council- Human Exploration and Operations Committee."
"I am confident that under the leadership of Administrator Jim Bridenstine and the tremendous team he has put together, our nation will put the first woman and next man on the Moon by 2024," McDaniel added. "Under Administrator Bridenstine's leadership NASA is setting the stage for human exploration of Mars and the heavens beyond."
Then-NASA administrator Daniel Goldin appointed McDaniel to the NASA Advisory Council in October 2000, and then-NASA administrator Sean O'Keefe reappointed McDaniel to the council in November 2002 and November 2004. During McDaniel's tenure on the NAC, President George W. Bush announced the "Moon, Mars, and Beyond Initiative," which set the nation on a more aggressive pace for space exploration.
On Jan. 26, 2007, McDaniel received the NASA Public Service Medal for his "Leadership and Council to America's Space Agency, his advocacy of Human Space Flight and Exploration and dedication to the Aerospace Community at large."
Brooks is in his fifth term representing Alabama's 5th Congressional District. NASA and its contractors are a major employer in the 5th District.