Jones bill aimed at bringing jobs back from China included in Senate NDAA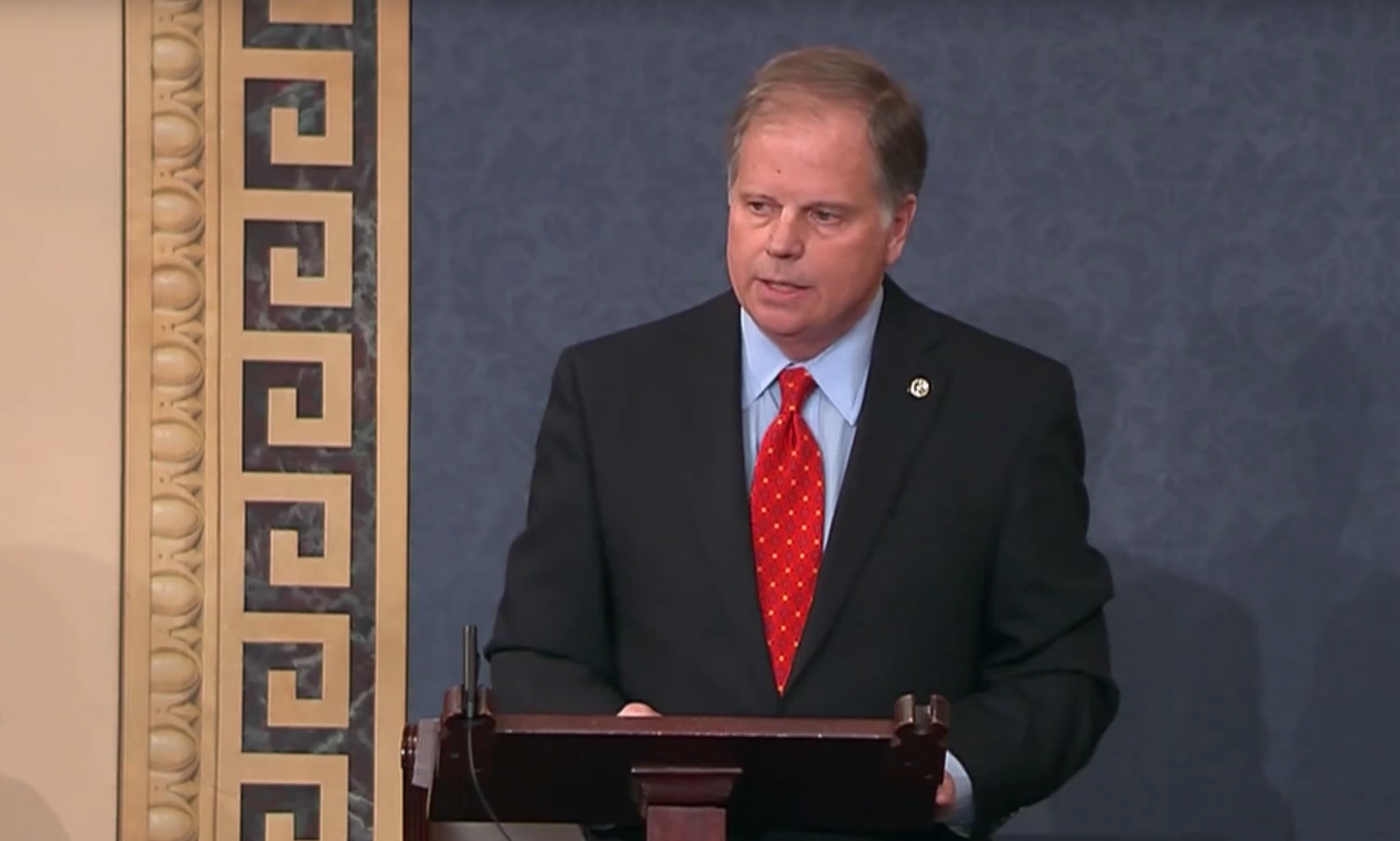 Sen. Doug Jones, D-Alabama, said Tuesday that the 2021 National Defense Authorization Act will include a bipartisan proposal he sponsored last month to incentivize investments in American semiconductor manufacturing businesses instead of Chinese-owned companies.
The provision was approved in the Senate on Tuesday in a 96 to 4 vote as an amendment to the Senate version of the NDAA.
"We all know that China is a bad actor on the world stage, which is why it is so crucial that the United States continues to lead the world in semiconductor technology," Jones said. "Not only will this provision help bring jobs back from China, it will incentivize investment in Alabama companies and will strengthen our national security by reducing reliance on foreign manufacturing."
The Alabama Micro/Nano Science and Technology Center at Auburn University is a world leader in microelectrics engineering, and with 15 semiconductor companies in Alabama, the state stands to benefit substantially from increased investment in American semiconductor manufacturing.
Semiconductors are used in a large variety of electronic devices including smartphones, digital cameras, televisions and some computers. While the U.S. revolutionized the microelectronic industry and invented nearly all the key technology used to this day, competitors in China have made huge investments into their microelectronics industries in recent years to challenge and undercut U.S. leadership.
By 2030, Asia is projected to control 83 percent of the global semiconductor manufacturing supply while domestic production could be less than 10 percent. Jones said that if this were to happen, it would make the U.S. reliant on foreign-made microelectronics and would potentially pose huge risks to U.S. national and economic security.
The Jones amendment would direct the secretary of commerce to create a grant program for constructing, expanding or modernizing commercial semiconductor fabrication, assembly, testing, packaging and advanced R&D facilities in the U.S.
It would also direct the secretary of defense to create a partnership program with the private sector to encourage the development of advanced, measurably secure microelectronics for use by the Department of Defense, Intelligence Community, critical infrastructure and other national-security applications.
The amendment also requires the secretary of commerce to commence a review within 120 days assessing the state of the U.S. semiconductor industrial base. It establishes a Multilateral Microelectronics Security Fund, with which the U.S., its allies and partners will work to reach agreements promoting consistency in their policies related to microelectronics, greater transparency including supply chains and greater alignment in export control and foreign direct investment policies.
The amendment would direct the president to establish a subcommittee on semiconductor technology and innovation within the National Science and Technology Council and directs the secretary of commerce to establish a national semiconductor technology center to conduct research, fund semiconductor startups and a Manufacturing USA Institute.
Finally, the amendment creates a National Advance Packaging Manufacturing Program, and encourages the secretary of labor to work with the private sector on workforce training and apprenticeships in semiconductor manufacturing.
The House passed its own version of the NDAA on Tuesday. The Senate is expected to pass their version of the NDAA in the next few days. A conference committee will then be formed to address differences between the two bills in hopes of reaching a compromise version that will pass both chambers of Congress.
Jones faces former Auburn University head football coach Tommy Tuberville in the Nov. 3 general election.
Mark McDaniel reappointed to NASA Human Exploration and Operations Advisory Committee
Congressman Mo Brooks, R-Huntsville, announced Thursday NASA administrator Jim Bridenstine's reappointment of Huntsville's Mark McDaniel to a two-year term on the Human Exploration and Operations Committee of the NASA Advisory Council.
Brooks initially recommended McDaniel in 2018 to Bridenstine. Bridenstine is a personal friend and former House colleague of Brooks. Brooks cited McDaniel's past record of exemplary service on the NASA Advisory Council. The NAC is NASA's highest civilian advisory board.
"Mark McDaniel has done an exemplary job advising NASA on its future missions as a member of NASA Advisory Council's Human Exploration and Operations Committee," Brooks said, praising the decision. "Mark's past service and qualifications make him an excellent choice for reappointment to another term on the committee. I congratulate Mark on his reappointment."
"I greatly appreciate my friend NASA Administrator Jim Bridenstine for his thoughtful consideration in reappointing Mark McDaniel," Brooks continued. "Jim's leadership at NASA has been exemplary, and I am glad he recognized Mark's contributions to this important NASA advisory committee."
"Mark McDaniel has been a dedicated member of the NAC for several years, and we look forward to him continuing to provide his expertise to the Committee," said Bridenstine. "As we prepare to go forward to the Moon and beyond, it is critical that NASA has top experts like Mark on our team. His wealth of knowledge is a great benefit to the Artemis program, as well as our mission to send human explorers to Mars."
"Congressman Mo Brooks has provided great leadership to our nation, state and NASA," McDaniel said. "I thank Congressman Brooks for recommending my reappointment to the NASA Advisory Council- Human Exploration and Operations Committee."
"I am confident that under the leadership of Administrator Jim Bridenstine and the tremendous team he has put together, our nation will put the first woman and next man on the Moon by 2024," McDaniel added. "Under Administrator Bridenstine's leadership NASA is setting the stage for human exploration of Mars and the heavens beyond."
Then-NASA administrator Daniel Goldin appointed McDaniel to the NASA Advisory Council in October 2000, and then-NASA administrator Sean O'Keefe reappointed McDaniel to the council in November 2002 and November 2004. During McDaniel's tenure on the NAC, President George W. Bush announced the "Moon, Mars, and Beyond Initiative," which set the nation on a more aggressive pace for space exploration.
On Jan. 26, 2007, McDaniel received the NASA Public Service Medal for his "Leadership and Council to America's Space Agency, his advocacy of Human Space Flight and Exploration and dedication to the Aerospace Community at large."
Brooks is in his fifth term representing Alabama's 5th Congressional District. NASA and its contractors are a major employer in the 5th District.