Nine people protesting for Medicaid expansion arrested outside Alabama Capitol
Among those arrested was former State Sen. Hank Sanders.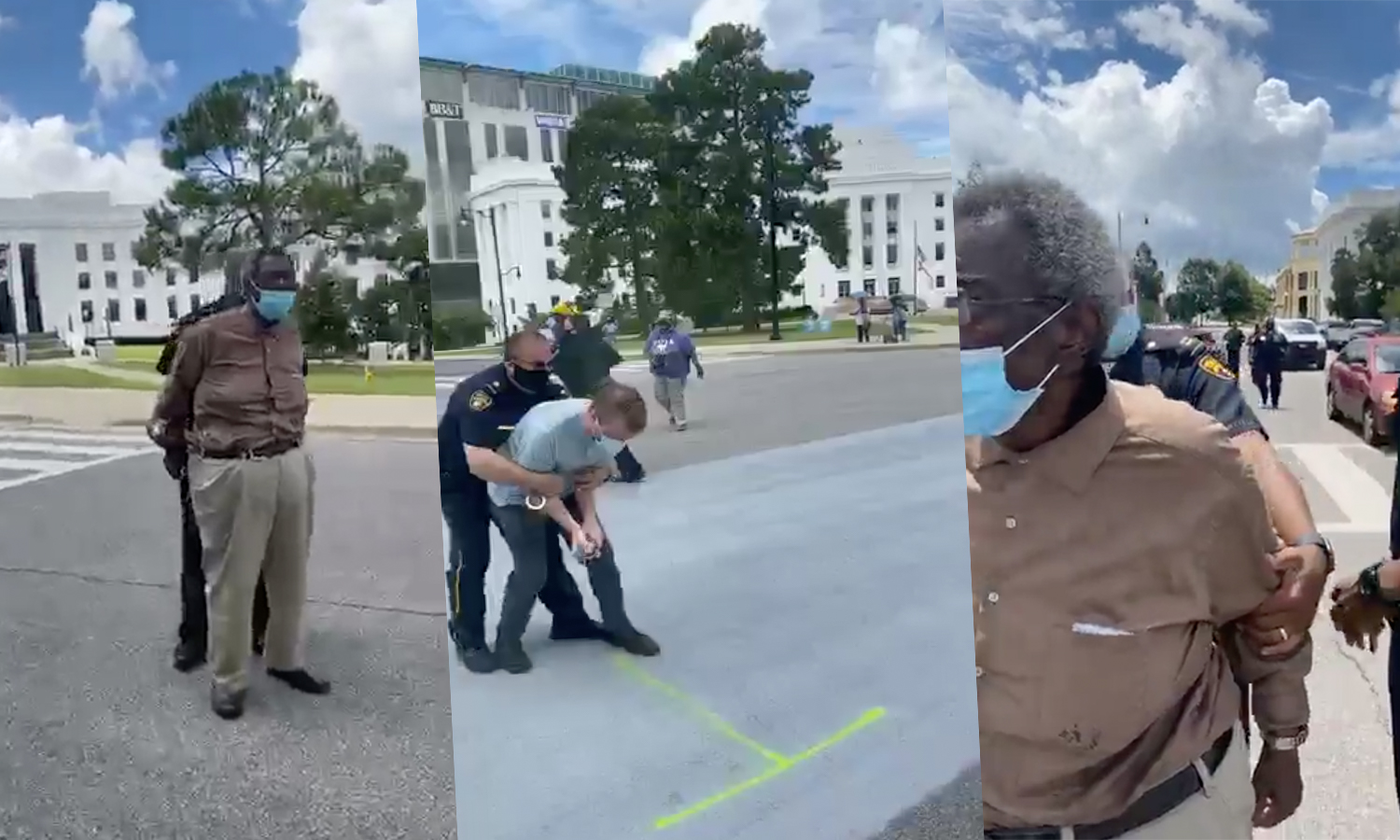 Nine people were arrested during a protest in front of the Alabama Capitol on Tuesday, which for some was the second time they'd been arrested this month while trying to bring attention to expanding Medicaid in the state and to the need for racial reconciliation.
As members of Alabama Black Lives Matter and Alabama SaveOurSelves held a demonstration Tuesday, which was live-streamed on former State Sen. Hank Sanders' Facebook page, some began attempting to spray paint the words "Good Trouble," a reference to the late Georgia Rep. John Lewis and his civil rights work, and "Expand Medicaid" on the street in front of the Capitol and were arrested.
Still, others began to try and spray paint onto the street and were also arrested, as can be seen in the video.
Among those arrested was Sanders, who could be seen in the video being handcuffed and loaded into a Montgomery Police Department vehicle, and his wife, 75-year-old Faya Rose Toure, an attorney, civil rights activist and former municipal judge.
The groups had planned Tuesday's demonstration to bring attention to their push to expand Medicaid and to the arrest of five members after a demonstration there on July 16, in which members tried to use yellow spray paint to paint the words "Black Lives Matter" and "Expand Medicaid" on the street. The five turned themselves into police on July 20.
Montgomery Police Department public information officer Capt. Saba Coleman in a press release Tuesday evening said that those detained had not yet been charged. Montgomery Police declined to identify those persons who were detained.
"On Tuesday, July 28, 2020, at about 12 noon, MPD responded to the area of the Capitol in reference to protesters painting the street in front of the Capitol steps. Upon arrival, MPD witnessed the protesters painting the street. At which time, MPD notified the City of Montgomery's Traffic Engineering Department regarding the painting of the street," Coleman said in the statement. "The paint was deemed noncompliant because organizers failed to request and obtain proper permitting and prior approval, which resulted in a crew being dispatched to the area. Protesters involved in the offense were subsequently detained; however, they were released with charges pending. There's no additional information available for release."
Faya Toure, Sanders' wife, attorney, civil rights activist and former municipal judge, speaking to APR on Tuesday morning before the demonstration said she planned to once again work to bring attention to the need to expand Medicaid in Alabama in order to save thousands of lives a year and that she's also addressed the arrests earlier in the month, of which she was one.
Sanders told APR on Monday that he was "mad as hell" over the arrests which included strip searches for the women but not for the men.
In an open letter to Montgomery Mayor Steven Reed, Toure wrote of her experience being strip-searched at the police station.
"Some say I should have resisted, but I did not," Toure starts the letter of, then describes the act of having to strip for officers. "Within minutes the ordeal that changed my soul was over."
In a statement, ACLU of Alabama noted that the latest arrests came "just days after a memorial service honoring Representative John Lewis was held on the same steps."
"Once again, we see Alabama police officers using the power of the government to unnecessarily seize and detain people who are exercising their constitutionally protected First Amendment right to assemble and protest," said Randall Marshall, executive director of ACLU of Alabama in a statement. "While the Constitution does not explicitly protect people from legal repercussions when protesting crosses into civil disobedience, we paid tribute mere days ago to the life and legacy of Representative John Lewis, a man dedicated to peaceful civil disobedience."
"His phrase 'good trouble' was called that precisely because protesting unjust laws means breaking those laws. Nevertheless, we have seen time and again that change does not happen without protesters who are willing to accept these consequences in order to upend the status quo and those who uphold it," Marshall continued. "We stand with these freedom fighters–in Montgomery, Hoover, and across the state of Alabama–who are continuing to fight for a more just and equitable world where every social problem is not addressed with handcuffs."
AARP Alabama asks for details on $50 million federal COVID-19 aid to nursing homes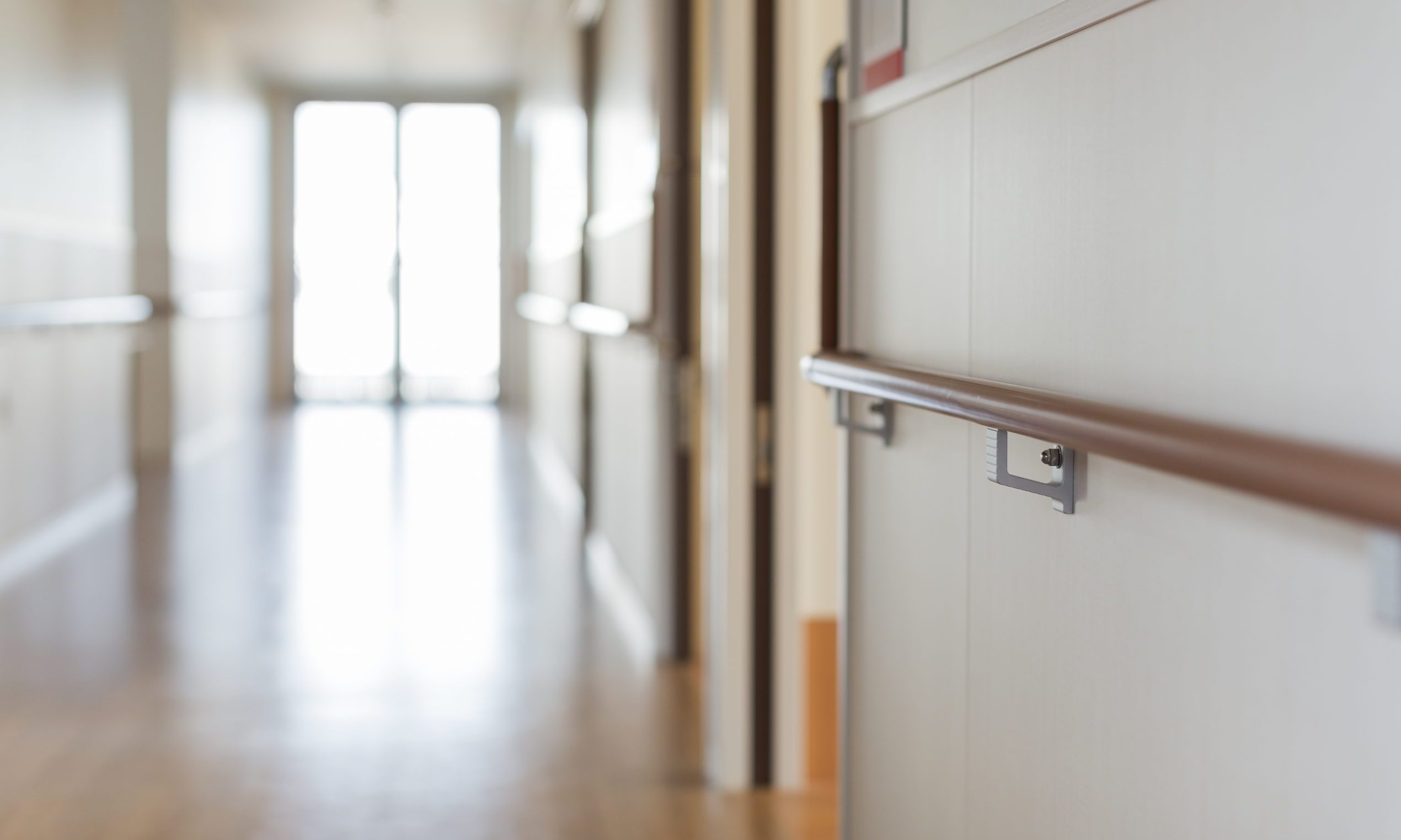 The Alabama chapter of AARP is asking the state to ensure federal coronavirus relief funds are spent wisely and in the open. Gov. Kay Ivey on Friday announced $50 million in grants would go to state nursing homes to aid in the fight against COVID-19.
Candi Williams, AARP's Alabama state director, told APR on Monday that the organization, which advocates for the elderly, wants a better understanding of how that money will be spent and to ensure some is spent for ongoing COVID-19 testing.
A spokesman for the Alabama Nursing Home Association says details on how the money can be spent is already publicly available, however, and Ivey in early June announced the award of $18.27 million in federal CARES Act funds to be spent toward regular nursing home COVID-19 testing.
"What we're looking for is specifics on how it will be used, and we want those specifics to be made publicly available," Williams said.
Ivey on Friday said the money is to be administered by the Alabama Nursing Home Association Education Foundation. The Alabama Hospital Association is to administer up to $50 million in grants to state hospitals through another program.
"This allocation of up to $50 million will be for operational costs that are COVID-19 related, such as PPE, cleaning, personnel costs and other costs incurred related to the pandemic," Ivey's office said in a press release Friday.
"In partnership with the state of Alabama, the Alabama Nursing Home Association Education Foundation will administer the funds fairly and impartially on behalf of the people of Alabama, for all of Alabama's nursing home facilities," the statement goes on to say.
Williams said the public deserves to know how the federal funds will be used, and said Ivey's office hasn't yet signaled whether those details will be made public.
Ivey's office, through a spokeswoman, declined to comment, and referred a reporter to the Alabama Nursing Home Association.
John Matson, communications director for the Alabama Nursing Home Association, told APR that AARP Alabama need only read the memorandum of understanding published along with Ivey's announcement about the grants on Friday to see how the money must be spent.
According to the memorandum, the Alabama Nursing Home Association Education Foundation can only disburse the funds to nursing homes "for the purposes of responding to or mitigating the COVID-19 public health emergency" and details what facilities must do to receive the money.
Among the requirements, nursing homes in their applications must provide supporting documentation, which can include invoices, purchase orders, payroll records and financial records, according to the memorandum. The foundation must also provide the Alabama Finance Director's Office with a detailed report on the 15th of each month noting how the money was spent, according to the document.
"I think it would be helpful for them to read that," Matson said, referring to AARP Alabama and the memorandum of understanding.
AARP Alabama is also asking that the money be used for ongoing and methodical testing of all residents and staff in the state's long-term care facilities.
"We've seen across the country that testing can be hit or miss, and testing frequency can vary," Williams said. "We've seen in other states where that has helped curb the loss of life and helps protect residents."
Matson noted that Ivey in early June also announced a separate $18.27 million in federal CARES Act funds to be spent toward regular nursing home COVID-19 testing and "proactive surveillance" through the end of the calendar year, which is also being administered by the Alabama Nursing Home Association Education Foundation.
Alabama's long-term care ombudsmen, who are tasked with protecting residents' rights and investigating health and safety concerns, have been largely banned from entering Alabama's long-term care facilities since early on in the pandemic when the facilities ended visitations to help prevent the spread of the virus.
Williams said AARP would also like to see the safe reentry of ombudsmen into state facilities and for those details to be included in a publicly-released plan.
"We also have been advocating for transparency and real-time data about the COVID cases and death in Alabama nursing homes and long-term care facilities. That continues to be a struggle," Williams said.
The Centers for Medicare and Medicaid Services is collecting that state data, but it's weeks old by the time it's published on the federal agency's website, Williams said.
"Having that information would help us protect the residents, staff and surrounding communities, but also making sure families have that information," Williams said.
The Alabama Department of Public Health has declined to release county-level or facility-level details on coronavirus in long-term care facilities and nursing homes, citing privacy concerns. Many other states do release that information, however.
According to CMS, there have been 3,841 confirmed COVID-19 cases and 562 deaths among residents in Alabama nursing homes as of July 26. AARP Alabama said COVID-19 deaths of nursing home residents make up approximately 42 percent of the state's total coronavirus deaths.