Opinion | Why should Will Dismukes resign?
Will Dismukes and his love for all things confederacy aren't an outlier in the Alabama Republican Party. The party has sought those voters. It has encouraged those views. It has backed legislation supporting those insane beliefs.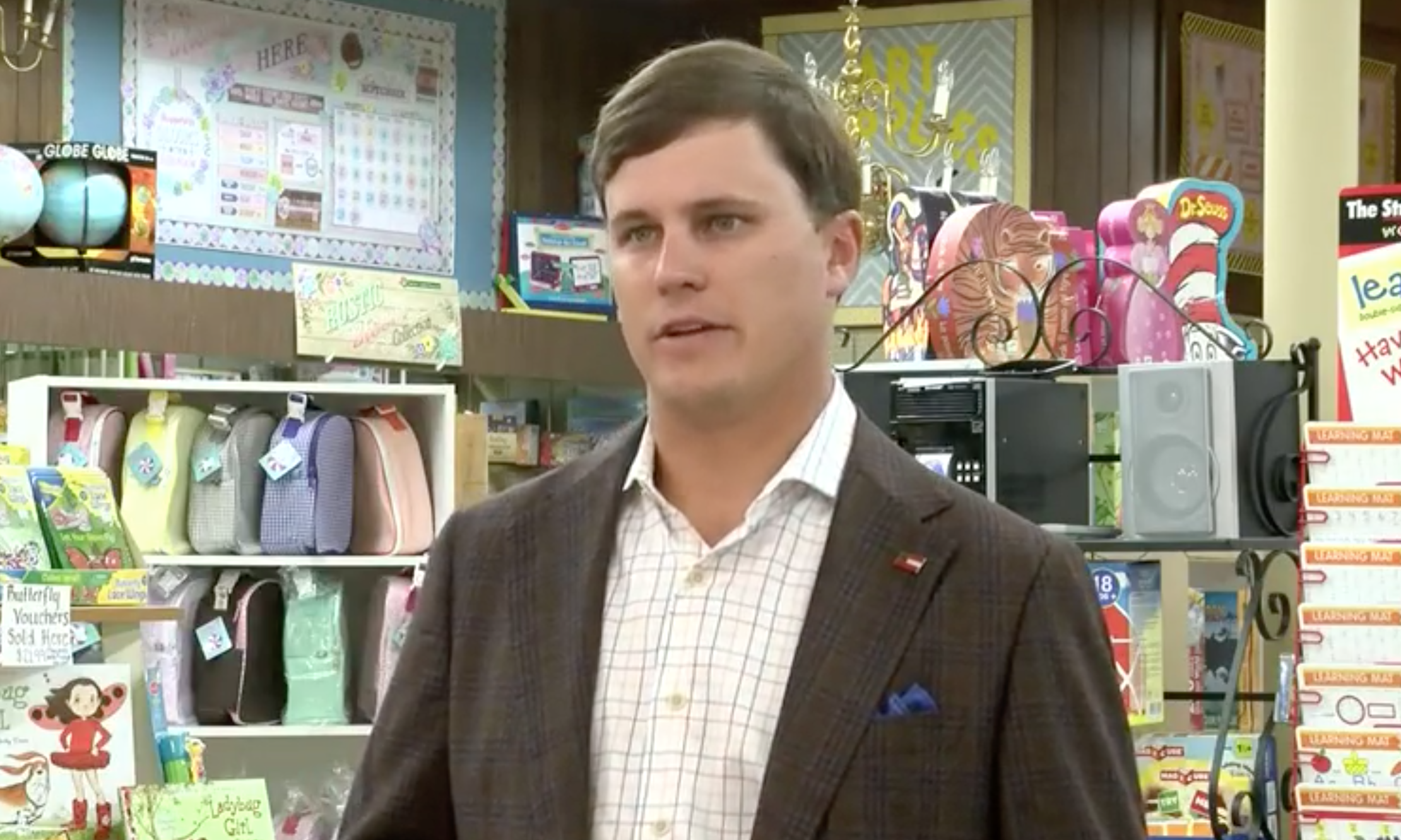 There is no reason for state Rep. Will Dismukes to resign. Not as far as the Alabama Republican Party is concerned. 
Oh, sure, a few members of ALGOP have made splashy headlines over the last two days, as they've called for Dismukes to resign or generally berated the young Republican for his decision to post about attending the birthday party for the Grand Wizard of the Ku Klux Klan. 
But really, what right do Alabama Republicans have to call for Dismukes to resign? 
This is the sort of behavior, the sort of people — the hate and ignorance and callousness and racism — that ALGOP has been embracing for years. The party has pandered to it, encouraged it, raised money off of it and never — not even a little bit — felt bad about it until the day it might cost them votes. 
I mean, stop it with the "this is not my party" nonsense. 
What are you talking about this isn't your party? Have you been living under a rock? 
Let us review, please. 
You are the party that a few years ago passed the most racist immigration law in America, correct? 
You are the party that repeatedly pushed for and eventually passed a law to protect confederate monuments, correct? (It's also worth noting that the original version of this law would have allowed for removal of Civil Rights Movement monuments.)
You are the party that had a member — a member who is still serving — pass around an email during a legislative session about training monkeys, a thinly-veiled, racist reference to black Democrats, right? 
You are the party that pushed for a new voter ID law that solved zero issues with fraud and placed another roadblock between Black voters and the polls, right? 
You are the party that broke the law to pass the AAA act, which rerouted public schools' dollars from Alabama's poorest and Blackest schools to private schools, helping to aid white flight, right? 
You are the party that earlier this year passed a resolution calling for forcing out Minnesota Congresswoman Ilhan Omar because you believed Facebook memes, right? 
You are the party that for years has resisted criminal justice reform, to the detriment of thousands of Black Alabamians and their families, right? 
You are the party that routinely — with a wink and a nod — paints a picture of Black families on public assistance as moochers and deadbeats, slicing the benefits to the bone and requiring worthless drug tests, right? 
You are the party that has remained silent as Black Alabamians rallied for better representation, more equal justice and the removal of Civil War participation trophies, correct? 
You are the party that has repeatedly coddled the believers of the "lost cause" theories of the Civil War, told them their opinions were just as valid and went to bat for them on legislation, correct? 
You are the party that continues to protect the funding of the Confederate Memorial Park — Alabama's most well funded park, right? 
This is who the ALGOP is. Stop pretending otherwise because Dismukes didn't know better than to do the quiet parts in public view. 
Had this happened prior to the current reckoning taking place in America, not a peep would have been said. How do I know this? Because it's not like Dismukes has been hiding his racism this whole time and then slipped up. 
The guy is active on social media, routinely referring to the Civil War as the "war of northern aggression." He has attacked Black Lives Matter, said nasty things about those wanting to remove confederate statues and went on a media campaign to save the funding for Confederate Memorial Park. 
Not a single elected Alabama Republican ever uttered a word. 
Just like no one in the ALGOP ever speaks up when Mo Brooks goes on one of his weekly racist rants. Or the Trump administration does something blatantly racist. Or one of the state party members posts a racist meme on social media.
Never a peep.
These things matter. And they don't just matter in the absolute worst cases, when voters might turn away and public sentiment is decidedly against you. 
They matter every single day to minorities in this state and around the country. Not for some petty political reason, but because these issues are a matter of fairness and decency for other human beings. 
So, sorry, but as it stands, Will Dismukes and his love for all things confederacy aren't an outlier in the Alabama Republican Party. The party has sought those voters. It has encouraged those views. It has backed legislation supporting those insane beliefs.
You don't get to run away from years of that deplorable behavior with a few press releases and tweets.
Opinion | Tommy, can you hear me?
That Morning Consult poll of Alabama voters that showed Republican Tommy Tuberville with a 17-point lead over incumbent Democratic Sen. Doug Jones for the U.S. Senate was such a stunner, a Jones campaign aide rushed out an email fundraiser trying to quell any panic.
Until now, most polls have shown Jones to be competitive against an unnamed Republican and, specifically, Tuberville, the former Auburn football coach who defeated Jeff Sessions to win the Republican nomination.
"I would never respond to an outside poll, but a new poll is out there showing Doug Jones losing by … wait for it … 17 points," writes Joe Trippi, senior adviser for the Doug Jones for Senate campaign.
"Here is my comment," Trippi writes. "No way."
Unfortunately, in Alabama, there is a way.
Republicans in the state tend to vote straight ticket in overwhelming numbers. Alabama is one of a handful of states that even allows straight-ticket voting, but the reality is, it does. So voters who want to cast their ballot for, say, Donald Trump in November, but who also like Jones, will have to split their ticket.
The Morning Consult poll showed that a large number of independent voters are undecided, and that could swing the election toward Jones. But straight-party voting can be a hope killer.
Not yet, though. It's still early. The election is still nearly three months away. We've not seen Tuberville do much of anything but bow before Trump, who endorsed him over his former attorney general. But that's Trump loyalty for you.
Indeed, the country is going so poorly right now, one wonders other than the hard-core racists, who still supports Trump.
I know, I know: Alabama is different (plus, we still have more than our share of hard-core racists). But c'mon, folks, more than 157,300 Americans are dead from the COVID-19 pandemic, completely mismanaged by the Trump administration. There have been more than 4.7 million cases. In Alabama, there have been more than 90,000 cases and more than 1,600 deaths.
Meanwhile, the U.S. and Alabama economies are in shambles and getting worse, not better. Trump has sided with Confederate statues and flags over eliminating the systemic racism found in police departments and other government agencies. Plus, most recently, Trump sent his secret army of unidentified goons to sweep protesters off the streets in American cities.
Trump is nobody's friend but his own.
Then there's Tuberville. A decent if mediocre football coach, Tuberville certainly is no Nick Saban. Tuberville isn't even a Gus Malzahn.
Sessions tried to argue that Tuberville wasn't a resident of Alabama, either, but that's not fair. Where Sessions is concerned, unfair is a character trait.
While Tuberville does maintain properties in Florida, he and his wife have owned a home in Auburn for at least three years. Too, they both are registered voters in Alabama, though Sessions said Tuberville cast his ballot in Florida during the 2018 midterms.
What's more important is where Tuberville stands on the issues. And that, we don't know much about. We know Jones is a moderate who works with members of both parties. He clearly represents Alabama's best interests as well as any U.S. senator who has served from Alabama.
Though the loons try to paint Jones as a liberal-socialist-communist bogeyman, he's nowhere close. Certainly, he's different from Sessions, who held that Senate seat for two decades before becoming Trump's attorney general. He's different from Sessions in that he actually gets legislation through the Senate. Sessions mainly interfered with progress while a senator.
The first U.S. senator to support Trump's candidacy, Sessions identified with Trump most likely because they're both die-hard racists. Trump rewarded that loyalty by back-stabbing Sessions out of Washington.
At some point, though, Tuberville must make his positions clear, and not simply that he'll support anything Trump does. That would be a disaster for Alabama, as much as Trump is a disaster for the United States.
The former Auburn University football coach can't just continue being a sycophant for Trump, whose own poll numbers are tanking and who is likely not going to win re-election.
Should Alabama send a Republican to represent the state with a Democratic president, a likely Democratic Senate and a solidly Democratic House? That would be useless.
But Trippi, in his email, did show how Tuberville wins easily: "One bad poll turns all of us off … you write the race off, and Tuberville coasts to victory because no one is paying attention," says Trippi. "Everyone abandons Alabama except Mitch McConnell, who is ALL IN to beat Doug. The proof is in the money he (McConnell) is spending now."
It's true that McConnell is working hard to unseat Jones to protect Republicans' wobbly control of the U.S. Senate, and if they weren't concerned that Jones has a good shot at winning re-election, McConnell would spend that campaign money in another state.
Tuberville must do more than hide behind Trump. We need to hear Tuberville's plan, where he stands on the issues and what he'll bring to Alabama that Jones hasn't already.
Let's hear it, Coach Tommy. But you'll have to scoot back a bit first.