Gov. Kay Ivey extends statewide mask order, requires masks in most classrooms
Ivey's amended order Tuesday mandates that face masks be worn by employees and students in classrooms from grade 2 through college.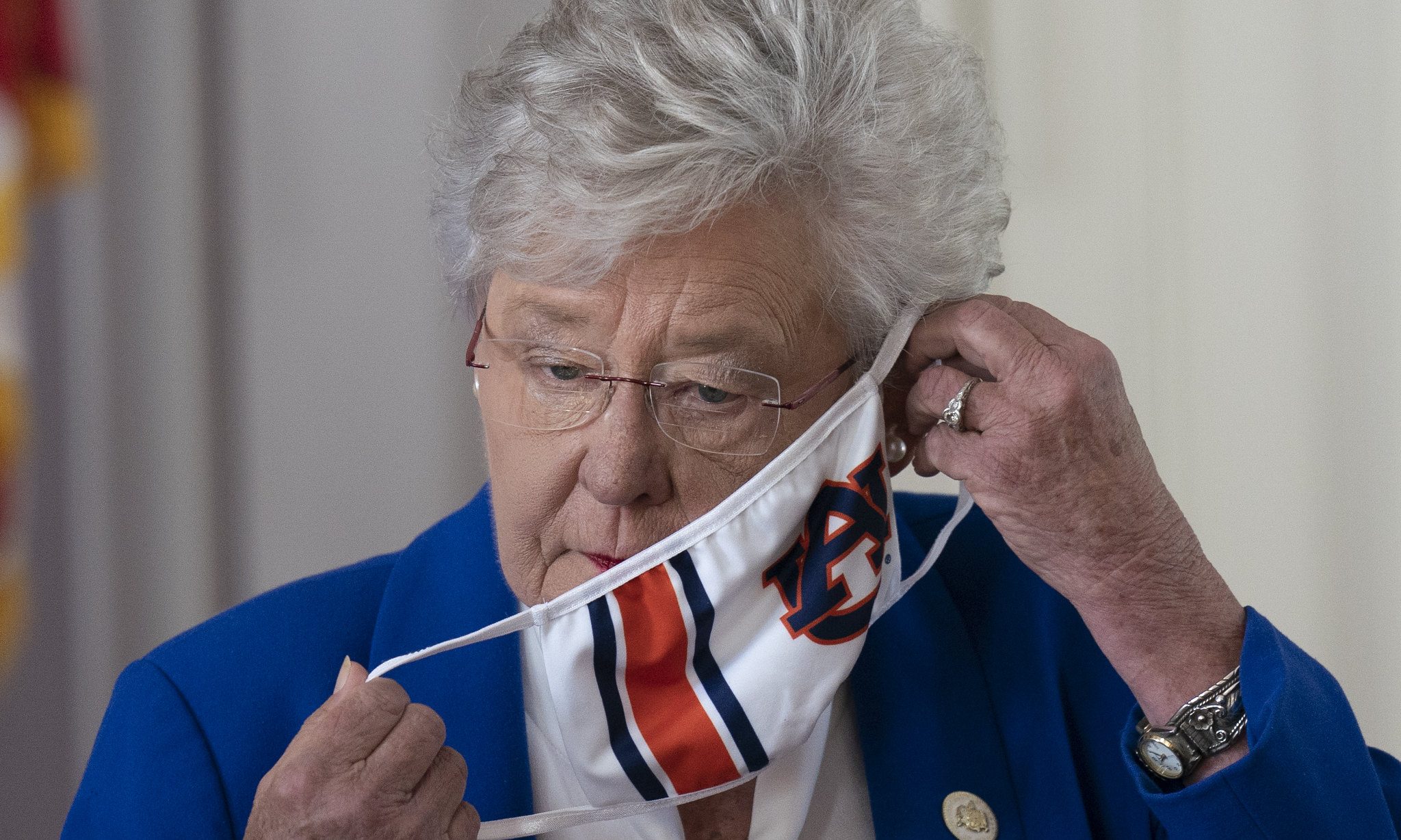 Gov. Kay Ivey on Wednesday extended her "safer-at-home" order, which includes a statewide mandate to wear face masks in public, until Aug. 31, with the addition of a requirement for masks to be worn in most classrooms statewide.  
Ivey's amended order Tuesday mandates that face masks be worn by employees and students in classrooms from grade 2 through college. 
"I know that with all responsibilities of being a teacher, it can be an added burden to require that a mask be worn, but just as we are focused on creating a safe and healthy environment for our students, it's also important that we take care of our teachers as well," Ivey said. 
With schools preparing to reopen for either in-person classes or for virtual learning for a period of time, Ivey discussed her concern about a "slide" if children are kept at home. 
"So here's a challenge to all of our school districts, and each of our schools around the state," Ivey said. "Nothing is set in concrete, and if the COVID-19 situation in your community or counties permits, you should be looking to phase back in to in-person classroom participation, if at all possible." 
Asked by a reporter what she'd tell teachers who are concerned about the possibility of contracting the virus in class, Ivey said decisions are made by local school districts. 
"Certainly we want our teachers to be safe, as we do our workers at the schools, much less our students, so it's a work in progress and we've just got to use good common sense," Ivey said. 
State Health Officer Dr. Scott Harris said the state's COVID-19 numbers "aren't particularly encouraging, and that Alabama has added more than 22,000 of the state's 81,572 total cases just within the last two weeks."
"The state's COVID-19 hospitalizations have been at all-time highs several days this week," Harris said. 
Alabama dips below 200 available intensive care beds for first time during pandemic
Of the occupied ICU beds, 447 were taken up by coronavirus patients — down slightly from 496 being cared for in ICU beds on Monday.
Alabama hospitals on Tuesday had the fewest intensive care beds available since the start of the pandemic, with just 10 percent not being used. It was the first day during the pandemic that available ICU beds in Alabama dipped below 200. Tuesday also saw the most COVID-19 patients in ICUs across the state. 
On Tuesday morning, there were 1,598 hospitalized COVID-19 patients in Alabama, and the state set a record-high number of hospitalized coronavirus patients on Monday, at 1,599.
"These numbers are as high as we've ever seen," Harris said. 
Asked by a reporter her reasoning for no new restrictions on businesses, given the state's bad coronavirus numbers, Ivey said "the bottom line is we just simply do not need to close our businesses, if at all possible." 
Ivey's amended safer-at-home order first went into effect May 22 and allowed more businesses, athletic activities, trade schools and child care facilities to reopen with restrictions. 
Ivey on June 30 extended her order with no new restrictions, but on July 15 announced a statewide mask order. 
Face masks are to be worn while in public when within six feet of another person outside of one's own household, while outside around groups of ten or more, and inside public spaces and on public transposition, with exceptions, according to the order.
Jefferson County health officer, UAB head say COVID-19 numbers are improving but flu season is near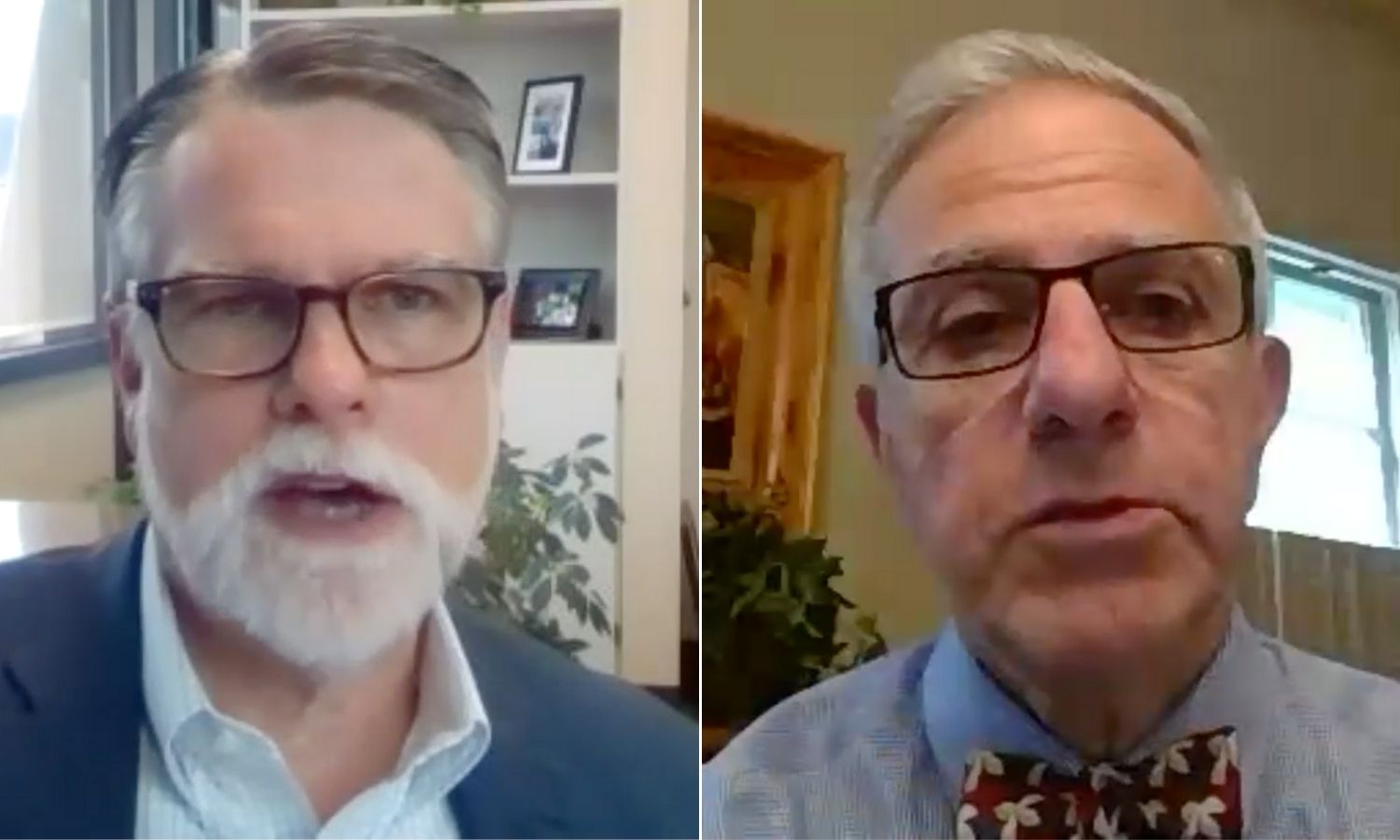 Jefferson County Health Officer Dr. Mark Wilson said Friday that the county's COVID-19 numbers are improving, but with schools reopening and flu season approaching, it's critical for the public to continue wearing face masks and practicing social distancing. 
Wilson and Will Ferniany, the CEO of the UAB Health System, held a press briefing on Friday to discuss the state of coronavirus and what's being done to mitigate the disease that has killed 1,825 people in Alabama and infected 102,196.
In the last few weeks, the number of new daily COVID-19 cases and the percent of tests that are positive in Jefferson County has begun to decline, Wilson told reporters, but he put that decline into perspective. 
"Keep in mind though that this is a slight improvement from being at a pretty bad place with really high numbers, so we still have a long way to go," Wilson said. 
There have been 13,682 confirmed coronavirus cases and 262 deaths in Jefferson County as of Friday, and 939 cases were added within the last week. The county's seven-day average of new daily cases fell from its peak of 295 on July 18 to 156 on Thursday.
Wilson said there is good evidence that the county's face covering order is making a difference in the spread of the disease, and that he thanks the public for making that difference, and asked that they keep doing so. 
"We have four levels of surge," Ferniany said, referring to UAB Hospital's process of temporarily adding hospital bed capacity for COVID-19 patients by removing beds from other areas. "We're on level two capacity." 
Ferniany said the hospital is running at 90 percent capacity, which he said is a "very full hospital" and that between March and around July 20, the hospital was caring for between 60 and 70 coronavirus patients daily, and reached a peak of 130 patients a little more than a week ago. 
"Today we're at 97 patients in-house, and roughly 40 percent are in the ICU," Ferniany said. 
Ferniany said the hospital's ability to care for COVID-19 patients is now limited by the numbers of nurses and other staff, and that UAB is "down several hundred nurses" and burnout from long periods of caring for coronavirus patients is common. 
Both Ferniany and Wilson said they're very concerned about the upcoming flu season and the impact it could have on hospital capacity, as physicians continue to care for COVID-19 patients. 
"The 2018-2019 flu season was the worst flu season we have seen in 40 years, and we actually asked the governor back then to declare a state of emergency because our hospitals were full then with influenza," Wilson said. 
Wilson urged the public to get their annual flu shots once available on Sept. 1 to help prevent additional strain on hospitals statewide. Public health officials worry that the combination of flu and COVID-19 could be difficult to handle — both on a system-wide level and the level of an individual person.
"We have no reason to think that somebody can't get the flu and COVID-19 at the same time, which could be a deadly combination," Wilson said. 
Wilson said while he isn't certain what Gov. Kay Ivey may decide about the statewide mask order, but "in Jefferson County, it's very likely I'm going to be pushing to continue face coverings through the flu season," Wilson said.
Wilson in July advised school superintendents in Jefferson County that middle and high school students should attend school virtually only for the first nine weeks, a stronger recommendation than most superintendents elsewhere have received. 
Wilson told reporters Friday that his recommendation for virtual-only classes to start was done to keep kids, teachers, staff and families safe. 
"We're probably going to have some cases. It's inevitable, but what we want to do is everything we can as kids go back to school to reduce the spread within school so that schools can stay open." 
There are also preliminary plans for a new testing site for children as schools reopen, Wilson said, but those plans continue to be developed. 
Ferniany said UAB Hospital on Thursday got initial approval from the hospital's board to expand COVID-19 testing capacity. 
"Our goal is to try to expand it significantly by the end of December. We probably can't get it up faster than that, but this pandemic is not going away by the end of December so I think we will have a significant increase in our ability to have rapid tests in place by the end of this year," Ferniany said.