There is no catch and release of alligators, except in Lake Eufaula
Alabama is a sportsman's paradise with freshwater fishing, saltwater fishing and even hunting year-round. Hogs and coyotes can be taken all through the month of August. But for the lucky few who drew an alligator tag, August is alligator hunting season.
The Alabama Department of Conservation and Natural Resources Wildlife and Freshwater Fisheries (WFF) Division wants this year's hunt to be safe for the hunters and fair for the game species. The WFF is reminding Alabama alligator hunters that they may not capture an alligator and release it because they prefer a bigger trophy gator.
Tag holders are not allowed to release an alligator after it has been captured. The only exception is the Lake Eufaula Zone where hunters must release any alligator that is less than 8 feet in total length. In all other alligator hunting zones, culling is prohibited by law.
"Many folks who have been going to classes for years and are now getting the training online understand about culling," said WFF director Chuck Sykes. "However, I think some hunters have abused our leniency in enforcing the regulation. We just want to make sure that everybody is aware that culling is not a legal practice. This is not a fishing trip where you practice catch-and-release. This is a cold-blooded animal that expends a great deal of energy during the fight and that could end up as an unexpected mortality."
"When you have 5,000 or so people apply for one of these coveted tags, we don't want people abusing the process and making it look like a catch-and-release fishing tournament," Sykes said. "We just wanted to clarify that culling is not allowed."
This regulation has been in effect since the 2018 Alabama alligator season.
"Just as you don't capture and release any other game animal, hunters are not allowed to practice releasing alligators unless they are hunting in the Lake Eufaula Zone, where there is a minimum harvest length of 8 feet," said Wildlife Section Chief Keith Gauldin. "A captured gator is your gator, so be sure to review the training videos on the website. The videos give you helpful tips on how to judge the size of an alligator."
Gauldin said there is a direct correlation between the distance from the gator's nostrils to its eyes and the total length of the animal. If the distance from the nostrils to the eyes is 10 inches, the estimated total length of the alligator would be 10 feet.
To learn more about alligator hunting and the no culling regulation the WFF has six training videos for hunters and the public to view.
Gauldin said that in the past, the WFF has seen social media posts of hunters capturing alligators, having their pictures taken with it, and then releasing the animal to go pursue a bigger gator.
"We don't want hunters to cause any undue stress on these animals," Gauldin said. "By regulation, an alligator is considered captured once it is secured with a snare around a leg or the head and is secured boat-side and in control. It must be immediately dispatched and the temporary tag applied. We want to stress that before hunters pursue an alligator and throw a hook at it or any of the legal means of catching an alligator, they should view that gator and estimate its size closely. They need to make sure that's the one they want to harvest."
Gauldin said another rule that will be closely enforced this year involves boats providing assistance during the alligator hunt.
"When hunting parties have multiple vessels involved, only the boat with the tag holder can have the capture equipment in it," Gauldin said. "The other vessels that are assisting can only have spotlights, but no capture equipment."
The only approved capture methods are hand-held snares, snatch hooks (hand-held or rod/reel), harpoons (with attached line) and bowfishing equipment (with the line attached from arrow to bow or crossbow).
This not Louisiana, as seen on the TV show "Swamp People" where the hunters tie a chain to a tree and bait it with a pork shoulder. The use of bait is not allowed at all in Alabama.
Gauldin said that WFF's Enforcement Section will be out in full force during the alligator season to make sure that Alabama's hunting regulations are followed.
"There is a high likelihood hunters will be checked by a Conservation Enforcement Officer at least on one of the nights of the season," Gauldin said. "It's a good idea to put all of your identification, hunting license and alligator tag in a Ziploc bag for easy access instead of having to dig it out of your wallet at one o'clock in the morning. Have that ready for presentation when you get checked. It will make it easier for our officers and make for a more timely check for the hunters."
Gauldin warned against drinking and gator hunting.
"We want hunters to have a good time but a safe time," he said. "Combining alcohol and alligator hunting is not a good idea."
Gauldin also warned that everyone on a gator hunt should have a personal flotation device.
"It's a good idea to have that PFD on if the boat is under throttle, especially at night," Gauldin said. "Obstructions are much harder to see at night. We just want them to have a safe hunt."
Alabama has five alligator hunting zones in South Alabama, the traditional range of alligators in the state.
The Southwest Zone has the most tags at 100. The Southwest Zone includes all of Mobile and Baldwin counties north of I-10 and private and public waters in Washington, Clarke and Monroe counties that lie east of U.S. Highway 43 and south of U.S. Highway 84. The 2020 season dates are sunset on August 13 until sunrise on August 16 and sunset on August 20 to sunrise on August 23.
The Coastal Zone will have 50 tags. It was created just last year to address the rising interaction between alligators and people along the Coast, where the WFF receives most of its nuisance alligator complaints. The Coastal Zone includes the private and public waters in Baldwin and Mobile counties that lie south of I-10. The 2020 season dates are the same as the Southwest Zone.
The Southeast Zone has 40 tags this year. It covers the private and public waters in Barbour, Coffee, Covington, Dale, Geneva, Henry, Houston, and Russell counties, excluding Alabama state public waters in Walter F. George Reservoir (Lake Eufaula) and its navigable tributaries. The 2020 season dates are sunset on August 8 until sunrise on September 7.
The West Central Zone will get 50 tags. It includes private and public waters in Monroe (north of U.S. Highway 84), Wilcox, and Dallas counties. The 2020 season dates are sunset on August 13 to sunrise on August 16 and sunset on August 20 to sunrise on August 23.
The Lake Eufaula Zone has 20 tags this year. It includes Alabama state public waters in Walter F. George Reservoir (Lake Eufaula) and its navigable tributaries, south of Highway 208, Omaha Bridge (excluding Eufaula National Wildlife Refuge). The 2020 season dates are sunset on August 14 until sunrise on October 5. The Lake Eufaula Zone is the only zone that allows daytime hunting.
Alabama's alligator hunters consistently harvest between 65 and 70 percent of the available tags.
While Louisiana and Florida may have more alligators than Alabama, the world record was taken in 2014 by Mandy Stokes of Camden. That gator was 15 feet, 9 inches long and weighed an incredible 1,011.5 pounds. The Stokes alligator shocked many people who thought that a gator had to be over 60 years old to be that big. Analysis of the leg bone of the alligator showed that it was only 24 to 28 years old.
The oldest known alligator is Muja who was hatched in a zoo in Germany sometime in the 1930s. In 1937, he was transferred as nearly an adult to the Belgrade Zoo where he has lived for the last 83 years.
August is also the month to renew your hunting and fishing licenses.
Alabama is world renown for the plethora of hunting and fishing options for sportsmen. Whether it is fishing for red snapper, cobia, spotted sea trout, flounder, amberjack, yellowfin tuna or croaker off the Alabama Gulf Coast; hunting for whitetail deer, hogs, coyotes, alligators, raccoon or fox in Alabama's forests; fishing for largemouth bass, crappie, catfish, and bluegill in Alabama's lakes; or hunting sandhill cranes, turkeys, geese, ducks, doves, quail, crows, and other fowl; or small game hunting for squirrels, rabbits, opossum, beaver and nutria, Alabama has an outdoor sport for you.
The SEC college football season has already been pushed back three weeks and shortened by two games due to the coronavirus crisis. Attendance is likely going to be limited to just 25 percent capacity or less if they can somehow manage to salvage the 2020 season. High school and youth sports have never been more dangerous to play due to the coronavirus global pandemic and it is even now dangerous to be in the stands as a spectator.
Hunting and fishing would provide a safe recreational activity the whole family can enjoy where social distancing is actually normal.
Humanity faces climate "suicide" without U.S. rejoining Paris Agreement, says UN secretary general
Humanity's survival will be "impossible" without the U.S. rejoining the Paris Agreement, he said.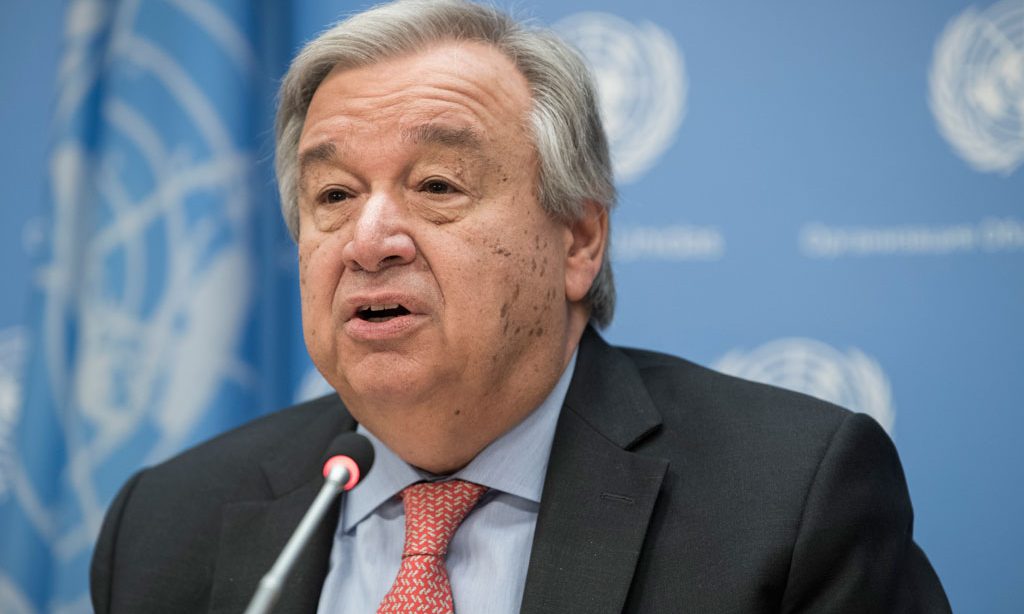 "The way we are moving is a suicide," United Nations Secretary General António Guterres said in an interview on Monday, and humanity's survival will be "impossible" without the United States rejoining the Paris Agreement and achieving "net zero" carbon emissions by 2050, as the incoming Biden administration has pledged.
The secretary general said that "of course" he had been in touch with President-elect Joe Biden and looked forward to welcoming the U.S. into a "global coalition for net zero by 2050" that the UN has organized.  The U.S. is the world's largest cumulative source of heat-trapping emissions and its biggest military and economic power, Guterres noted, so "there is no way we can solve the [climate] problem … without strong American leadership."
In an extraordinary, if largely unheralded diplomatic achievement, most of the world's leading emitters have already joined the UN's "net-zero by 2050" coalition, including the European Union, Japan, the United Kingdom, and China (which is the world's largest source of annual emissions and has committed to achieving carbon neutrality "before 2060").
India, meanwhile, the world's third-largest annual emitter, is the only G-20 country on track to limit temperature rise to 2 degrees Celsius by 2100, despite needing to lift many of its people out of poverty, an achievement Guterres called "remarkable." Along with fellow petrostate Russia, the U.S. has been the only major holdout, after Donald Trump announced he was withdrawing the U.S. from the Paris Agreement soon after becoming president four years ago.  
The new pledges could bring the Paris Agreement's goals "within reach," provided that the pledges are fulfilled, concluded an analysis by the independent research group Climate Action Tracker. If so, temperature rise could be limited to 2.1 degrees Celsius, the group said — higher than the agreement's target of 1.5 to 2 degrees, but a major improvement from the 3- to 5-degree future that business as usual would deliver.
"The targets set at Paris were always meant to be increased over time," Guterres said.  "[Now,] we need to align those commitments with a 1.5 C future, and then you must implement." 
Reiterating scientists' warning that humanity faces "a climate emergency," the secretary general said that achieving carbon neutrality by 2050 is imperative to avoiding "irreversible" impacts that would be "absolutely devastating for the world economy and for human life." 
He said rich countries must honor their obligation under the Paris Agreement to provide $100 billion a year to help developing countries limit their own climate pollution and adapt to the heatwaves, storms and sea level rise already underway. 
The trillions of dollars now being invested to revive pandemic-battered economies also must be spent in a "green" way, Guterres argued, or today's younger generations will inherit "a wrecked planet."  And he predicted that the oil and gas industry, in its present form, will die out before the end of this century as economies shift to renewable energy sources.
The secretary general's interview, conducted by CBS News, The Times of India, and El Pais on behalf of the journalistic consortium Covering Climate Now, is part of a 10-day push by the UN to reinvigorate the Paris Agreement before a follow-up conference next year. 
That conference, known as the 26th Conference of the Parties, or COP 26, was supposed to take place this week but was postponed due to the pandemic.  On Dec. 12, 2020, Guterres will mark the fifth anniversary of the signing of the Paris Agreement by convening a global climate summit with Boris Johnson, who as prime minister of the UK is the official host of COP 26, which occurs in Glasgow, Scotland, next November. 
A total of 110 countries have joined the "net-zero by 2050" coalition, the secretary general said, a development he attributed to the growing recognition of the increasingly frequent and destructive extreme weather events climate change is unleashing around the world and the "tremendous pressure" governments have faced from civil society, including millions of young people protesting in virtually every country as well as more and more of the private sector.  
"Governments, until now, thought to a certain extent that they could do whatever they wanted," Guterres said.  "But now … we see the youth mobilizing in fantastic ways all over the world."  And with solar and other renewable energy sources now cheaper than carbon-based equivalents, investors are realizing that "the sooner that they move … to portfolios linked to the new green and digital economy, the best it will be for their own assets and their own clients."
For a global economy that still relies on oil, gas, and coal for most of its energy and much of its food production, moving to "net zero" by 2050 nevertheless represents a tectonic shift — all the more so because scientists calculate that emissions must fall roughly by half over the next 10 years to hit the 2050 target.  Achieving those goals will require fundamental shifts in both public and private policy, including building no new coal plants and phasing out existing ones, Guterres said. Governments must also reform tax and subsidy practices.
There should be "no more subsidies for fossil fuels," the secretary general said.  "It doesn't make any sense that taxpayers' money is spent destroying the planet.  At the same time, we should shift taxation from income to carbon, from taxpayers to polluters.  I'm not asking governments to increase taxes.  I'm asking governments to reduce the taxes on payrolls or on companies that commit to invest in green energy and put that level of taxation on carbon pollution."
Governments must also ensure a "just transition" for the people and communities affected by the phase-out of fossil fuels, with workers getting unemployment payments and retraining for jobs in the new green economy.  "When I was in government [as the prime minister of Portugal], we had to close all the coal mines," he recalled.  "We did everything we could to make sure that those who were working in those mines would have their futures guaranteed."
The "cycle of oil as the key engine of the world economy is finished," Guterres said.  By the end of the 21st century, petroleum might still be used "as raw materials for different products … but the role of fossil fuels as [an energy source] will be minimal."
As for fossil fuel companies' stated ambitions to continue producing more oil, gas and coal, Guterres said that throughout history various economic sectors have risen and fallen and that the digital sector has now displaced the fossil fuel sector as the center of the global economy.
"I'm totally convinced that a lot of the oil and gas that is today in the soil," he said, "will remain in the soil."