Saban tries to save the college football season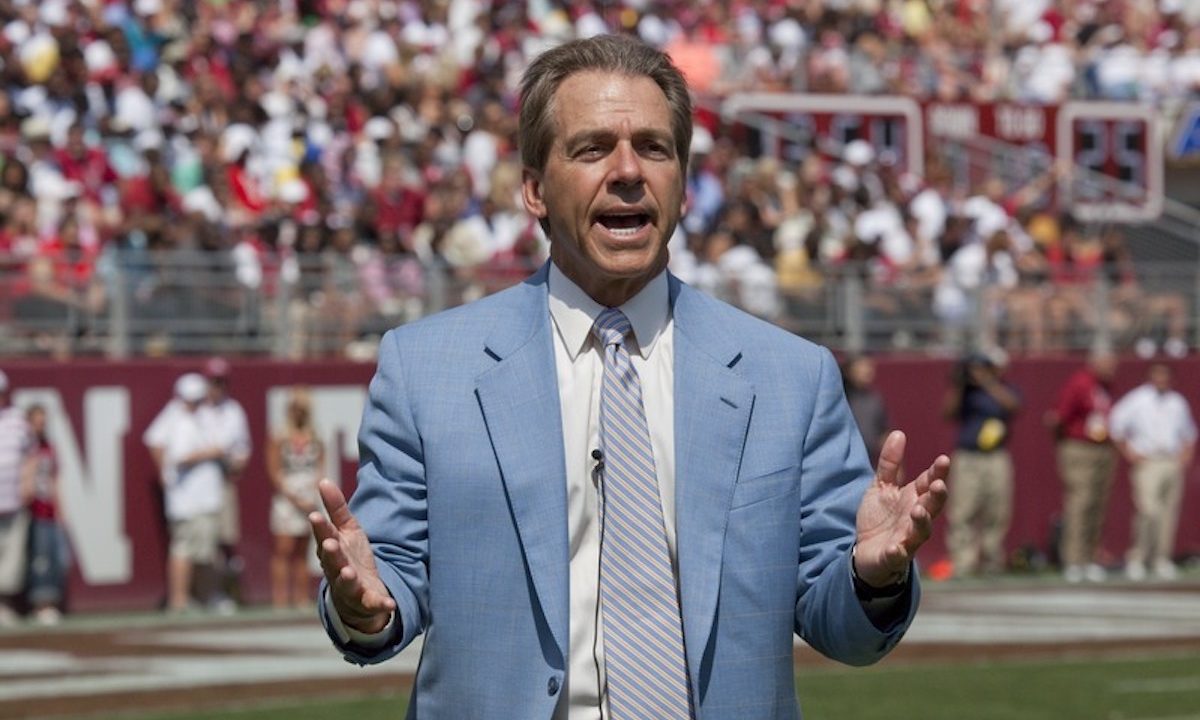 University of Alabama head football coach Nick Saban said Monday that he wants to play the 2020 season for the players.
"I want to play, but I want to play for the players' sake, the value they can create for themselves," Saban told ESPN. "I know I'll be criticized no matter what I say, that I don't care about player safety. Look, players are a lot safer with us than they are running around at home. We have around a 2 percent positive ratio on our team since the Fourth of July. It's a lot higher than that in society. We act like these guys can't get this unless they play football. They can get it anywhere, whether they're in a bar or just hanging out."
Saban's comments came on a day when the very future of the 2020 season was on the brink.
The Mountain West Conference announced that it was suspending all sports indefinitely due to the coronavirus. Hundreds of college football players have taken to Twitter and social media begging the powers that be not to kill this season. They were joined by Saban and other prominent figures in the sport including Michigan head football coach Jim Harbaugh, Clemson quarterback Trevor Lawrence and even President Donald Trump.
"The student-athletes have been working too hard for their season to be cancelled. #WeWantToPlay," Trump said on Twitter supporting a statement by Lawrence.
The student-athletes have been working too hard for their season to be cancelled. #WeWantToPlay https://t.co/lI3CCKZ4ID

— Donald J. Trump (@realDonaldTrump) August 10, 2020
Some conferences had already made up their minds to punt on the season.
"Nothing is more important than the health and well-being of our students, student-athletes, coaches, faculty, staff and overall communities," said Dr. Mary Papazian, chair of the MWC board of directors. "Through the hard work of many over the past several months, the conference made every effort to create an opportunity for our student-athletes to compete, and we empathize with the disappointment this creates for everyone associated with our programs. The best interests of our students and student-athletes remain our focus and we will persist in our efforts to forge a viable and responsible path forward."
A decision to postpone or cancel the 2020 college football season could come as early as this week. A growing tide of voices are calling for the cancelation or postponement of the college football season.
ESPN's Heather Dinich reports that this is based on what the athletic conferences are hearing from their medical advisory boards about the long term effects of COVID-19.
College presidents are very concerned that COVID-19, while rarely fatal in college students, can leave survivors with heart issues that may well be long-lasting. The mother of one Indiana player reported that her football player son contracted coronavirus while on campus for pre-season for strength and conditioning training. Her son developed symptomatic COVID-19 that included breathing difficulties. Now he is over COVID-19 but has heart inflammation that jeopardizes his playing career and perhaps even his long-term health.
There is a similar situation with a Major League Baseball player who had COVID-19 and now has heart inflammation, which doctors say can be a side effect of contracting COVID-19. More than half of college football players are Black, a demographic that has seen the highest rate of severe outcomes from COVID-19 including death.
The University of Louisville recently had to cancel all football activities on campus when a group of football players, in violation of the coronavirus social distancing protocols, attended a party on campus and 30 players tested positive for the coronavirus.
A number of college football players have contracted the virus including at the University of Alabama, Auburn University and Clemson.
The presidents are concerned about the long-term health effects of COVID-19 on college athletes as well as the rest of the student body, faculty and staff. They are also concerned about the schools' legal liability if they don't do everything in their power to fight the spread of the virus — and canceling fall sports is arguably necessary to fight the spread of the virus.
Congress failed to pass legislation that would have given schools and employers liability protection from COVID-related lawsuits.
The Mid-American Conference (MAC) and South West Athletic Conferences (SWAC) — which includes Alabama A&M and Alabama State — have already voted to postpone fall sports to Spring. The MAC decision puts pressure on the other Division 1 Football Bowl Series schools to also postpone or cancel the season. The University of Connecticut has already canceled its 2020 football season, the first Division 1 school to make that decision. Others could follow.
On Tuesday, the Big 10 Conference presidents will meet on possibly postponing the 2020 season to December or later. The PAC 12 conference college Presidents will also meet to discuss the possibility of postponing or canceling all fall sports. A number of PAC 12 players have come out vocally expressing concerns about the safety of playing the sport during the global pandemic.
The Big 10 and PAC 12 are two of the "Power Five" conferences along with the SEC, the Big 12 and the ACC. If either the Big 10 or PAC 12 were to postpone or cancel the football season, it would be difficult for the other schools to continue without them, though most conferences have already adopted a 10-game, conference-only season.
Alabama and Auburn are members of the SEC.
The Power Five conference commissioners met on a conference call Sunday night to prepare a recommendation on how to proceed if the presidents decide that playing sports in the fall is an unnecessary risk. They were unable to reach a decision on whether that recommendation should be to play the 2020 fall sports in the spring or to cancel fall sports altogether as spring sports, including baseball and softball, were canceled last spring.
The commissioners of the SEC and ACC both released statements saying that they are moving forward to play. It is highly possible that some of the Power Five conferences will play this fall and some will play in the spring. How this would affect the college postseason is still unclear.
"The college football season should be canceled; it should be canceled today," said ESPN sports commentator Stephen A Smith on Monday. Smith cited a lack of leadership looking out for the health of college athletes in college football.
ESPN college football analyst Kirk Herbstreit had already predicted that the sport could not be played this year due to athlete safety. There is a growing consensus in both the medical and academic community that this may be the case.
A decision by the PAC 12 on Tuesday could start a domino effect that will lead to the cancelation or postponement of all fall sports.
Some analysts have expressed skepticism that the 2020 and 2021 football seasons could both be played in the 2021 calendar year and even that the COVID risk will be less in the spring than it is now.
The SEC had already reduced the season from 12 games to 10 and postponed the start of the football season to Sept. 26. SEC football players were already supposed to be in camp preparing for the fall season, but the conference has postponed the start of football practices to August 17.
The Alabama High School Athletic Association at this point still plans to play high school fall sports including football.
Sen. Doug Jones won't support SCOTUS nominee before Nov. 3 election
"Certainly, power grabs are not uncommon in our political system, but few are accompanied by such blatant hypocrisy as we are witnessing now," Jones said.
Sen. Doug Jones, D-Alabama, on Friday said he would not support any nominee to the U.S. Supreme Court before the outcome of the Nov. 3 election is determined. 
Speaking during a livestreamed briefing, Jones said that while Republicans appear to have enough votes to replace the late Justice Ruth Bader Ginsburg, he will not be a party to denying the people a voice in the process in the election of the next president "in just under 44 days." 
President Donald Trump said Saturday that he plans to nominate Amy Coney Barrett to replace Ginsburg, who on Friday became the first woman, and first Jewish person, to lie in state at the U.S. Capitol. 
Several Republicans who voiced opposition to President Barack Obama's nomination of Judge Merrick Garland to the Supreme Court more than 10 months before the 2016 election have reversed course, and now say they support Trump nominating a selection with election day just a little more than a month away. 
"Certainly, power grabs are not uncommon in our political system, but few are accompanied by such blatant hypocrisy as we are witnessing now," Jones said. "In fact, I believe that the level and intensity of hypocrisy being displayed by Senator McConnell and the president, with regard to the rush to confirm Justice Ginsburg's successor, is unmatched in the history of our constitutional government." 
Jones said what McConnell and other Republicans should be focusing on instead is getting another round of much-needed COVID-19 aid to small businesses and people impacted by the pandemic. 
"Rather than pushing this confirmation to the top of the Senate calendar, the majority leader should turn his focus instead to protecting the lives and livelihoods of the American people. We should pass a new bipartisan COVID-19 stimulus package to give Americans and businesses the relief that they desperately need, and that economists say if required to shore up the economy now," Jones said. 
Jones expressed concern as well for what medical experts are warning could be a new spike in COVID-19 nationwide. 
"There could be an even greater urgency, if our health care professionals' warnings come to pass," Jones said. "And that is as temperature drops and people go indoors that this virus spikes, and we see another surge." 
Asked why his opponent, Tommy Tuberville, won't debate Jones, he said, "It's pretty simple. He doesn't know what he's talking about."  
"He has no clue. He is Coach Clueless," Jones said. 
Jones noted that when asked recently on his thoughts on extending the John R. Lewis Voting Rights Act of 2020, Tuberville stumbled through an answer that indicated he wasn't sure what the Voting Rights Act was.
"He had no earthly idea," Jones said. 
Jones said Tuberville isn't going to debate him because Tuberville doesn't want to talk about issues.
"He doesn't want to talk about a plan. His plan is simply this: Whatever Donald Trump says, I'm good," Jones said, "and if Donald Trump says or does something that is not good, it's crickets coming from Coach Tuberville." 
Jones noted that after multiple news outlets, including Fox News, confirmed reporting that Trump had said disparaging things about veterans who died in combat, Tuberville has not spoken out against Trump's comments. 
Jennifer Griffin, senior national security correspondent for Fox News, reported that she has spoken to senior U.S. officials who backed up reporting by The Atlantic, and said Trump said of the Vietnam War "anyone who went was a sucker." 
"He has not said a thing about what was confirmed by Fox News about the president's comment," Jones said of Tuberville. "That's just disgraceful."