Barry Moore "pleased" Trump is taking action to support America's reopening
Republican congressional candidate Barry Moore, a former state representative from Enterprise, released a statement expressing confidence in President Donald Trump's leadership after recent remarks by the president.
"President Trump continues to show strong leadership during this crisis, and the most recent round of economic numbers shows this," Moore said. "I'm pleased that he's taking action to continue providing the relief Americans so desperately need with his executive orders while the Democrats in both the House and Senate are blocking this relief for their own political gain."
"I was especially pleased to hear the President speak out so strongly in favor of school choice and 'paying the student', so that parents and students could be free to find the best education opportunities, whether that's a public, private or a charter school," Moore said. "President Trump and I both agree that the child should come first, and school choice is a strong part of that. The President wants us to reopen our schools safely, as I do, because sitting at home playing on the computer is not the same as being in school."
At a press conference on Monday, Trump cited the recent upward trend in the stock market, economic numbers from the Bureau of Labor Statistics July report and a rise in homebuilder's confidence. The president asserted that "the stock market rebound signals a V-shaped recovery" and that the U.S. has "the strongest performing economy in the world."
Trump also noted that the U.S. economy was also performing significantly better than in Europe.
"We had to turn the economy off and now we're turning it back on," the president said.
The president went on to criticize Democrats including Speaker of the House Nancy Pelosi, D-Californi, and Senate Minority Leader Chuck Schumer, D-New York, for wanting "radical left agenda items" and "ridiculous things that have nothing at all to do with the China virus" in the most recent relief bill, which is currently stalled in Congress.
Trump used Democratic demands for $3.5 billion dollars for universal mail-in voting, which the president described as setting up "the greatest rigged election in history," as just one example of Democratic obstruction.
Trump accused Democrats of holding up money for schools, state and local governments, and extending unemployment benefits and the moratorium on evictions. Trump said that this is what prompted him to sign a series of executive orders on Saturday addressing these issues.
"My hope is that, with the President's continued leadership, we can continue to reopen our country and our economy, and I look forward to working on our complete recovery when I'm elected to Congress to represent District 2," Moore concluded.
Moore is the Republican nominee for Congress in Alabama's 2nd Congressional District. Moore is an Auburn University graduate, a small businessman, veteran, husband and father of four. Moore served two terms in the Alabama House of Representatives for 2010 to 2018. He ran for Congress unsuccessfully in 2018. Moore credits that failed run for setting up the groundwork for his winning the Republican nomination in a crowded GOP field in 2020.
Moore faces Democratic nominee Phyllis Harvey-Hall in the Nov. 3 general election. Incumbent Congresswoman Martha Roby, R-Alabama, is retiring from Congress at the end of this term.
Sewell condemns actions, comments by Republican colleagues
Sewell called for Republican colleagues who shared in conspiracy theories over the election to be held accountable.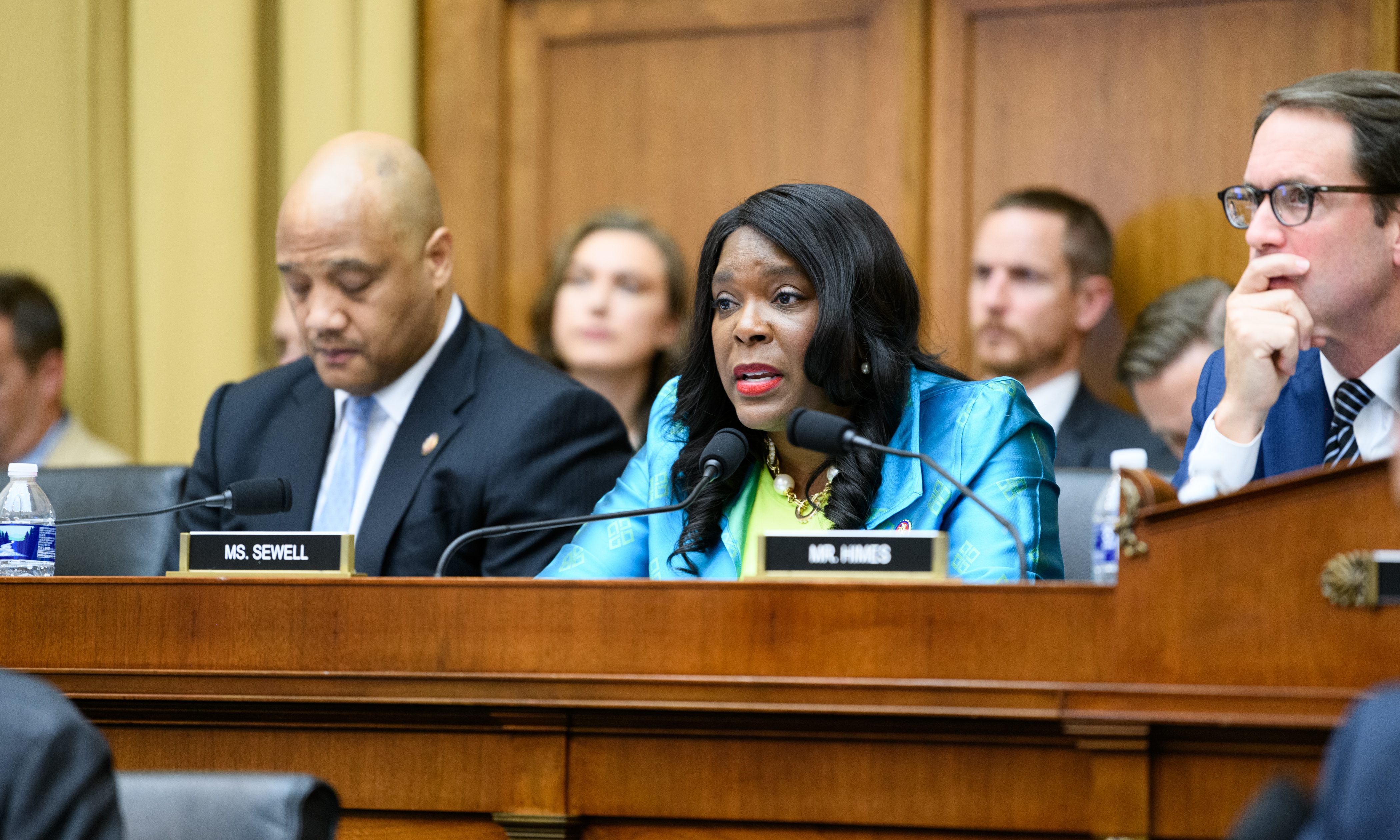 Congresswoman Terri Sewell, D-Alabama, in a statement to APR on Monday called out some of her Republican colleagues, specifically Congressmen Mo Brooks and Barry Moore, for what she described as their "irresponsible and inflammatory remarks" regarding the election outcome and statements made surrounding the deadly attack of the U.S. Capitol on Wednesday. 
Rep. Barry Moore, R-Alabama, on Sunday had his personal Twitter account suspended, and then he deleted his account, after two tweets he made regarding the deadly attack on the U.S. Capitol drew criticism. 
"Wow we have more arrests for stealing a podium on January 6th than we do for stealing an election on November 3rd. Atlanta, Philadelphia, and Detroit, would be places I recommend you start; there is video evidence of these crimes as well! #ElectionIntegrityMatters," Moore tweeted on Saturday. 
Before his account was suspended and deleted, Moore also tweeted in reference to the death of Ashli Babbit, 35, who was shot by a Capitol Police officer when she tried to crawl through a broken window inside the Capitol during the siege.
"@mtgreenee @NARAL I understand it was a black officer that shot the white female veteran . You know that doesn't fit the narrative," Moore tweeted Saturday. The tweet has since been deleted, but it has been archived by Pro Publica's Politwoops project.
At least five people, including Capitol Police Officer Brian Sicknick, have been killed related to the siege. Another Capitol Hill police officer, Howard Liebengood, who responded to the attack, died Saturday off duty, marking the second Capitol Police officer death since Wednesday. Police did not release his cause of death.
"Since Wednesday's violent assault at the U.S. Capitol, I have been repeatedly asked my thoughts about the actions and comments of my Alabama colleagues, especially Rep. Mo Brooks and now Rep. Barry Moore," Sewell said in a statement to APR on Monday. "While the Alabama congressional delegation has had a history of civility, if not congeniality, irrespective of political party, I cannot let the irresponsible and inflammatory remarks of some of my colleagues go unanswered."
She went on to say:
"It's not okay for elected officials to continue to peddle lies and conspiracy theories about widespread voter fraud and an allegedly-stolen presidential election.  President-Elect Biden won the election. There are simply no credible allegations of fraud, and upwards of 60 cases filed alleging problems with the election have been heard and dismissed by the courts. There are Trump appointed U.S. Attorneys throughout the country who were authorized by former Attorney General Bill Barr to investigate and prosecute allegations of fraud. Not one case has been filed by any of these Trump appointees.
"It is not okay for my congressional colleagues to use their public platform to incite Americans to overturn our election, storm the U.S. Capitol or assault our democracy. It's called an insurrection and such seditious behavior must have consequences.  
"It's not okay to use racial overtones to further spread deceptive narratives that perpetuate the lie that caused last week's violent events. 
"Such lawmakers must be held accountable. Their words and actions do matter and their complicity in inciting the vicious attack on our democracy must not go unchecked. I am deeply and personally offended by the outrageous comments and every Alabamian that believes in our democracy should be, too."
Sewell was forced to shelter inside the Capitol after Trump supporters stormed the building, prompting the evacuation of some and a barricading of others as police tried to get control of an out-of-control siege.
Moore didn't answer APR's questions Sunday about those tweets directly, but his chief of staff sent APR a statement from Moore on Sunday afternoon. 
"Lawlessness is not the answer to our nation's problems, and every person who acts unlawfully is responsible for their own actions and should be held accountable to the full extent of the law, whether that's Black Lives Matter, Antifa or Wednesday's rioters," Moore said in the statement. 
Brooks was an early supporter of challenging the certification of election results, an action that pleased President Donald Trump and his allies seeking to overturn the election, and spoke to the crowd gathered near the Capitol before the attack. 
"Today is the day American patriots start taking down names and kicking ass," Brooks yelled into his microphone. After the riots began, Brooks tweeted an unfounded rumor alleging it was antifa who started the rioting.
The day after the attack, Brooks told an Alabama conservative talk radio host that he had no regrets over his speech prior to the violence, according to The Intercept, telling the host that there was "mounting evidence of fascist antifa's involvement in all of this." 
The Federal Bureau of Investigations said on Friday that there was no evidence of antifa aiding pro-Trump supporters in the deadly attack.