USDA announces more eligible commodities for CFAP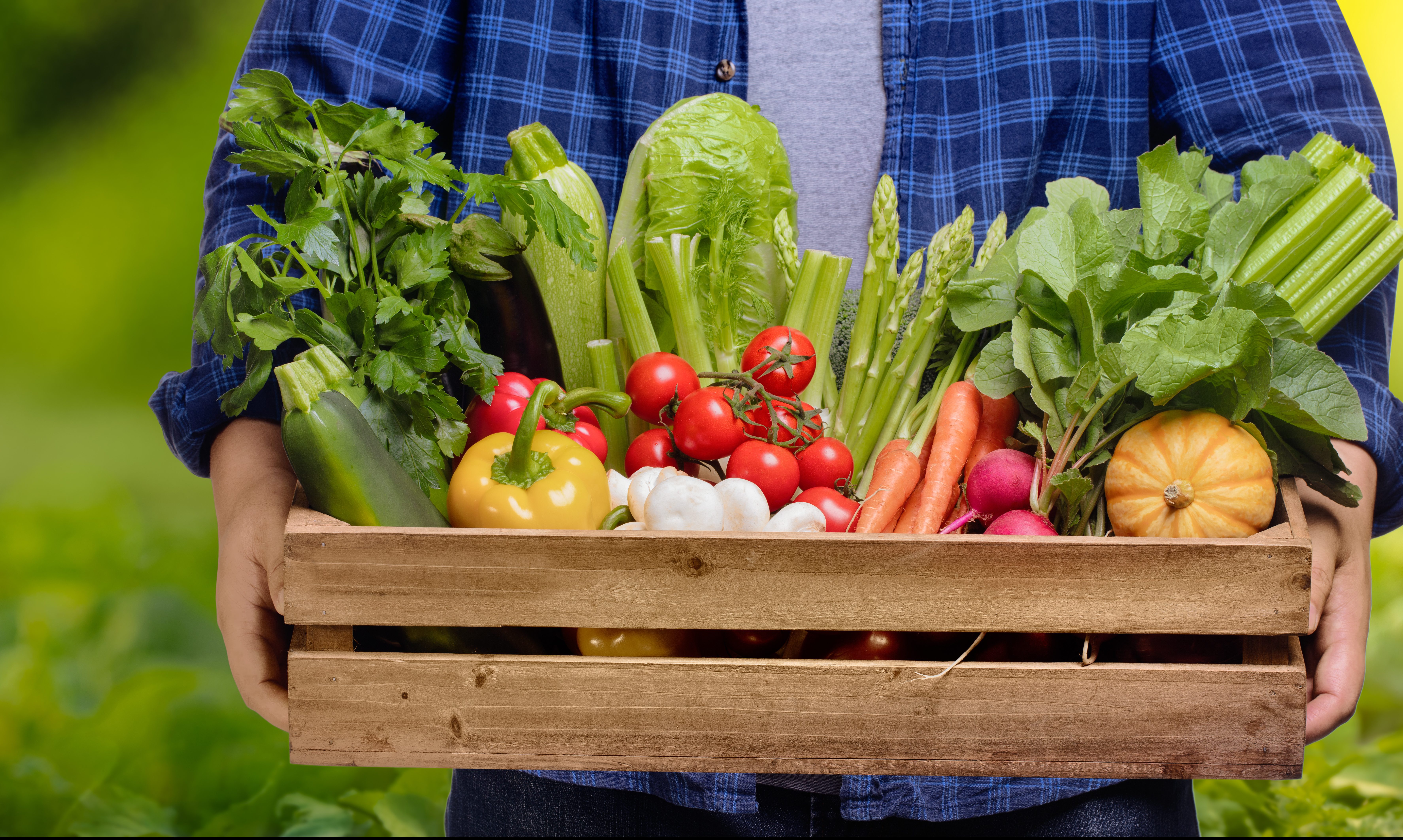 The U.S. secretary of agriculture, Sonny Perdue, announced that additional commodities are covered by the Coronavirus Food Assistance Program. This decision was made in response to public comments and data, and the USDA is extending the deadline to apply for the program to Sept. 11, and producers with approved applications will receive their final payment.
After reviewing over 1,700 responses, even more farmers and ranchers will have the opportunity for assistance to help keep operations afloat during these tough times.
"President Trump is standing with America's farmers and ranchers to ensure they get through this pandemic and continue to produce enough food and fiber to feed America and the world," Perdue said. "That is why he authorized this $16 billion of direct support in the CFAP program and today we are pleased to add additional commodities eligible to receive much-needed assistance. CFAP is just one of the many ways USDA is helping producers weather the impacts of the pandemic. From deferring payments on loans to adding flexibilities to crop insurance and reporting deadlines, USDA has been leveraging many tools to help producers."
Economic developer Nicole Jones said, "A stable food supply at all times is critical to any nation's survival. The United States Department of Agriculture and the Trump Administration listened to producers and acted based on results of feedback. Adding specific commodities to the Coronavirus Food Assistance Program, loan payment deference, and flexibilities on reporting deadlines are some of the many ways USDA and the Trump Administration have demonstrated support for America's farmers. Agriculture and food production is a dominant industry in Alabama, and farmers across our state have been beneficiaries of this assistance."
USDA collected comments and supporting data for consideration of additional commodities through June 22, 2020.
The following additional commodities are now eligible for CFAP:
Specialty Crops including aloe leaves, bananas, batatas, bok choy, carambola (star fruit), cherimoya, chervil (french parsley), citron, curry leaves, daikon, dates, dill, donqua (winter melon), dragon fruit (red pitaya), endive, escarole, filberts, frisee, horseradish, kohlrabi, kumquats, leeks, mamey sapote, maple sap (for maple syrup), mesculin mix, microgreens, nectarines, parsley, persimmons, plantains, pomegranates, pummelos, pumpkins, rutabagas, shallots, tangelos, turnips/celeriac, turmeric, upland/winter cress, water cress, yautia/malanga, and yuca/cassava.
The program has also been expanded to include liquid eggs, frozen eggs and all sheep. Only lambs and yearlings (sheep less than two years old) were previously eligible.
Also now eligible are aquaculture including catfish, crawfish, largemouth bass and carp sold live as foodfish, hybrid striped bass, red drum, salmon, sturgeon, tilapia, trout, ornamental/tropical fish, and recreational sportfish.
Farmers with nursery crops and cut flowers are also eligible.
Seven commodities — green onions, pistachios, peppermint, spearmint, walnuts and watermelons — are now eligible for Coronavirus Aid, Relief, and Economic Stability Act funding for sales losses. Originally, these commodities were only eligible for payments on marketing adjustments.
More details can be found in the Federal Register in the Notice of Funding Availability and Final Rule Correction.
To ensure the availability of funding, producers with approved applications initially received 80 percent of their payments. The Farm Service Agency will automatically issue the remaining 20 percent of the calculated payment to eligible producers. Going forward, producers who apply for CFAP will receive 100 percent of their total payment, not to exceed the payment limit, when their applications are approved.
Farmers and ranchers, especially those who have not worked with FSA previously, are recommended to call 877-508-8364 to begin the application process. An FSA staff member can help producers start their application during the phone call.
On farmers.gov/cfap, producers can download the AD-3114 application form and manually complete the form to submit to their local USDA Service Center by mail, electronically or by hand delivery to their local office or office dropbox.
Complete the application form using the CFAP Application Generator and Payment Calculator. This Excel workbook allows customers to input information specific to their operation to determine estimated payments and populate the application form, which can be printed, then signed and submitted to their local USDA Service Center.
If producers have login credentials known as eAuthentication, they can use the online CFAP Application Portal to certify eligible commodities online, digitally sign applications and submit directly to the local USDA Service Center.
All other eligibility forms, such as those related to adjusted gross income and payment information, can be downloaded from the site. For existing FSA customers, these documents are likely already on file.
All USDA Service Centers are open for business, including some that are open to visitors to conduct business in person by appointment only. All Service Center visitors wishing to conduct business with FSA, Natural Resources Conservation Service or any other Service Center agency should call ahead and schedule an appointment.
Service Centers that are open for appointments will pre-screen visitors based on health concerns or recent travel, and visitors must adhere to social-distancing guidelines. Visitors are also required to wear a face-covering during their appointment. The program delivery staff will be in the office, and they will be working with producers in the office, by phone and using online tools.
Inaugural Alabama Works innovator awards presented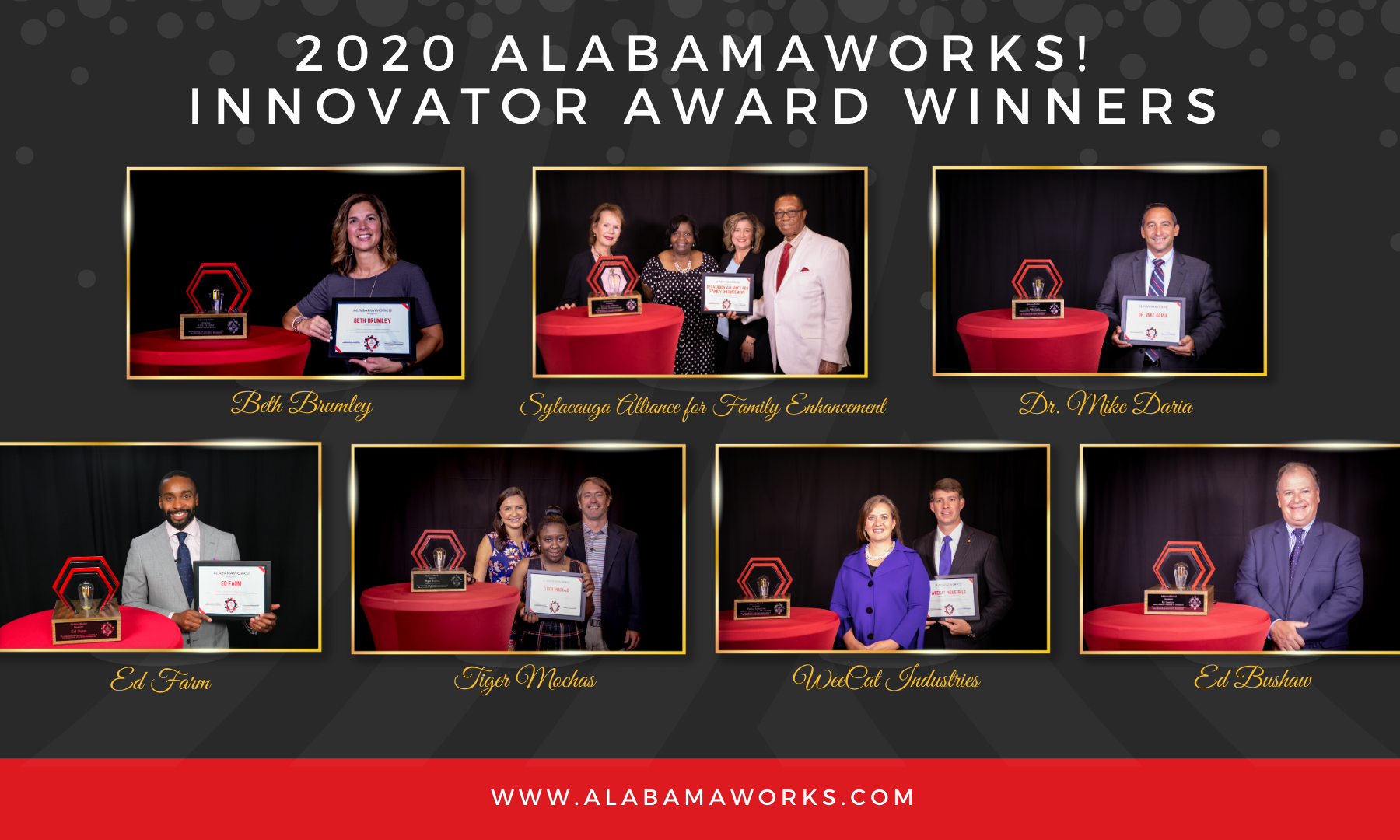 The inaugural AlabamaWorks! Innovator Awards were presented by Gov. Kay Ivey and Deputy Director of Commerce and AIDT Director Ed Castile Thursday during the AlabamaWorks! Virtual Conference.
The awards were developed to highlight people and programs across the state that take an innovative approach to solving workforce challenges and help advance Ivey's Success Plus attainment goal of adding 500,000 highly skilled workers by 2025.
At the time of the inception of the awards, Alabama was unaware of the impact COVID-19 would have on the workforce and although the attainment goal has not changed, our economic and workforce recovery post-COVID-19 will hinge on innovators like those recognized.
"The workforce challenges that we face today are not the same ones that we faced six months ago due to the COVID-19 pandemic that has completely reshaped the workforce landscape," said Gov. Kay Ivey. "The State of Alabama is relying on those who are leading the charge by implementing innovative solutions in their cities, counties and regions to further economic and workforce development."
The recipients are visionaries, outside-of-the-box thinkers and problem solvers. The programs test boundaries, explore new opportunities and reach deeper to bring about change. "It is important to recognize these leaders of innovation and to thank them for their hard work and dedication to the citizens, communities and industries of Alabama," said Ed Castile, deputy director of commerce and AIDT director. "Their innovative approach to workforce development will be key to opening doors, breaking barriers and propelling Alabamians forward."
The recipients of the first-ever AlabamaWorks Innovator Awards are as follows:
Region 1 – North AlabamaWorks – Beth Brumley, Colbert County Schools
Beth Brumley built the Health Science Program for Colbert County Schools from the ground up by using her experience in the healthcare field to provide critical, real-world skills to her students. She developed key relationships within the healthcare community to provide her students enhanced learning opportunities and exposure, which resulted in increased demand for program graduates. Beth was also named the 2020 National New Teacher of the Year through the Association for Career and Technical Education. By bridging the gap between education and employer, Beth has created a formula for success that positively impacts the workforce.
Region 2 – East AlabamaWorks – The Sylacauga Alliance for Family Enhancement (SAFE)
SAFE has been a model for supportive services to empower individuals and families while fostering positive and healthy development of the community for nearly 25 years. In their program, SAFE combines occupational and employability skills to help job seekers be ready to enter the workforce regardless of barriers they may have faced in the past. Their dedication to providing practical solutions to modern problems is a testament to their heart for service and passion for helping their community and region.
Region 3 – West AlabamaWorks – Dr. Mike Daria, Superintendent Tuscaloosa City Schools
Dr. Daria has played a crucial role in the success of West Alabama's workforce development by fostering important relationships between industry and education. His leadership has focused on increased Career Technical Education (CTE) enrollment, supporting local Worlds of Work events and the Educator Workforce Academy. Dr. Daria's emphasis on the importance of identifying career pathways for the students in his district and then providing viable opportunities for students to take those paths, make him invaluable to West Alabama.
Region 4 – Central Six AlabamaWorks – Ed Farm
Ed Farm is the signature program of TechAlabama that focuses on encouraging children and adults to discover and pursue STEM careers. Ed Farm has a vision for a world full of invention, led by citizens who have been equipped with the necessary tools to fill or create the careers of the future. Through equipping educators and communities with innovative tools, strategies and programs they are able to support active learning for all students. With three signature tracks, Ed Farm is poised to help increase educational equity and improve learning outcomes through technology all while preparing the future tech workforce.
Region 5 – Central AlabamaWorks – Tiger Mochas, Auburn City Schools
Tiger Mochas is a collaborative effort between special education students, FCCLA (Family, Career, and Community Leaders of America) members and peer volunteers at Auburn High School. This student-led organization is serving up a lot more than hot cups of coffee to their peers because through their work, students are provided meaningful, hands-on work experience that teaches important functional, social and daily living skills. Graduates of the program leave with not only work and employability skills, but in-demand soft skills that will help them succeed in life and work.
Region 6 – Southeast AlabamaWorks – WeeCat Industries
WeeCat Industries uses a simulated workplace model to meet the growing demand for a skilled workforce. WeeCat saw an opportunity to begin teaching work ethics and employability skills as early as preschool, and rose to the challenge. Their students clock into work, run an assembly line, fill orders, check invoices, meet production quota, interview for new positions and implement quality control all while earning a "paycheck" to be spent at the WeeCat Store before they can even spell the word "school". WeeCat Industries places invaluable skills at a crucial age in development which will shape the future of the workforce.
Region 7 – SAWDC AlabamaWorks – Ed Bushaw
Ed Bushaw with the South Baldwin Chamber of Commerce researched and developed initiatives to address the region's workforce supply to meet the needs of the growing hospitality and tourism industry in his region. His collaborative efforts with business and industry officials resulted in the development of the first Hospitality and Tourism registered apprenticeship program in Alabama. Apprentices receive classroom instruction as well as valuable real-world experience within the hospitality and tourism industry and finish the program with a credential that can be used to advance their career. Ed's ability to adapt to the needs of industry and implement programs that address those needs are vital to the continued success of southwest Alabama.