Alabama Republicans react to Biden's nomination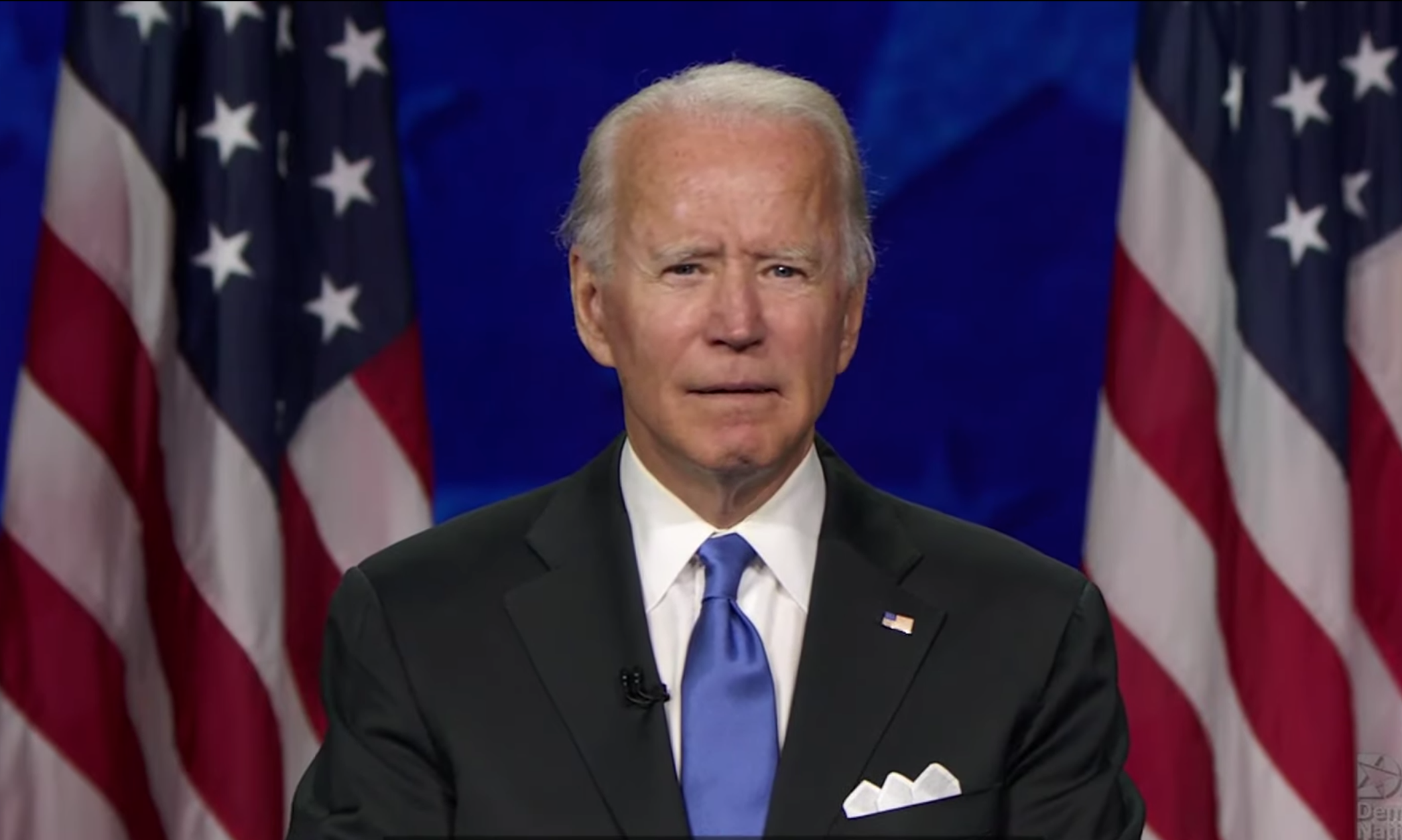 The virtual Democratic National Convention ended Thursday with former Vice President Joe Biden formally accepting the Democratic nomination to be the 46th president of the United States. Alabama Republicans responded with their reasoning on why they believe Americans should not vote for Biden and his running mate, Kamala Harris.
"We've heard how Joe Biden won't just drag us back to the same Obama/Biden policies that failed so badly for eight years, but he'll also impose new, even more, radical policies on us," said Republican congressional candidate Barry Moore. "He and his far-left running mate, Kamala Harris, will embrace the job-killing Green New Deal. They'll embrace the 'cancel culture' mentality to suppress, and eventually destroy free speech. They'll push no-limit abortions, up to and even after the moment of birth. They'll actively attack our 2nd Amendment rights because they know that the right to keep and bear arms is our last line of defense against the socialist tyranny they want to impose on us. And to do all this, they'll tax, and tax, and tax our productive businesses and individuals to pay for their far-left schemes. It doesn't matter that their ideas have failed every single time they've been tried before, both here and around the world. They know what's best, and questioning them isn't allowed."
"After 40 plus years of public service Joe Biden has found a new set of friends and policy advisors, the most radical members of the Democratic Party," said Alabama Republican Party Executive Committee Member Perry Hooper Jr. "This is a terrible sign for all freedom-loving Americans. Their overwhelming desire is to transform the United States into a socialist nightmare."
"He clinched victory in the Democrat Party primary with the help of the 'old guard,' the establishment wing of the Democrat Party," Hooper said. "Once his nomination became inevitable, the former Vice President immediately began to turn further and further to the left, embracing a political agenda that should terrify all Americans. He has become a true 'Bernie Bro.' Of course, Biden's surrender to the radical left mirrors the progressive takeover of the entire Democratic Party — a coup that is now all but complete."
"Biden has specifically commissioned Bernie Sanders and Alexandria Ocasio-Cortez to form the Unity Task Force," Hooper said. "They have assembled a 130-page manifesto on how to deconstruct America as we know it. You can find a copy of it on Joe Biden's official campaign website. They call it his 'Party Platform.' As my good friend fox news contributor and author Harland Hill stated 'It would have made Karl Marx proud. The so-called Unity Task Force' agenda includes 'unprecedented' environmental regulation, a government takeover of healthcare, a pathway to citizenship for illegal aliens, and much more. Biden promises to place Robert Francis O'Rourke as the effective gun czar of a Biden administration. O'Rourke threatens to confiscate millions of firearms from lawful gun owners, including forcible seizures of the most popular rifles in America. Biden sees no threat from the Chinese Communist Party. In a public speech, he has stated that 'a rising China is a positive, positive development, not only for China, but for America.'"
"As chaos has spread across Democratic-led cities, Joe Biden remains mostly silent in his Delaware basement," Hooper charged. "He has repeatedly referred to rioters as 'peaceful protesters.' He calls for 're-directing' police funding away from uniformed officers into mental health social workers. He has vowed to overturn Trump's immigration policies including placing a moratorium on deportations his first 100 days in office."
"As the nation enters its fourth month of violent rioting, looting, and destruction of major cities, Biden, along with all Democrat attorneys general (AGs), remains silent on calls to defund the police," the Republican Attorney Generals Association wrote in a joint statement. "Throughout this week's charade of a DNC, Democrats have called for the abolishment of law enforcement, ICE, and prisons."
"Democrat silence will continue to lead to violence, but Democrat politicians don't care because there's one set of rules for them and another set for everybody else," RAGA charged. "This week, Chicago Mayor Lori Lightfoot gave radical remarks at the DNC, and also defended the ban on protests near her home, saying, 'understand I have a right to make sure that my home is secure.' Despite violent crime on the rise in most major cities, under current Democrat proposals, millions of Americans will be less safe and subjected to more violence. Democrat policies will make America less safe and all Americans will be safer if they vote Republican up and down the ballot."
"This week, the corrupt Democrat Convention has confirmed what we already knew: Slow Joe and Phony Kamala are not fit to lead this Country!," President Donald Trump wrote in an email to supporters. "These two corrupt career politicians have made it clear that they want to protect sanctuary cities, protect criminals, take away your Second Amendment rights, and DESTROY America. Everything we're fighting for is on the line right now."
"We expected the Democrats to demonize President Trump, and we weren't disappointed," Moore said. "But, now their time is over. Next week, we Republicans will have our turn to talk about how we see our nation, and how we're going to use common sense, workable solutions to actually fix our country's problems, not just sow chaos and destruction. We'll actually hear the truth about our President, and just how incredible, despite our problems, America really is. The Democrats have had their turn. Next week, it's ours. I can't wait."
Sewell: Confirming Barrett before the election would undermine Supreme Court's legitimacy
"The nomination of Judge Amy Coney Barrett is clearly tainted by the hypocrisy of Senate Republicans to go back on their own promise," Sewell said.
Saturday, Congresswoman Terri Sewell (D-Alabama) released a statement claiming that President Donald J. Trump's (R) nomination of Judge Amy Coney Barrett to replace Justice Ruth Bader Ginsburg as Associate Justice on the Supreme Court was tainted by the hypocrisy of Senate Republicans and that confirming Judge Barrett would undermine the legitimacy of the Supreme Court.
"The Supreme Court nomination by President Trump today, with the 2020 presidential election only 38 days away, denies the American people a voice in this very important decision," Rep. Sewell said. "The nomination of Judge Amy Coney Barrett is clearly tainted by the hypocrisy of Senate Republicans to go back on their own promise not to fill a vacancy on the Supreme Court so close to a presidential election. This standard articulated by Senate Republicans was applied against President Obama's nomination of Judge Merrick Garland eight months before the 2016 presidential election. This blatant power grab by Trump and Senate Republicans is especially disturbing given that the voting process has already begun with hundreds of thousands of voters having cast their ballots in the 2020 presidential election."
"Fairness and comity demand that the Senate not confirm any vacancy on the Supreme Court until the American people have chosen the next president," Sewell concluded. "To do otherwise, I believe would undermine the very legitimacy of the Supreme Court."
Friday before Barrett was even nominated, U.S. Senator Doug Jones (D-Alabama) announced that he will not support any Trump nominee for the Supreme Court for the vacancy created by Justice Ruth Bader Ginsburg's passing. Jones stated, "I will not support the confirmation of any Supreme Court justice nominee before the election."
"Justice Ginsburg was a role model and an inspiration," Sen. Jones said. She was a brilliant and tireless advocate, a champion for fairness and equality, and her efforts have brought our country closer to the ideals upon which it was founded."
"It is a poor reflection of the state of our national politics that, just hours after Justice Ginsburg's passing, we were thrust into a divisive partisan fight over her successor, denying the nation the time to mourn this extraordinary American's death," Jones continued. "Just weeks from a national election, we are confronting a blatant power grab by Senate Majority Leader Mitch McConnell and the President that will undermine the court and subvert the will of the American people."
"Just four years ago, Leader McConnell held open a Supreme Court seat for ten months before a presidential election because he said time and again that, in an election year, we must let the American people decide," Jones said. "If confirming a Supreme Court justice ten months prior to a presidential election would have denied the American people a voice, then isn't he now denying the American people a voice by rushing to confirm a justice just weeks before a presidential election?"
"I believe the answer to this question is a resounding YES," Jones continued. "This is especially true given the urgent legislative work we have yet to do. Leader McConnell should turn his focus instead to protecting the lives and livelihoods of the American people by bringing a new bipartisan COVID-19 relief package up for a vote. We also need to pass the National Defense Authorization Act to support our military. We need to pass our annual funding bills instead of kicking the can down the road with yet another costly continuing resolution. We need to pass the John Lewis Voting Rights Advancement Act, which has languished in this Senate, in order to protect the right of all Americans to vote and participate in our democracy."
"Consequently, under these circumstances, I will not support the confirmation of any Supreme Court justice nominee before the election," Jones explained. We should not force the country into a brutal and divisive partisan confirmation fight while Americans are already voting to choose the next President. If President Trump is re-elected, I will evaluate any pending or future nominee on their merits and vote for or against the nominee based solely on their qualifications."
Trump has already appointed Neil Gorsuch and Brett Kavanaugh to the U.S. Supreme Court. President Barack H. Obama (D) only got to select two of his nominees to the court. When conservative icon Supreme Court Justice Antonin Scalia died in 2016 – the previous election year, Republicans led by McConnell and Sen. Richard Shelby (R-Alabama) blocked Obama's appointee, Merrick Garland.
Jones also voted against previous Trump nominee Brett Kavanaugh.
Congresswoman Terri Sewell represents Alabama's Seventh Congressional District. Sewell has no Republican general election opponent.