Sewell votes in favor of the Delivering for America Act to protect the USPS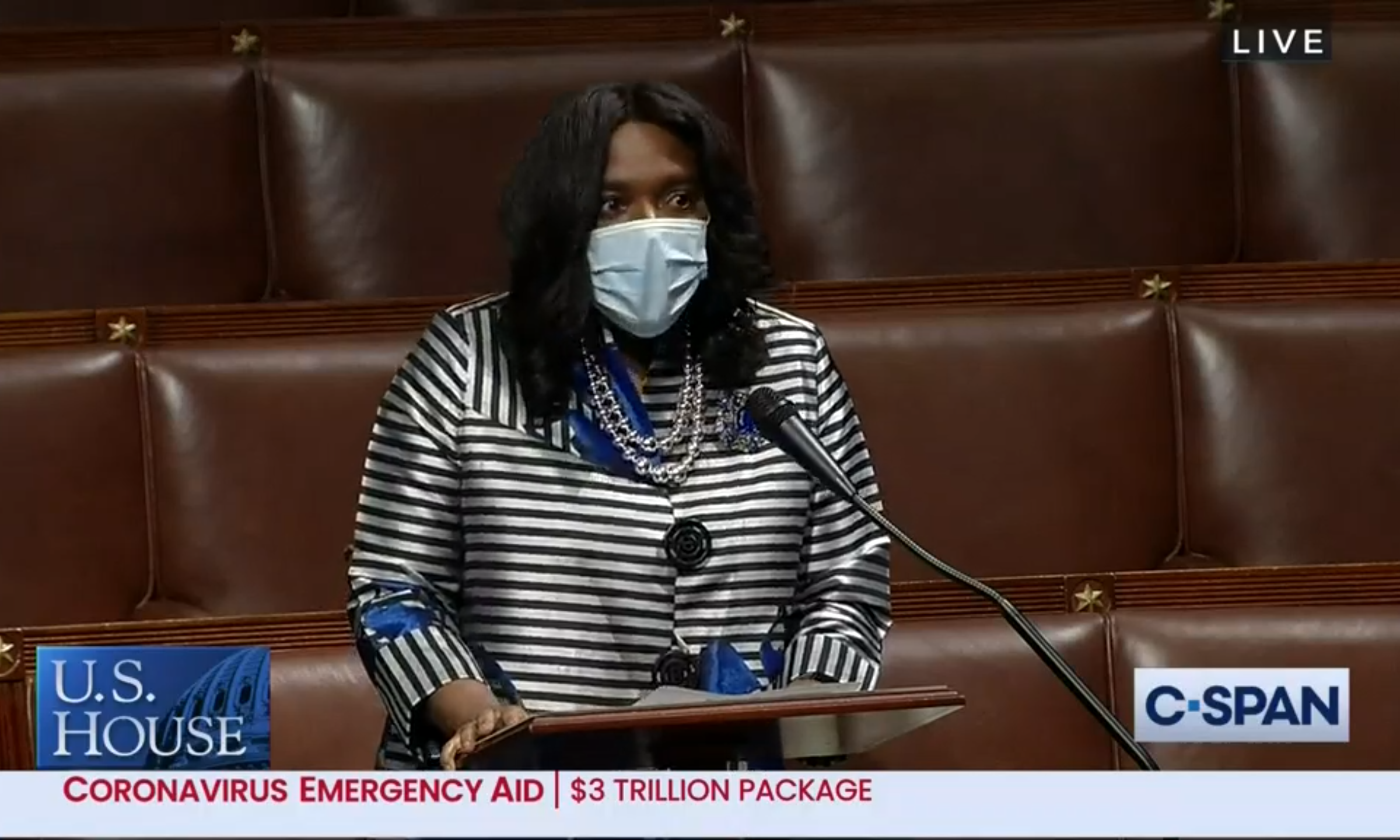 Congresswoman Terri Sewell, D-Alabama, voted in favor of H.R. 8015, the Delivering for America Act, which would provide $25 billion in critical emergency funding for the United States Postal Service to maintain its high level of service.
Sponsors say that the American public depends on the USPS as not only a critical pathway to vote by mail but to send and receive crucial packages including prescriptions and paychecks during this pandemic.
"In the recent weeks, we have seen this administration push forward sweeping new operational changes that degrade postal service, delay the mail and threaten to deny the ability of eligible Americans to cast their votes through the mail in the upcoming elections in a timely fashion," Sewell said. "President Trump has made it clear that he is willing to derail the Postal Service for the purpose of undermining the upcoming election. As a proud daughter of Selma, I have made it my mission in Congress to continue the unparalleled legacy of my friend, mentor and hero, Congressman John Lewis. I will continue to fight tirelessly to eradicate voter suppression and this is no exception."
"Across Alabama, USPS employs nearly 8,000 men and women who are currently serving on the front lines of this pandemic to ensure the vital postal needs of the American public are met," Sewell continued. "I am proud to stand with these essential workers in supporting this legislation, which contains critically important measures to provide security and additional support for the postal service, and all Alabamians impacted by this pandemic."
Supporters say that H.R. 8015 provides critical funding to support 8,000 Alabama postal workers and protect the critical services that Americans rely on from the USPS.
The bill includes a number of provisions that would protect the USPS from operational changes as well as provide necessary fiscal relief for the agency. These include $25 billion in emergency funding requested by the Postal Service with the unanimous support of the bipartisan Postal Board of Governors — all of whom were appointed by President Trump.
This funding was also included in the Heroes Act, which the U.S. House of Representatives passed three months ago.
Additionally, it would prohibit any changes that would generally affect service on a substantially nationwide basis, revise existing service standards, prevent the USPS from meeting its service standards, cause a decline in performance measurement, consolidate or reduce hours of any postal office or postal facility or prohibit overtime pay, or delay mail delivery or increase volume of undelivered mail.
The bill would also require the Postal Service to treat all official election mail as First-Class mail. Additionally, it would prohibit the removal of mailboxes and the removal, decommissioning or other stoppage of mail sorting machines, other than for routine maintenance. It also explicitly reverses any changes already implemented to the operations or policies of the Postal Service that delay mail delivery.
I stand with the @USPS and I look forward to returning to Washington to vote in favor of its funding. The American people need this essential service now more than ever! #DontMessWithUSPS pic.twitter.com/Nip2mUVjBx

— Rep. Terri A. Sewell (@RepTerriSewell) August 18, 2020
Postmaster Louis DeJoy has argued that his reforms, which are opposed by the postal workers union, are needed to reform the USPS and prevent it from hemorrhaging billions of dollars.
DeJoy has also agreed to postpone implementing his plan until after the Nov. 3 general election. Republicans argue that H.R. 8015 would prevent much-needed reforms from taking place.
Sewell represents Alabama's 7th Congressional District. Sewell is serving in her fifth term. She does not have a Republican opponent in the Nov. 3 general election.
Republicans blast Jones for refusal to even consider Trump nominee
Republicans criticized U.S. Sen. Doug Jones, D-Alabama, on Friday for saying that he would not vote to confirm any nominee by President Donald Trump before the Nov. 3 election.
Alabama Republican Party chair Terry Lathan called Jones's announcement "disgraceful."
"It's disgraceful that Senator Jones is dismissing his duties when he announced he would not support the confirmation of any Supreme Court justice nominee put forth by President Trump prior to the November election," Lathan said in a statement. "The Constitution of our country clearly states that the President 'shall nominate, and by and with the Advice and Consent of the Senate, shall appoint…judges of the Supreme Court…'"
"At the very least, Senator Jones owes Alabamians the simple courtesy of meeting with the nominee regardless of what he already plans to do," Lathan continued. "It's time for him to do his job, at least until November 3rd."
"The people of our great state have spoken," Lathan concluded. "The majority support President Trump and his policies which includes the conservative judges he has nominated for the federal bench. However, Doug Jones continues to ignore the wishes of the majority of his constituents and falls in line with his liberal party bosses, Hollywood supporters and New York fundraisers. On Election Day, Alabamians will give their advice and consent to remove Doug Jones from office. Tommy Tuberville will represent the majority's values when he is elected as our next U.S. Senator."
On Friday, Jones was asked if he would even meet with the nominee. His response was, "I don't think my vote's going to count, so I doubt they'll even want to."
"The President's nominee hasn't even been announced but anti-Trump Democrat Doug Jones has already made up his mind against the person," said NRSC spokesperson Paige Lindgren. "Refusing to take part in a consequential Supreme Court confirmation process is the latest example that Jones has one foot out the door. He's clearly no longer focused on representing the people of Alabama."
Former State Rep. Perry Hooper Jr., a Trump supporter, said that Jones votes against "everything that the people of Alabama believe in."
"Doug Jones has consistently voted against the President and everything the good people of Alabama believe in." Hooper said. "Jones is against the 2nd Amendment, he is for government funded abortions and he is a globalist. Alabama needs to send a strong pro-life, pro-business, pro-Trump and pro-American to Washington DC. And that man is Coach Tommy Tuberville."
Senate Majority Leader Mitch McConnell, R-Kentucky, has vowed to bring the president's pick to the floor of the Senate for a vote.
"Thank God for Senator Mitch McConnell," Hooper said. "Senator McConnell has 51 votes to confirm the President's nominee to the US Supreme Court."
Conservatives are hopeful that a more conservative court will vote to overturn Roe vs. Wade, the Supreme Court precedent that prevents state governments from banning abortions.
"Senator Doug Jones betrayed Alabamians when he voted against Justice Kavanaugh and has betrayed them again today, before President Trump's Supreme Court nominee has even been named," SBA List President Marjorie Dannenfelser said in a statement. "During his short time in office, Jones has proven to be an extremist, repeatedly siding against constituents and voting with the most radical members of his party – like Kamala Harris – in favor of abortion on demand through birth, paid for by taxpayers. Asked about his stance on limiting late-term abortions more than halfway through pregnancy, Senator Jones laughed and called the issue 'stupid.' Jones is unfit to represent the pro-life, pro-Trump state of Alabama and will be held accountable at the ballot box."
Many media sources are reporting that Trump will appoint Seventh Circuit Court of Appeals Judge Amy Coney Barrett to fill the vacancy on the court left by the death of Associate Justice Ruth Bader Ginsburg.