Pence accepts nomination for Vice President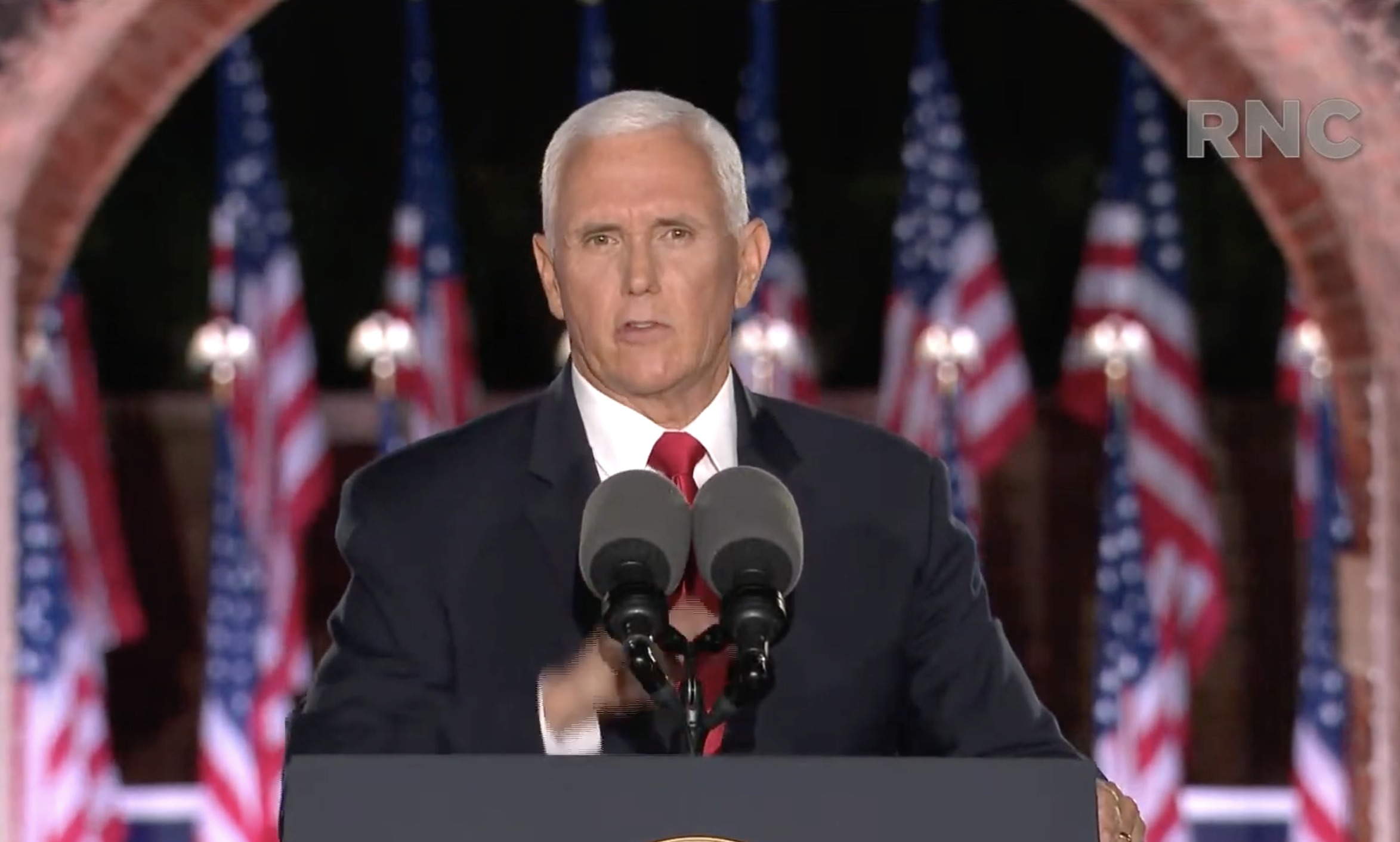 Vice President Mike Pence on Wednesday accepted the Republican Party's nomination for a second term as vice president and President Donald Trump's running mate during the Republican National Convention, which this year is largely being held as a made-for-TV virtual event due to COVID-19.
During his speech, Pence attacked Democratic presidential nominee, former Vice President Joe Biden, as a "trojan horse for the radical left" and as being wrong on domestic and international policy as well as a threat to "life and liberty."
Pence said that a Biden victory would set the United States on a "path to socialism" and must be defeated in the Nov. 3 general election.
Pence also condemned the riots and violence taking place in Kenosha, Wisconsin, following the Sunday police shooting of Jacob Blake. Pence offered his unequivocal support for American law enforcement.
"Let me be clear: the violence must stop – whether in Minneapolis, Portland, or Kenosha. Too many heroes have died defending our freedoms to see Americans strike each other down," Pence said.
The vice president expressed support for the right to peacefully protest, but added, "We will have law and order on the streets of America for every American of every race, and creed and color."
Pence said that unlike the Democratic ticket, he and the president unequivocally support men and women in uniform.
"We will stand with those who stand on the thin blue line, and we're not going to defund the police — not now, not ever," Pence said.
Pence also defended the White House coronavirus task force which he heads. Pence commended the White House effort to fight the virus and find a vaccine as the "greatest mobilization since World War II." Pence said there are 800,000 daily tests and tremendous efforts are underway to fast-track an effective vaccine.
"Last week, Joe Biden said 'no miracle is coming.' What Joe doesn't seem to understand is that America is a nation of miracles," Pence said. "We're on track to have the world's first safe, effective coronavirus vaccine by the end of this year."
Pence acknowledged that the global pandemic has hurt the economy over the last six months but went on to promise that four more years of Trump/Pence, "Will make America great again, again."
Former State Rep. Perry Hooper Jr., R-Montgomery, is a member of the Trump Victory Committee and the Alabama Republican Executive Committee.
"Another Awesome Night of Heart and Emotion!," Hooper said in a statement. "Vice President Mike Pence's Nomination Acceptance Speech should be characterized as All American. It was a powerful address of God, Freedom, Liberty and the American Flag. The VP said, the election is not about liberal or conservative, Republican or Democrat, the choice is if America remains to be America. And he is absolutely right. VP Pence stated that America is at a crossroads, Joe Biden is on the path of socialism and President Trump is on the path of Freedom. And that is a fact!"
Voters will be able to go to the polls on Nov. 3 and choose between Trump and Biden.
SPLC responds to arrest of man carrying Confederate flag inside U.S. Capitol
Kevin Seefried and his son, Hunter, face multiple charges connected with their alleged part in the deadly Capitol riot.
Widely shared images of a white man carrying a Confederate flag across the floor of the U.S. Capitol during last week's deadly attempted insurrection is a jarring reminder of the treasonous acts that killed more than 750,000 Americans during the Civil War, according to the Southern Poverty Law Center. 
"Just as defeated Confederate soldiers were forced to surrender the Civil War and end their inhumane treatment of Black people, the rioter who brazenly carried a Confederate flag into the Capitol has been forced to surrender to federal authorities," said Lecia Brooks, chief of staff at the Southern Poverty Law Center, in a statement Friday following the arrests of Kevin Seefried, 51, and his 23-year-old son Hunter.
FBI Baltimore: Man carrying Confederate flag in Capitol last week turned himself in today in Wilmington. Name is Kevin Seefried. Son Hunter also arrested. pic.twitter.com/ZTSGzbesDF

— Jayne Miller (@jemillerwbal) January 14, 2021
Seefried, the Baltimore man allegedly seen in those photographs carrying the Confederate flag, and his son are charged with entering a restricted building and violent entry and disorderly conduct on Capitol grounds. Hunter is also charged with destroying government property.
"Incited by the President's disinformation campaign, the rioter's decision to brazenly roam the halls of Congress clinging to this painful symbol of white supremacy was a jarring display of boundless white privilege," Brooks's statement reads. "Despite the revisionist history promoted by enthusiasts, his disgraceful display is proof that the Confederate flag clearly represents hate, not heritage."
Brooks added:
 "Over 750,000 American lives were lost because of the Confederacy's treasonous acts. We cannot allow more blood to be shed for efforts to split our Union. January's immoral coup attempt is an embarrassment to the United States, and we call on the federal government to prosecute these insurrectionists to the fullest extent of the law."
An affidavit detailing the charges states that videos taken during the riot show both Seefrieds enter the Capitol building through a broken window, that Hunter helped break, at about 2:13 p.m.
Both men on Jan. 12 voluntarily talked with FBI agents and admitted to their part in the riots, according to court records. 
The elder Seefreid told the FBI agent that he traveled to the rally to hear Trump speak and that he and his son joined the march and were "led by an individual with a bull horn." 
There were numerous pro-Trump attendees at the rally and march to the Capitol who had bull horns, according to multiple videos taken that day, but at the front of one of the largest groups of marchers with a bull horn was far-right radio personality Alex Jones, who was walking next to Ali Alexander, organizer of the Stop the Steal movement. 
Alexander in three separate videos has said he planned the rally, meant to put pressure on Congress voting inside the Capitol that day, with Rep. Mo Brooks, R-Alabama, and Arizona U.S. Reps. Paul Gosar and Andy Biggs. Alexander is now in hiding, according to The Daily Beast. 
Congressman Brooks's spokesman told APR on Tuesday that Brooks does not remember communicating with Alexander. 
"Congressman Brooks has no recollection of ever communicating in any way with whoever Ali Alexander is. Congressman Brooks has not in any way, shape or form coordinated with Ali Alexander on the January 6th 'Save America' rally," the statement from the congressman's spokesman reads. 
Jones and Alexander can be seen leading the march in a video taken and posted to Twitter by freelance journalist Raven Geary. 
"This is history happening. We're not giving into globalists. We'll never surrender," Jones yells into his bullhorn as they marched toward the Capitol.