Alabama Republicans react to Trump accepting GOP nomination for a second term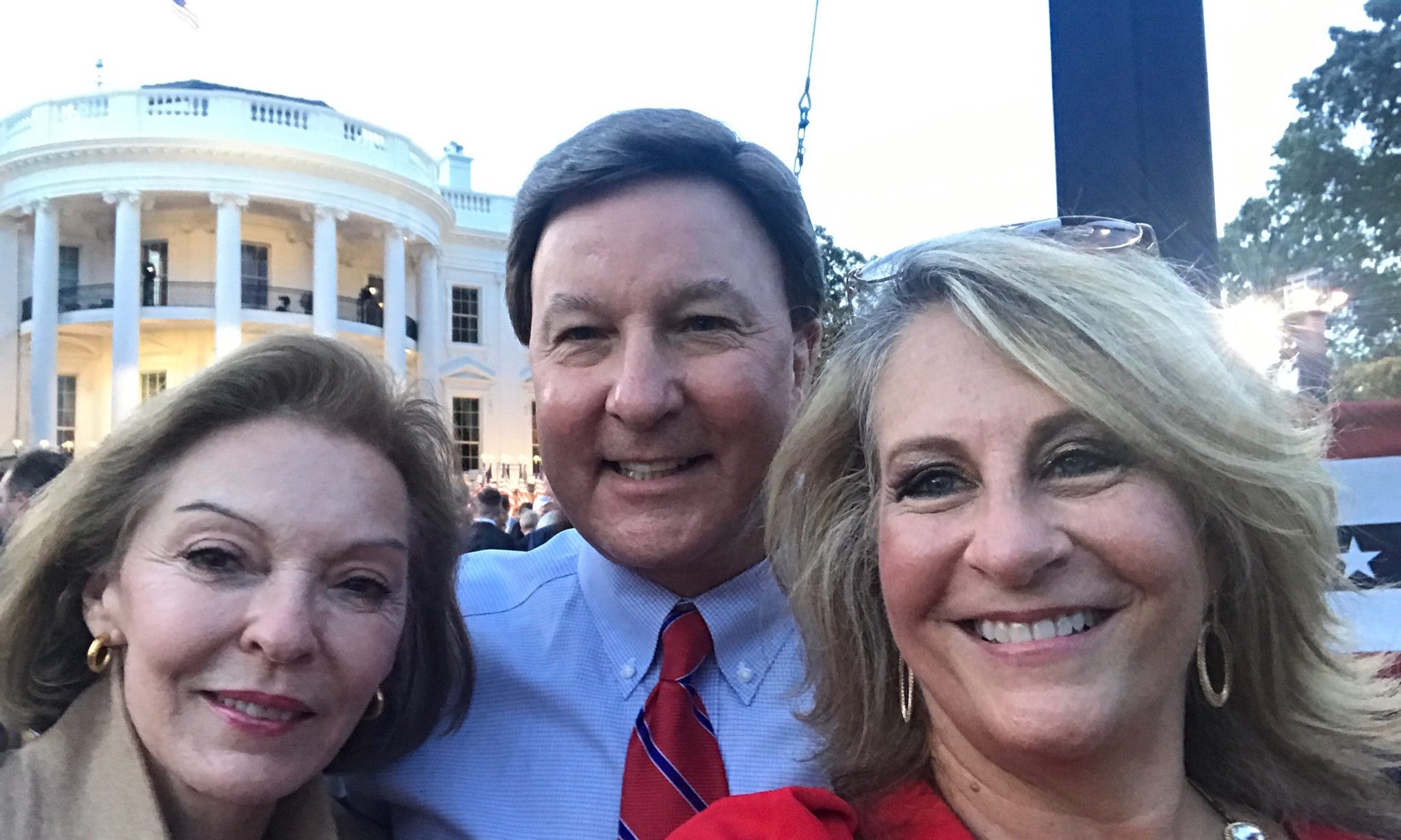 President Donald Trump gave a speech at the White House Thursday, accepting the Republican nomination for president of the United States.
Alabama Republican Party Chair Terry Lathan was one of the people to receive an invitation to view the event live on the White House grounds.
"To be there in person, to be invited to the White House, to represent Alabama is hard to believe," Lathan said. "I've been there a few times. I've met the president there but this is very historic."
Lathan was tested for the coronavirus before attending the Republican National Convention and again before being admitted on the White House grounds, she said.
Trump was formally nominated at the Republican National Convention in Charlotte, and Lathan was one of the six Alabamians present at that dramatically downsized meeting earlier in the week.
Great to see @ChairmanLathan and Vicki tonight at the White House! Alabama is Keeping America Great #RNC2020 #ALPolitics pic.twitter.com/F3AlkwQMxH

— Mike Rogers Campaign (@MikeRogersCamp) August 28, 2020
"He is who he is," Lathan said of Trump. "He says what he thinks. He thinks what he says, and the American people knew that in 2016."
Lathan said that the convention and the nomination is just part of the election cycle.
"Now the work begins," Lathan said on social media. "We are going to flip a Senate seat and elect Tommy Tuberville."
GOP 2nd Congressional District candidate Barry Moore, R-Enterprise, expressed confidence in Trump, Vice President Mike Pence and Republican candidates across Alabama following the president's speech.
"Last week, the Democrats showed us a vision of America that was all about darkness and destruction," Moore said in a statement. "This week, we Republicans showed America that our vision of America is one of light, hope and American greatness. These two visions couldn't be further apart, and I think the president drove that home in his final speech to the convention."
"The Democrats want to tear down and destroy our nation, then rebuild it according to their warped ideas about 'justice'," Moore said. "They talk about everyone being equal, except when they're not. They talk about free speech, except when they decide to cancel it. They talk about peace, but have refused to consistently speak out against rioters, looters, and arsonists. If you listen to what they actually said at their convention, they talked about how Nancy Pelosi, Bernie Sanders, AOC, and the Squad would be setting policy for the Biden/Harris White House."
"Republicans, led by our president and vice president, have talked about opportunity, heroes, and faith," Moore said. "We've talked about families, and freedom, and coming together as One Nation, Under God, to move together towards that 'More Perfect Union' the Founders envisioned."
"I know which vision of America I believe in, and when he said 'America is the torch that enlightens the entire world', President Trump showed that he believes it, too," Moore added. "That's why I'm proud to be supporting him, and why both Donald Trump and Barry Moore are going to win in November."
Moore faces Democratic nominee Phyllis Harvey-Hall in the Nov. 3 general election. He served two terms in the Alabama House of Representatives and is a veteran, small businessman, husband and father of four from Enterprise.
Perry Hooper Jr. is also a former state representative. Hooper serves on the president's National Victory Committee.
"The president's speech was all about patriotism and putting America First," Hooper said. "It is very clear that Joe Biden's agenda is Made in China and President Trump's agenda is Made in the USA," Hooper added. "The President laid out a clear vision of hope and optimism."
Hooper claimed that Trump has had a very successful first term. Hooper cited as Trump's accomplishments: "Creating the greatest economy ever, creating opportunity zones, appointing and confirming 200 plus Federal Judges and 2 US Supreme Court Justices."
Hooper also credited the president with the destruction of ISIS, criminal justice reform and moving the U.S. embassy in Israel from Tel Aviv to Jerusalem.
Hooper said that Trump restored the military and stopped "China from controlling our economy and illegally dumping products in America."
"President Trump will defeat the invisible enemy and he will be the President of Law and Order," Hooper predicted. "He will make America safer, stronger, prouder and greater than ever before."
Trump faces former Vice President Joseph Biden in the general election on Nov. 3.
Sen. Doug Jones won't support SCOTUS nominee before Nov. 3 election
"Certainly, power grabs are not uncommon in our political system, but few are accompanied by such blatant hypocrisy as we are witnessing now," Jones said.
Sen. Doug Jones, D-Alabama, on Friday said he would not support any nominee to the U.S. Supreme Court before the outcome of the Nov. 3 election is determined. 
Speaking during a livestreamed briefing, Jones said that while Republicans appear to have enough votes to replace the late Justice Ruth Bader Ginsburg, he will not be a party to denying the people a voice in the process in the election of the next president "in just under 44 days." 
President Donald Trump said Saturday that he plans to nominate Amy Coney Barrett to replace Ginsburg, who on Friday became the first woman, and first Jewish person, to lie in state at the U.S. Capitol. 
Several Republicans who voiced opposition to President Barack Obama's nomination of Judge Merrick Garland to the Supreme Court more than 10 months before the 2016 election have reversed course, and now say they support Trump nominating a selection with election day just a little more than a month away. 
"Certainly, power grabs are not uncommon in our political system, but few are accompanied by such blatant hypocrisy as we are witnessing now," Jones said. "In fact, I believe that the level and intensity of hypocrisy being displayed by Senator McConnell and the president, with regard to the rush to confirm Justice Ginsburg's successor, is unmatched in the history of our constitutional government." 
Jones said what McConnell and other Republicans should be focusing on instead is getting another round of much-needed COVID-19 aid to small businesses and people impacted by the pandemic. 
"Rather than pushing this confirmation to the top of the Senate calendar, the majority leader should turn his focus instead to protecting the lives and livelihoods of the American people. We should pass a new bipartisan COVID-19 stimulus package to give Americans and businesses the relief that they desperately need, and that economists say if required to shore up the economy now," Jones said. 
Jones expressed concern as well for what medical experts are warning could be a new spike in COVID-19 nationwide. 
"There could be an even greater urgency, if our health care professionals' warnings come to pass," Jones said. "And that is as temperature drops and people go indoors that this virus spikes, and we see another surge." 
Asked why his opponent, Tommy Tuberville, won't debate Jones, he said, "It's pretty simple. He doesn't know what he's talking about."  
"He has no clue. He is Coach Clueless," Jones said. 
Jones noted that when asked recently on his thoughts on extending the John R. Lewis Voting Rights Act of 2020, Tuberville stumbled through an answer that indicated he wasn't sure what the Voting Rights Act was.
"He had no earthly idea," Jones said. 
Jones said Tuberville isn't going to debate him because Tuberville doesn't want to talk about issues.
"He doesn't want to talk about a plan. His plan is simply this: Whatever Donald Trump says, I'm good," Jones said, "and if Donald Trump says or does something that is not good, it's crickets coming from Coach Tuberville." 
Jones noted that after multiple news outlets, including Fox News, confirmed reporting that Trump had said disparaging things about veterans who died in combat, Tuberville has not spoken out against Trump's comments. 
Jennifer Griffin, senior national security correspondent for Fox News, reported that she has spoken to senior U.S. officials who backed up reporting by The Atlantic, and said Trump said of the Vietnam War "anyone who went was a sucker." 
"He has not said a thing about what was confirmed by Fox News about the president's comment," Jones said of Tuberville. "That's just disgraceful."