Gov. Kay Ivey announces locations for three new prisons
Gov. Kay Ivey on Thursday announced the two developer teams that are to build the state's three new mega prisons, and said those prisons are to be located in Bibb, Elmore County and Escambia counties.
But Ivey's announcement left many important questions unanswered, and the details of what has been estimated to be more than $2 billion over the terms of the leases won't be made publicly available until after the deals are signed with the Alabama Department of Corrections (ADOC).  Ivey's prison build plan now moves on to the lease negotiation phase.
The private prison company CoreCivic is to build and lease back to the state two of the three prisons, according to Ivey's office; one in Elmore County, where several locations are under review, and the other to be located near Bell Fork Road in Escambia County.
APR reported in February that CoreCivic for more than two years had been eyeing land outside the city of Tallassee in Elmore county to build one of Alabama's new prisons.
In addition to the 376 acres on Rifle Range Road in Elmore County, CoreCivic is also considering the location where Draper prison as a potential build site, sources who live in the area have told APR. Draper prison closed in 2016, but ADOC in April said the department made renovations to portions of the Draper building to house incoming inmates in quarantine during the COVID-19 pandemic.
The prison to be located near AL-139 and County Road CR-2 in Bibb County is to be built by a group called Alabama Prison Transformation Partners, made up of Star America, BL Harbert International, Butler-Cohen, Arrington Watkins Architects and Johnson Controls, Inc.
"The procurement process will now enter into a confidential negotiation period to ensure and secure the best possible value for the state," according to a press release from Ivey's office.
The Alabama Department of Corrections expects to close on those deals in late 2020, and the terms of the deal – which has been estimated at more than $2 billion, when including interest over the lease period – won't be made publicly available until after the deals are signed.
Once those leases have run their course, the state won't own the three prisons, ADOC Commissioner Jeff Dunn told state legislators in June. At the end of the leases, the state will have to renegotiate the terms, Dunn said then.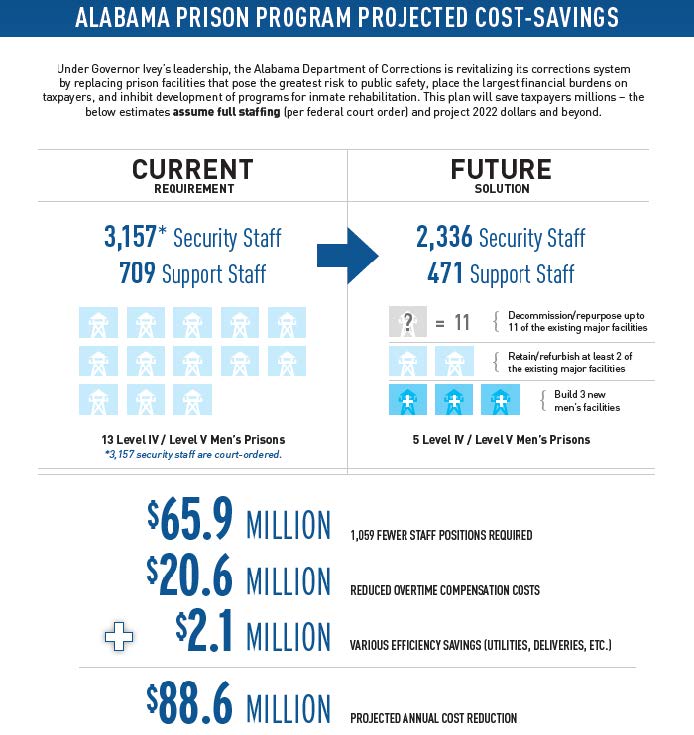 Previous plans by former Gov. Robert Bentley in 2016 and 2017, to build new prisons through issuance of bonds failed after state lawmakers couldn't agree to vote the deals through. Ivey took up a similar plan, but by using a build-lease proposal the state Legislature is removed from the process of having to agree to fund the build.
Kansas officials used the same process that Ivey's administration is moving forward with when that state entered into a build-lease contract with CoreCivic in 2018, to replace the state's Lansing Correctional Facility.
The Kansas Department of Corrections estimated that building the new prison would save approximately $23 million over the 20-year lease, largely by cutting staffing in half by using newly designed cell blocks that don't require as many officers to oversee inmates.
That projected savings didn't come to be, however, when KDOC found the land unsuitable to the new design, and the savings was reduced from $23 million to just $1.3 million over 20 years, according to the state's projected savings.
Kansas Gov. Laura Kelly told the Associated Press in February 2019 that the state was "hoodwinked" by CoreCivic into believing the new design would save the state millions.
"We were just, you know, hoodwinked, I think," Kelly told the AP. She had been critical of the private prison proposal as a state senator before her governorship. "I was not."
The Alabama Department of Corrections is to operate and staff the prisons, while the developer teams are to maintain them, according to Ivey's plan.
"The Alabama Prison Program is vital for the long-term success of our state and communities. We all – legislators, advocates, and taxpayers, alike – can and should agree that we must rebuild Alabama's correctional system from the ground up to improve safety for our state's correctional staff and inmate population, and we must do it immediately," Ivey said in a statement. "Given the failing state of the ADOC's existing infrastructure and that the Department already is faced with more than $1 billion in deferred maintenance costs alone, pursuing new construction without raising taxes or incurring debt is the fiscally sound and responsible decision. I am pleased with the integrity of this procurement process thus far and look forward to continuing to work closely with the legislature as we comprehensively address this intricate and important issue that affects us all."
ADOC has said that the state will be able to pay for the new prison leases through savings by offsetting the cost of repairing the state's existing, dilapidated prisons, although the department has not released any breakdowns of those estimated savings or of expected staffing needs at the new prisons.
According to the press release from Ivey's office on Thursday, Ivey will soon issue an executive order establishing the Alabama Prison Repurposing Commission, which will evaluate the state's existing 13 prisons for men.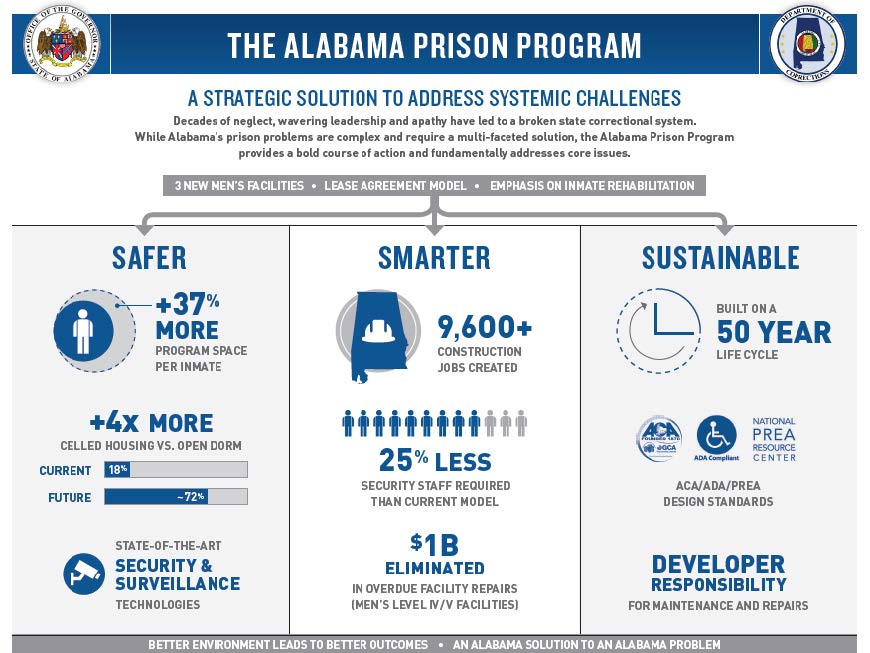 "The Commission will make recommendations as to which ADOC facilities should be retained and renovated as major correctional facilities, which could be renovated and repurposed for another use by the ADOC, and which should be repurposed to serve a different purpose, whether by another public entity or the private sector," the release states.
The U.S. Department of Justice in July released a report detailing systemic problems of excessive use-of-force by guards in Alabama prisons, a failure to properly investigate the incidents and attempts by correctional officers and their supervisors to cover them up.
Severe overcrowding and understaffing contribute to the "patterns or practices of uses of excessive force," the report states. Alabama's 13 men's prisons as of January held 6,000 more inmates than capacity allowed. Illicit drugs and other contraband in Alabama prisons have been a continuing problem, leading to more violence, sexual assaults and death, federal investigators found. If Alabama fails to satisfy the federal government's concerns with 49 days of the release of the report, the government could sue, according to a letter from the Justice Department to Ivey.
Dunn has said that the new prisons alone won't solve the overcrowding issue, and lawmakers have said Ivey isn't likely to take up a special session to address the state's prison crisis, leaving the fate of sentencing reform proposals floated by several lawmakers earlier this year uncertain.
Critics of Ivey's plan to build new prisons say without broad changes in the culture of violence and corruption among prison staff, new facilities alone won't solve the state's crisis.
Alabamians for Fair Justice, a coalition of groups, advocates for incarcerated people and formerly incarcerated people, said in a statement following Ivey's announcement Thursday that people in Alabama's prisons are dying.
"They are dying at the hands of brutal and corrupt guards and leaders who have done little to address the culture of violence, medical neglect, and drug smuggling that ADOC staff engage in. They are dying from COVID-19. They are dying as a result of inadequate health care. They are dying because of inhumane conditions. They are dying from corruption that allows drugs to flood the prisons. And people will continue to die if the only action officials take is building more prisons," the group's statement reads.
"If Alabama truly wants to address the prison crisis, lawmakers must pass sentencing reforms like abolishing the Habitual Felony Offender Act and making the 2013 Sentencing Guidelines retroactive; investing in prison alternatives and community resources such as diversion programs, mental health treatment, and drug treatment; requiring the parole board to release more people; and creating a diverse and inclusive oversight committee to hold prison officials accountable for working to end the abuse of incarcerated people by ADOC correctional officers.
"The U.S. Department of Justice has already told us twice that brick and mortar is not the answer to the conditions that the DOJ found 'routinely violate the constitutional rights of prisoners.' Data-driven, humane policy solutions are needed now. It is time for the State of Alabama to put people over political interests and corporate profits."
Governor awards nearly $19.4 million in block grants for Alabama communities
The CDBG funds will be used to repair dangerous roads, provide safe water, build community and senior centers, improve sewer systems and more.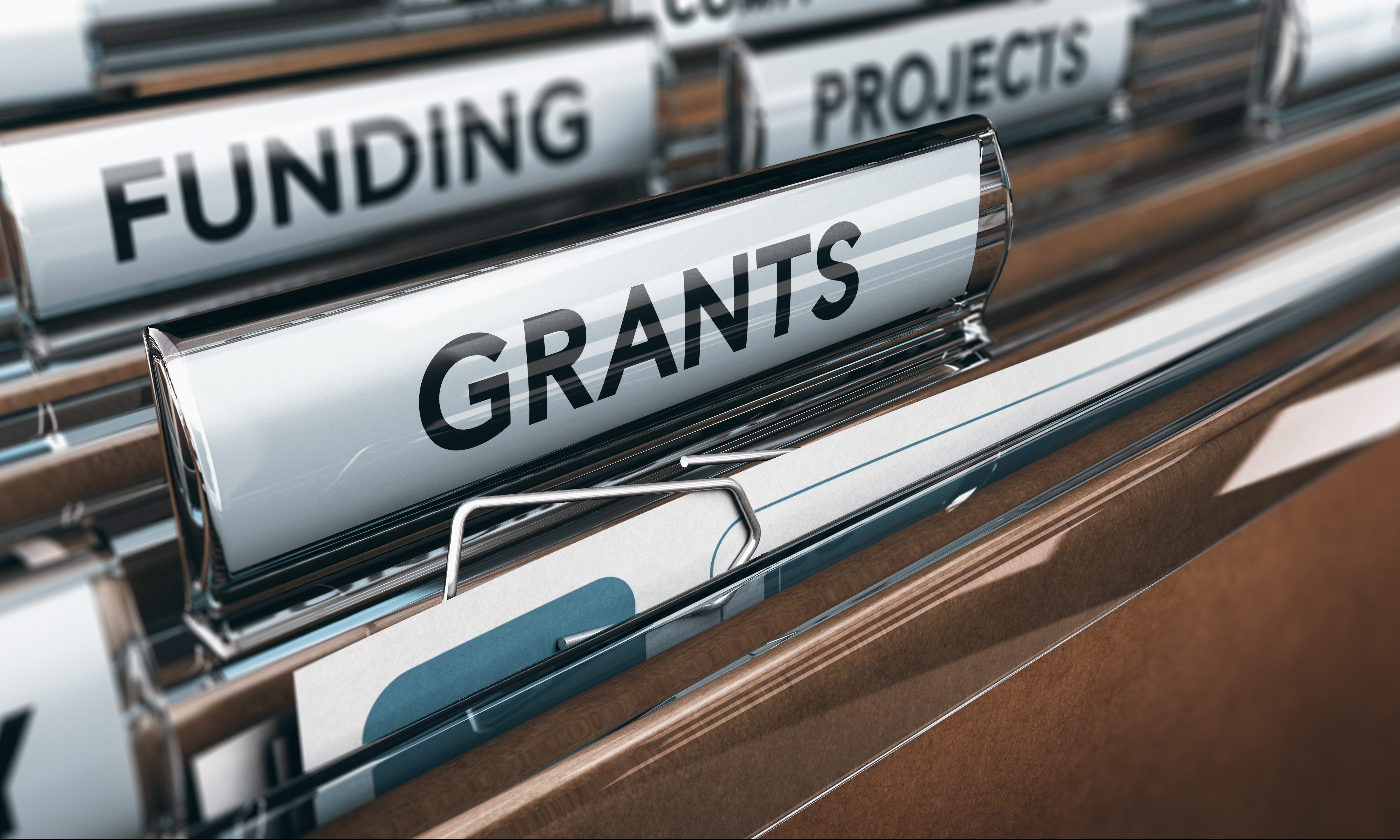 More than 60 Alabama cities and counties will soon see improvements in their communities thanks to almost $19.4 million in Community Development Block Grants awarded by Gov. Kay Ivey. 
The CDBG funds will be used to repair dangerous roads, provide safe water, build community and senior centers, improve sewer systems and more.
"Community Development Block Grants help raise the living standards for thousands of Alabamians who may have struggled with dangerous roads, sewage backed up in their homes or find it difficult to wash clothes because of inadequate water pressure," Ivey said. "I am pleased to award these grants and I must commend those local elected officials who recognized those struggles and responded to address needs in their communities."
Grants are awarded on competitive basis in several categories including small city, large city, county, community enhancement, Black Belt and planning. Some cities received planning grants in addition to other competitive grants.
In most instances, awarded governments are required to allocate some local funds to projects as a match for the grants.
The Alabama Department of Economic and Community Affairs is administering the grants from funds made available by the U.S. Department of Housing and Urban Development.
"Many local governments, particularly this year with the COVID-19 pandemic, often struggle for funds to provide basic services for residents," ADECA Director Kenneth Boswell said. "ADECA is pleased to join Gov. Ivey in awarding these funds from the CDBG program, which enables governments to accomplish worthwhile projects to make their communities better places to live."
Grants awarded and projects (grouped by geographical region) include:
North Alabama
Ardmore

– $350,000 to replace sewer lines and ensure safe disposal of sewage.

Colbert County

– $182,876 to raise the roadbed and improve drainage to eliminate pavement flooding on Gnat Pond Road, Cassie Davis Street and Marthaler Lane. 

Courtland

– $350,000 to replace aging water lines and provide safe drinking water to residents.

Fort Payne

– $450,000 to demolish and clear the abandoned Fort Payne General Hospital complex. 

Glencoe

– $450,000 to replace sewer lines on East Air Depot Road, Taylor Road and Lonesome Bend Road.

Haleyville

– $450,000 to upgrade sewer, water and streets in several areas of the city. 

Holly Pond

– $250,000 to construct a new senior citizen center to help meet the needs of the growing program.

Limestone County

– $301,000 to provide pavement and drainage improvements on Chapman Hollow Road south of the town of Lester. The project is designed to alleviate flooding.

Morgan County

– $250,000 to upgrade and add an addition to the Falk Senior Center. 

North Courtland

– $347,300 to improve drainage along Davis Street and other parts of the town.

Red Bay

– $445,000 to improve sewer lines in the southeast part of the city. 

Sheffield

– $210,000 to demolish and clear multiple dilapidated residential and commercial structures throughout the city.

Tuscumbia

– $365,000 to raze and clear 23 dilapidated structures located throughout the city.

Vina

– $348,650 to install a new boost pump at a water storage tank to improve water flow and pressure.

Winfield

– $450,000 to improve drainage and upgrade streets to alleviate flooding along Regal Street. 
North Central Alabama
Blountsville

– $250,000 to repair and resurface parts of College Street, Chestnut Street, Church Street and Ratliff Street. 

Chilton County

– $350,000 to pave more than four miles of county roads including County Roads 127, 128 and 201

Cleburne County

– $350,000 to extend public water services to 32 households along portions of County Roads 49, 689, 114 and 447. 

Columbiana

– $450,000 to improve the city's main sewer line to prevent sewage backup and related problems.  

Detroit

– $350,000 to install new water lines and add fire hydrants to benefit more than 100 residents.

Talladega (city)-

$250,000 to demolish and clear dilapidated structures at several locations throughout the city. 

Woodland

– $350,000 to replace water lines at several locations throughout the town to improve water quality and flow.
South Central Alabama
Boligee

– $350,000 to improve the town's sewer lines and manhole covers to ensure no infiltration into the lines from rain and other sources. 

Brantley

– $350,000 to rehabilitate or replace sewer lines and other components of its sewer system. 

Brantley

– $32,000 for a planning grant to help develop a land-use plan, subdivision regulations and zoning ordinances.

Demopolis

– $450,000 to resurface portions of nine streets to include South Glover Street, McGee Street, Hilltop Circle, East Capitol Street, East Lyon Street, North Chestnut Avenue, North Cherry Avenue, North Ash Street, and North Front Avenue. 

Franklin

– $32,000 for a planning grant designed to help the town develop future plans. 

Greene County

-$350,000 to improve 4.5 miles of roads including Basketball Lane, Sandy Way, Smoke Lane, Brush Creek Circle, Curve Lane, Country Road Lane, Plum Lane, Star Lane and Jasmine Lane.

Linden

– $350,000 to resurface and improve drainage on Easley Street, Adams Drive, Ford Street, Brandon Avenue, Barkley Street, Lucas Street, Gardner Street and Louisville Avenue/Pool Street. 

Livingston

– $450,000 to replace sewer lines in the north-central part of the city. 

Pine Hill

– $350,000 to rehabilitate two sewer system lift stations. 

Phenix City

– $250,000 to fund a city-wide cleanup of multiple dilapidated structures. 

Selma

– $450,000 to improve drainage along LL Anderson Avenue, Arsenal Place, Alabama Avenue and Mechanic Street, and Highland Avenue.

Selma

– $40,000 for a planning grant to help the city develop a strategy to deal with dilapidated structures, housing and economic development. 

Sumter County

– $250,000 to renovate the Sumter County E911 Call Center to streamline emergency operations. 

Union Springs

– $450,000 to improve water, sewer and drainage along Bloomfield Street, April Street and Tye Avenue.

Uniontown

– $250,000 to demolish and clear several dilapidated buildings in the town. 

York

– $350,000 to upgrade sewer lines and rehabilitate sewer mains in the Grant City community. 
Southeast Alabama
Ariton

– $250,000 to resurface and improve drainage along Dillard Street, Zumstein Avenue, Williams Street, Barnes Street and Claybank Street.

Ariton

– $30,000 for a planning grant to help the town develop long-range plans and goals. 

Crenshaw County

– $350,000 to repave Helicon Cross Road and Rising Star Road north of Petrey. 

Cottonwood

– $350,000 to replace old and damaged sewer lines and a failing lift station.

Daleville

– $292,500 to replace water lines along Culpepper Street, Wells Avenue, Ennis Street and Holman Street.

Dozier

– $250,000 to improve water pressure and improve fire protection capability in an area along Main Street.

Eufaula

– $450,000 to implement the fourth phase of its housing rehabilitation program. The program will be in the Edgewood subdivision area. 

Hartford

– $350,000 to replace sewer lines and components in the vicinity of Third Avenue. 

Headland-

$450,000 to rehabilitate up to 30 substandard houses in the central and north part of the city. 

Florala

– $350,000 to continue to rehabilitate old and damaged sewer lines in a project that has been ongoing with CDBG funds since 2005.

New Brockton

– $314,000 to renovate and upgrade three sewer pump stations to improve sewage collection. 

Ozark

– $250,000 to resurface at least a portion of nine streets including Brown Drive, Lowery Road, Julian Street, Wilson Avenue, Hall Drive, McDonald Avenue, Woodview Avenue, Brookview Drive and Parkview Drive. 

Pike County

– $350,000 to resurface County Road 7749 (McLure Town Road), northeast of Troy and pave County Road 2256 south of Troy.

Troy

– $250,000 to renovate a portion of the historic Academy Street School and convert it to a community and cultural arts center.  
Southwest/Coastal Alabama
Beatrice

– $350,000 to replace deteriorating water lines and add fire hydrants. 

Conecuh County

– $350,000 to pave sections of 26 roads throughout the county.

East Brewton

– $337,000 to rehabilitate sewer lines and pumping station in the southeast part of the city. 

Elberta

– $350,000 to improve drainage along Baldwin County Road 83 (Main Street) to alleviate flooding.

Escambia County

– $350,000 to replace and extend water lines and install fire hydrants in the Ridge Road community. 

Frisco City

– $250,000 to resurface at least part of several streets including Harvestview Drive, Martin Luther King Jr. Street, School Street, Wiggins Avenue, and Wild Fork Road. 

Fulton

– $350,000 to pave at least sections of Main Street, Eighth Street, First Street and Green Acres Road.

Jackson

– $208,000 to improve drainage on Cemetery Road including adding curbs and gutters. 

Lisman

– $350,000 to resurface parts of Commerce Street, Thomas Drive, Kinnon Heights/Circle, Broad Street, Tower Street, Coleman Circle and West Second Avenue.