Trump administration announces $130 million in public-private funding for wetland conservation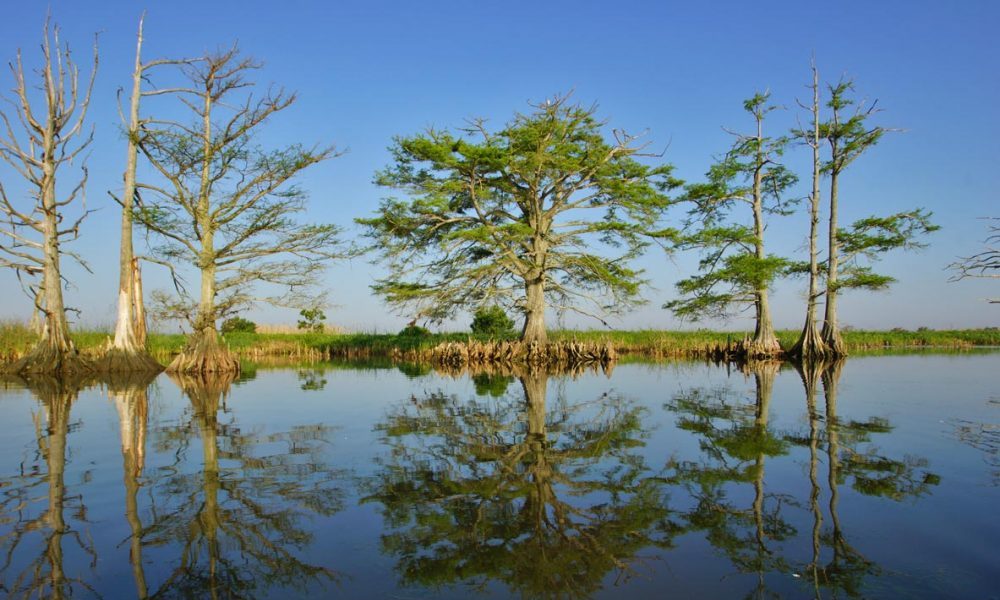 Secretary of the Interior David Bernhardt announced last week that the Migratory Bird Conservation Commission has approved more than $130 million in funding for various wetland conservation projects.
"The Trump Administration continues to take significant conservation actions benefiting all Americans, particularly hunters, anglers and outdoor enthusiasts," Bernhardt said. "It has never been more important than now that we conserve our great outdoors and expand public access to public lands, and the Trump Administration is doing that."
The 2020 North American Wetlands Conservation Act (NAWCA) grants will be used to ensure waterfowl and other birds are protected throughout their life cycles. $33.3 million is being allocated for the U.S. Fish and Wildlife Service and its partners to conserve or restore more than 157,000 acres of wetland and associated upland habitats for waterfowl, shorebirds and other birds for 32 projects in 21 states throughout the United States. These federal grants will be matched by almost $85 million in partner funds.
"The Trump Administration continues to support wetland restoration and habitat conservation projects that benefit waterfowl and many other species while improving access to outdoor recreation opportunities on public lands for all Americans," said U.S. Fish and Wildlife Service Director Aurelia Skipwith.
Wetlands provide many ecological, economic and social benefits such as habitat for fish, wildlife and a variety of plants. NAWCA grants conserve bird populations and wetland habitat while supporting local economies and American traditions such as hunting, fishing, birdwatching, family farming and cattle ranching.
"This investment in our nation's wetlands will help preserve wildlife habitats and support the recreation activities of sportsmen and other outdoor enthusiasts," said Sen. John Boozman, R-Arkansas. "I'm proud to serve on the Migratory Bird Conservation Commission and advocate for the conservation of our natural resources so public lands will be available for the enjoyment of future generations of Americans."
"Today the Migratory Bird Conservation Commission of which I am a member, held the first-ever virtual meeting since it was formed," said U.S. Rep. Mike Thompson, D-California. "Commission members vote to conserve public lands using funding from the Migratory Bird Conservation Fund, funded from the sale of Duck Stamps. We voted to protect over 158,000 acres for people across our nation to use and to preserve their beauty for generations to come."
"Our nation's wetlands are one of the most important natural resource for ecological conservation, recreation, protection from flooding, and maintenance of habitats for the birds and other wildlife that call them home," said U.S. Congressman Rob Wittman (R-Virginia). "Along the Chesapeake Bay especially, wetlands are a vital part of our environment. I am grateful to Secretary Bernhardt and the Migratory Bird Conservation Commissioner for their work and these funds to further protect our coastal habit."
"Wetlands and waterfowl habitat are disappearing at an alarming rate across North America," said Ducks Unlimited CEO Adam Putnam. "Thanks to the MBCC and Secretary Bernhardt, this funding will continue to expand efforts to protect and enhance wetlands habitat to ensure future generations have the same opportunity to enjoy nature as we have."
"NAWCA program accomplishments in California have been impressive, with over 180 projects that have enhanced or restored nearly one million acres, from the Salton Sea through the Sacramento Valley all the way up to Klamath Lake region in northeast California/southern Oregon," said President of the California Waterfowl Association and member of the North American Wetlands Conservation Council John Carlson Jr.
The commission also approved nearly $1 million from the Migratory Bird Conservation Fund to conserve 419 acres on national wildlife refuges in three states. These funds were raised largely through the sale of Federal Migratory Bird Hunting and Conservation Stamps, commonly known as "Duck Stamps."
Funds raised from the sale of Federal Duck Stamps go toward the acquisition or lease of habitat for the National Wildlife Refuge System. Hunters are required by law to purchase Duck Stamps to hunt waterfowl. The stamps are also voluntarily purchased by birders, outdoor enthusiasts and fans of national wildlife refuges who understand the value of preserving some of the most diverse and important wildlife habitats in our nation.
Since 1934, the Federal Duck Stamp Program and Migratory Bird Conservation Fund have provided more than $1 billion for habitat conservation in the Refuge System.
The National Wildlife Refuge System is managed by the U.S. Fish and Wildlife Service. There are 568 national wildlife refuges and 38 wetland management districts.
The Migratory Bird Conservation Commission is chaired by the Secretary of the Interior. Its members include Sen. Martin Heinrich of New Mexico; Sen. John Boozman of Arkansas; Reps. Robert J. Wittman of Virginia and Mike Thompson of California; Sonny Perdue, Secretary of Agriculture; and EPA Administrator Andrew Wheeler.
The Department of the Interior conserves and manages the nation's natural resources and cultural heritage for the benefit and enjoyment of the American people, provides scientific and other information about natural resources and natural hazards to address societal challenges and create opportunities for the American people, and honors the Nation's trust responsibilities or special commitments to American Indians, Alaska Natives and affiliated island communities to help them prosper.
Tuberville says Trump admitted to "mistake" over deadly Capitol riot. He hasn't
Trump has not admitted to any responsibility in the attack on the U.S. Capitol last week.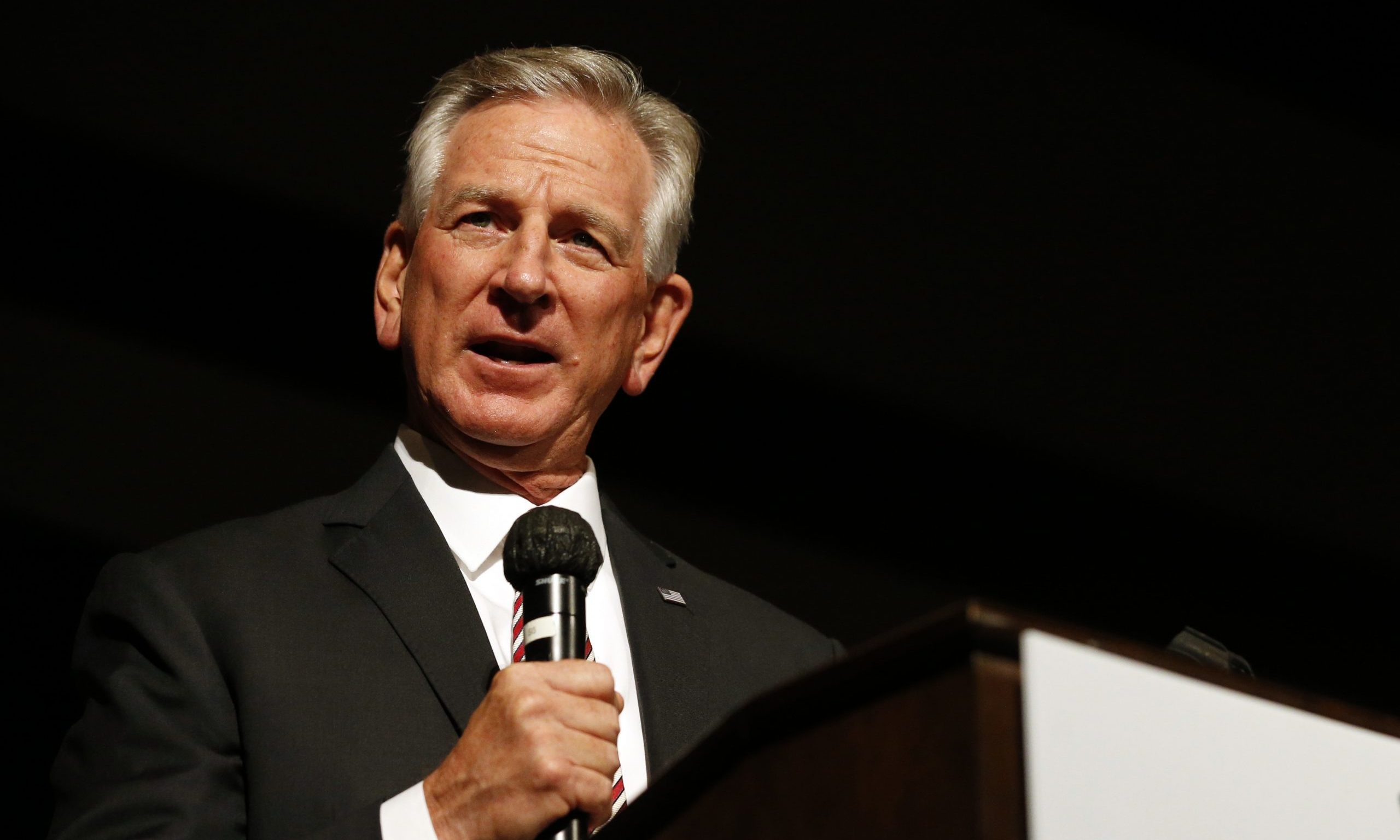 Sen. Tommy Tuberville, R-Alabama, in his first media appearance in Alabama as a senator on Wednesday, was asked his thoughts about the possibility of impeaching President Donald Trump, which happened later that day. He said Trump admitted to making a "mistake" and that it was time to move on. 
Trump has not admitted to any responsibility in the attack on the U.S. Capitol last week that left at least five dead, including a Capitol police officer and a woman who was shot by police while attempting to climb through a broken window inside the Capitol. Two others, including an Alabama man, died from "medical emergencies" while on Capitol grounds during the riot. 
"He made a mistake. He said he made a mistake. That's not, to me, not an impeachable offense," Tuberville told reporters outside of St. Vincent's Hospital in downtown Birmingham, according to WSFA. "He's got one week to go from today. We'll have a new president in President Biden. We need to go on with life. I mean, to me, you know, when you understand you made mistakes and admitted. You forgive. You go on." 
Questions to a Tuberville staffer on Thursday regarding Tuberville's comments Wednesday were received, but APR had not received responses as of Thursday evening. 
Trump was impeached for a second time — a first in U.S. history for any president — on Wednesday. With 10 Republicans joining Democrats in voting to impeach a Republican president, it was the most bipartisan impeachment in American history.
"Big protest in DC on January 6th. Be there, will be wild!" Trump tweeted in December. The House cited that and similar remarks in charging Trump with inciting an insurrection.
In the moments before the riot last week, Trump told the crowd of supporters assembled near the Capitol: "We will never give up. We will never concede. It doesn't happen."
"If you don't fight like hell you're not going to have a country anymore," Trump said to the crowd. Toward the end of his speech, Trump encouraged his supporters to march to the Capitol. 
"You'll never take back our country with weakness," Trump said. "You have to show strength and you have to be strong."
"We're going to walk down to the Capitol, and we're going to cheer on our brave senators and congressmen and women, and we're probably not going to be cheering so much for some of them," Trump said. 
Instead of walking to the Capitol with his supporters, Trump returned to the White House where he watched the violence unfold on live television from the West Wing, according to The Washington Post. 
Senators and members of the House, including Tuberville and Rep. Terri Sewell, D-Alabama, were bunkered down inside the Capitol as rioters broke into the building, smashing windows, beating police officers and threatening others to stand aside and let them enter further into the building, where the lawmakers were being protected by police. 
Despite attempts by some to get Trump to call off his supporters, Trump wasn't reachable for a time as he watched the violence unfold on television, according to The Washington Post. 
"It took him a while to appreciate the gravity of the situation," said Sen. Lindsey Graham, R-South Carolina, to the newspaper. Graham, also being protected at the time inside the Capitol, called Trump's daughter, Ivanka, but couldn't get through to the president. 
"The president saw these people as allies in his journey and sympathetic to the idea that the election was stolen," Graham told the newspaper. 
At 1:26 p.m. local time, the day of the attack, Trump supporters broke into the Capitol, according to a timeline of events by The Wire. Vice President Mike Pence is escorted out of the Senate chamber at 2:22 p.m. and a short time later Trump tweets an attack on Pence for not intervening on Trump's behalf as Electoral College votes were being certified. (Pence has — rightfully — said he did not have the legal authority to so.)
"Mike Pence didn't have the courage to do what should have been done to protect our Country and our Constitution, giving States a chance to certify a corrected set of facts, not the fraudulent or inaccurate ones which they were asked to previously certify. USA demands the truth!" Trump tweeted as his supporters continued the siege. 
At 2:38 p.m. Trump tweets: "Please support our Capitol Police and Law Enforcement. They are truly on the side of our Country. Stay peaceful!" 
Nearly 45 minutes later, Trump tweets again: "I am asking for everyone at the U.S. Capitol to remain peaceful. No violence! Remember, WE are the Party of Law & Order – respect the Law and our great men and women in Blue. Thank you!" 
Shortly after 2 p.m. Trump mistakenly called Sen. Mike Lee, R-Utah, while trying to reach Tuberville, according to CNN. Lee handed his cellphone to Tuberville. Both men were in a temporary holding room, having been evacuated from the Senate floor, according to CNN. 
"Tuberville spoke with Trump for less than 10 minutes, with the President trying to convince him to make additional objections to the Electoral College vote in a futile effort to block Congress' certification of President-elect Joe Biden's win, according to a source familiar with the call," CNN reported. "The call was cut off because senators were asked to move to a secure location." 
President-elect Joe Biden in a video posted at 4:06 p.m., more than two hours after the siege began, pleaded with Trump to call for peace. At 4:17 p.m., Trump released a video to Twitter in which he continued to allege the election was stolen from him. 
"I know your pain. I know you're hurt. We had an election that was stolen from us. It was a landslide election and everyone knows it, especially the other side. But you have to go home now. We have to have peace. We have to have law and order. … So go home. We love you, you're very special…I know how you feel. But go home and go home in peace," Trump said. 
A second call to Lee at 7 p.m. came from Trump's attorney, Rudy Giuliani, according to a recording of the voicemail. Giuliani believed he was also calling Tuberville. 
"I'm calling you because I want to discuss with you how they're trying to rush this hearing and how we need you, our Republican friends, to try to just slow it down so we can get these legislatures to get more information to you," Giuliani said, according to the recording. "I know they're reconvening at 8 tonight, but it … the only strategy we can follow is to object to numerous states and raise issues so that we get ourselves into tomorrow — ideally until the end of tomorrow."
Speaking Tuesday at a section of the border wall with Mexico in Texas, Trump took no responsibility for the violence at the Capitol.
"People thought that what I said was totally appropriate," Trump said.
House Minority Leader Kevin McCarthy, R-California, speaking on the House floor before his vote against impeachment, said Trump was responsible for the violence.
"The President bears responsibility for Wednesday's attack on Congress by mob rioters. He should have immediately denounced the mob when he saw what was unfolding," McCarthy said.
Rep. Terri Sewell, D-Alabama, spoke before her vote about being on the House floor when rioters broke into the Capitol.  
"I rise today to support impeachment. I do so with a heavy heart and a lasting and searing memory of being in this gallery, the people's House, right up there, fearing for my life," Sewell said, pointing to where she and other representatives hid from rioters during the siege. "And why? Because the President of the United States incited others to be violent. A mob of insurgency, in this House. It's unacceptable, it led to the killing of five Americans.  Blood is on this house. We must do something about it. I ask we move from 'stopping the steal' to to healing, but healing requires accountability, and everyone must be accountable."