Faith and labor partnership launched on Birmingham bombing anniversary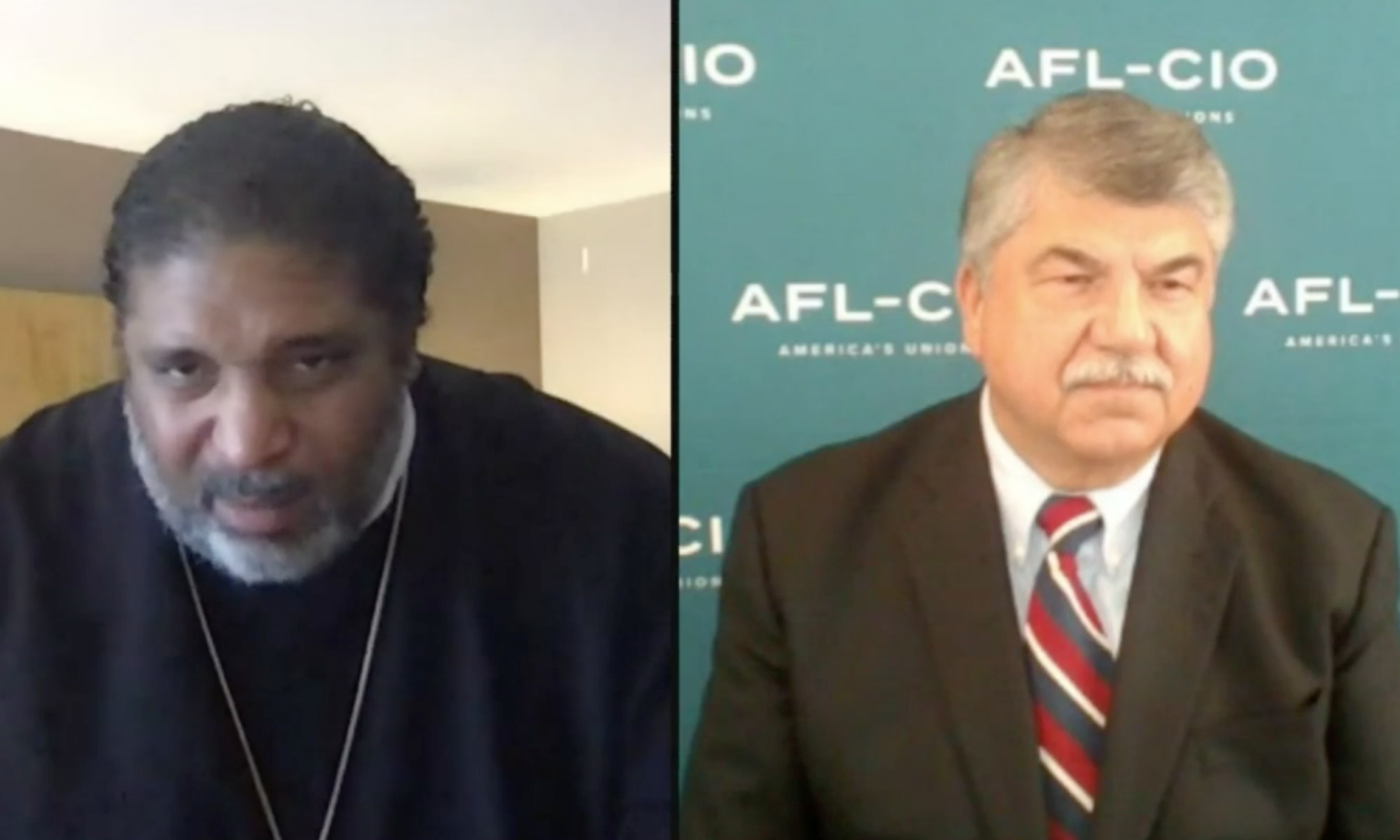 The bomb that ripped through the 16th Street Baptist Church 57 years ago was a predictable result of the social divisions of the early 1960s, and the nation is experiencing a similarly dangerous level of polarization now, said two prominent rights advocates who led a virtual ceremony on Tuesday commemorating the infamous event.
Rev. William Barber, who heads the nonprofit Repairers of the Breach and the Poor People's Campaign, joined Richard Trumka, president of the country's largest federation of unions, at the church to announce a formal partnership to work for social, racial and economic justice.
Trumka said the labor movement honors the bombing's four young victims: Addie Mae Collins, Cynthia Wesley, Carole Robertson and Carol Denise McNair.
"But our debt to this community is greater than that," he said. "On the day the Ku Klux Klan set off the bomb, parts of the labor movement were racially segregated, including in Birmingham. The divisions and hatred that landowners and employers had been sowing since the founding of this country infected our own movement. So when the AFL-CIO fought for the passage of the Civil Rights Act, they were fighting to end discrimination and racism not just by employers, but by our own unions, our own institutions. We were fighting to change ourselves."
With deep divisions again threatening American lives and democracy, Barber said, it is time for communities of faith to join with other groups struggling for fundamental rights in pursuit of a more perfect vision of the country.
There have always been attempts to defend a status quo that favors some over many others, willing to commit heinous violence to enforce it, he said.
"But we must remember these brutal acts were in violent response to the movement that had been achieved: The first citywide desegregation campaign in the South," Barber said. "And it happened because faith and labor came together. Faith and labor and moral leaders and poor people came together."
The killings were perpetrated after the movement had multiple successes by extremists who wanted to go backwards, he said. The achievement of basic rights by some was perceived as a threat to the "peace of Southern society and American society as a whole," he said, and similar sentiments are being stoked today.
Barber said that the Civil Rights movement is too often talked about exclusively through a Black lens, although that was not the message of its leaders at the time. They emphasized the shared interests of poor people of all ethnicities, and of all marginalized communities.
"In some ways, we're returning to what is. We're not building so much new, but we're embracing what has always been the necessary embrace in times of national crisis, around justice and around fundamental civil rights and economic rights," he said.
Barber said the issues transcend President Donald Trump and the tribal state of American politics. He said that he meets people around the country of various ideologies who are dismayed with the way things are.
"What people are starting to realize is that those who push and support racist voter suppression, like Trump — it may be targeted at Black people, but the people who use those tactics to get elected, once they get elected they block living wages, they block union rights, they block health care," Barber said.
He used Alabama as a prime example, with its majority of poor and uninsured people being white. The officials who promote policies that amount to voter suppression or who rally support with dog-whistle racism advance their agendas with lies, he said.
"Something that my grandmother taught me is if you scratch a liar, you find a thief," Barber said.
Sewell: Confirming Barrett before the election would undermine Supreme Court's legitimacy
"The nomination of Judge Amy Coney Barrett is clearly tainted by the hypocrisy of Senate Republicans to go back on their own promise," Sewell said.
Saturday, Congresswoman Terri Sewell (D-Alabama) released a statement claiming that President Donald J. Trump's (R) nomination of Judge Amy Coney Barrett to replace Justice Ruth Bader Ginsburg as Associate Justice on the Supreme Court was tainted by the hypocrisy of Senate Republicans and that confirming Judge Barrett would undermine the legitimacy of the Supreme Court.
"The Supreme Court nomination by President Trump today, with the 2020 presidential election only 38 days away, denies the American people a voice in this very important decision," Rep. Sewell said. "The nomination of Judge Amy Coney Barrett is clearly tainted by the hypocrisy of Senate Republicans to go back on their own promise not to fill a vacancy on the Supreme Court so close to a presidential election. This standard articulated by Senate Republicans was applied against President Obama's nomination of Judge Merrick Garland eight months before the 2016 presidential election. This blatant power grab by Trump and Senate Republicans is especially disturbing given that the voting process has already begun with hundreds of thousands of voters having cast their ballots in the 2020 presidential election."
"Fairness and comity demand that the Senate not confirm any vacancy on the Supreme Court until the American people have chosen the next president," Sewell concluded. "To do otherwise, I believe would undermine the very legitimacy of the Supreme Court."
Friday before Barrett was even nominated, U.S. Senator Doug Jones (D-Alabama) announced that he will not support any Trump nominee for the Supreme Court for the vacancy created by Justice Ruth Bader Ginsburg's passing. Jones stated, "I will not support the confirmation of any Supreme Court justice nominee before the election."
"Justice Ginsburg was a role model and an inspiration," Sen. Jones said. She was a brilliant and tireless advocate, a champion for fairness and equality, and her efforts have brought our country closer to the ideals upon which it was founded."
"It is a poor reflection of the state of our national politics that, just hours after Justice Ginsburg's passing, we were thrust into a divisive partisan fight over her successor, denying the nation the time to mourn this extraordinary American's death," Jones continued. "Just weeks from a national election, we are confronting a blatant power grab by Senate Majority Leader Mitch McConnell and the President that will undermine the court and subvert the will of the American people."
"Just four years ago, Leader McConnell held open a Supreme Court seat for ten months before a presidential election because he said time and again that, in an election year, we must let the American people decide," Jones said. "If confirming a Supreme Court justice ten months prior to a presidential election would have denied the American people a voice, then isn't he now denying the American people a voice by rushing to confirm a justice just weeks before a presidential election?"
"I believe the answer to this question is a resounding YES," Jones continued. "This is especially true given the urgent legislative work we have yet to do. Leader McConnell should turn his focus instead to protecting the lives and livelihoods of the American people by bringing a new bipartisan COVID-19 relief package up for a vote. We also need to pass the National Defense Authorization Act to support our military. We need to pass our annual funding bills instead of kicking the can down the road with yet another costly continuing resolution. We need to pass the John Lewis Voting Rights Advancement Act, which has languished in this Senate, in order to protect the right of all Americans to vote and participate in our democracy."
"Consequently, under these circumstances, I will not support the confirmation of any Supreme Court justice nominee before the election," Jones explained. We should not force the country into a brutal and divisive partisan confirmation fight while Americans are already voting to choose the next President. If President Trump is re-elected, I will evaluate any pending or future nominee on their merits and vote for or against the nominee based solely on their qualifications."
Trump has already appointed Neil Gorsuch and Brett Kavanaugh to the U.S. Supreme Court. President Barack H. Obama (D) only got to select two of his nominees to the court. When conservative icon Supreme Court Justice Antonin Scalia died in 2016 – the previous election year, Republicans led by McConnell and Sen. Richard Shelby (R-Alabama) blocked Obama's appointee, Merrick Garland.
Jones also voted against previous Trump nominee Brett Kavanaugh.
Congresswoman Terri Sewell represents Alabama's Seventh Congressional District. Sewell has no Republican general election opponent.