Orange Beach and Gulf Shores closed to tourists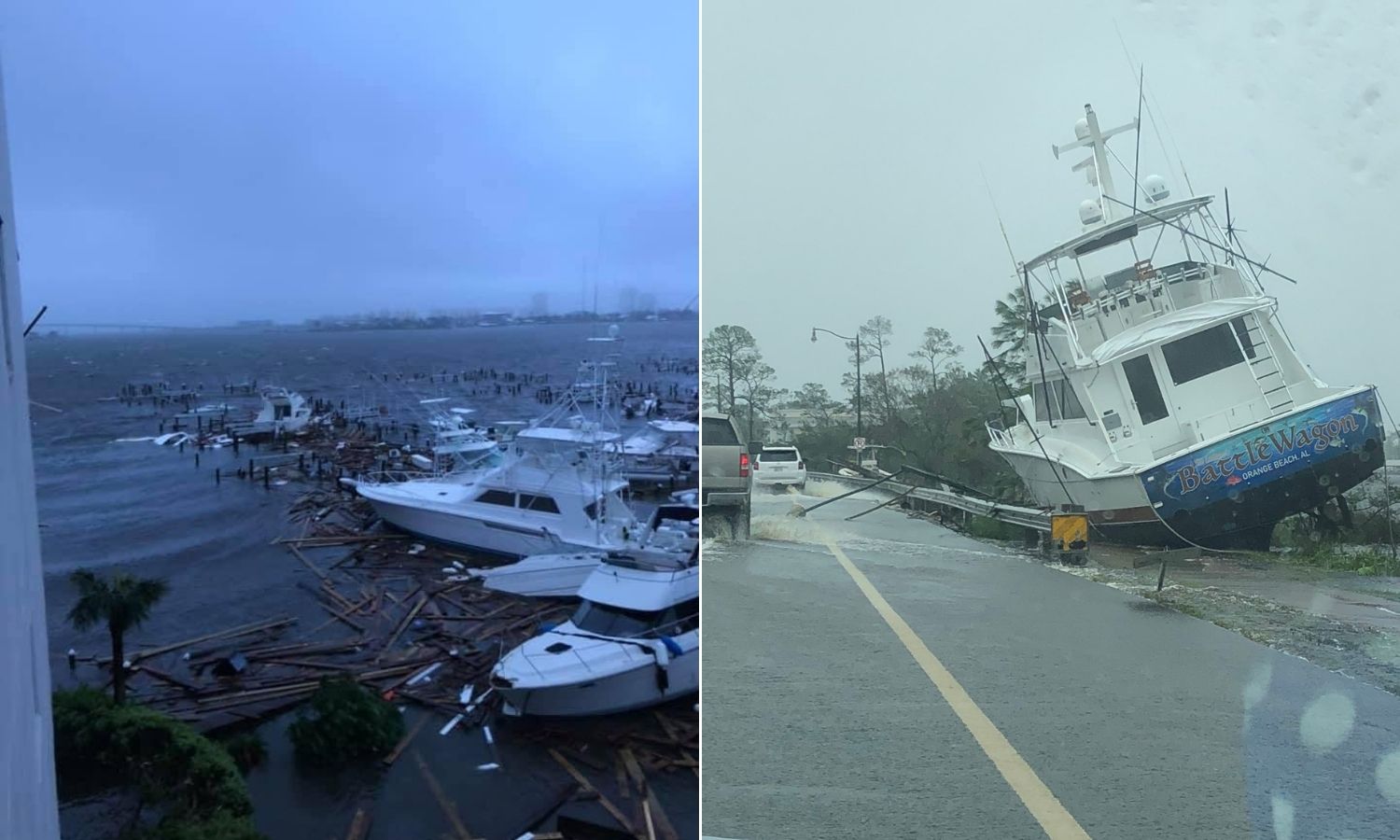 The top tourist towns in Alabama are closed to tourists as the two beachfront towns clean up from the biggest hurricane to hit the state's Gulf Coast since Ivan in 2004. Hurricane Sally plowed into Gulf Shores, Orange Beach and surrounding communities before dawn Wednesday, doing tremendous damage.
Tourists are banned from visiting Gulf Shores, Orange Beach and the Fort Morgan peninsula for at least 10 days.
"Our destination is closed to visitors for at least the next 10 days (through Saturday, Sept. 26) to allow the cities, businesses, and residents time to assess damage and begin cleanup and repairs," said Gulf Shores & Orange Beach Tourism in a statement. "This includes Gulf Shores, Orange Beach and the Fort Morgan Peninsula. Visitors with existing reservations for these dates should contact the hotel or company you have reservations with to understand their policies related to storms, cancellations and rescheduling."
The Foley Beach Express toll bridge and the Perdido Pass Bridge are both closed to visitors attempting to enter the cities. Only Orange Beach and Gulf Shores residents with hurricane re-entry passes and workers who can provide proof of employment through a work ID or a pay stub will be allowed to cross the bridges.
Visitors who are already there are being permitted to leave.
The Gulf State Park pier appears to have been destroyed. A large section of the pier appears to be absent in pictures posted by reporters on the scene.
Damage pictures that are streaming in this morning are extensive. This is a picture of the Gulf State Park Pier in the aftermath of Hurricane #Sally. https://t.co/KJFzMYuNvq

— NWS Mobile (@NWSMobile) September 16, 2020
Commissioner of the Department of Conservation and Natural Resources Chris Blankenship said that it is too early to assess the damage because travel was so difficult Wednesday in South Baldwin County.
"We're in a holding pattern waiting for the weather to improve. … We have teams waiting to make damage assessments," Blankenship told AL.com.
The state had just finished a $2.4 million renovation of the fishing pier that had included replacing the decking, adding an observation platform and replacing lighting with lights more friendly to endangered sea turtles.
Blankenship said that the pier is insured. There was supposed to be a ribbon cutting this week on the new and improved pier but obviously that ceremony was cancelled due to the Hurricane.
The previous lodge was destroyed by Hurricane Ivan and many critics questioned if building such a large structure on a hurricane-prone sandbar next to the ocean was wise.
According to the early assessments, the lodge has survived Hurricane Sally.
Blankenship told the Alabama Media Group that the Lodge had "minimal damage." The storm surge "blew in the front doors," but the structure itself was not compromised. There were a few guests in the lodge at the time.
There are numerous homes, businesses and other structures in Baldwin County that have received damage from wind, storm surge, flooding or falling trees.
First responders are still dealing with the disaster.
"This is what we do. It is 4am and our staff just finished up working a structure fire with exposure involved," the Orange Beach Fire Department posted on social media Thursday morning. "They couldn't access the road leading to the incident due to flood waters, downed trees and power lines. They had to hand jack 1000 feet of 5" supply hose through 3 feet of water from the truck to the fire. While the two structures were total losses, they saved at least three exposures. All of this after a sleepless previous night of rescuing countless victims of flood waters due to hurricane Sally. Firefighters don't "toot their own horns" but I will do it for them. To say I am proud to get to work with these heroic people is an understatement."
The Alabama Department of Public Health has closed shellfish growing waters in Baldwin and Mobile counties, including Cedar Point, Portersville Bay, Heron Bay, Navy Cove, Dauphin Island Bay and Grand Bay.
The order by State Health Officer Dr. Scott Harris closed harvesting as of 4 p.m. on Sept. 14, 2020. The order is issued as a result of possible bacteriological contamination of the oyster beds due to rainfall associated with Hurricane Sally.
Mobile County's Dauphin Island has also suffered extensive damage as well as Pensacola, where the downtown flooded. Hurricane Sally produced flooding as far west as Slidell, Louisiana. Flood waters could continue to rise in Baldwin Counties as rivers crest.
All of Baldwin County remains under a 7 p.m. to 6 a.m. curfew.
Alabama's Black Belt lacks quality internet access, report finds
Twenty-two of 24 Black Belt counties are below the statewide average of 86 percent of the population who have access to high-speed internet, and two Black Belt Counties — Perry and Chocktaw — have no access at all. 
During an online video briefing Monday on a report about a lack of internet access in Alabama's Black Belt, University of Alabama student Brad Glover warned reporters that he could get kicked off the briefing at any moment. 
That's because he was talking during the video briefing by way of audio only, using his cell phone, as he does not have access to high-speed internet access at his Linden, Alabama, home in the Black Belt's Marengo County. 
The COVID-19 pandemic that sent students home to study online left many in the Black Belt and other rural parts of Alabama in the lurch, without access to the high-speed internet enjoyed by so many other Americans, according to the latest report in the University of Alabama's Education Policy Center's Black Belt 2020 series. 
The latest report, titled "Internet Access Disparities in Alabama & the Black Belt," found that 22 of 24 Black Belt counties, as defined by the Education Policy Center, are below the statewide average of 86 percent of the population who have access to high-speed internet, and two Black Belt Counties — Perry and Chocktaw — have no access at all. 
"It is still a terrible struggle for me to connect to get the things done that are required," said Glover, who interned with the Education Policy Center. 
Stephen Katsinas, director of the Education Policy Center, said that in the 1930s, nine of ten rural homes lacked the electric service that urban American homes, by that point, had for 40 years. 
"The Rural Electrification Act was passed to address this abject market failure," Katsinas said. "Today, as the COVID pandemic has shown, access to high-speed internet is as essential to rural Alabama as the REA was in the 1930s. Alabama must directly address the market failures that exist today to bring high-speech internet to every rural Alabamian, so that our rural workforce can access the lifelong learning skills they need, and our rural businesses can compete globally." 
The COVID-19 pandemic has also spotlighted the need to expand the growing area of telemedicine. 
Dr. Eric Wallace, medical director of Telehealth at UAB, told reporters during the briefing Monday that patients are largely doing telehealth from their homes, and explained that disparities in access to high-speed internet present a problem for them. 
"Since the COVID-19 pandemic began, UAB has done approximately 230,000 telehealth visits, and 60 percent of those were done by video," Wallace said. 
"Forty percent are audio only, and why is audio only? It's because we do not have broadband," Wallace said. "So it's not just broadband. It's broadband. It's tech literacy. Socioeconomics, to have a device in your home. It's all of that."
Wallace said that the coronavirus crisis has made clear that telemedicine is a "100 percent necessity" and that patient satisfaction studies make clear it's not going anywhere. 
The reasons for disparities in access to high-speed internet are myriad, explained Noel Keeney, one of the authors of the report and a graduate research assistant at the Education Policy Center. 
Keeney noted a study by BroadbandNow that estimates there are 154 internet providers in Alabama, but there are 226,000 Alabamians living in counties without a single provider, and 632,000 in counties with just a single provider. 
Even for those with access to internet providers, Keeney said that just approximately 44.4 percent of Alabamians have internet access at a cost of $60 monthly or below. 
"If we really care about our rural areas, we need to make an investment, and it needs to cut off that cost at a very low rate," Wallace said. 
Katsnias said there's a growing consensus on the part of Alabama's political leaders that access to high-speed internet is an important issue, noting that Gov. Kay Ivey in March 2018, signed into law the Alabama Broadband Accessibility Act, which has given internet access to nearly 100,000 Alabama students. 
"In March, Gov. Ivey awarded $9.5 million in broadband expansion grants, with a significant amount going to Black Belt communities," the report reads. "This was followed by $5.1 million in additional grants in May." 
"The State of Alabama also allocated $100 million in federal CARES Act-related dollars for "equipment and service for broadband, wireless hot spots, satellite, fixed wireless, DSL, and cellular-on-wheels to increase access for K-12 students undergoing distance learning," the report continues. 
An additional $100 million in CARES Act funds were made available to facilitate virtual learning across Alabama's K-12 schools, researchers wrote in the report, and another $72 million in federal aid went to the state's colleges and universities. 
Katsinas said however those federal funds are spent, the state still needs a long term plan for how to address the disparities in access to high-speed internet. 
"We need a long term plan and we need to do what we can do immediately," Katsinas said
Read more of the Education Policy Center's reports in the "Black Belt 2020" series here.