Palmer, GOP colleagues unveil their plan for a better America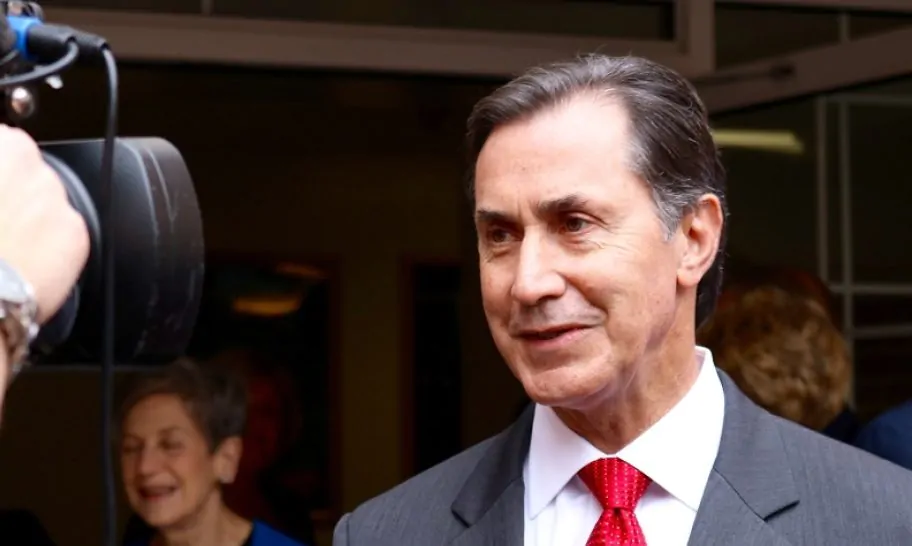 Congressman Gary Palmer, R-Alabama, joined his Republican colleagues in a press conference this week to share their vision for a better future for America and to unveil a plan that they say centers on commitment to all American citizens and to policies that "restore, renew, and rebuild" the country.
"I am proud to join my colleagues in declaring our commitment to the American people, restoring our way of life, rebuilding our economy, and renewing the American dream," Palmer said. "This is a firm commitment. Like everyone else, my colleagues and I are fed up with the division and destruction we are witnessing in our cities."
"We are fed up with the destructive rhetoric attacking the legitimacy of our law enforcement, and with policies that degrade our quality of life, diminish our economy, and dismantle the constitutional safeguards that protect our liberties," Palmer said. "We are committed to defeating the COVID-19 virus and to ensuring that every American has access to a safe and effective vaccine."
You can read more about the Republican plan and Republicans' commitment to America here.
"We're also committed to making health care affordable, including expanding telehealth services," Palmer explained. "We want people with preexisting conditions protected, transparency in health care costs, and an end to surprise medical billing. We are committed to rebuilding the American economy by helping local businesses, adding 10 million good paying jobs, and providing training for all who want to acquire new skills to improve job prospects."
"We are committed to getting our supply of critical materials and medicines out of China, and to investing in critical infrastructure, including making broadband available to all Americans," Palmer said. "And Americans can count on our commitment to do all we can to make our cities safe again. We are committed to bringing hope to parents and children trapped in failing and dangerous schools by giving parents the right to choose the school that is best for their children."
"Our motivation in making these commitments is that, like the rest of the country, we are fed up with a dysfunctional Congress that is failing our nation," Palmer said. "We are committed to changing that and to doing all we can to reunite our nation by passing legislation that is good for all Americans."
Congressman Robert Aderholt, R-Alabama, has already expressed his support for the GOP Commitment to America.
"First and foremost, we need to restore our way of life," Aderholt said. "We are well on the way to defeating the virus and deploying a vaccine. This also means we need to stop the rioting, defend the police, and help people feel safe again. Second, we must restore what was once the greatest economy the world has ever seen. We will support local businesses and spur activities to create new jobs.
"And it's time for us to bring manufacturing back to America and hold China accountable for their unfair trade practices, their theft of intellectual property, and their crackdown on human rights," Aderholt said. "Finally, we must renew the American Dream and ensure it returns to the pedestal it belongs on. This starts by giving every family a choice in where to send their kids to school, taking care of and hiring our veterans, and promoting opportunities for workforce development."
House Republicans won back control of the U.S. House of Representatives in 2010 after Rep. Nancy Pelosi, D-California, was speaker of the House for four years.
Republicans lost their majority in 2018, restoring Pelosi back to the speakership. GOP congressmen are hoping that the voters will give them back control of the House in the November election.
Palmer represents Alabama's 6th Congressional District.
The popular Palmer had no Republican primary challenger and is running for his fourth term in the U.S. House of Representatives with no Democratic opponent in the Nov. 3 general election.
Alabama's Black Belt lacks quality internet access, report finds
Twenty-two of 24 Black Belt counties are below the statewide average of 86 percent of the population who have access to high-speed internet, and two Black Belt Counties — Perry and Chocktaw — have no access at all. 
During an online video briefing Monday on a report about a lack of internet access in Alabama's Black Belt, University of Alabama student Brad Glover warned reporters that he could get kicked off the briefing at any moment. 
That's because he was talking during the video briefing by way of audio only, using his cell phone, as he does not have access to high-speed internet access at his Linden, Alabama, home in the Black Belt's Marengo County. 
The COVID-19 pandemic that sent students home to study online left many in the Black Belt and other rural parts of Alabama in the lurch, without access to the high-speed internet enjoyed by so many other Americans, according to the latest report in the University of Alabama's Education Policy Center's Black Belt 2020 series. 
The latest report, titled "Internet Access Disparities in Alabama & the Black Belt," found that 22 of 24 Black Belt counties, as defined by the Education Policy Center, are below the statewide average of 86 percent of the population who have access to high-speed internet, and two Black Belt Counties — Perry and Chocktaw — have no access at all. 
"It is still a terrible struggle for me to connect to get the things done that are required," said Glover, who interned with the Education Policy Center. 
Stephen Katsinas, director of the Education Policy Center, said that in the 1930s, nine of ten rural homes lacked the electric service that urban American homes, by that point, had for 40 years. 
"The Rural Electrification Act was passed to address this abject market failure," Katsinas said. "Today, as the COVID pandemic has shown, access to high-speed internet is as essential to rural Alabama as the REA was in the 1930s. Alabama must directly address the market failures that exist today to bring high-speech internet to every rural Alabamian, so that our rural workforce can access the lifelong learning skills they need, and our rural businesses can compete globally." 
The COVID-19 pandemic has also spotlighted the need to expand the growing area of telemedicine. 
Dr. Eric Wallace, medical director of Telehealth at UAB, told reporters during the briefing Monday that patients are largely doing telehealth from their homes, and explained that disparities in access to high-speed internet present a problem for them. 
"Since the COVID-19 pandemic began, UAB has done approximately 230,000 telehealth visits, and 60 percent of those were done by video," Wallace said. 
"Forty percent are audio only, and why is audio only? It's because we do not have broadband," Wallace said. "So it's not just broadband. It's broadband. It's tech literacy. Socioeconomics, to have a device in your home. It's all of that."
Wallace said that the coronavirus crisis has made clear that telemedicine is a "100 percent necessity" and that patient satisfaction studies make clear it's not going anywhere. 
The reasons for disparities in access to high-speed internet are myriad, explained Noel Keeney, one of the authors of the report and a graduate research assistant at the Education Policy Center. 
Keeney noted a study by BroadbandNow that estimates there are 154 internet providers in Alabama, but there are 226,000 Alabamians living in counties without a single provider, and 632,000 in counties with just a single provider. 
Even for those with access to internet providers, Keeney said that just approximately 44.4 percent of Alabamians have internet access at a cost of $60 monthly or below. 
"If we really care about our rural areas, we need to make an investment, and it needs to cut off that cost at a very low rate," Wallace said. 
Katsnias said there's a growing consensus on the part of Alabama's political leaders that access to high-speed internet is an important issue, noting that Gov. Kay Ivey in March 2018, signed into law the Alabama Broadband Accessibility Act, which has given internet access to nearly 100,000 Alabama students. 
"In March, Gov. Ivey awarded $9.5 million in broadband expansion grants, with a significant amount going to Black Belt communities," the report reads. "This was followed by $5.1 million in additional grants in May." 
"The State of Alabama also allocated $100 million in federal CARES Act-related dollars for "equipment and service for broadband, wireless hot spots, satellite, fixed wireless, DSL, and cellular-on-wheels to increase access for K-12 students undergoing distance learning," the report continues. 
An additional $100 million in CARES Act funds were made available to facilitate virtual learning across Alabama's K-12 schools, researchers wrote in the report, and another $72 million in federal aid went to the state's colleges and universities. 
Katsinas said however those federal funds are spent, the state still needs a long term plan for how to address the disparities in access to high-speed internet. 
"We need a long term plan and we need to do what we can do immediately," Katsinas said
Read more of the Education Policy Center's reports in the "Black Belt 2020" series here.