Alabama Democrats: Tuberville doesn't have a plan or experience
The Alabama Democratic Party on Wednesday released a statement slamming Republican Senate candidate Tommy Tuberville for not commenting on Hurricane Sally.
Tuberville is challenging U.S. Sen. Doug Jones, D-Alabama, in the Nov. 3 general election.
"Tommy Tuberville said he didn't have a clue how to address the deadly COVID-19 pandemic, so it isn't surprising that he hasn't offered a single word for the Gulf Coast in the face of a life-threatening storm," said Wade Perry, the executive director of the Alabama Democratic Party. "He doesn't have a plan or the experience to tackle an actual crisis. Unlike our own U.S. Senator Doug Jones."
The Jones campaign has seized on the "Tommy Tuberville does not have a clue" narrative, trying to make the argument that Tuberville, a career football coach who has never held a public office before, lacks the experience necessary to represent the people of Alabama in the U.S. Senate.
Jones used that line several times at a Labor Day appearance in Leeds.
"Senator Jones was on the ground in Lee County after devastating tornadoes and worked across party lines to secure emergency relief for farmers and families in the Wiregrass," Perry said. "He will always be there to help Alabamians navigate a crisis and save lives— he always has, and always will."
The Tuberville campaign disputed the ADP narrative.
Hurricane Sally devastated Dauphin Island in Mobile County as well as Gulf Shores, Orange Beach, and Fort Morgan in coastal Baldwin County when it came ashore as a category two hurricane with 105 miles per hour winds.
Sally then inundated South Alabama, West Florida and Georgia with heavy rain, leading to localized flooding. Several roads were closed on Thursday across South Alabama due to flooding including in Troy, Andalusia and Opp.
Almost 200,000 Alabama homes lost power due to the storm. Alabama Power crews are still working to restore power to customers who lost power.
Jones defeated former Chief Justice Roy Moore in a 2017 special election. This was the only time that a Democratic candidate had won any statewide race in Alabama since 2008.
Jones and his allies led an effort to topple the then-existing leadership of the Alabama Democratic Party in 2019. The new chairman of the Alabama Democratic Party, State Rep. Christopher England, D-Tuscaloosa, is trying to make the case that times have changed and the state has two viable political parties.
Republicans are targeting Jones, a Democratic senator representing a very red state. Democrats are hopeful that they can hold Jones' seat and take control of the U.S. Senate.
Trump Truck and boat parades this weekend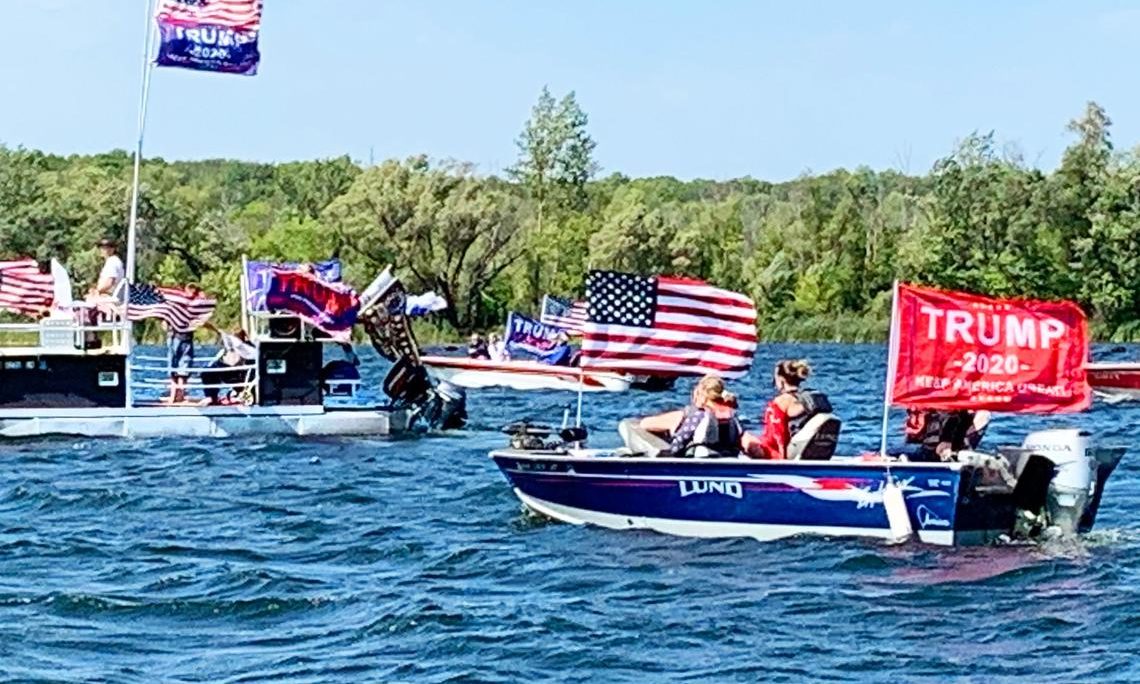 As Election Day draws near, Alabama Republicans are excited about promoting the re-election of Donald J. Trump as President and the election of Tommy Tuberville for U.S. Senate. This weekend two pro-President Trump events are happening in the state. There will be a truck parade from Ashland to Phenix City on Saturday sponsored by the Clay County Republican Party, while there will also be a boat parade on Wilson Lake in the Shoals sponsored by the Colbert County Republican Party on Sunday.
The pickup trucks will assemble at the Ashland Industrial Park in Clay County, 8240 Hwy 9, Ashland. There is a pre-departure rally at 10:00 a.m. central standard time. The trucks will depart at 11:00 a.m. and then proceed on a parade route that will take them into the bitterly contested swing state of Georgia. The Trump Pickup Parade will wind through east Alabama and West Georgia traveling through LaGrange and Columbus before concluding near the Alabama/Georgia line in Phenix City, 332 Woodland Drive, Phenix City at approximately 2:00 p.m. central time. Speakers will begin at 3:00. Trump flags will be on sale at the event.
The Phenix Motorsports Park will be hosting what sponsor hope could possibly the world's largest Pickup Tuck parade in U.S. history that is routing over 50 mile through Georgia in effort to "pickup" President Trump's numbers in GA.
A number dignitaries have been invited to address the Phenix City rally, including Coach Tuberville. Former State Sen. Shadrack McGill, Trump Victory Finance Committee member former State Rep. Perry O. Hooper Jr., and Paul Wellborn, the President and CEO of the largest Family owned Kitchen Cabinet manufacture in the USA are among the featured speakers who have committed to speak at the event.
Entertainment will be provided by: Charity Bowden, an up and coming country music singer who was the runner up on "The Voice". Charity will sing 'I am Proud to be an American' as well as songs from her Voice performances. The McGill Girls will also perform. The three beautiful and talented sisters will be singing patriotic songs in three part harmony. Geoff Carlisle, a professional DJ will be keeping the crowd pumped with music and entertainment.
Following the speakers and the entertainment there will Trump truck-vs- Joe Bidden truck races down the drag strip for the finale.
The Northwest Alabama boat parade will be on Sunday. The boats will gather at 2:00 p.m. near Turtle Point and then the flotilla will parade around the open waters of Wilson Lake til 3_00 p.m.. There will be a contest for best decorated Trump boats.
Trump supporters have held a number of large boat parades across the state to show their support for the re-election of Pres. Trump.
Boat parade sponsors say that this parade will be: pro-American, pro-law enforcement, pro-military.