U.S. Supreme Court Justice Ruth Bader Ginsburg dies at 87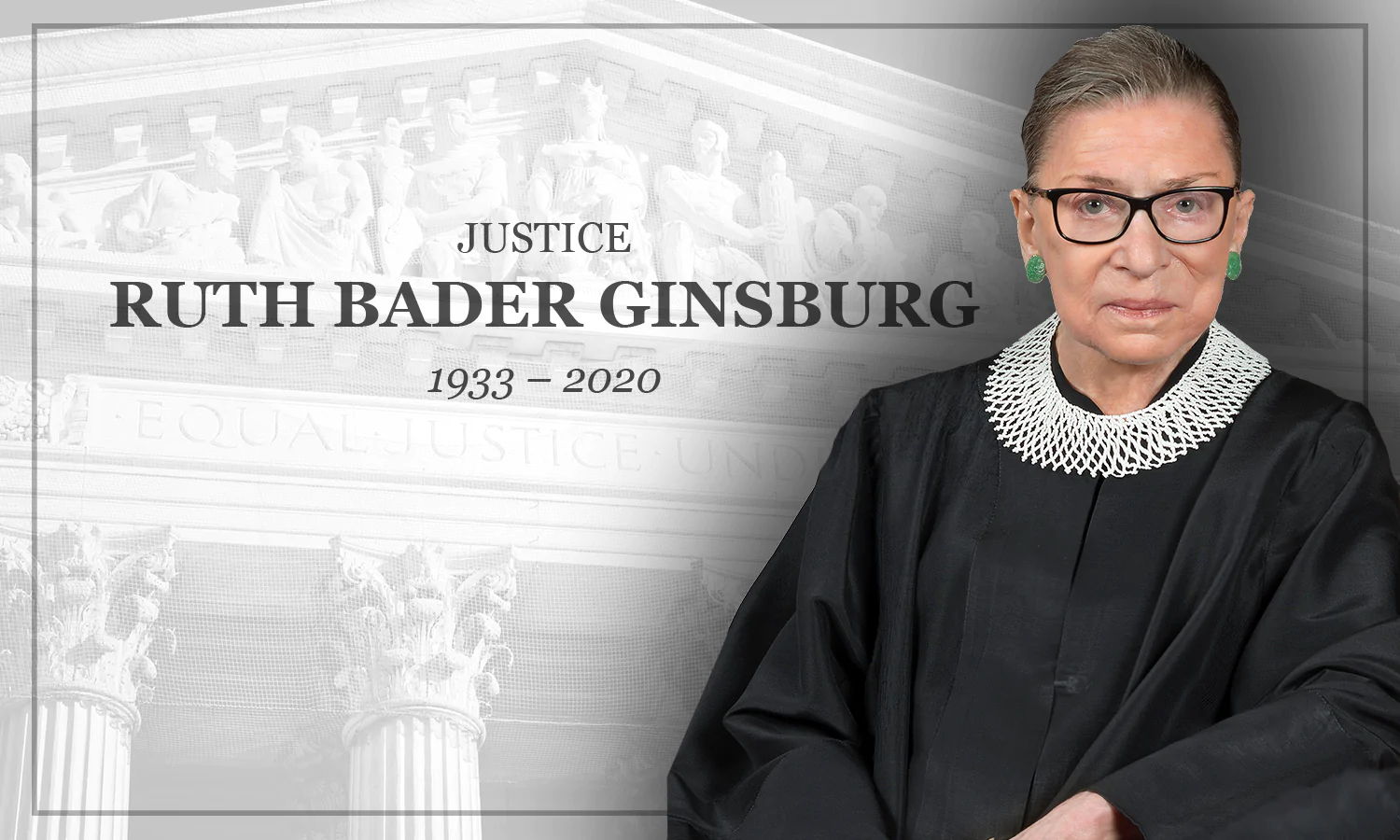 United States Supreme Court Justice Ruth Bader Ginsburg — a champion of women's rights and voter protections on the nation's highest court — died Friday at the age of 87 from complications from metastatic pancreas cancer.
The justice died at her home in Washington D.C., surrounded by family. Only the second woman ever to be appointed to the highest court in the nation, she served 27 years on the court, becoming a champion for women's rights and voter protections. 
"This news is a devastating loss for our country and for all those who have been inspired by the inimitable Justice Ginsburg during her long and historic career. Justice Ginsburg led a life guided by principle and filled with purpose. A true trailblazer in the legal field in her own right, she inspired generations of young women to reach for heights that previously felt impossible. Through her quiet dignity, her willingness to bridge political divides, and her steady pursuit of justice, she was a standard-bearer for positive leadership," Sen. Doug Jones said in a statement. 
"Her bold dissents in the Ledbetter v. Goodyear Tire & Rubber Co. and Shelby County v. Holder cases are particularly meaningful to me, and to so many in Alabama and across the country. She stood for what was right and for the constitutional principles of equality and democracy that she held dear, even if it meant she was in the minority on the Court. As only the second woman to ever serve on the Court, she made full use of her opportunity to serve as a voice for women on the bench.
"Beyond her legal acumen, Justice Ginsburg will also be remembered for her sharp wit, her tireless advocacy for voting rights, and her historic role in fighting for a more equal society for women across the country. She will be greatly missed. Louise and I extend our sincerest condolences to Justice Ginsburg's loved ones. We're praying for them as they grieve this tremendous loss," Jones said. 
Margaret Huang, president of the Southern Poverty Law Center, in a statement Friday said that our country has lost a monumental and transformative figure. 
"Justice Ruth Bader Ginsburg was not only a trailblazer, a hero, and a singular inspiration, she was also a deeply principled person who demonstrated great courage and conviction throughout her entire legal career," Huang said. 
"At the time of her appointment in 1993, Justice Ginsburg was only the second woman to be seated on the U.S. Supreme Court, but it wasn't her first time in the Court. As director of the Women's Rights Project of the American Civil Liberties Union, she argued and won five cases before the Justices. And from her first term, she made it her mission to guarantee equal protection for women and other marginalized communities. We are eternally grateful for her decades of work — and landmark achievements — in pursuit of this essential goal.
"In her later years, she became an icon for a younger generation. Her resolute determination for justice inspired millions, including all of us at the Southern Poverty Law Center. With her countless accomplishments in mind and some of her courage in our hearts, we recommit ourselves to continuing her mission to achieve justice and equity for all," Huang continued.
Supreme Court Chief Justice John Roberts said our nation has lost a justice of historic stature.
"We at the Supreme Court have lost a cherished colleague. Today we mourn but with confidence that future generations will remember Ruth Bader Ginsburg as we knew her, a tireless and resolute champion of justice," Roberts said.
Alabama Republicans urge Jones to meet with Trump's SCOTUS nominee
"Today is the day we are challenging Doug Jones to do something he rarely does — listen to the majority of Alabamians," Lathan said.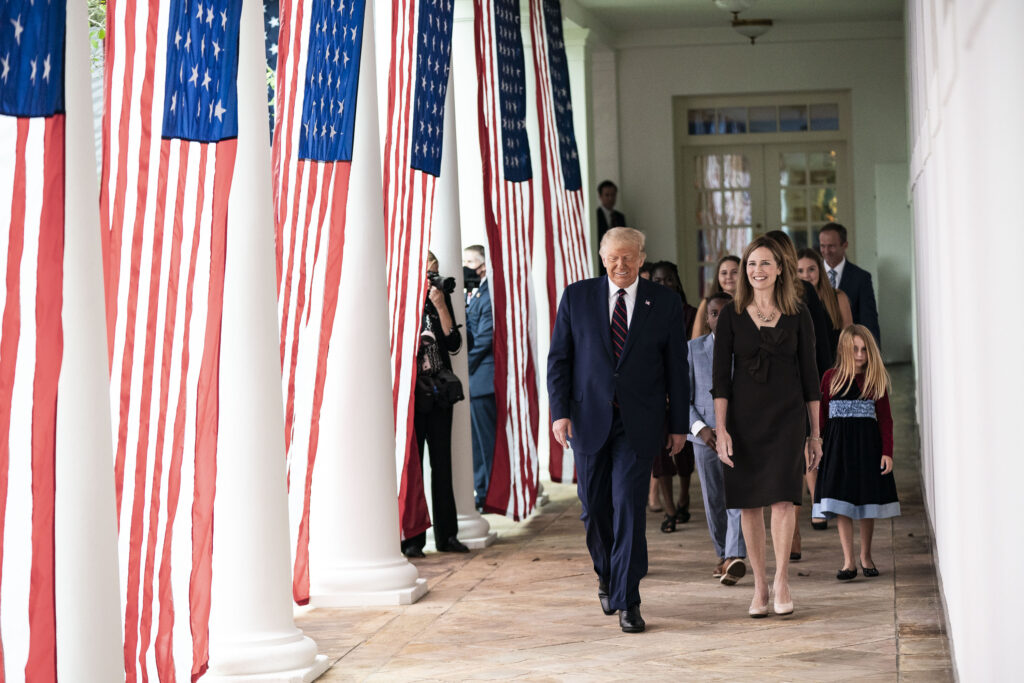 Wednesday, Alabama Republican Party Chairman Terry Lathan and over 25 supporters held a news conference at ALGOP Headquarters in Hoover to demand that Senator Doug Jones not ignore the majority of Alabamians and consider Amy Coney Barrett for the Supreme Court.
"Today is the day we are challenging Doug Jones to do something he rarely does — listen to the majority of Alabamians," Lathan said. "He has ignored the majority over and over on major issues."
Lathan asserted that Jones ignored the wishes of Alabamians when he voted guilty on articles of impeachment against the president earlier this year, and when he voted against confirmed for then-nominee Judge Brett Kavanaugh in 2018.
"He still owes Justice Kavanaugh an apology for going along with the circus the Democrats orchestrated against a nominee that Alabamians supported," Lathan said. "On voting to withhold funding from the southern border wall being built. On declaring he will vote to take away Alabama tax cuts courtesy of President Trump … in other words take away your money that you work for — he's telling you, Alabama, it's his to take and not yours to keep. He wants your family income back."
Jones has said he will not vote to confirm Barrett — or any nominee — before the results of the Nov. 3 general election have been decided. Democrats oppose Barrett's nomination because her appointment to the court would solidify a 6-3, highly conservative majority and because Republicans denied President Barack Obama's nominee, Judge Merrick Garland, hearings and a vote in 2016.
"He said it's because it's too close to an election. Well, there was an election held in 2016 and 2018 — Alabama said we highly support President Trump in the White House and America added two more Republican U.S. Senate seats," Lathan said. "With the Republican Party now the majority in the Senate and in the White House, Senator Jones needs to do his job — meet with her, listen to her and then decide on Judge Barrett's credentials."
Republicans appear to have a majority to confirm Barrett to the court, with hearings scheduled for later this month. Jones's vote is unlikely to make a difference in the confirmation fight.
"It is a poor reflection of the state of our national politics that, just hours after Justice Ginsburg's passing, we were thrust into a divisive partisan fight over her successor, denying the nation the time to mourn this extraordinary American's death," Jones said. "Just weeks from a national election, we are confronting a blatant power grab by Senate Majority Leader Mitch McConnell and the President that will undermine the court and subvert the will of the American people."
Lathan said that, "Tone deafness to the seating of Judge Barrett will not stand. There is no reason not to meet with this mother of 7 who drives a minivan, is highly regarded by her students, professors and those who have worked with her in the judicial system. Why is he afraid? He looks weak. Alabama does not like that look at all. Do your job, Senator Jones. Use your own words that you pride yourself on of being fair. Meet with Judge Barrett on behalf of Alabama."
Jones has pointed to what Democrats call the hypocrisy of Senate Majority Leader Mitch McConnell, who denied Garland hearings in the spring of 2016, months out from an election. McConnell is now pushing for Barrett to be confirmed less than a month before a general election.
"Just four years ago, Leader McConnell held open a Supreme Court seat for ten months before a presidential election because he said time and again that, in an election year, we must let the American people decide," Jones said. "If confirming a Supreme Court justice ten months prior to a presidential election would have denied the American people a voice, then isn't he now denying the American people a voice by rushing to confirm a justice just weeks before a presidential election?"
"Under these circumstances, I will not support the confirmation of any Supreme Court justice nominee before the election," Jones explained. "We should not force the country into a brutal and divisive partisan confirmation fight while Americans are already voting to choose the next President. If President Trump is re-elected, I will evaluate any pending or future nominee on their merits and vote for or against the nominee based solely on their qualifications."
Lathan was joined at ALGOP headquarters by State Rep. David Wheeler, R-Vestavia; State Sen. Jabo Wagoner, R-Vestavia; Jefferson County Republican Party Chairman former State Rep. Paul DeMarco, R-Homewood; and Republican National Committeewoman Vickie Drummond.
Lathan said Republicans would vote Jones out on Nov. 3.
"OK — go ahead Senator Jones. You do you and we are going to do us," Lathan said. "On Nov. 3, when Alabamians have all of the power, we will prove that your one hit wonder term was really a one hit blunder term. We will thumb our noses at you with the stroke of our pens. You will have no one to blame but yourself. In 34 days, your millions of dollars and appeasement of the left will not save you. Alabamians don't take kindly to being ignored and on Nov. 3, they will not be ignored by you any longer."
"In 34 days, Alabama will again add a new page in our history books when we will show Doug Jones that the voters are the be all to end all," Lathan said. "We will end his placeholder status and elect Tommy Tuberville to replace Doug Jones. Coach Tuberville will support our president and, as important, not ignore the wishes of the people of sweet home Alabama."
"The world is watching Alabama. Will we keep the majority in the Senate," Lathan said.
Lathan challenged Senator Doug jones "to at least meet with her that is the minimum that he can do."
Lathan warned that "Complacency is the enemy of the Republican Party," when discussing the GOP's prospects in the 2020 election.