Tuberville campaign: Democrats' criticism on Hurricane Sally was false
Alabama Democratic Party executive Director Wade Perry last week released a statement criticizing GOP Senate nominee Tommy Tuberville for being silent on Hurricane Sally. In response, Tuberville's campaign manager, Paul Shashy, slammed the ADP, saying that their statement was untrue.
Shashy pointed to a recording from a radio interview with Jack Campbell on 93.1 FM in Montgomery that Tuberville made the morning after Hurricane Sally.
"Before we go any farther I want to say this, our prayers go out to the people down south, because I am telling you, we don't really understand what they are going through," Tuberville said. "I went through a hurricane when I was down in Miami coaching. We went through Hurricane Andrew and it was devastating for months."
"I have talked with some mayors there. I have called them. I actually just texted them," Tuberville said. "They are real busy. I want to let them know that we are here for them. I would go down there and work if I could; but I probably would just be in the way."
"People are now going in from the power companies, the National Guard these people going in checking houses that are flooded," Tuberville continued. "I have got people down there whose homes are gone. They literally washed them out."
"It was kind of like Michael a couple of years ago, the one that hit Panama City," Tuberville said. "Right before it gets to the land it picked up speed. It went from a one to a two. The wind is a problem, but it is really the rain that gets you in a hurricane. They got a double punch from that."
"People don't realize this, but it really is the county commissioners who are really in charge, and they get it all going along with the mayors, and they also have an emergency person in charge who works along with the commission," Tuberville explained. "This is not their first rodeo down there. They know what is coming. You can't prevent it. You just hope people get out of harm's way."
"There are actually more people killed after it," Tuberville warned. "They get out too early. They try to do too much. They get on a roof and fall off. You have got to be careful."
Hurricane Sally came ashore before dawn on Wednesday on Sept. 16 as a category two hurricane near Gulf Shores. FEMA and President Donald Trump have declared Baldwin, Escambia and Mobile Counties a disaster area.
Tuberville is a former college football coach, best known for his tenure as the Auburn University head coach. Tuberville also had stops as the head coach of Ole Miss, Texas Tech and Cincinnati as well as stops as defensive coordinator at Miami and Texas A&M.
Tuberville is challenging incumbent Sen. Doug Jones, D-Alabama, in the Nov. 3 general election. Republicans are hopeful that Tuberville can unseat Jones, the only Democrat currently holding a statewide office in the state of Alabama.
Trump Truck and boat parades this weekend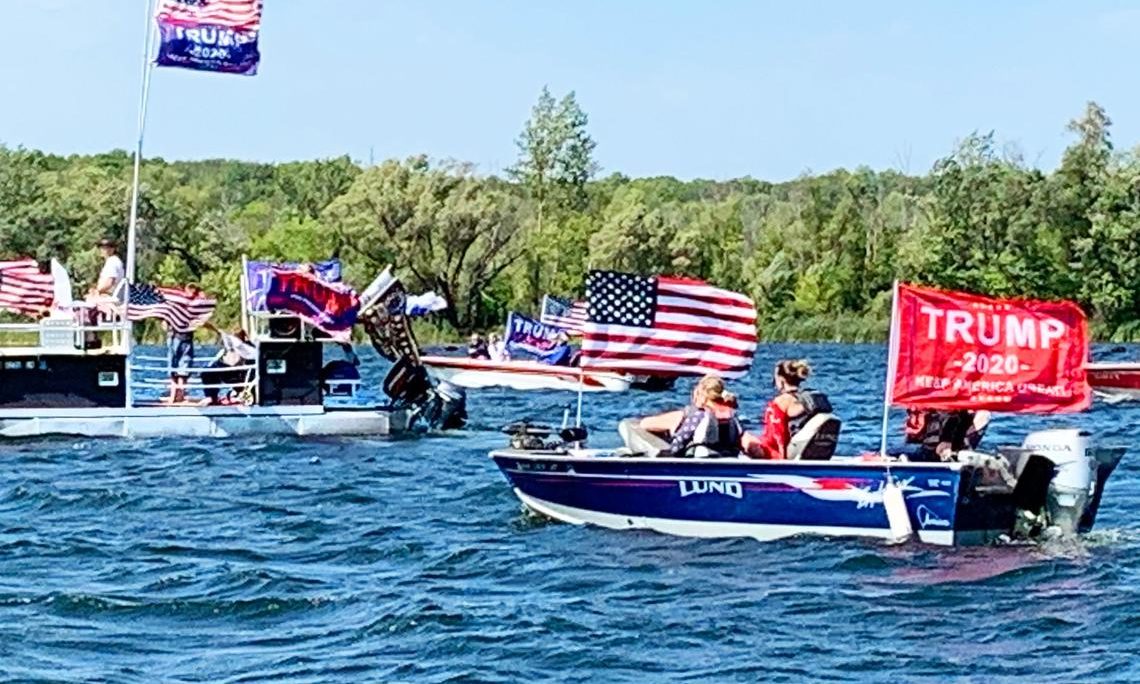 As Election Day draws near, Alabama Republicans are excited about promoting the re-election of Donald J. Trump as President and the election of Tommy Tuberville for U.S. Senate. This weekend two pro-President Trump events are happening in the state. There will be a truck parade from Ashland to Phenix City on Saturday sponsored by the Clay County Republican Party, while there will also be a boat parade on Wilson Lake in the Shoals sponsored by the Colbert County Republican Party on Sunday.
The pickup trucks will assemble at the Ashland Industrial Park in Clay County, 8240 Hwy 9, Ashland. There is a pre-departure rally at 10:00 a.m. central standard time. The trucks will depart at 11:00 a.m. and then proceed on a parade route that will take them into the bitterly contested swing state of Georgia. The Trump Pickup Parade will wind through east Alabama and West Georgia traveling through LaGrange and Columbus before concluding near the Alabama/Georgia line in Phenix City, 332 Woodland Drive, Phenix City at approximately 2:00 p.m. central time. Speakers will begin at 3:00. Trump flags will be on sale at the event.
The Phenix Motorsports Park will be hosting what sponsor hope could possibly the world's largest Pickup Tuck parade in U.S. history that is routing over 50 mile through Georgia in effort to "pickup" President Trump's numbers in GA.
A number dignitaries have been invited to address the Phenix City rally, including Coach Tuberville. Former State Sen. Shadrack McGill, Trump Victory Finance Committee member former State Rep. Perry O. Hooper Jr., and Paul Wellborn, the President and CEO of the largest Family owned Kitchen Cabinet manufacture in the USA are among the featured speakers who have committed to speak at the event.
Entertainment will be provided by: Charity Bowden, an up and coming country music singer who was the runner up on "The Voice". Charity will sing 'I am Proud to be an American' as well as songs from her Voice performances. The McGill Girls will also perform. The three beautiful and talented sisters will be singing patriotic songs in three part harmony. Geoff Carlisle, a professional DJ will be keeping the crowd pumped with music and entertainment.
Following the speakers and the entertainment there will Trump truck-vs- Joe Bidden truck races down the drag strip for the finale.
The Northwest Alabama boat parade will be on Sunday. The boats will gather at 2:00 p.m. near Turtle Point and then the flotilla will parade around the open waters of Wilson Lake til 3_00 p.m.. There will be a contest for best decorated Trump boats.
Trump supporters have held a number of large boat parades across the state to show their support for the re-election of Pres. Trump.
Boat parade sponsors say that this parade will be: pro-American, pro-law enforcement, pro-military.