President Donald Trump endorses Barry Moore for Congress
President Donald Trump on Wednesday endorsed Republican 2nd Congressional District candidate Barry Moore, sharing his endorsement on Twitter.
In the tweet, the president wrote, "Barry Moore (@RepBarryMoore) will be a terrific Congressman for Alabama! An early supporter of our #MAGA agenda, he is Strong on Jobs, Life, the Wall, Law & Order, and the Second Amendment. Barry has my Complete and Total Endorsement! #AL02"
Moore met with the president in the White House on Wednesday.
"I'm truly honored to be endorsed for Congress by President Donald J. Trump," Moore said. "I have never regretted being the first elected official in America to endorse him for president in 2015, and I'm looking forward to working with him in the next Congress during his second term."
Barry Moore (@RepBarryMoore) will be a terrific Congressman for Alabama! An early supporter of our #MAGA agenda, he is Strong on Jobs, Life, the Wall, Law & Order and the Second Amendment. Barry has my Complete and Total Endorsement! #AL02 https://t.co/hlrWU7Drr2

— Donald J. Trump (@realDonaldTrump) September 23, 2020
"President Trump has already accomplished so much and kept so many of his campaign promises despite all that the establishment and the Democrats have done to obstruct him, but he knows there's still lots to be done," Moore continued. "We must contain and control the COVID pandemic, restore our economy to the pre-pandemic level of growth and prosperity we enjoyed during his first three years in office. We must restore and maintain law and order on our streets and in our cities. We must finish building the wall, and then fix our broken immigration system."
"We had great meetings at the White House with the president's domestic policy team," Moore said. "Larry Kudlow, director of the National Economic Council, was also there. We discussed a new health care plan being introduced, economic recovery, trade with China and expansion of opportunity zones in depressed areas. The president has a bright vision for America."
"I'm convinced that Donald J. Trump is the president we need to lead us for the next four years, and I hope the people of Alabama's 2nd District see fit to elect me to work with President Trump as their congressman on Nov. 3," Moore concluded.
It was an honor to visit the White House and meet with President @realDonaldTrump and VP @Mike_Pence – These are two great men who care about America and the people of Alabama. I look forward to working with them! #MAGA #Trump2020 #BarryMoore2020 #WhiteHouse #alpolitics WH PHOTOS pic.twitter.com/sK3SUXPZg6

— Barry Moore (@RepBarryMoore) September 23, 2020
Moore served two terms in the Alabama House of Representatives from 2010 to 2018. Moore is a graduate of Auburn University, a veteran, a small business owner, husband and father.
Moore is running for Alabama's 2nd Congressional District in the Nov. 3 general election. Incumbent Congresswoman Martha Roby, R-Alabama, is not seeking another term. Moore faces Democratic candidate Phyllis Harvey-Hall.
Trump Truck and boat parades this weekend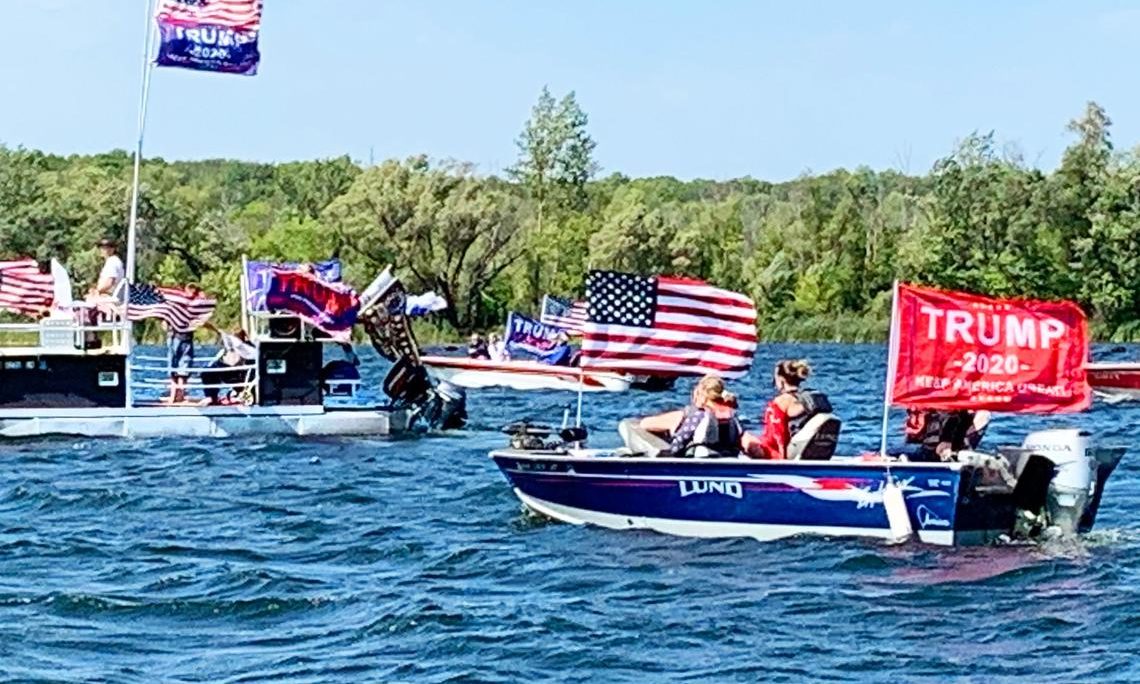 As Election Day draws near, Alabama Republicans are excited about promoting the re-election of Donald J. Trump as President and the election of Tommy Tuberville for U.S. Senate. This weekend two pro-President Trump events are happening in the state. There will be a truck parade from Ashland to Phenix City on Saturday sponsored by the Clay County Republican Party, while there will also be a boat parade on Wilson Lake in the Shoals sponsored by the Colbert County Republican Party on Sunday.
The pickup trucks will assemble at the Ashland Industrial Park in Clay County, 8240 Hwy 9, Ashland. There is a pre-departure rally at 10:00 a.m. central standard time. The trucks will depart at 11:00 a.m. and then proceed on a parade route that will take them into the bitterly contested swing state of Georgia. The Trump Pickup Parade will wind through east Alabama and West Georgia traveling through LaGrange and Columbus before concluding near the Alabama/Georgia line in Phenix City, 332 Woodland Drive, Phenix City at approximately 2:00 p.m. central time. Speakers will begin at 3:00. Trump flags will be on sale at the event.
The Phenix Motorsports Park will be hosting what sponsor hope could possibly the world's largest Pickup Tuck parade in U.S. history that is routing over 50 mile through Georgia in effort to "pickup" President Trump's numbers in GA.
A number dignitaries have been invited to address the Phenix City rally, including Coach Tuberville. Former State Sen. Shadrack McGill, Trump Victory Finance Committee member former State Rep. Perry O. Hooper Jr., and Paul Wellborn, the President and CEO of the largest Family owned Kitchen Cabinet manufacture in the USA are among the featured speakers who have committed to speak at the event.
Entertainment will be provided by: Charity Bowden, an up and coming country music singer who was the runner up on "The Voice". Charity will sing 'I am Proud to be an American' as well as songs from her Voice performances. The McGill Girls will also perform. The three beautiful and talented sisters will be singing patriotic songs in three part harmony. Geoff Carlisle, a professional DJ will be keeping the crowd pumped with music and entertainment.
Following the speakers and the entertainment there will Trump truck-vs- Joe Bidden truck races down the drag strip for the finale.
The Northwest Alabama boat parade will be on Sunday. The boats will gather at 2:00 p.m. near Turtle Point and then the flotilla will parade around the open waters of Wilson Lake til 3_00 p.m.. There will be a contest for best decorated Trump boats.
Trump supporters have held a number of large boat parades across the state to show their support for the re-election of Pres. Trump.
Boat parade sponsors say that this parade will be: pro-American, pro-law enforcement, pro-military.