The first presidential debate was held Tuesday
Below are some key moments from the debate.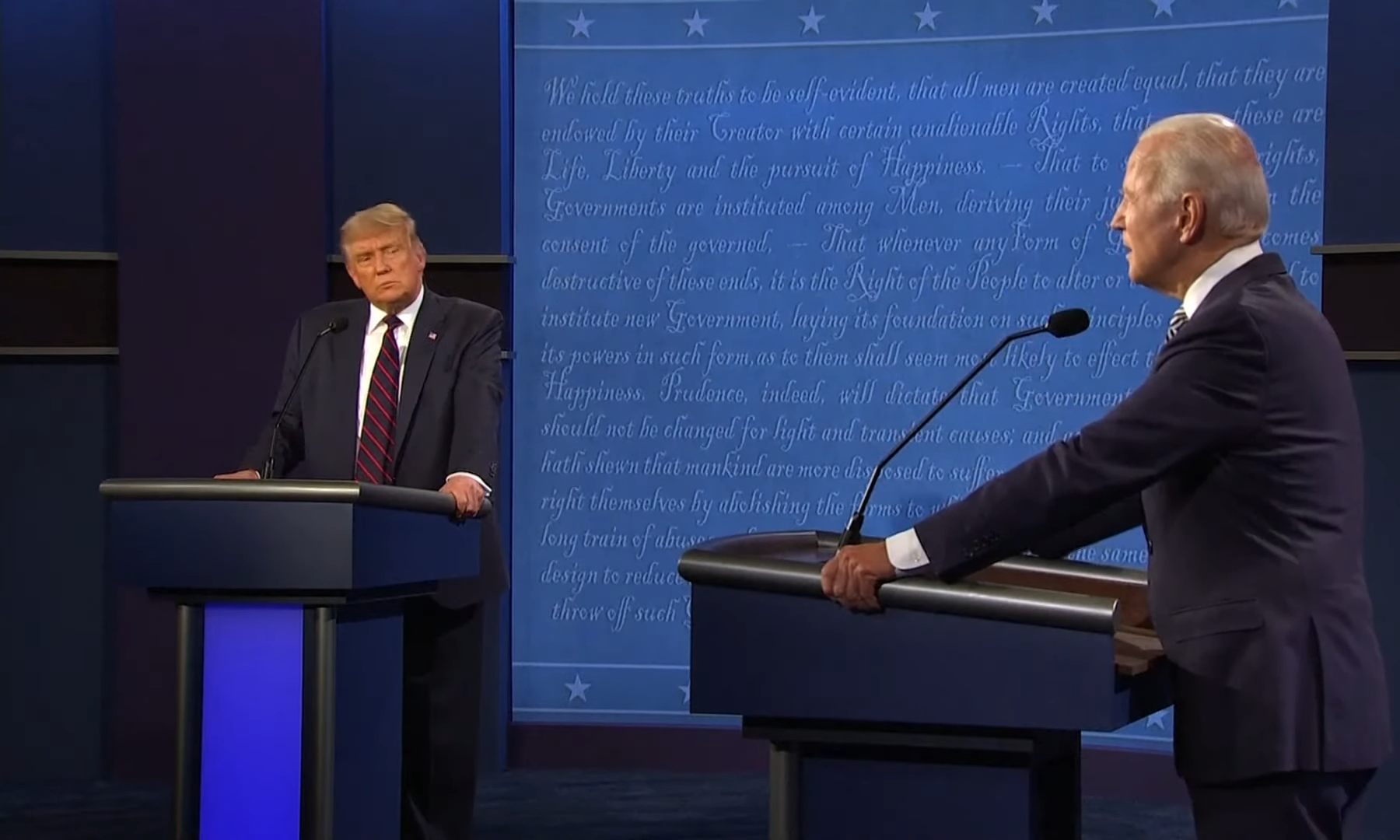 The first presidential debate was held in Cleveland, Ohio, on Tuesday between President Donald Trump and Vice President Joe Biden.
Below are some key moments from the debate. The two candidates bitterly disagreed on what would happen in the election due to the unprecedented amount of mail in election ballots.
Two more debates are planned before the Nov. 3 general election.
On Trump's Supreme Court nomination
"Elections have consequences, we have the Senate, and we have the White House," Trump said. "She is outstanding. … We won the election, and we have the right to do it."
"The American people have a right to say who that nominee is," Biden said. "We should wait and see what the outcome of this election is."
"Are you going to pack the court, Joe?" Trump asked.
"I am not going to answer that," Biden replied.
On the Democratic health care reform plan
"Your party is socialist," Trump said of the Democratic health reform plan.
Biden said that the public option was just for those that qualify for Medicaid.
"It is only for people who qualify for Medicaid. The vast majority of the American people would not be in that option," Biden said. He denied Trump's charge that the Democratic health care plan was socialist.
"I am the Democratic Party," Biden said. "The platform is what I say it is."
On the Republican health care reform plan
"We are going to let our governors go to other countries to buy drugs," Trump said of his plan to reform health care.
"Everything he is saying tonight is a lie," Biden said. "He is a liar, everyone knows it."
"I want to give them better health care at a better price," Trump said. "Obamacare was not good. We got rid of the individual mandate."
"He has no plan for healthcare," Biden said. "Like everything else he is talking about, he does not have a plan."
On the coronavirus pandemic
"200,000 dead, over 7 million are infected," Biden said of the COVID-19 crisis. "The president has no plan."
"We should be providing the money the House has passed so businesses can stay open," Biden said. "You need to get out of your bunker, get out of your sand trap."
"The governors said I did a phenomenal job, most of them said that," Trump said. "We are weeks away from a vaccine. Therapeutics are already underway."
"I have spoken to the companies, and we can have it a lot sooner," Trump said of when the vaccine will be available.
"I have spoken to the scientists, and they will have a vaccine real soon," Trump said.
Biden criticized Trump's campaign rallies.
"He has been totally irresponsible, the way that he has handled the crowds, the way that he has handled the social distancing," Biden said.
"We built the greatest economy in the world. We shut it down because of the China plague," Trump said. "They have got to open these states up. It is very sad what is going on with divorce and alcoholism."
"He is going to be the first President in American history to leave office with fewer jobs than when he became President," Biden said. "You can't fix the economy until you fix the COVID crisis."
On Trump's tax returns
Trump claimed that he paid millions of dollars in taxes in 2016 and 2017 when asked about a New York Times story that showed he paid just $750 in federal income taxes.
"You are the worst President America has ever had," Biden said.
"I have done more in 47 months than you have done in 47 years," Trump replied.
Trump said that Biden was not smart and finished last in his college class.
On the economy
"My economic plan would create seven million more than his plan would and would create a trillion more in growth," Biden said.
Biden said that he wanted to raise the corporate tax rate to 28 percent from the current 21 percent.
"You will lose half the companies that poured in and will have the greatest depression you have ever seen," Trump responded.
On crime rates, protests and racial justice
"We believe in law and order, and you don't Joe," Trump said.
"Violence in response is never appropriate," Biden said of some Black Lives Matter protests that have turned violent.
"What I support is the police have the opportunity to deal with the problems that they face, and I totally oppose defunding the police," Biden said.
"Name one law enforcement group that supports you," Trump said.
Trump when asked if he would condemn racists and white supremacists, said "yes." But when asked about the Proud Boys, he said that they "should stand back and stand by," adding a qualifier that most of the problems are coming from the far left.
Biden called Trump a racist and accused of using 1950s racist dog whistles.
On who should win and why
"There has never been an administration or a president that has done more than I have done in three and a half years," Trump said of why he should be re-elected.
"Under this President we have become weaker, sicker, poorer, and more violent," Biden replied.
On climate change
"As far as the fires, you need forest management," Trump said when asked if climate change was causing forest fires in the West. "If you had good forest management you wouldn't be having that problem."
"We can get to net zero energy production by 2035 while still creating jobs," Biden said.
"That is more money than our country could make in one hundred years," Pres. Trump said of Biden's environmental plan.
"The Green New Deal is not my plan," Biden replied. "The Biden plan is different from what he calls the Green New Deal."
Biden said that he would get the U.S. back into the Paris Climate Accords.
Trump Truck and boat parades this weekend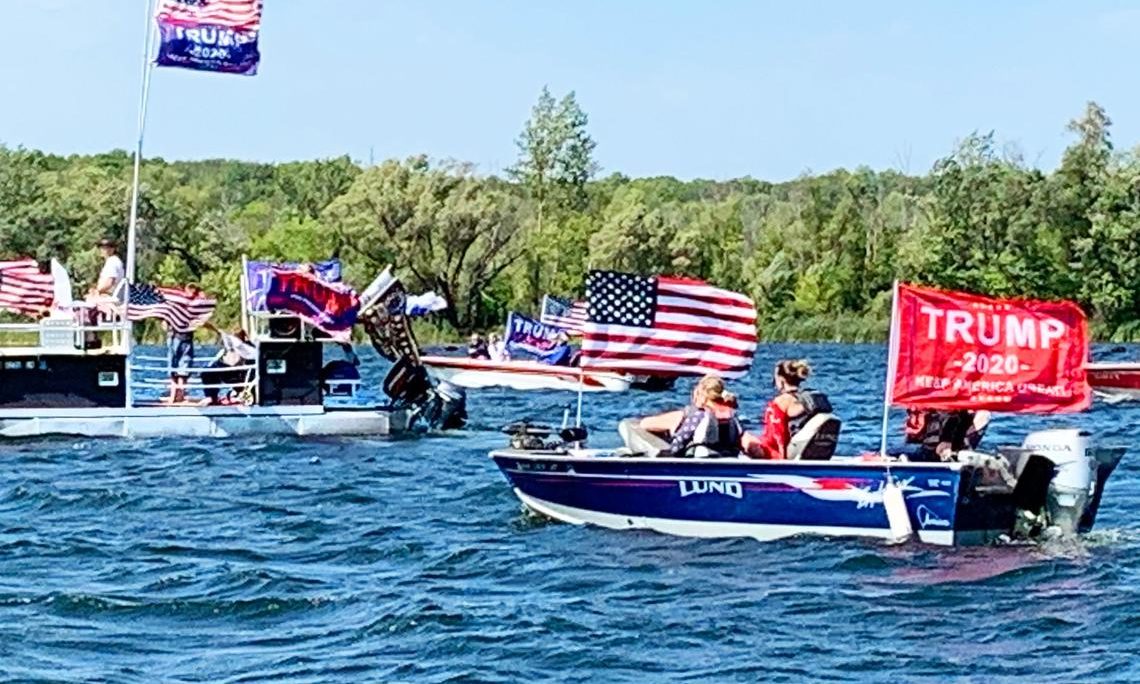 As Election Day draws near, Alabama Republicans are excited about promoting the re-election of Donald J. Trump as President and the election of Tommy Tuberville for U.S. Senate. This weekend two pro-President Trump events are happening in the state. There will be a truck parade from Ashland to Phenix City on Saturday sponsored by the Clay County Republican Party, while there will also be a boat parade on Wilson Lake in the Shoals sponsored by the Colbert County Republican Party on Sunday.
The pickup trucks will assemble at the Ashland Industrial Park in Clay County, 8240 Hwy 9, Ashland. There is a pre-departure rally at 10:00 a.m. central standard time. The trucks will depart at 11:00 a.m. and then proceed on a parade route that will take them into the bitterly contested swing state of Georgia. The Trump Pickup Parade will wind through east Alabama and West Georgia traveling through LaGrange and Columbus before concluding near the Alabama/Georgia line in Phenix City, 332 Woodland Drive, Phenix City at approximately 2:00 p.m. central time. Speakers will begin at 3:00. Trump flags will be on sale at the event.
The Phenix Motorsports Park will be hosting what sponsor hope could possibly the world's largest Pickup Tuck parade in U.S. history that is routing over 50 mile through Georgia in effort to "pickup" President Trump's numbers in GA.
A number dignitaries have been invited to address the Phenix City rally, including Coach Tuberville. Former State Sen. Shadrack McGill, Trump Victory Finance Committee member former State Rep. Perry O. Hooper Jr., and Paul Wellborn, the President and CEO of the largest Family owned Kitchen Cabinet manufacture in the USA are among the featured speakers who have committed to speak at the event.
Entertainment will be provided by: Charity Bowden, an up and coming country music singer who was the runner up on "The Voice". Charity will sing 'I am Proud to be an American' as well as songs from her Voice performances. The McGill Girls will also perform. The three beautiful and talented sisters will be singing patriotic songs in three part harmony. Geoff Carlisle, a professional DJ will be keeping the crowd pumped with music and entertainment.
Following the speakers and the entertainment there will Trump truck-vs- Joe Bidden truck races down the drag strip for the finale.
The Northwest Alabama boat parade will be on Sunday. The boats will gather at 2:00 p.m. near Turtle Point and then the flotilla will parade around the open waters of Wilson Lake til 3_00 p.m.. There will be a contest for best decorated Trump boats.
Trump supporters have held a number of large boat parades across the state to show their support for the re-election of Pres. Trump.
Boat parade sponsors say that this parade will be: pro-American, pro-law enforcement, pro-military.