Former Tutwiler inmate's legacy of compassion, advocacy for prisoners remembered
Mary Kay Beard, who died in 2016, at 71, was honored at an event at Tutwiler on Sept. 25 organized by Prison Fellowship.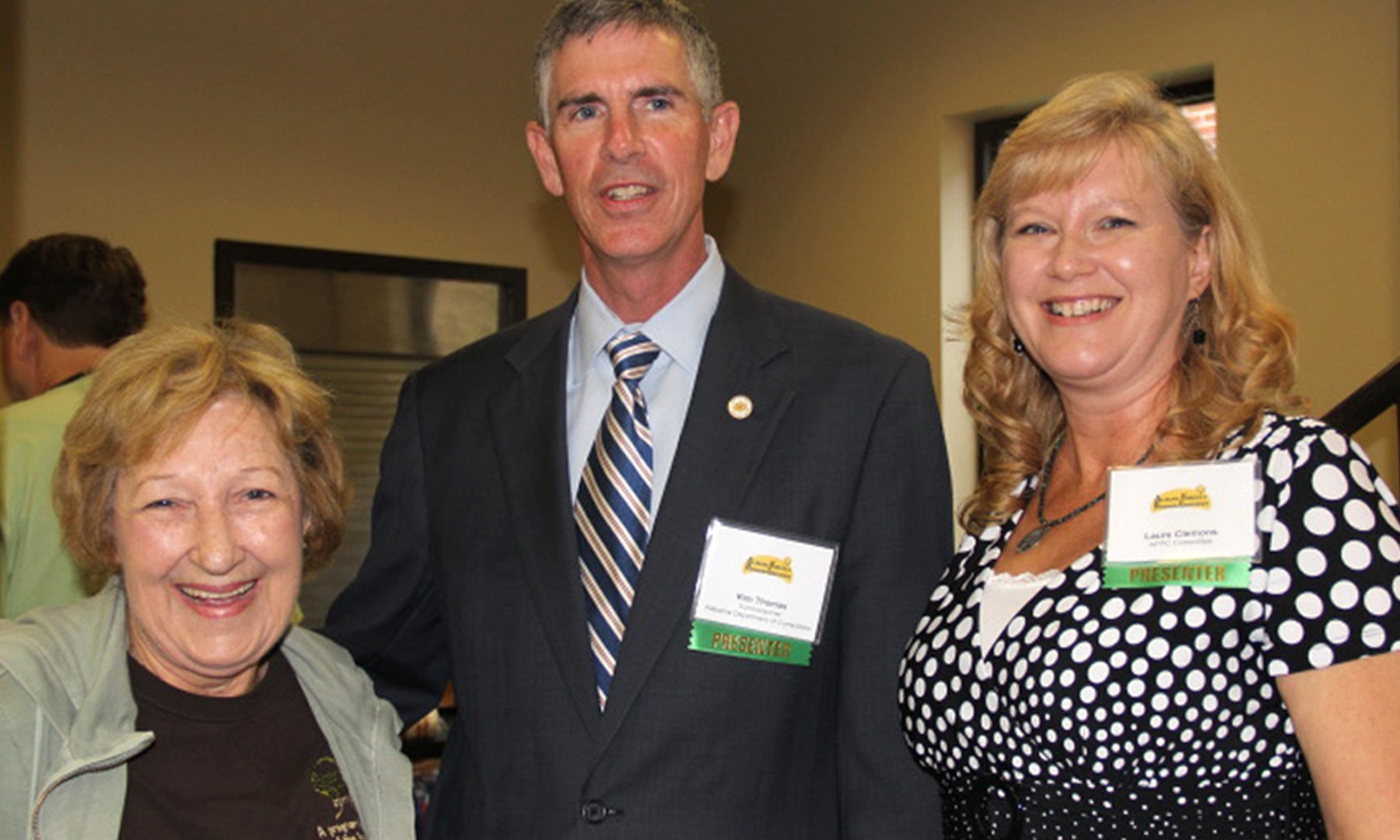 Mary Kay Beard's path to becoming an impassioned advocate for prisoners started with an utter lack of regard for others.
"They called her and her husband the Bonnie and Clyde of the South. She would walk into a bank and put her sawed-off shotgun up on the shelf and say, 'Just put the money in the bag, hun,'" said Laure Clemons, who befriended her for the last 10 years of her life.
Beard was a biopic-worthy bundle of exquisite ironies. Born into a strict Baptist family, she was a star student in high school but followed her first husband into a life of crime. She holds the distinction of being the first female safe cracker in the country. She was small in stature, barely over five feet tall, but was a towering figure in the bank heist scene of the 1960s and early '70s, and later in the prison reform scene.
Clemons is executive director of Extended Family, a non-profit that provides support to families of people in prison. The women met when Beard spoke at Clemons's church in Cherokee County.
"You hear this woman up there speaking and you're like — you can't really put those stories together with what you're seeing on the stage," Clemons said.
Beard claimed she could crack any safe made before 1980. Her husband abandoned her while she was laid up in the hospital with an illness, so she continued her criminal career solo. She ended up on the FBI's Most Wanted list and had a Mafia contract on her life at the same time.
Clemons once asked her why the mob wanted her dead.
"She just kind of waived her hand in the air, and she said, 'Oh, I crossed them in a diamond heist,'" Clemons said.
Beard was 27 when she was captured in 1972 and hit with 11 federal indictments and 35 charges. She was convicted of armed robbery and grand larceny and sentenced to 21 years. 
It was at the Julia Tutwiler Prison for Women, in Wetumpka, that she found the faith that would shape the rest of her life. She attended a Sunday school class led by a visiting prison ministry each week and experienced a conversion while praying. Beard then had to incorporate the principles she was committing to into her daily life in the facility.
Clemons remembers Beard recalling that at Christmastime the women received small packages of hygiene items. They would arrange them on their beds and trade with each other, then create customized packages to give to their children at Christmas visits. Beard thought the children wouldn't want to receive gifts of soap. When she witnessed their excitement, she realized it was simply because they were getting something from their mothers.
Beard was paroled after only six years, but the experiences she shared with other human beings condemned by society, followed by her successful redemption, inspired her to join the staff of the organization Prison Fellowship as director of its Alabama operations.
In 1982, she founded Angel Tree, a program that allowed prisoners to make gift requests for their children that are written on paper angels. The cutouts were placed on Christmas trees at malls for shoppers to charitably fulfill the requests.
Through partnerships with tens of thousands of churches in all 50 states, Angel Tree has delivered more than 11 million Christmas gifts to children on behalf of their incarcerated parents. Last year, 300,000 were delivered.
Beard, who died in 2016, at 71, was honored at an event at Tutwiler on Sept. 25 organized by Prison Fellowship.
Beard's work went beyond charity, Clemons said. She believed in forming relationships with officials to be able to work within the system to reform it. In 2012, they attended the Alabama Families of Prisoners Conference in Birmingham. The keynote speaker was Kim Thomas, then commissioner of the Alabama Department of Corrections. Thomas spent 32 years in the department, starting as a guard and rising through the ranks to the top post until he was pushed out in 2015, due to a behind-the-scenes campaign orchestrated by state Rep. Allen Farley.
Clemons remembered Thomas arriving with an entourage of staff members and staying for the whole conference, speaking to relatives of prisoners throughout. Thomas remembered Beard as a kindred spirit.
"We connected on kind of like an invisible spiritual level, and I think that's how she also came across to anyone she had contact with" Thomas said.
Beard was big on faith-based organizations being allowed access to prisoners. Although she was a devoted Christian, she valued organizations of any religion that worked in the space. She wasn't dogmatic, Thomas said.
He noted that she and the people she worked with always showed up when they said they would. That's an important quality in people who engage with prisoners, whose life paths have often been heavily influenced by traumatic relationships. The resulting damage to their sense of trust isolates them, contributing to anti-social thinking and behavior that is the foundation for criminal activity. Consistency is key to repairing the damage. Beard was familiar with these dynamics, having had an alcoholic father who was abusive to his nine children.
Beard recognized prisoners as valued members of families and sought to address the needs of children suffering the absence of their incarcerated parents. Her advocacy stood in contrast to the longstanding and infamously dismal conditions of Alabama's prisons, the deadliest in the nation for prisoners, according to the Equal Justice Initiative.
The U.S. Department of Justice released a report in July that found systemic problems of unreported or underreported incidents of excessive use of force, a failure to properly investigate them and attempts to cover them up by correctional officers and their supervisors. 
As commissioner, Thomas always felt it was important to speak to partners about the need to be open and honest with each other to have any chance at addressing problems in the facilities, he said. Beard was different.
"You didn't have to have that conversation with her," he said. "Some people just carry themselves and represent themselves in the conversations you have — you automatically believe that they're sincere and honest."
Alabama's Black Belt lacks quality internet access, report finds
Twenty-two of 24 Black Belt counties are below the statewide average of 86 percent of the population who have access to high-speed internet, and two Black Belt Counties — Perry and Chocktaw — have no access at all. 
During an online video briefing Monday on a report about a lack of internet access in Alabama's Black Belt, University of Alabama student Brad Glover warned reporters that he could get kicked off the briefing at any moment. 
That's because he was talking during the video briefing by way of audio only, using his cell phone, as he does not have access to high-speed internet access at his Linden, Alabama, home in the Black Belt's Marengo County. 
The COVID-19 pandemic that sent students home to study online left many in the Black Belt and other rural parts of Alabama in the lurch, without access to the high-speed internet enjoyed by so many other Americans, according to the latest report in the University of Alabama's Education Policy Center's Black Belt 2020 series. 
The latest report, titled "Internet Access Disparities in Alabama & the Black Belt," found that 22 of 24 Black Belt counties, as defined by the Education Policy Center, are below the statewide average of 86 percent of the population who have access to high-speed internet, and two Black Belt Counties — Perry and Chocktaw — have no access at all. 
"It is still a terrible struggle for me to connect to get the things done that are required," said Glover, who interned with the Education Policy Center. 
Stephen Katsinas, director of the Education Policy Center, said that in the 1930s, nine of ten rural homes lacked the electric service that urban American homes, by that point, had for 40 years. 
"The Rural Electrification Act was passed to address this abject market failure," Katsinas said. "Today, as the COVID pandemic has shown, access to high-speed internet is as essential to rural Alabama as the REA was in the 1930s. Alabama must directly address the market failures that exist today to bring high-speech internet to every rural Alabamian, so that our rural workforce can access the lifelong learning skills they need, and our rural businesses can compete globally." 
The COVID-19 pandemic has also spotlighted the need to expand the growing area of telemedicine. 
Dr. Eric Wallace, medical director of Telehealth at UAB, told reporters during the briefing Monday that patients are largely doing telehealth from their homes, and explained that disparities in access to high-speed internet present a problem for them. 
"Since the COVID-19 pandemic began, UAB has done approximately 230,000 telehealth visits, and 60 percent of those were done by video," Wallace said. 
"Forty percent are audio only, and why is audio only? It's because we do not have broadband," Wallace said. "So it's not just broadband. It's broadband. It's tech literacy. Socioeconomics, to have a device in your home. It's all of that."
Wallace said that the coronavirus crisis has made clear that telemedicine is a "100 percent necessity" and that patient satisfaction studies make clear it's not going anywhere. 
The reasons for disparities in access to high-speed internet are myriad, explained Noel Keeney, one of the authors of the report and a graduate research assistant at the Education Policy Center. 
Keeney noted a study by BroadbandNow that estimates there are 154 internet providers in Alabama, but there are 226,000 Alabamians living in counties without a single provider, and 632,000 in counties with just a single provider. 
Even for those with access to internet providers, Keeney said that just approximately 44.4 percent of Alabamians have internet access at a cost of $60 monthly or below. 
"If we really care about our rural areas, we need to make an investment, and it needs to cut off that cost at a very low rate," Wallace said. 
Katsnias said there's a growing consensus on the part of Alabama's political leaders that access to high-speed internet is an important issue, noting that Gov. Kay Ivey in March 2018, signed into law the Alabama Broadband Accessibility Act, which has given internet access to nearly 100,000 Alabama students. 
"In March, Gov. Ivey awarded $9.5 million in broadband expansion grants, with a significant amount going to Black Belt communities," the report reads. "This was followed by $5.1 million in additional grants in May." 
"The State of Alabama also allocated $100 million in federal CARES Act-related dollars for "equipment and service for broadband, wireless hot spots, satellite, fixed wireless, DSL, and cellular-on-wheels to increase access for K-12 students undergoing distance learning," the report continues. 
An additional $100 million in CARES Act funds were made available to facilitate virtual learning across Alabama's K-12 schools, researchers wrote in the report, and another $72 million in federal aid went to the state's colleges and universities. 
Katsinas said however those federal funds are spent, the state still needs a long term plan for how to address the disparities in access to high-speed internet. 
"We need a long term plan and we need to do what we can do immediately," Katsinas said
Read more of the Education Policy Center's reports in the "Black Belt 2020" series here.