Sen. Doug Jones wants full COVID-19 aid, expresses concern over future of ACA
"I am not for a piecemeal approach," Jones said, urging his Senate colleagues to move forward with a COVID-19 aid package.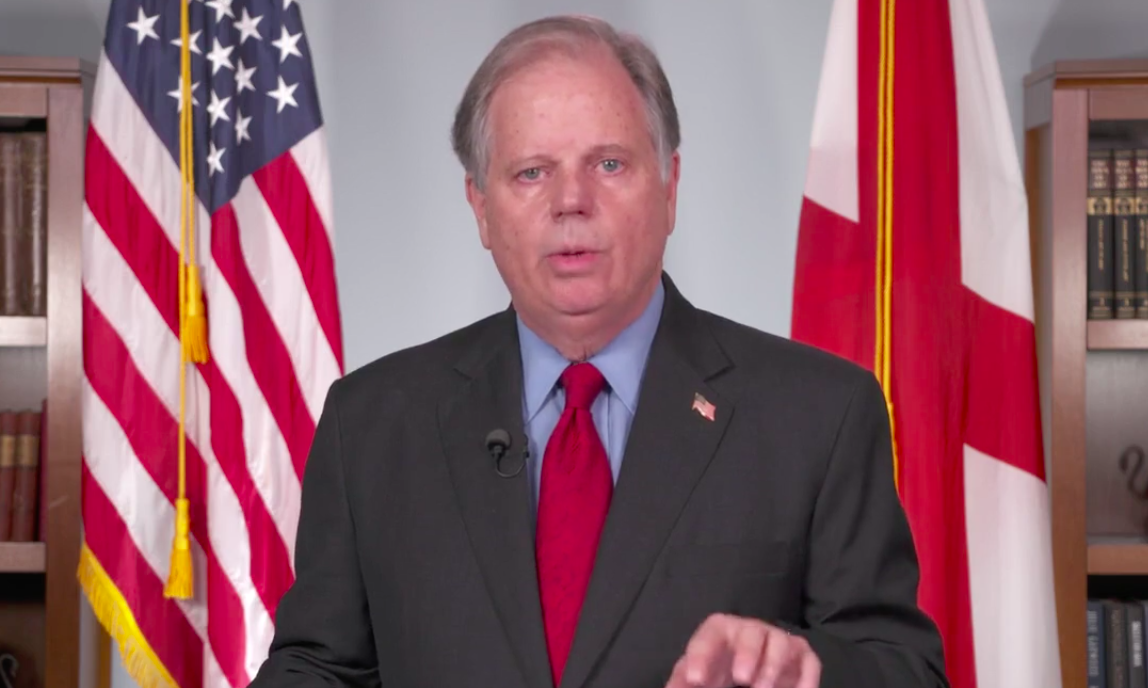 Alabama Sen. Doug Jones on Wednesday said he doesn't support a piecemeal approach to another round of federal COVID-19 aid, after President Donald Trump on Tuesday said he was ordering off talks on more legislation until after the election, then on Wednesday indicated he wanted immediate aid for airlines and businesses.
"I am not for a piecemeal approach, because as the president said today, he wants to get things done that he supports," Jones said during a briefing Wednesday. "There is more to it than just simply helping his friends. There are people in Alabama that are suffering that need this help, that he appears to be ignoring." 
A tweet from Trump on Tuesday seemed to kill any chance of another round of aid before the Nov. 3 election. 
"I have instructed my representatives to stop negotiating until after the election when, immediately after I win, we will pass a major Stimulus Bill that focuses on hardworking Americans and Small Business," Trump wrote. The U.S. Stock Market plunged after his tweet. 
Trump late on Tuesday seemed to reverse course and tweeted that he'd like to see $1,200 checks go to individual citizens, and Wednesday indicated he had a new plan, leaving the matter uncertain. 
"The House & Senate should IMMEDIATELY Approve 25 Billion Dollars for Airline Payroll Support, & 135 Billion Dollars for Paycheck Protection Program for Small Business. Both of these will be fully paid for with unused funds from the Cares Act. Have this money. I will sign now!" Trump wrote Wednesday. 
Jones on Wednesday noted that Federal Reserve Chair Jerome Powell has urged for more COVID-19 aid, not less. Powell in a speech just hours before Trump's Tuesday tweet said "too little support would lead to a weak recovery, creating unnecessary hardship for households and businesses," according to The Washington Post. 
Jones said Trump and Senate Majority Leader Mitch McConnell, R-Kentucky, haven't used the House Democrats' Heroes Act, passed in June, as a starting point to come to an agreement on more aid. 
"Here we are and the president says, I want you to pass the things I want to see passed," Jones said. "That's just not the way government in a Democracy works, folks. There are a lot of people out there in Alabama that would not get that relief, if he has his way." 
Jones warned that moratoriums on evictions continue to fall by the wayside, threatening a housing crisis nationwide as peoples' homes are foreclosed on and landlords don't get needed relief. 
Brian Lyman of The Montgomery Advertiser asked Jones if he supports the House Democrats' slimmed-down $2.4 trillion relief package floated last month. The House in June passed the $3.4 trillion Heroes Act. 
Jones said the $2.4 trillion package looks better than the larger package, which had provisions that he doesn't think directly address the COVID-19 crisis. He also noted that the House last week passed a smaller $2.2 trillion package, which he said could be used as a framework for discussion, but that "what we're getting now is mixed signals out of the administration." 
"We are starting to see layoffs and furloughs in our local governments, and that is going to hurt the economy," Jones said. 
Jones also expressed concern over the future of the Affordable Care Act, known colloquially as Obamacare. One week after Election Day, the U.S. Supreme Court is to take up a case challenging the constitutionality of the ACA. Alabama Attorney General Steve Marshall joined other Republican attorneys generals as plaintiffs in the suit. 
Jones said the rushed Supreme Court nomination of conservative judge, Amy Coney Barrett, is about the health care of millions of Americans. 
"This nomination is nothing more than a torpedo being fired by the Trump administration to blow up the Affordable Care Act. Something that they could not do legislatively," Jones said. 
"Tommy Tuberville has agreed, he said he wanted an immediate repeal," Jones said of his Republican opponent in the upcoming election. "He wants to see this act declared unconstitutional. I don't think he knows what it does, or what it means to the people of Alabama. If he did, I think he would take a different approach. I don't think he cares." 
Jones said doing away with the ACA would kill its protections for people with preexisting conditions, of which there are approximately 975,000 in Alabama under the age of 65, and it would also likely reverse a provision of the law that allows young adults to stay on their parents' health insurance until age 26.

About 150,000 Alabamians bought health insurance through the national health insurance exchange and receive tax credits, made possible through the ACA, Jones said. 
"These are your neighbors, folks. These are folks in Alabama that receive some kind of tax credit.  Seventy-three percent of those receive some kind of cost sharing subsidies," Jones said. "All of that goes away If the Trump administration, Mitch McConnell and Tommy Tuberville have their way."
"In four years, the president of the United States has never once put forth a plan of what would happen if this ACA goes away and is declared unconstitutional, but yet he continues to try to torpedo it, and Mitch McConnell and stalking horses like Tommy Tuberville continue to try to destroy your health care insurance, coverage for so many Alabamians, and that is just wrong," Jones said. 
Jones said the attempts to dismantle ACA comes during "the worst global and nationwide health crisis that we have seen in 100 years." 
"We've got right now over 7 million cases in the United States," Jones said of confirmed coronavirus cases. "160,000 in Alabama, 2,600 Alabamians, our neighbors, friends, our loved ones, have lost their lives. We've had over 200,000 in the United States. This is a serious issue. This is not something that you should not be afraid of you should be concerned about getting this virus." 
Trump, in a video after leaving the Walter Reed Medical Center, where he was being treated for COVID-19, told the public "Don't be afraid of COVID. Don't let it dominate your life," which drew immediate concern from health providers and others, worried that such a statement could result in people taking risks that could cost them their lives and spread the disease to others. 
"Don't listen to Donald Trump," Jones said, when asked Wednesday about Trump's comments, urging people instead to listen to medical experts about COVID-19. 
"Tell those people, the 200,000 Americans and their families who lost their lives, do not let it dominate," Jones said. "I think it dominated their life. I think for those people who were on ventilators for days and weeks, it dominated their life for a period of time." 
Jones repeated praise he's given to Gov. Kay Ivey for issuing, and then extending twice, her statewide mask order. 
"Thank goodness we have a governor in Alabama like Gov. Ivey who went against those political odds and listened to the health care professionals," Jones said. "And we've not lost as many lives in Alabama because of her mask order and her extension of the mask order."
At least 248 COVID deaths reported in Alabama in October
The cumulative death toll in Alabama has risen by 248 to 2,788 in October and by 124 in the last week alone.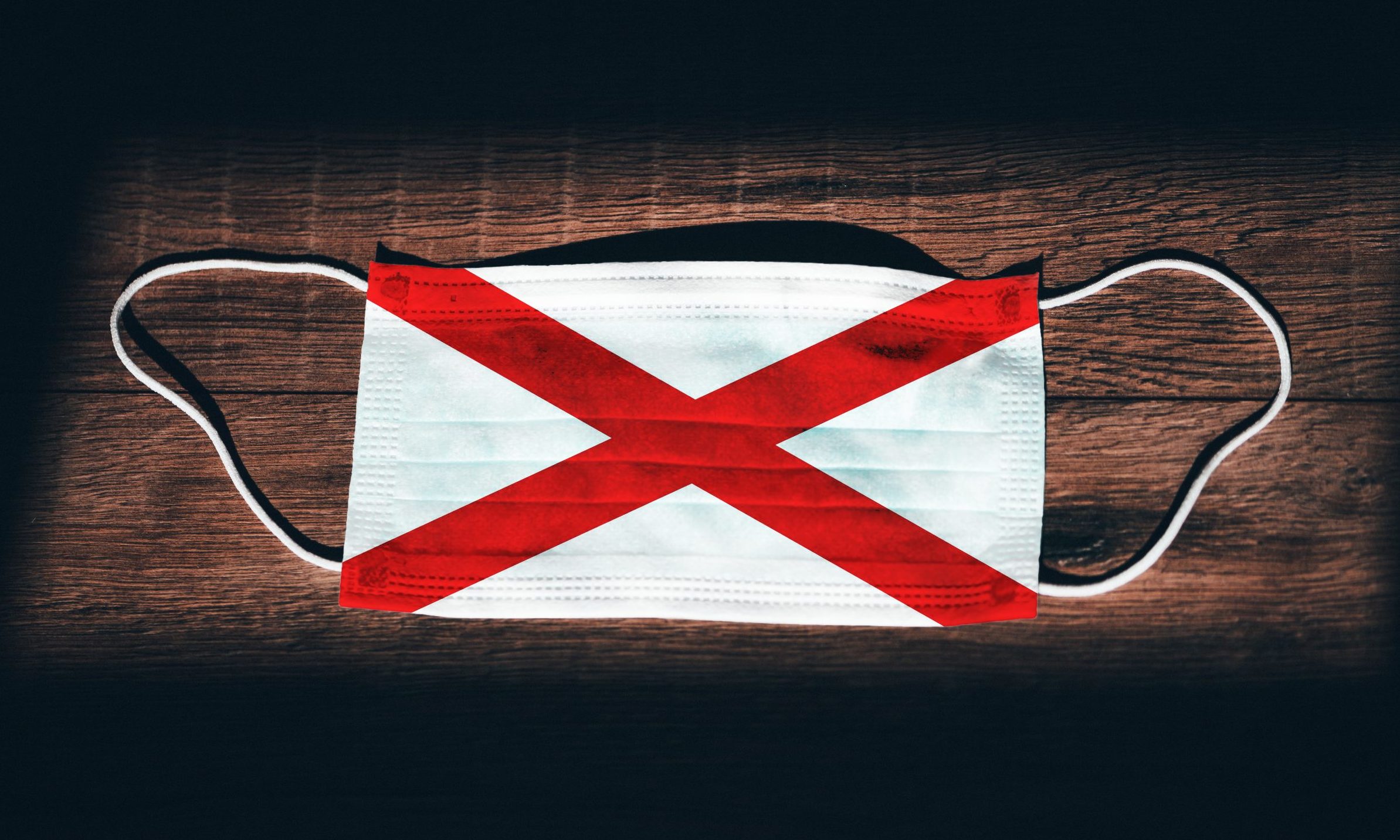 We're a little more than halfway through the month of October and the Alabama Department of Public Health has already reported at least 248 deaths from COVID-19.
The cumulative death toll in Alabama has risen by 248 to 2,788 in October and by 124 in the last week alone.
At least 378 deaths were reported in the month of September, a rate of 12.6 deaths per day over the month. In the first 17 days of October, the rate has been 14.6 deaths per day, a 15.9 percent increase from September.
Deaths were higher in July and August. The cumulative death toll increased by 582 in August and 630 in July, the worst month of the pandemic for the state.
On Saturday, ADPH reported that 1,288 more people in the state were confirmed positive with the coronavirus, and on Sunday the count increased by 964. The number of confirmed cases in Alabama has risen to 172,626.
There have been 17,925 new cases Alabama in October alone. The state is averaging almost 996 cases per day in October, which is up from September.
The state had 28,643 new coronavirus cases in September, 38,335 cases new cases in August, and 49,678 cases in July. Public health officials credit Alabama Governor Kay Ivey's statewide mask order on July 15 with slowing the spread of the virus in the state, but the virus has not gone away.
ADPH reported 823 hospitalizations for COVID-19 on October 17, the most recent day for which we have data. While hospitalizations for COVID-19 are down from the peaks in early August in Alabama have risen from Oct. 1 when 748 Alabamians were hospitalized, a 10 percent increase from the first of the month.
The state of Alabama is continuing to struggle to protect its most vulnerable citizens. At least 6,497 residents of long term care facilities in Alabama have been diagnosed with the coronavirus, 247 of them in October.
There have also been 3,362 cases among long term care workers in Alabama, including 197 in the month of October. Some 9,819 Alabama health care workers have also contracted the coronavirus.
Most people who test positive for the novel strain of the coronavirus, SARS-CoV-2, are asymptomatic or have only minor symptoms, but in about one out of five cases it can become much more severe.
For older people or people with underlying medical conditions like obesity, heart disease, asthma, cancer, diabetes or HIV, COVID-19 can turn deadly. COVID-19 is the abbreviated name for the medical condition caused by the SARS-CoV-2 virus.
Some 1,115,600 people worldwide have died from COVID-19 worldwide, including 224,284 Americans. There are 8,972,704 known active cases in the world today.
Public health officials warn citizens that coronavirus remains a present danger in our community. Social distancing is the best way to avoid spreading the virus. Avoid venues with large groups. Don't shake hands or hug persons not living in your household.
Avoid leaving your home as much as possible and wear a mask or cloth face covering when you do go out. Avoid touching your face and wash your hands with soap frequently. Hand sanitizer is recommended.
A coronavirus vaccine may be available in the coming months, but we don't yet know when or how effective it will be.