Appeals court upholds absentee voting requirements, allows curbside voting
Alabama Secretary of State John Merrill in a statement applauded the appeals court decision. 
A panel of federal appeals court judges on Tuesday reversed parts of a lower court's ruling regarding absentee voting in the upcoming Nov. 3 elections, but the judges let a previous ruling allowing curbside voting to stand. 
U.S. District Judge Abdul Kallon on Sept. 30 ordered the state to do away with the requirement for voters to have two witnesses or a notary sign their absentee ballot, if the voter submits a statement that they have an underlying medical condition that puts them at a heightened risk from COVID-19 and thus, they cannot safely get those additional signatures.
Kallon also ordered Alabama to allow curbside voting, in the counties that choose to do so, but only for the Nov. 3 general election. 
Alabama Secretary of State John Merrill in a statement applauded the appeals court decision. 
"The stay that has been granted maintains the integrity and security of elections in our state – thus proving that our current election laws are not an obstacle to voters in Alabama," Merrill said. "The photo ID and witness requirements are necessary deterrents for those looking to commit voter fraud, and I am glad the 11th Circuit has recognized their importance in safeguarding the elections process."
Merrill said his office is unaware of any counties planning to provide curbside voting for the Nov. 3 election, but that "we intend to appeal to the Supreme Court to see that this fraudulent practice is banned in Alabama, as it is not currently allowed by state law."
Alabama law doesn't specifically address curbside voting, but Merrill in the past has taken that to mean that the practice isn't legal. 
The lawsuit, filed by the NAACP Legal Defense and Educational Fund, Southern Poverty Law Center, American Civil Liberties Union, ACLU of Alabama and Alabama Disabilities Advocacy Program, was brought on behalf of several Alabamians with underlying medical conditions.
In his Sept. 30 ruling, Kallon wrote that "the plaintiffs have proved that their fears are justified" and the voting provisions challenged in the lawsuit "unduly burden the fundamental Constitutional rights of Alabama's most vulnerable voters and violate federal laws designed to protect America's most marginalized citizens."
Caren Short, senior staff attorney for the SPLC, said in a statement that expert testimony and a voluminous record entered into evidence during a 10-day trial last month made clear why the state's ban on curbside voting and onerous absentee ballot requirements represent unconstitutional barriers to voting for medically vulnerable Alabamians during an ongoing pandemic.
"While today's appeals court decision still gives Alabama counties the ability to institute curbside voting processes in the 3 weeks until Election Day, it's unfortunate the decision also put back into place the unnecessary absentee ballot requirements that burden high-risk voters and add no additional protection to the integrity of Alabama's elections. We know that Alabama voters—particularly Black voters—have and will overcome countless barriers to cast their ballot, and we encourage them to do so as safely as possible," Short said.
As of Tuesday, 162,040 absentee ballots have been requested in Alabama and 91,786 have been successfully returned for the Nov. 3 election, according to Merrill's office.
Merrill told APR last week that Alabamians who vote by absentee ballot for the Nov. 3 election and meet the terms of a federal judge's ruling last week, should have their votes counted, even if that ruling is overturned on appeal before Election Day, according to precedent.
Governor declares state of emergency ahead of Tropical Storm Zeta
Zeta is currently a tropical storm over the Gulf of Mexico, but it is predicted to make landfall as a category one hurricane.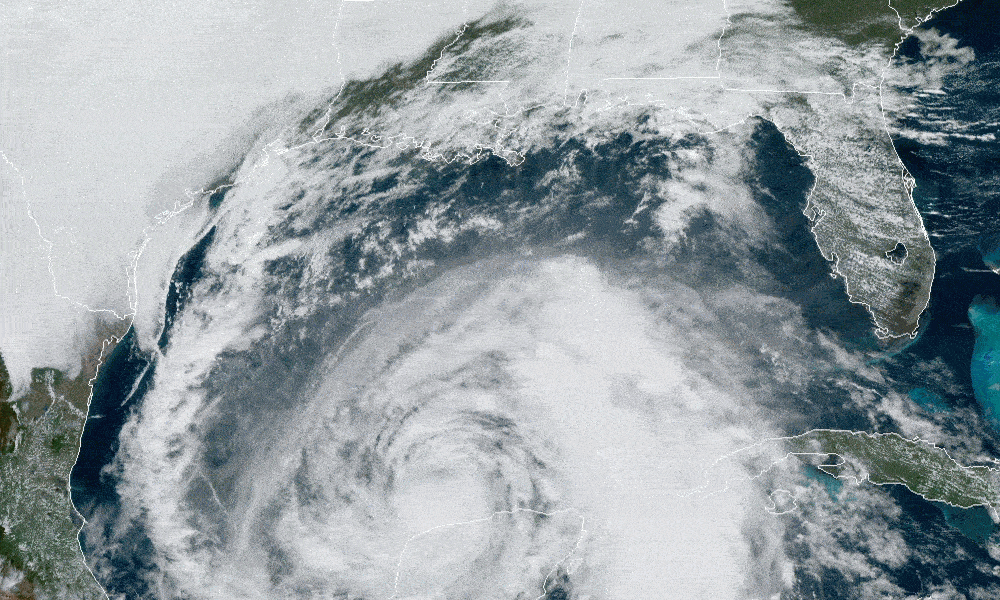 Alabama Gov. Kay Ivey on Tuesday issued a state of emergency as Tropical Storm Zeta approaches the Gulf Coast.
"Ahead of Tropical Storm Zeta's anticipated landfall Wednesday evening as a Category 1 hurricane, I am issuing a state of emergency effective today at 4:00 p.m.," Ivey said. "While this storm is not expected to have an impact as large as storms we've seen move through the Gulf earlier this year, we want to be in the best place possible to respond to anticipated rain, storm surge and mass power outage. I encourage everyone to remain weather aware and tuned in to their trusted news source as this storm could shift direction or change intensity. We continue to track the path of this storm and will stay in touch with the people of Alabama with any updates."
Zeta is currently a tropical storm over the Gulf of Mexico, but it is predicted to make landfall as a category one hurricane. The National Hurricane Center is predicting Zeta to make landfall in Mississippi on Wednesday and then proceed toward Alabama, but these storms can and do move.
A more easterly track could prove devastating to the Alabama Gulf Coast as was the case with Hurricane Sally, which shifted course in September, hitting Alabama, though Zeta is expected to be weaker than Sally at landfall.
The storm surge from the Mississippi-Alabama border to Dauphin Island is forecast to be 5 to 8 feet. Mobile Bay to the Alabama-Florida border is expected to have 3 to 5 feet of storm surge and from the border to Navarre, Florida, could experience 2 to 4 feet of storm surge.
Hurricane force winds are a possibility with this storm. Tropical force winds are expected to be an issue for Southern Mississippi and Alabama well inland. There is expected to be heavy rainfall across the state Wednesday night into Thursday morning.
The Baldwin County Emergency Management Agency announced that sandbags are available inside the county commission office at Robertsdale Central Annex (22251 Palmer Street) until 4:30 p.m. Tuesday and from 8 a.m. until 4:30 p.m. Wednesday or while they last.
Bring any help and shovels you will need. There is a limit of just 25 bags per person. Alabama's coastal counties are currently under a Tropical Storm Warning, a Storm Surge Warning for Mobile County and a High Rip Current and High Surf Warning.
Congressman Bradley Byrne said, "I just finished up briefings from Alabama EMA, FEMA, and the National Hurricane Center regarding #Zeta. We should not take this storm lightly and should start making preparations right away. After sundown Wednesday, I'd encourage everyone in Southwest Alabama to stay home and off the roads until sunrise Thursday. This storm will have impacts as far north as Montgomery, so those in Washington, Clarke, and Monroe counties will see tropical storm force winds and heavy rain. I'd encourage everyone to charge their phones and other necessary electronics. If you have an emergency during the storm, call 911 and do not try to drive."
Coastal Alabama is still in the process of recovering from Hurricane Sally which hit the state on Sept. 15.