Barry Moore "disappointed" in Facebook, Twitter actions on New York Post report
The story has not been confirmed by other news outlets and questions remain about the authenticity of the emails included.
Congressional candidate Barry Moore said he is "disappointed but not surprised" that Facebook and Twitter have decided to limit the distribution of a New York Post story that claims to show "smoking gun" emails related to Democratic presidential nominee former Vice President Joe Biden and his son, Hunter.
The story has not been confirmed by other news outlets and questions remain about the authenticity of the emails included in the story and how the news outlet came into possession of them.
"I'm disappointed but not surprised at the blatant bias Twitter and Facebook have displayed by censoring this article," Moore said in a statement. "I also think it's telling that despite their best efforts the article was still spread by other means, including House Republicans posting it on other pages then sharing those links. Censorship has no place in a free society, and with the failure of Twitter and Facebook to censor this information they only drew more attention to it."
Moore joined numerous Republicans, including several members of Congress, in condemning Twitter and Facebook for "censoring" the Post article Wednesday that allegedly disputes Joe Biden's claim that he had "never spoken to my son about his overseas business dealings".
The article is loosely based on emails recovered from a laptop suspected to have been owned by Hunter Biden that was abandoned at a repair facility in Biden's home state of Delaware. The repair facility owner reportedly tried unsuccessfully to contact Hunter Biden before viewing the contents of the laptop's hard drive.
The owner then contacted the FBI, who seized the laptop, according to the Post report. However, the owner gave a copy of the hard drive to Robert Costello, a former lawyer for Trump attorney former New York City Mayor Rudy Giuliani, last Sunday.
Twitter responded to the story by blocking the Post's account as well as blocking others from sharing the link to the article, citing their policy of suppressing the dissemination of "hacked materials." Facebook also limited the sharing of the article but did say the story was eligible for fact-checking by their third-party checkers.
While I will intentionally not link to the New York Post, I want be clear that this story is eligible to be fact checked by Facebook's third-party fact checking partners. In the meantime, we are reducing its distribution on our platform.

— Andy Stone (@andymstone) October 14, 2020
We want to provide much needed clarity around the actions we've taken with respect to two NY Post articles that were first Tweeted this morning.

— Twitter Safety (@TwitterSafety) October 14, 2020
The Biden campaign quickly disputed the article but made no mention that the laptop in question had been hacked.
"Investigations by the press, during impeachment, and even by two Republican-led Senate committees whose work was decried as 'not legitimate' and political by a GOP colleague have all reached the same conclusion: that Joe Biden carried out official U.S. policy toward Ukraine and engaged in no wrongdoing. Trump Administration officials have attested to these facts under oath," a Biden campaign spokesperson said. "The New York Post never asked the Biden campaign about the critical elements of this story. They certainly never raised that Rudy Giuliani, whose discredited conspiracy theories and alliance with figures connected to Russian intelligence have been widely reported, claimed to have such materials."
Republicans have been accusing the mainstream media of covering up for the Bidens for years.
"Hunter Biden's personal struggles should be outside the Presidential Campaign," said Perry Hooper Jr., a former representative and a member of the Trump Victory Committee finance team and a Trump Team Member. "However, his corruption and dirty financial dealings, especially when they involve his father, must be investigated and uncovered immediately. The American People have a right to know. Journalist its time to do your job and not be a mouthpiece for the Biden campaign. You must demand answers as aggressively from the Bidens as you do from Donald Trump."
Numerous Congressional and Senate Republicans including Sen. Josh Hawley, R-Missouri, and Rep. Jim Jordan, R-Ohio, condemned the social media giants, calling their actions blatant censorship and an attempt to protect the Democratic nominee's campaign.
Jordan said, "Must read! Smoking-gun email reveals how Hunter Biden introduced Ukrainian businessman to VP dad."
"We all know that Twitter and Facebook censor conservatives, but until now they could hide behind a fig leaf of fairness," Moore continued. "Well, today Twitter dropped that leaf, and there's no picking it back up. Senator Hawley has already contacted the heads of Twitter and Facebook wanting answers, and I believe this will only be the beginning."
"Private companies certainly have the right to limit content on their platforms, just as we all have the right not to use them or the products they advertise. However, Twitter and Facebook are so large and pervasive today that they merit special consideration and scrutiny. The next Congress will no doubt do that scrutiny in depth because of Twitter's actions Wednesday," Moore said.
"No one is a stronger supporter of our First Amendment rights than I, and I recognize just how valuable the protections of Section 230 of the Communications Decency Act have been in allowing a free and open internet to benefit us and our economy," Moore said. "I'm reluctant to change what has obviously worked so well, a few unfortunate exceptions notwithstanding. As a conservative, I'm also well aware of how unintended consequences of overly-meddlesome government intervention can creep into 'fixing' problems, and I'm concerned that this will become yet another instance where the fix does more damage than the original problem ever could."
"The people of District 2 need to know that I'm not happy with Twitter and Facebook blatantly censoring pro-conservative positions," Moore said. "I wouldn't be happy for them to blatantly censor pro-liberal speech, either. Speech is either free, or it's not. We will be looking at Twitter and Facebook going forward, but while we're doing it, I'll be keeping an eye on the Constitution, and looking out for potentially disastrous overreaches, as your next Congressman."
When President Donald Trump asked the President of Ukraine to investigate the Bidens and their ties to natural gas company Burisma, the Democratic controlled House of Representatives impeached the president for abuse of power. Democrats did not have the votes in the Senate to convict him, though.
Moore is the Republican nominee in Alabama's 2nd District in the general election on Nov. 3. He faces Democratic nominee Phyllis Harvey-Hall.
U.S. Supreme Court rules Alabama can ban curbside voting
"The District Court's modest injunction is a reasonable accommodation, given the short time before the election," the three dissenting justices wrote.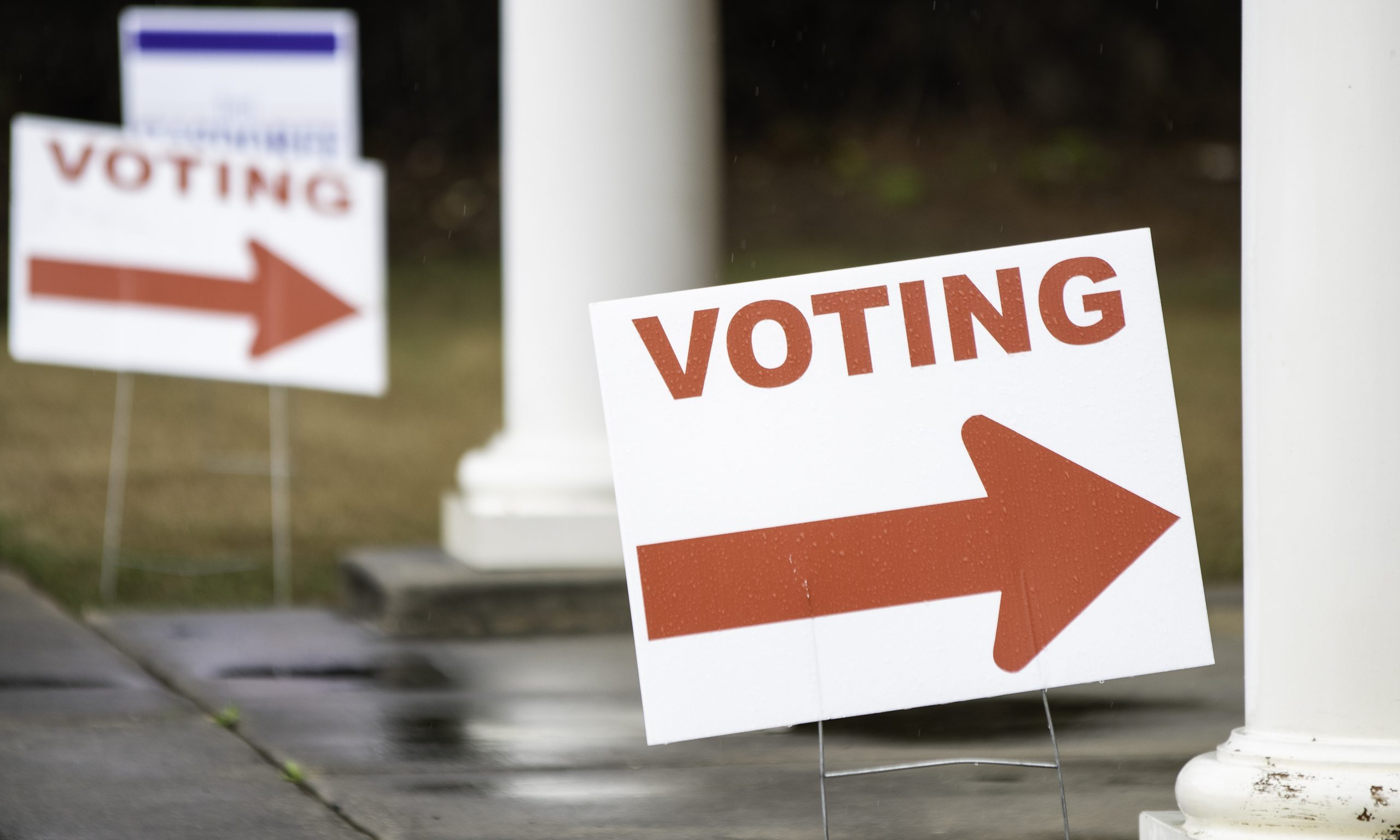 The Supreme Court, in a 5-3 decision, allowed Alabama Secretary of State John Merrill to ban curbside voting, staying a district court injunction that had allowed some counties to offer curbside voting in the Nov. 3 election amid the COVID-19 pandemic.
The Supreme Court's majority in its order declined to write an opinion, but Justices Stephen Breyer, Elena Kagan and Sonya Sotomayor's five-page dissent is included.

The lawsuit — filed by the NAACP Legal Defense and Educational Fund, Southern Poverty Law Center, American Civil Liberties Union, ACLU of Alabama and Alabama Disabilities Advocacy Program — was brought on behalf of several older Alabamians with underlying medical conditions.
"The District Court's modest injunction is a reasonable accommodation, given the short time before the election," the three dissenting justices wrote. 
Sotomayor, who wrote the dissent, closed using the words of one of the plaintiffs in the case. 
"Plaintiff Howard Porter Jr., a Black man in his seventies with asthma and Parkinson's disease, told the District Court, '[So] many of my [ancestors] even died to vote. And while I don't mind dying to vote, I think we're past that – We're past that time,'" Sotomayor wrote. 
Alabama Secretary of State John Merrill on Wednesday applauded the Supreme Court's decision. 
"I am proud to report the U.S. Supreme Court has now blocked a lower court's order allowing the fraudulent practice of curbside voting in the State of Alabama," Merrill said in a statement. "During the COVID-19 pandemic, we have worked diligently with local election officials in all 67 counties to offer safe and secure voting methods – including through the in-person and mail-in processes. I am glad the Supreme Court has recognized our actions to expand absentee voting, while also maintaining the safeguards put into place by the state Legislature."
"The fact that we have already shattered voter participation records with the election still being 13 days away is proof that our current voting options are easy, efficient, and accessible for all of Alabama's voters," Merrill continued. "Tonight's ruling in favor of election integrity and security is once again a win for the people of Alabama."
Sherrilyn Ifill, president and director-counsel of the NAACP Legal Defense and Education Fund, expressed frustration after the ruling in a tweet.
"Another devastating loss for voters and a blow for our team fighting to ensure safe voting for Black and disabled voters in Alabama. With no explanation, the SCOTUS allows Alabama to continue making it as hard as possible for COVID-vulnerable voters," Ifill wrote.
Curbside voting is not explicitly banned by state law in Alabama, but Merrill has argued that because the practice is not addressed in the law, he believes it to be illegal. 
A panel of federal appeals court judges on Oct. 13 reversed parts of U.S. District Judge Abdul Kallon's Sept. 30 order ruling regarding absentee voting in the upcoming Nov. 3 elections, but the judges let the previous ruling allowing curbside voting to stand. 
In his Sept. 30 ruling, Kallon wrote that "the plaintiffs have proved that their fears are justified" and the voting provisions challenged in the lawsuit "unduly burden the fundamental Constitutional rights of Alabama's most vulnerable voters and violate federal laws designed to protect America's most marginalized citizens."
Caren Short, SPLC's senior staff attorney, in a statement said the Supreme Court's decision has curtailed the voting rights of vulnerable Alabamians.
"Once again, the Supreme Court's 'shadow docket' – where orders are issued without written explanation – has curtailed the voting rights of vulnerable citizens amidst a once-in-a-century public health crisis. After a two-week trial, a federal judge allowed counties in Alabama to implement curbside voting so that high-risk voters could avoid crowded polling locations," Short said. "Tonight's order prevents Alabama counties from even making that decision for themselves. Already common in states across the South and the country before 2020, curbside voting is a practice now encouraged by the Centers for Disease Control and Prevention (CDC). It should be a no-brainer to implement everywhere during a pandemic; the Alabama Secretary of State unfortunately disagrees, as does the Supreme Court of the United States."