ADEM director weighs-in on coal ash pond closures
APR spoke with ADEM Director Lance LeFleur to understand the process and how the public could be assured that steps taken would lead to a safe and effective outcome.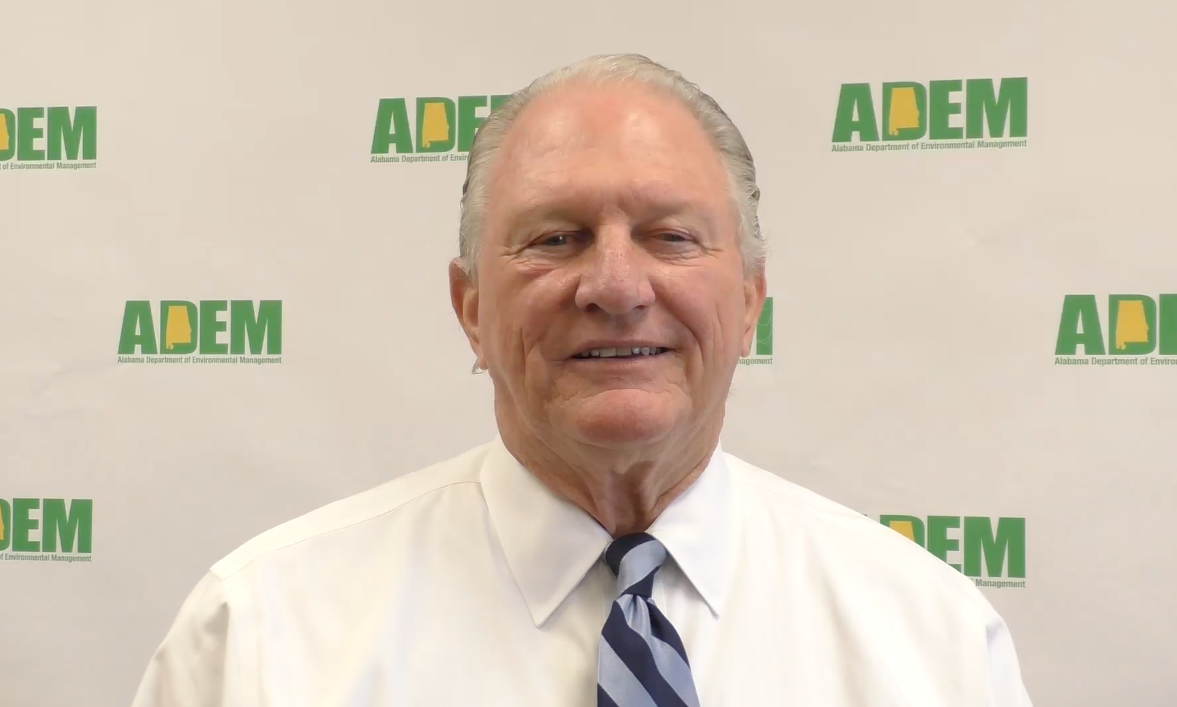 Over the next few weeks, the Alabama Department of Environmental Management will hold public hearings on the regulated closures of three coal combustion residuals storage sites, commonly referred to as coal ash ponds.
While ADEM receives high marks from federal regulators and businesses within Alabama, there is always a certain skepticism that surrounds environmental issues both on the left and the right side of the political spectrum.
Recently, APR spoke with ADEM Director Lance LeFleur to understand the process and how the public could be assured that steps taken would lead to a safe and effective outcome.
"I know that there's skepticism about government," LeFleur said. "And it's healthy to have skepticism about government, state governments, local government, federal government. Skepticism is part of how we operate." But LeFleur wants the public to know that ADEM's first purpose is Alabamians' health and safety.
"Our mission is to ensure for all Alabamians a safe, healthful and productive environment," LeFleur said. "It's a mission that ADEM and its nearly 600 employees take very seriously."
LeFleur says while there are many competing sides to the issues that arise from coal ash disposal, ADEM must focus on "science and the laws."
According to LeFleur, there are two primary issues that must be addressed when closing coal ash ponds: "avoid threats of spills into waterways or onto land, and preventing and cleaning up groundwater contamination from arsenic, mercury, lead and other hazardous elements that may leach from the coal ash."
EPA does not classify coal residue as hazardous waste, but LeFleur says that all closures must ensure dangerous elements are not leaching down into the groundwater.
"I think there's pretty much unanimous opinion that these coal ash ponds need to be closed; they need to be closed properly," said LeFleur. "And we need to clean up the groundwater that's in place."
He says that the entire process will take decades, but the power companies have committed to safely closing the coal ash ponds. "We are dealing with power companies that are going to be around for a long time. And they, they are obligated to get the result right," said LeFleur.
Alabama currently has 14 regulated CCR units at eight sites throughout the state. They are comprised of 10 unlined surface impoundments, one lined landfill, one lined surface impoundment all closed, and two lined landfills still in operation.
Public hearings are a significant part of the permit granting process, according to LeFleur, and ADEM's website allows any individual to review every document and comment about a coal ash pond's closing.
"You can see all of the comments that we received," LeFleur said. "Every issue raised during the comment period and written response to comments are available." ADEM's website also includes the closure plans as well as all correspondence between agency and utility companies.
According to ADEM, the purpose of these hearings is to allow the public, including nearby residents, environmental groups, and others, opportunities to weigh in on the proposed permits.
"This past summer, Alabama Power, TVA, and PowerSouth held informational meetings in the communities where their affected plants are located to explain their proposed groundwater cleanup plan —including the CCR unit closure component— and answer residents' questions," said LeFleur.
Closing a unit requires months of planning with ADEM engineers to make sure all procedures are followed correctly. Federal rules for closing CCRs have only been around since April 2015, when EPA released final measures for management and disposal of CCRs from electric utilities. In 2018, ADEM issued its state CCR rule, which closely tracks the federal regulations.
Under both Presidents Obama and Trump, the EPA has allowed for coal ash sites to be closed by two methods — closure in place and by removal.
Alabama's utilities have chosen the cap in place method. Some environmental groups prefer removal. But estimates say that moving CCRs from Alabama Power's Plant Barry would take around 30 years with trucks leaving the site every six minutes.
"Regardless of which method of closure is used, that process will take a couple of years to accomplish at these sites," said LeFleur. "If it's kept in place, the material has been de-watered then pushed together to create a smaller footprint, and then that will be covered with an impervious cover."
The objective, according to ADEM, is to protect the groundwater and the environment from pollution.
Power providers and environmentalists seem to agree there isn't a perfect solution. Public hearings are to ensure that community voices and those of environmentalists are heard.
"This entire process is designed to stop contamination to groundwater and future contamination to groundwater; those are the most important facts now," said LeFleur. "There are always political issues, you know, at least two sides, and sometimes there's three, four or five sides. We focus on science and the laws. That's what we do."
While ADEM has its critics, it receives a high rating from the EPA, and an annual survey by the Alabama Department of Commerce finds that it gets top marks from business and industry in the state.
ADEM's first public hearing on coal ash permits will be held Tuesday, Oct. 20, for Alabama Power's Miller Steam Plant in west Jefferson County. The meeting will be at 6 p.m. at the West Jefferson Town Hall. Other upcoming hearings are Thursday, Oct. 22, for Plant Greene County located in Greene County and Oct. 29 for Plant Gadsden in Etowah County.
Clean water advocates want a comprehensive water plan for Alabama that creates jobs
Under new leadership, a plan for preserving clean water and fair access to it may be within reach in Alabama.
Environmentalists are optimistic about making progress on water resource issues and the state's climate change preparedness under the incoming administration of President-elect Joe Biden and next Congress, particularly because the president-elect is indicating that economic gains go hand-in-hand with protecting the environment.
"It's really exciting to see the Biden administration put jobs in the same conversation with their climate and environmental policies, because for too long there has been that false argument that jobs and the environment don't go together — that you can't have a regulated business sector and create jobs," said Cindy Lowry, executive director of Alabama Rivers Alliance.
On a recent post-election call with other advocates, Lowry said that the current policy outlook reinforced the importance of voting. There have been some steps forward for conservation during the presidency of Donald Trump, she said, like the president's signing of the Great American Outdoors Act in August, but the administration has prioritized industry interests.
Under new leadership, a plan for preserving clean water and fair access to it may be within reach in Alabama.
"We have spent so much time and energy as a movement trying to defend and basically just hold the line against so many of the rollbacks, and now we can focus on moving forward on certain areas," Lowry said.
Julian Gonzalez, a clean water advocate with the nonprofit Earthjustice in Washington D.C., said on the call that the incoming Congress will be the "most environmentally aware Congress we've had." Still, the real work remains.
"Everything needs to be one conversation, and you should be able to go call your Congressperson and say, 'How are you going to fix America's water problem?' and they should have an answer, but right now that's not the case," Gonzalez said.
For Alabama's water advocates, priorities are what to do with coal ash, how to prepare for droughts and flooding, improvements to water and wastewater infrastructure and providing relief to communities that have been affected by environmental degradation.
While production of coal ash has reduced due mostly to market-driven decreases in the burning of coal, enough facilities still use it that Alabama is developing its own permitting process and regulations for storing it. The Biden administration can provide leadership on the issue, Lowry said.
While many people associate water issues with drought, Lowry said the topic encompasses much more than that. Pipes that contain lead need to be replaced. There's plenty of water, she said, but the state needs a comprehensive water plan that prepares communities for drought management, especially as more farmers use irrigation, which uses more water.
Her organization has been working toward a state plan that can ensure fair access to water without depleting the environment of what it needs to remain stable.
With the increased frequency and intensity of storms being attributed to climate change, water infrastructure will need to be upgraded, Lowry said. Many communities rely on centralized treatment centers to handle their wastewater, and many of those facilities are overburdened and experience spills. Storms and flash floods push old pipes and at-capacity centers past their breaking points — pipes leak or burst and sewage pits overflow.
Lowry said that there has been some progress in recent years on funding infrastructure upgrades in communities and states. It's a more bipartisan conversation than other environmental issues, and communities that have been hit hard by multiple storms are starting to have new ideas about how to rebuild themselves to better withstand the effects of climate change.
Still, Alabama's preparedness efforts are all reactionary, which is why a comprehensive water plan is a priority, she said.
"Policies like that — proactive policies that are really forward-thinking about how we will make decisions if we do run into challenges with our environment — are something that this state has not been very strong on," she said.
Lowry hopes for more emphasis on environmental justice, with official agencies working more with local municipalities to provide relief to communities hurt by pollution and weather events. Such problems are characteristic of the Birmingham area, where Lowry is based, and the Black Belt.
She wants to see stronger permitting processes for industry projects and easier access to funding for cleanups in communities that need them. North Birmingham activists have been trying for years to get a Superfund site there on the Superfund National Priorities List.
There is no one-size-fits-all solution to address these problems, Lowry said. Having multiple avenues for access to funding is important so that all communities have options. Smaller communities can't always pay back loans, so they need access to grants.
Lowry emphasized that new jobs must be created without exacerbating climate change. Although Alabama tends to look to heavy industry for economic gains, she said she's hopeful that a different approach by the Biden administration will trickle to the state level.
Lowry also said that conversations about climate change in Alabama have to be put in terms of what is happening in Alabama.
For her and other environmentalists working in the Deep South, it's all about relationships and establishing trust. The environment becomes a less partisan issue when you focus on the basics, she said, because everyone wants clean water.
"I've found it much more easy to have conversations with elected officials at the state level in places like Alabama, where people do kind of grow up a little closer to nature and conservation, and [by] just kind of meeting people where they are," Lowry said.