Vote on Amy Coney Barrett confirmation could come as early as today
The final Senate vote on her confirmation is expected to come Monday evening.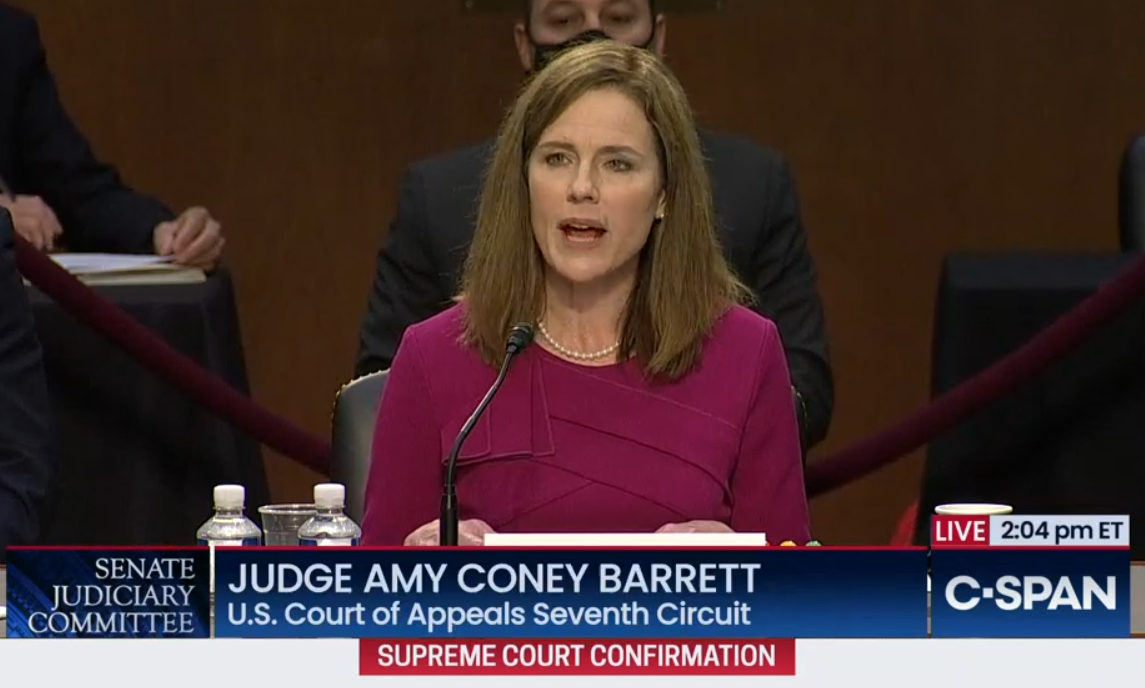 Republicans in the Senate on Sunday voted to end debate on the confirmation of Amy Coney Barrett as a United States Supreme Court justice. The final Senate vote on her confirmation is expected to come Monday evening.
Sen. Richard Shelby, R-Alabama, voted to cut off debate and advance Barrett's confirmation. The Republican Senate majority voted to end debate on the confirmation of Barrett on a 51 to 48 vote. The move means that Senate Majority Leader Mitch McConnell, R-Kentucky, is likely to put forward the vote on Barrett's confirmation sometime Monday.
Democrats continue to filibuster and use the Senate's rules to delay the vote as long as possible, but it appears that Republicans have enough votes to confirm Barrett to the court.
"After speaking with Judge Barrett, I am confident that she is the right choice to serve on the Supreme Court," Shelby said. "Judge Barrett is exceptionally qualified for this role and maintains strong conservative values and a deep commitment to our Constitution."
U.S. Sen. Doug Jones, D-Alabama, voted with his party and voted "no" on moving forward on Barrett's confirmation. Jones said after Justice Ruth Bader Ginsburg died that he would not support any Trump nominee before the Nov. 3 general election.
Jones did not speak with Barrett and said to reporters that he has not watched any of Barrett's confirmation hearings.
Barrett is a Notre Dame graduate and instructor. She currently serves on the Seventh Circuit Court of Appeals. She was appointed by Trump in 2017. After graduating from law school, Barrett clerked for D.C. Circuit Judge Laurence Silberman and for Supreme Court Justice Antonin Scalia.
Barrett practiced both trial and appellate litigation in Washington D.C. at Miller, Cassidy, Larroca & Lewin, and at Baker Botts. She worked for more than 15 years in academia, shaping the next generation of legal minds and supporting the professional development of her students, before being appointed to the federal judiciary by Trump.
Republicans, including Coach Tommy Tuberville, have been very critical of Jones for his refusal to support Barrett and his "no" vote on the confirmation of Justice Brett Kavanaugh. Tuberville is challenging Jones in the Nov. 3 general election.
Last Conversations: Dr. Frank Lockwood
At the time of those texts, I had no clue that I'd never speak with my brother again.
My brother, Frank Lockwood, was a family practice doctor with an office in McDonough, Georgia. Frank was a great doctor, who used his intelligence, compassion and humor to improve the lives of his patients. And, even though he was great at his job, the practice of medicine, in many ways, just paid the bills.
Above all else, Frank wanted to be an entertainer. He submitted video applications to participate on "Survivor" and even got a call-back for "The Mole." The highlight of his 15 minutes of fame was his disastrous appearance on "Who Wants to Be a Millionaire." (Google: Worst. Audience. Ever. On. Millionaire.)
Locally, Frank was a founding member of Atlanta's Village Theatre, an improv comedy group.
In short, Frank was highly intelligent and wickedly funny. So, I was dismayed when he called me in early July, and I couldn't recognize his voice. Frank told me that he'd contracted coronavirus from one of his patients and had been sick for several days. The cadence and rhythm of his voice were clearly Frank, but the pitch was all wrong. I assume the coughing had wreaked havoc on his vocal cords.
I am an employment lawyer. I defend employers who are getting sued by their employees. In my younger days, I defended plenty of employers who were sued for workers' compensation benefits — monetary and medical benefits provided to employees who are injured on-the-job.
Thus, in my role as the Lockwood Family Consigliere, Frank wanted to know if he could receive workers' compensation benefits from his employer because he caught coronavirus at work. We discussed the intricacies of a workers' compensation claim, and Frank hung-up, promising to think about the issue further.
My next communications with my brother were my last. On July 3, 2020, at 5:36 a.m., I received this text from him: Wanna work comp these folks to death. I'm in micu now.
MICU is the intensive care unit.  I was asleep at 5:36 a.m., but I texted back at 7:40: Glad to see the 'rona has not dampened your spirit. Want me to get you a lawyer?
His response: Yep.
At the time of those texts, I had no clue that I'd never speak with my brother again. He was 52 and in good physical shape with no co-morbidities. He was a patient in a hospital where he knew all of the physicians treating him. I knew a few people who contracted the disease and recovered. Everything I read led me to believe that my brother would have a fight but would recover.
It didn't work out that way. Frank was sedated, placed on a ventilator and temporarily rallied. The greatest tragedy is that he was removed from the ventilator and briefly conscious on July 13, but his husband, Bernie, did not get a chance to speak with him.
Frank's immune system turned on him with a "cytokine storm." He was returned to the ventilator and struggled for the next three weeks. I am thankful that I was able to be present, along with Bernie and our brother, Chris, when he passed away on Aug. 5.
As we walked out of the hospital that day, an announcement was made over the facility intercom that a patient was leaving for home. And then they played Pharrell's "Happy." In hindsight, I'm pretty sure that song was for somebody else. But at that moment Bernie, Chris and I simultaneously bawled and laughed. To us, it was like Frank Lockwood, the entertainer, had chosen his own exit music.
I've got a lot of regrets about my relationship with my brother and my last words with him. But, I promise you this: We have retained counsel in Georgia, and we are gonna work comp those folks to death.