Opinion | Want to reduce abortions? Vote for Democrats
As Republicans scream about abortions, the thing they always fail to mention is that an abortion ban in America will not reduce the number of abortions performed. But better health care can.
With polls last week showing the race between incumbent Sen. Doug Jones and Republican challenger Tommy Tuberville tightening a bit, and with continued long lines outside voting precincts in heavily Democratic areas, the Alabama GOP, and its paid mouthpieces, have turned to their favorite talking point: abortion. 
By the end of last week, to hear them tell it, Jones would be sacrificing live babies on Nancy Pelosi's gold-plated kitchen table as Chuck Schumer looked on and AOC sharpened the knives. 
In ad after ad and planted story after planted story and social media post after social media post, they went on and on about "live birth abortions" — as if there is such a thing — and accusations that Jones supports abortion "up to the point of birth." 
It's so silly and childish that it's hard to envision such gibberish actually affecting the way any sane adult would vote, but then, that's the beauty of the abortion issue — sanity, reason and facts took a hike a long, long time ago, and we're now left with only raw emotion. 
The fact is the Alabama GOP — and the national Republican Party — has been responsible for millions more abortions and baby deaths than any Democrat or any Democratic policy. 
Jones, and his policies, would prevent hundreds of thousands of abortions in this state going forward. 
No, that's not an opinion. That's a fact that I can support with actual data. 
As Republicans scream about abortions, the thing they always fail to mention is that an abortion ban in America will not reduce the number of abortions performed. This has been proven over and over again in country after country, where full bans have been implemented. 
Instead, when bans are implemented, desperate women turn to unsafe, back-alley abortions that often lead to the deaths of both mother and fetus. Findings from a 30-year Guttmacher Institute, released in July, show that abortion rates remain steady in countries where the procedures are legal and in the countries where they are banned or partially banned. 
In fact, the rates were often higher in countries with a ban in place.
But you know where the rates aren't steady? America. 
You know why? Obamacare. 
Over the last 10 years, abortion rates have dipped to historic lows. That decline can be traced directly to Obamacare, which allows women to receive covered contraceptive care, which prevent pregnancies in the first place.

A study from the University of Michigan in 2017 found that abortion rates dropped more than 10 percent among college-aged women following the passage of Obamacare, which, in addition to the contraceptive coverage, also allowed young people to remain on their parents' health insurance longer. 
Overall, across the county, abortions decreased by more than 200,000 between 2010 and 2017. The abortion rate plummeted to its lowest level since the procedure was legalized in 1973. 
Actually, that's not entirely true. They decreased across the country except for four states — North Carolina, Mississippi, Wyoming and Georgia. Care to guess what happened in those states? They each implemented some level of an abortion ban during that time period. 
But Obamacare isn't the only Democratic policy that has reduced abortions.  
In Colorado, where state officials began a push to market free contraceptive care and also allowed pharmacists in the state to write prescriptions for birth control, abortion rate declines have exceeded the national average. 
Teen birth rates in Colorado are down a whopping 59 percent over the last 10 years. And teen abortion rates are down more than 60 percent in that span. 
Know where else they're not down? Alabama. 
We're top five in teen pregnancy and teen birth rates in the country. We're also top five for births by unwed mothers, low birth weights, pre-term births and infant mortality.  
Yet, these same Republicans who line up to talk about the sanctity of life have resisted both Obamacare implementation — refusing to participate in the marketplace and make care more affordable for citizens — and Medicaid expansion, which would provide coverage for about 200,000 poor, working Alabamians. 
They have resisted better sex education programs in schools — we still require abstinence-only programs — and refused to fund programs that would make contraceptives free and widely available. 
These programs and policies have proven to reduce abortions and save lives. They've proven to provide women with decent care and support, instead of shame and ridicule. 
These are the policies that Jones and Alabama Democrats support. They're the policies that the GOP have tried repeatedly to kill or block. Which means, if it's the reduction of abortions and saving human lives that you care about, there's one obvious choice to make. Vote for Democrats.
Opinion | Ivey sends the wrong message at the wrong time on in-person learning
"Ivey came with a message to get back in there and try harder — as if more trying is what our schools and teachers are lacking."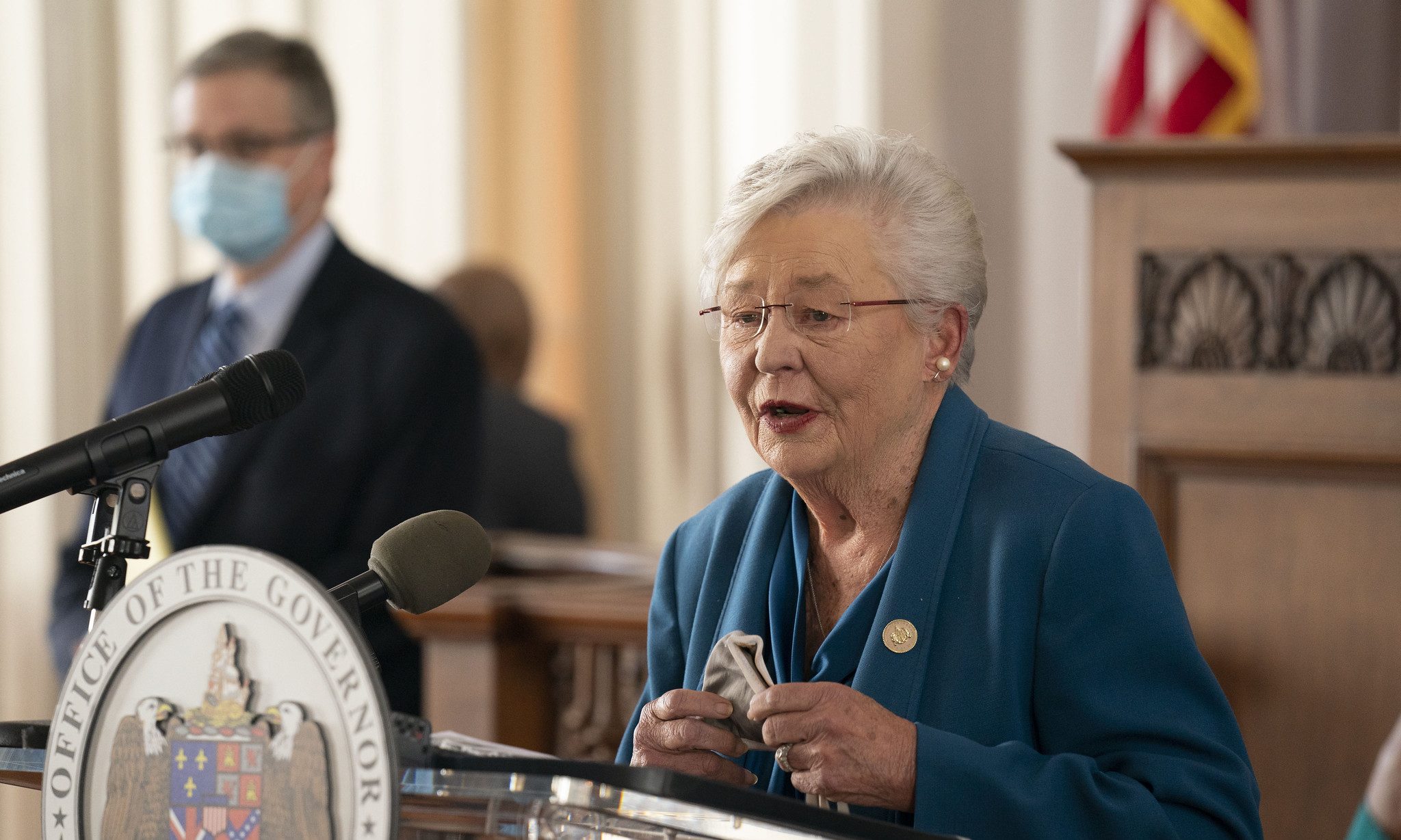 Over the course of the last several days, my Facebook feed has been filled with posts expressing sadness, anger and dismay over the passing of two beloved Montgomery Public Schools assistant principals and three more school system employees.
According to posts by their family members and friends and interviews with several, all passed away from the COVID-19 virus.
Another MPS administrator was in an ICU unit in Montgomery, according to a coworker. Several others are struggling with the virus.
None of this is uncommon in the state right now, where COVID infections are spreading like wildfire in a strong breeze. On Tuesday, there was yet another record-setting day of positive cases and hospitalizations. And hospital officials said there are currently zero ICU beds in Mobile.
So, it was a bit surprising, with all of that distressing news rolling in, to also receive an email from Gov. Kay Ivey on Tuesday afternoon, passing along a press release in which she encouraged all schools to open for in-person instruction in 2021.
This came on the heels of her declaration a couple of weeks ago that she would not be ordering future business closings due to coronavirus cases increasing. Just a blanket statement that no matter how bad things get, and no matter how effective Ivey's previous shutdown order was, there would be no more shutdowns.
It's as if there was only so much rational thought and science/math-based decision making that could be condoned within the Alabama governor's office and Ivey used up her allotment by the end of October.
Nothing else makes sense — not if you understand how numbers work.
We're in far worse shape now than we were when the original shutdown order was issued by Ivey last spring. Our doctors and health professionals and frontline workers are screaming out warnings, and hospital administrators are again warning that bed capacity is nearing critical shortages.
And public health experts think we're only on the fringe of a coming "tidal wave," spurred by Thanksgiving gatherings last week. Not to mention we're coming up on the Christmas party season. And we're still months away from the widespread distribution of a vaccine.
If something doesn't change, a whole lot of people are going to die. A whole lot more will suffer through hospitalization and undetermined long term issues.
These are not secrets. And there's no chance that Ivey and others around the state aren't getting these messages from doctors and scientists.
But politics.
Ivey governs a state that is dominated by right-wing voters who have bought hook, line and sinker into the Trump fantasyland extravaganza and conspiracy carnival. The majority of voters in this state, and an overwhelming majority of voters in Ivey's party, believe Trump won in a landslide, that masks are tyranny, and shutdown orders are impeachable offenses.
Hell, Ivey's own Legislature, dominated by her party, is seeking to strip her power to issue shutdown orders and other emergency health orders.
There is almost no political upside for Ivey in issuing another shutdown order or even mildly expanding the order that's currently in place.
There's also this little problem: If Ivey issues another shutdown order, it is an acknowledgment that the first order was effective — and it was, as every chart of infections and hospitalizations will show — and that we squandered the time that shutdown bought us.
If you'll recall, we didn't just close businesses and sit home for a few weeks because it was going to eradicate the virus. We did it so hospitals could catch up and we could implement national and state-level strategies for combating the virus on many fronts.
The hospitals caught up. Nothing else happened.
We don't have a testing and tracing plan on any level. We don't have a national mask ordinance. We don't have a comprehensive spending package that provides a lifeline to families and businesses. We can't even figure out in Alabama how to spend the damn money the feds gave us.
And our schools … sweet Lord Jesus … our schools.
It is pathetic the protective equipment and cleaning supplies our school teachers have been provided. It is nearly criminal the danger we have put some of them in, as evidenced by the deaths and illnesses we've seen. And it should be a national outrage the work hours and commitment we've demanded of them, while we sat on a billion dollars that could have made their lives exponentially better.
We had opportunities to be safer, but those opportunities (including one that Ivey, to her credit, pushed for) were lost in the usual, ignorant bickering and ego-stroking.
But with all of that going on, and with districts and schools just trying their best to get by and do what they can to serve students, here's Ivey with a message to get back in there and try harder. As if more trying is what our schools and teachers are lacking.
But that's actually fairly fitting for the way Republican leaders at the state and national levels have handled this virus: do the bare minimum, shame working people for their fears, worry about the money first.