Alabama Power reports progress on restoring power following Hurricane Zeta
Alabama Power said 131,000 outages remain and that the utility provider expects to have service restored to 95 percent of affected customers by Tuesday.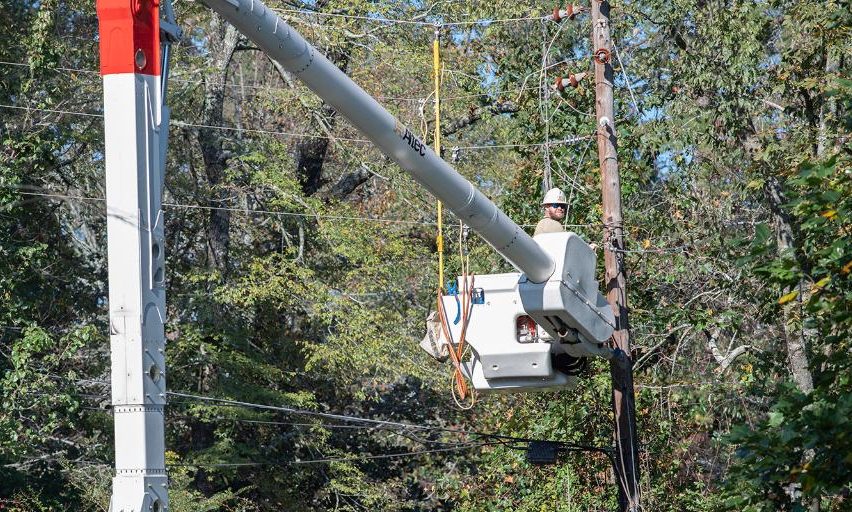 Alabama Power said Saturday that its crews have restored power to 373,000 customers following Hurricane Zeta, which caused more than 504,000 outages at peak.
As of Saturday at 2:12 p.m., Alabama Power said 131,000 outages remain and that the utility provider expects to have service restored to 95 percent of affected customers by Tuesday.
We expect to have service restored to 95% of affected customers by Tuesday. pic.twitter.com/pguaDzAdO4

— alabamapower (@alabamapower) October 31, 2020
Hurricane Zeta hit Louisiana as a category two hurricane on Wednesday before ripping through Mississippi and Alabama. There is an enormous amount of damage across the footprint of the Southern Company, the parent of Alabama Power.
Alabama Power has said the impact of the storm is similar to what the company experienced during Hurricane Katrina in 2005 and the April 27, 2011 tornadoes.
Because Zeta was so fast-moving, it did not lose much of its strength as it moved inland. Much of the state experienced tropical-storm-force winds. There is significant, widespread damage throughout the state.
Alabama Power is having to deal with downed poles and trees that knocked out wires. The company's crews are working with more than 1,700 lineworkers and support personnel from 19 states and Canada.
Alabama Power said that its crews are working quickly and safely to restore power and will continue to work on restoring power over the weekend.
Alabama Power storm team evaluators, line crews and support personnel worked throughout the day Thursday and Friday assessing damage and repairing poles and wires damaged in the storm.
Crews are working diligently and as quickly and safely as possible to restore service, the company said.
Remember that there are line crews working along roadways all across the state. Cities, counties and homeowners are still working on debris removal so drive slowly and give yourself more time to get where you are going while out.
Alabama Power warns everyone to stay away from downed power lines, as well as fallen trees and tree limbs that could be hiding downed lines. Always assume a downed line is still energized and poses a potentially deadly hazard.
If you spot a downed line, call Alabama Power at 1-800-888-2726 or local law enforcement and wait for trained crews to perform the potentially dangerous work of removing the line or any surrounding debris.
Hurricane season lasts until the end of November.
Alabama hospitals nearing COVID-19 summer surge levels
Wednesday was the 18th straight day with more than 1,000 people in hospitals in Alabama with COVID-19. 
Alabama hospitals reported caring for 1,483 people infected with COVID-19 on Wednesday, the highest number of patients since Aug. 11, when the state was enduring its summer surge. Wednesday was also the 18th straight day with more than 1,000 people in hospitals in Alabama with COVID-19. 
The seven-day average of hospitalizations was 1,370 on Wednesday, the 36th straight day of that average rising. The Alabama Department of Public Health reported 2,453 new cases Wednesday. The 14-day average of new cases was — for the eighth day in a row — at a record high of 2,192. 
Across the country, more than 80,000 people were hospitalized for COVID-19 on Tuesday, a record high and the 15th straight day of record hospitalizations nationwide, according to the COVID Tracking Project, a coronavirus tracking website.
The CDC this week recommended people not travel for Thanksgiving to help prevent the spread of coronavirus. 
"The only way for us to successfully get through this pandemic is if we work together," said Dr. Kierstin Kennedy, UAB's chief of hospital medicine, in a message Tuesday. "There's no one subset of the community that's going to be able to carry the weight of this pandemic and so we all have to take part in wearing our masks, keeping our distance, making sure that we're washing our hands." 
Kennedy said the best way she can describe the current situation is "Russian Roulette." 
"Not only in the form of, maybe you get it and you don't get sick or maybe you get it and you end up in the ICU," Kennedy said, "but if you do end up sick, are you going to get to the hospital at a time when we've got capacity, and we've got enough people to take care of you? And that is a scary thought." 
The Alabama Department of Public Health on Wednesday reported an increase of 60 confirmed and probable COVID-19 deaths. Deaths take time to confirm and the date a death is reported does not necessarily reflect the date on which the individual died. At least 23 of those deaths occurred in November, and 30 occurred in other months. Seven were undated. Data for the last two to three weeks are incomplete.
As of Wednesday, at least 3,532 Alabamians have died of COVID-19, according to the Department of Public Health. During November, at least 195 people have died in Alabama from COVID-19. But ADPH is sure to add more to the month's tally in the weeks to come as data becomes more complete.
ADPH on Wednesday announced a change that nearly doubled the department's estimate of people who have recovered from COVID-19, bringing that figure up to 161,946. That change also alters APR's estimates of how many cases are considered active.
ADPH's Infectious Disease and Outbreak team "updated some parameters" in the department's Alabama NEDSS Base Surveillance System, which resulted in the increase, the department said.