Trump supporter Perry Hooper to join Trump's "investigative team" in Nevada
There has been no evidence of widespread voter fraud that could have altered the result of the election.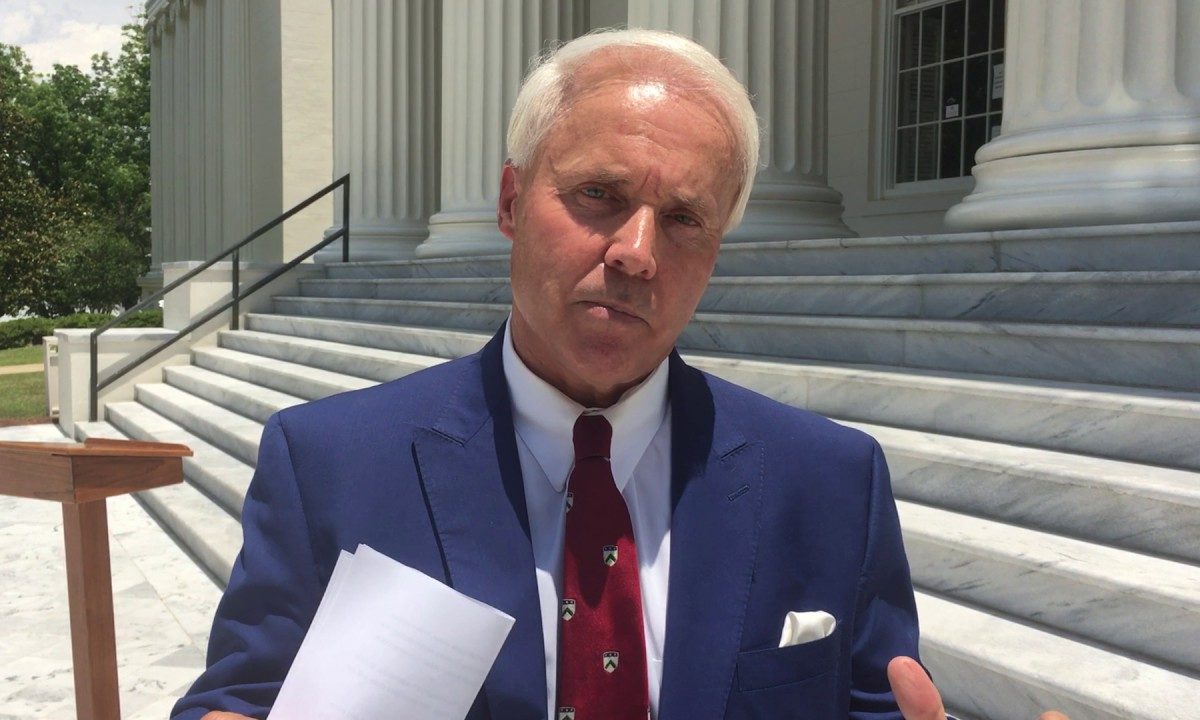 Monday, Republican insider former State Rep. Perry O. Hooper Jr. announced that he has been asked to join the team that is investigating the 2020 election. The Associated Press has declared Democrat Joseph R. Biden Jr. the winner of the Presidential election; but President Donald J. Trump (R) has refused to concede and insists that voter fraud is why Biden has the most votes.
At this point, the media has uncovered no evidence of widespread voter fraud; so the Trump campaign has launched its own investigation.
"It's very simple," Hooper said. "Every legal vote should be counted. Every illegal vote must be thrown out. I'm heading out there to do whatever I can to make America great."
Hooper is joining a team led by Conservative Union President Bill Schlapp and former Nevada Attorney General Paul Laxalt investigating claims of voting irregularities in the Nevada General Election. They claim that they will be taking sworn affidavits from whistleblowers who have come forward since the election.
The Trump campaign is making strong accusations that wide-spread voting fraud occurred in Nevada.
"There are hundreds of dead people who voted in Clark County," said Matt Schlapp.
Schlapp named two examples: Fred Stokes Jr. and Rosemarie Hartle, both of whom died in 2017.
According to Channel 3 News in Las Vegas, information from the Clark County Registrar's Office does show that both Stokes and Hartle received ballots, but it's unclear whether the votes were counted or rejected.
Neither Schlapp nor Laxalt have produced evidence for their claim that "hundreds" of dead people voted in last Tuesday's election.
The campaign also said that they have whistleblowers who have claimed to witness fraud and discrepancies, including one whistleblower claiming to have seen a "significant number of signatures on mail-in ballots" that the person believes should have been reviewed but was pushed through, according to an affidavit sent to News 3 by a GOP official. Another whistleblower claimed to see a van marked "Biden/Harris" stuffing envelops inside.
Schlapp and Laxalt claimed in a Press Conference Monday that: Voter rolls in Clark County have improper voters; Image resolution was reduced on an automated machine which reads signatures for ballots; Dead people voted in Clark County; Underage people voted in Clark County; and 9,000 "Non-Nevadans" voted in the election.
To this point very little evidence has been given to the media to substantiate these claims.
Perry Hooper is a member of the Alabama Republican Executive Committee, a Trump Team member, and serves on the Trump Victory Finance Committee.
Democrats and most media sources dismiss claims that the 2020 election was marred by voting fraud. Even if Trump somehow was ultimately declared the winner in Nevada, which only has six electoral voters, it would take much more than that for Trump to reach the 270 electoral vote threshold needed to win the Whitehouse.
Hooper said that the Trump campaign is also looking at results in Georgia, Pennsylvania, and Wisconsin for illegal ballots cast.
Biden meanwhile has appointed members of his transition team and is looking to reverse Trump Administration policies with a series of executive orders once he is inaugurated on January 20.
Former President George W. Bush (R) and U.S. Senator Mitt Romney (R-Utah) have both already called Biden to congratulate him on winning the presidency.
Kirk Hatcher's (potential) problem with the Hatch Act
Hatcher is set to face former Rep. John Knight in a special election runoff on Dec. 15.
Is Kirk Hatcher eligible to run for public office? That might seem like an easy question to answer, given that Hatcher has represented Alabama's 78th House District since 2018 and is currently the overwhelming favorite to win a special election for the District 26 state Senate seat.
But on Monday, a question about Hatcher's eligibility — specifically, whether the Hatch Act would prohibit him from holding public office because of his employment as director of Head Start in Montgomery — sent Hatcher's staff scrambling.
While assuring APR that Hatcher is "absolutely eligible" to run, his spokesperson, Ashley Roseboro, forwarded a redacted opinion that Roseboro said the campaign requested and received from the U.S. Office of Special Counsel.
Roseboro said the opinion stated that "Rep. Hatcher is in full compliance with the Hatch Act."
However, that opinion, after the redactions were removed by APR, turned out to be from 2014 and for a nonprofit named Opportunities for Otsego, located in upstate New York. It did not address Hatcher's specific situation, and it obviously did not find him in "full compliance."
The Hatch Act is a federal law in place to prevent federally funded programs from engaging in political activities and to restrict the political activities of federal employees and employees whose salaries are funded by federal grants. In Hatch Act guidance issued by various agencies online, Head Start programs and their employees are specifically mentioned as examples of workers who cannot participate in political activities during working hours or run for or hold partisan public office.
As the director of Montgomery's Head Start program within the Montgomery Community Action Partnership, Hatcher would seem to fall under that limitation. However, there are a few exceptions to that general rule, mostly based on how federal funds are distributed and controlled at the state and local level.
According to the Otsego opinion, which outlines the general funding setup for Otsego County's Head Start programs, it seems likely that the Head Start program in Montgomery also operates on federal grant dollars and has local control of how that money is spent.
In that case, according to the Office of Special Counsel in the Otsego opinion, Hatcher, as the Head Start director, would be ineligible to hold partisan public office if his salary was fully funded by federal money.
APR asked Roseboro if Hatcher's salary was partially funded by sources other than federal funds. He declined to answer, saying only that "Rep. Hatcher is eligible to hold public office."
Late Monday night, Roseboro sent a final email acknowledging that the initial opinion he sent APR was not prepared for the Hatcher campaign, as he previously stated. Instead, he said the campaign was directed to that opinion by the Office of Special Counsel when it called seeking guidance regarding Hatcher and the Hatch Act. Roseboro said the campaign also spoke with attorneys at the Special Counsel's office, but specifics about those conversations or when they took place were not provided.
The email also contained a statement from Hatcher: "My candidacy for State Senate is not in violation of the Hatch Act and I am in compliance with all state and federal election laws. I am excited about finishing this race as people have shown that they are ready to move forward with new leadership and continue to maximize Montgomery's opportunities and potential."
The email did not offer an explanation of how Hatcher is in compliance with the Hatch Act or what specific exception he is relying on.
Hatcher is set to face former Rep. John Knight in a special election runoff on Dec. 15. The winner of that runoff is almost certain to become the District 26 state senator.