Shelby unveils twelve fiscal year funding measures
Various Alabama priorities were included in the funding measures.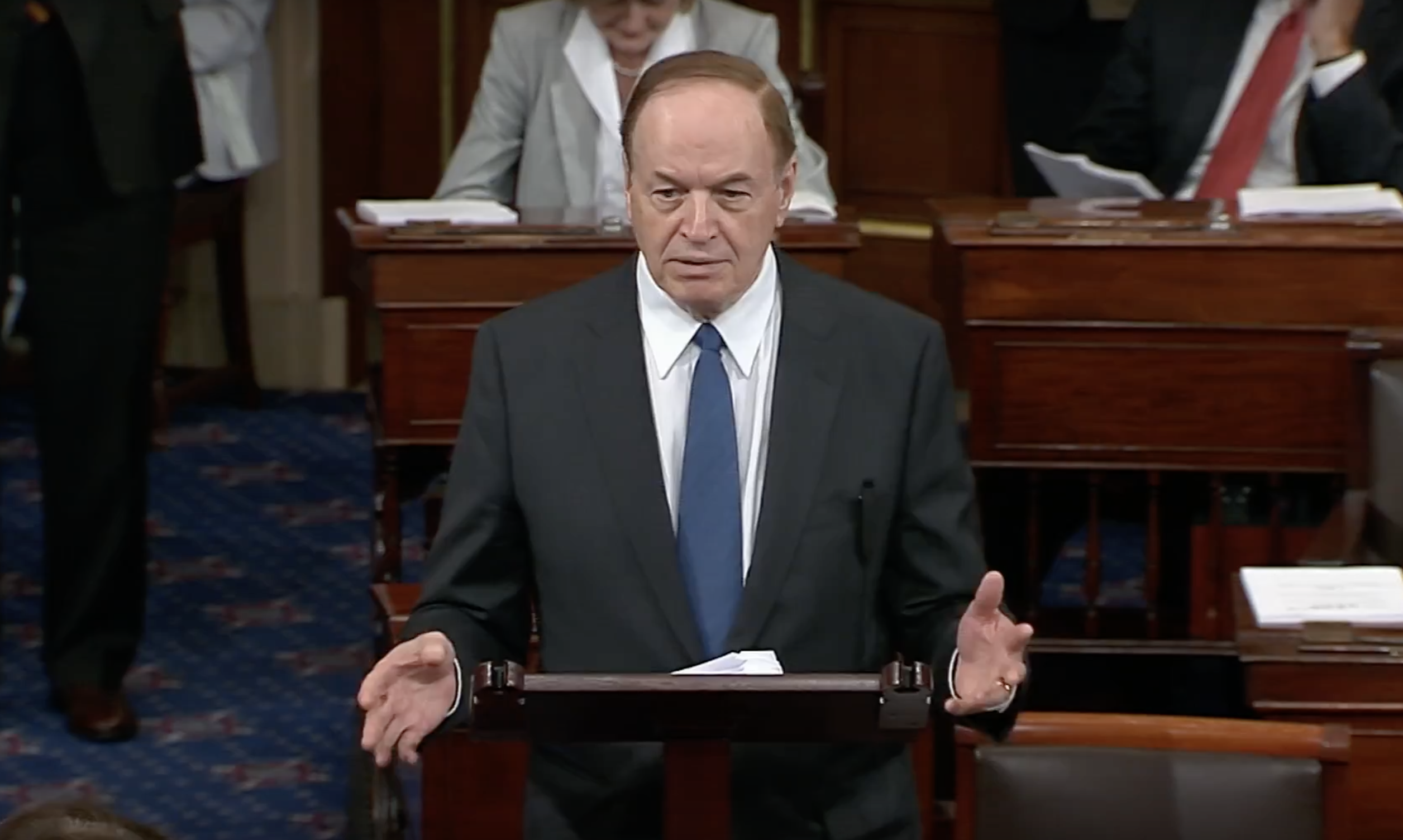 Alabama Sen. Richard Shelby on Monday unveiled all twelve Fiscal Year 2021 funding measures and the FY21 subcommittee allocations.
"By and large, these bills are the product of bipartisan cooperation among members of the committee," Shelby, a Republican, said. "As negotiations with the House begin in earnest, I look forward to working with Chairwoman Lowey, Vice Chairman Leahy, and Ranking Member Granger to resolve our differences in a bipartisan manner. Time after time, we have demonstrated our willingness to work together and get the job done. We have before us the opportunity to deliver for the American people once again."
Shelby also chairs the Senate Appropriations Subcommittee on Defense. He applauded the committee's work on the FY21 defense appropriations bill.
"It is absolutely critical that we work to strengthen our military and provide the funding needed by our Armed Forces to maintain our military advantage," Shelby said. "This bill includes significant resources to advance and modernize capabilities for our men and women in uniform, and also works to ensure that Alabama continues to play an important role in our national defense."
Various Alabama priorities were included in the FY21 defense funding measure.
In shipbuilding, there is funding for one additional Expeditionary Fast Transport (EPF) ship with an increased medical capability, as well as $50 million to explore autonomy capabilities for existing EPF ships. EPFs are built by Austal in Mobile.
The funding bills include $12.8 billion, an increase of $270 million from last year, for investments in transformational technologies to address modern and future Army warfighting needs
The bill includes $10.2 billion for the Huntsville-based Missile Defense Agency (MDA), an increase of $1.1 billion from the Trump administration request to ensure support to urgent MDA unfunded priorities such as space sensors, hypersonic defense and cybersecurity.
The bill fully funds Army hypersonics research, which is an increase of $461.4 million above the FY20 enacted level, and as well as an additional $60 million to develop a common hypersonic glide body and $47 million to advance hypersonics test infrastructure.
The bill also includes cyber funding within Defense-Wide accounts for the budget request of $449 million to support the Department of Defense's 5G program.
In addition to the defense appropriations bill, the Senate's FY21 appropriations measures recommend funding for a number of non-defense priorities that benefit Alabama.
The appropriations bills fund the Space Launch System (SLS), which is being designed in Huntsville. The bipartisan funding bill provides $6.7 billion for space exploration, including $2.6 billion for SLS which is critical to support the development and sustainment of the nation's human exploration goals.
Also funded is $566 million for the FBI, which supports ongoing and growing efforts in Huntsville. Also funded is $11.6 million included for F-35 Simulator Facility at the Montgomery Regional Airport Base.
Approximately $30 million is provided for Alabama's Appalachian Development Highway System. The U.S. Geological Survey Hydrologic Instrumentation Facility is getting an increase of $30 million to provide throughout Water Resources for staffing and grants. The bills include $40 million for the National Water Center located in Tuscaloosa. The U.S. Coast Guard (USCG) receives an additional $48 million for the recapitalization and upgrade of the USCG MH-60T helicopter fleet, which is completed in Troy.
The bill text and explanatory statements released are funding measures for the Appropriations Subcommittees on Agriculture, Rural Development, Food and Drug Administration, and Related Agencies; Commerce, Justice, Science, and Related Agencies; Defense; Energy and Water Development; Financial Services and General Government; Homeland Security; Interior, Environment, and Related Agencies; Labor, Health and Human Services, Education, and Related Agencies; Legislative Branch; Military Construction, Veterans Affairs, and Related Agencies; State, Foreign Operations, and Related Programs; and Transportation, Housing and Urban Development, and Related Agencies.
Shelby is the powerful chairman of the Senate Appropriations Committee.
With the defeat of Alabama Democratic Sen. Doug Jones, the re-election of vulnerable Republicans Joni Ernst in Iowa and Susan Collins in Maine, and Tuesday's concession of Democratic challenger Cal Cunningham in North Carolina, the Republican Party holds 49 of the 100 seats in the next Senate.
The GOP is expected to retain the Senate seat in Alaska where incumbent Republican Dan Sullivan leads his Democratic challenger Al Gross 58.5 percent to 36.4 percent with 69 percent of the results in.
That would give the GOP 50 seats. Assuming that Kamala Harris is the tiebreaker in the Senate, the two Senate runoff elections in Georgia will decide which party has control of the Senate. If the GOP retains control, then Shelby retains a powerful chairmanship into the next administration.
Sewell votes in favor of National Apprenticeship Act
The bill would invest more than $3.5 billion to create nearly one million new apprenticeship opportunities.
Congresswoman Terri Sewell, D-Alabama, last week voted in favor of the National Apprenticeship Act, legislation to reauthorize the National Apprenticeship Act for the first time since its enactment in 1937.
The new National Apprenticeship Act will create one million new apprenticeship opportunities over the next five years. Registered apprenticeships provide workers with paid, on-the-job training, and are the nation's most successful federal workforce training program.
"As a long-time supporter of expanding registered apprenticeships, I am thrilled to support today's legislation to provide 1 million new apprenticeship opportunities over five years," Sewell said. "Our Nation is facing the worst economic downturn since the Great Depression and estimates show that more than 7 million of the pandemic's job losses will be permanent. We need bold investments like those in the National Apprenticeship Act to accelerate the economy and help get the American people back to work in stable, good-paying jobs of the future."
The bill invests more than $3.5 billion over the next five years.
The act establishes a $400 million grant program to support the expansion of apprenticeship opportunities, including pre-apprenticeships and youth apprenticeships, which will increase $100 million annually to reach $800 million by 2025.
The legislation also codifies and streamlines standards for registered apprenticeship, youth apprenticeship and pre-apprenticeship programs to make it easier for both apprentices and employers to participate in high-quality apprenticeships and codifies the Department of Labor's Office of Apprenticeship.
It directs the office to convene industry leaders, labor organizations, educators and others to expand apprenticeships into new occupations and sectors.
Supporters say the bill could yield $10.6 billion in net benefits to U.S. taxpayers in the form of increased tax revenue and decreased spending on public-assistance programs and unemployment insurance, and that nothing is more effective at breaking the cycle of poverty than a well-paying full-time job.
Sewell is about to enter her sixth term representing Alabama's 7th Congressional District.