Doug Jones under consideration as Biden's attorney general
USA Today reports that President-elect Joe Biden is considering U.S. Sen. Doug Jones to head the U.S. Department of Justice.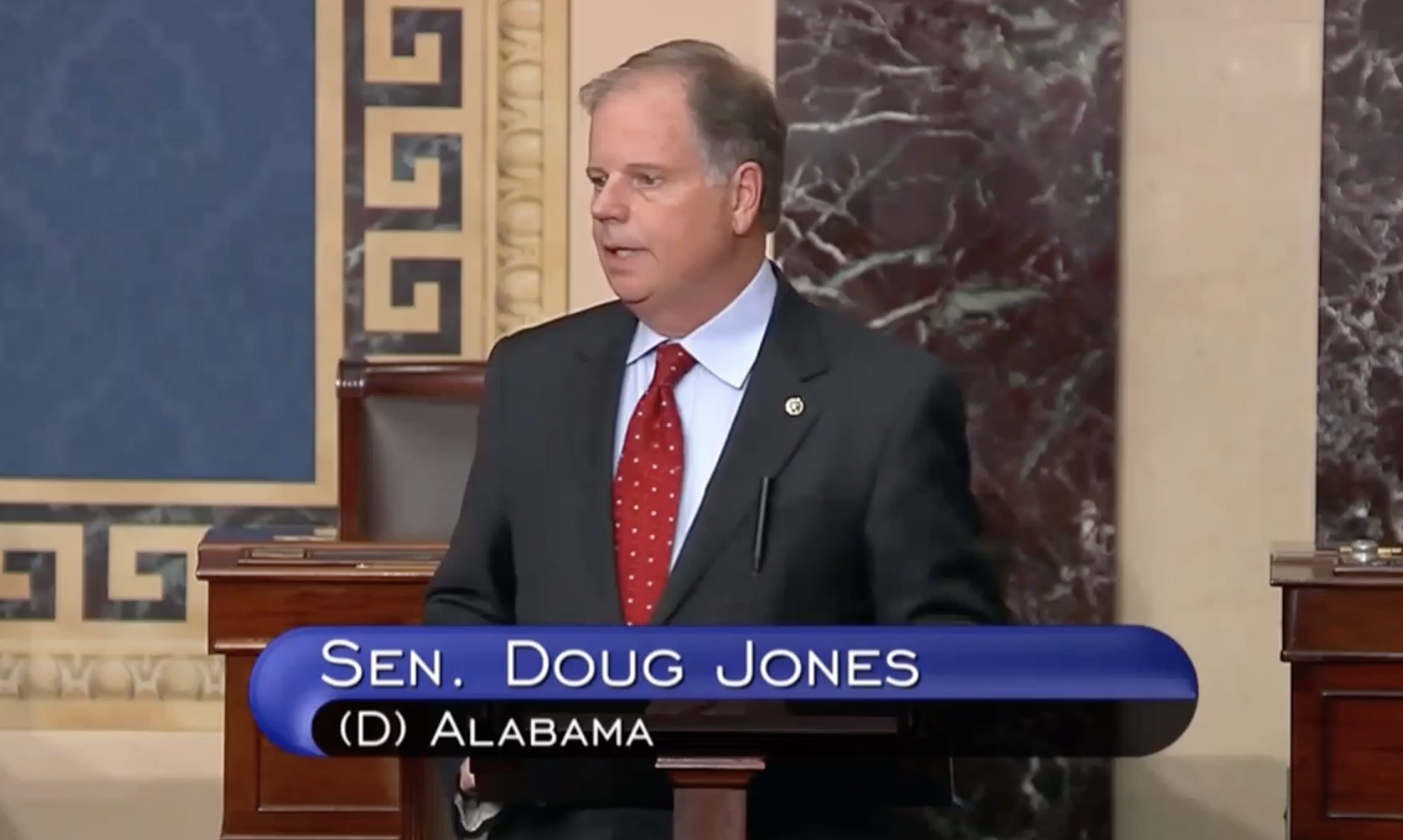 USA Today reports that former Vice President Joseph R. Biden Jr. is considering U.S. Senator Doug Jones, D-Alabama, to head the U.S. Department of Justice in the Biden administration. Jones is among the top contenders to be Biden's choice as attorney general, USA Today reported, according to their sources.
Jones served as U.S. attorney for the Northern District of Alabama for President Bill Clinton.
Also under consideration is the current Democratic National Committee chairman, Tom Perez. Perez formerly served as assistant attorney general for civil rights for President Barack Obama and as Obama's secretary of labor.
Another contender is reportedly Sally Yates, a former deputy attorney general under Obama. She was briefly held over by the Trump administration but was fired by Trump for refusing to support his controversial ban on immigration from certain Muslim countries.
Jones is a native of Fairfield where his father and grandfather worked in the steel industry. He is a graduate of the University of Alabama and Samford's Cumberland School of Law. Jones served as a top aid to U.S. Sen. Howell Heflin, D-Alabama.
As U.S. attorney, Jones gained renown for his successful prosecution of two former members of the United Klans of America, a Ku Klux Klan organization, for the 1963 16th Street Baptist Church bombing. Killed in the bombing were Carole Robertson, Cynthia Wesley, Addie Mae Collins and Denise McNair, all children.
A May 13, 1965, memo to FBI director J. Edgar Hoover identified Robert "Dynamite Bob" Edward Chambliss, Bobby Frank Cherry, Thomas E. Blanton Jr. and Herman Frank Cash as likely suspects in the bombing, but Hoover shut down the investigation in 1968.
Then-Alabama Attorney General Bill Baxley reopened the case in 1971. Chambliss was convicted in 1977. Cash died in 1994 and was never charged with anything. The original FBI agents investigating the case recruited a Cherry and Blanton associate, Mitchell Burns, as an informant. Burns made a long series of tape recordings of his conversations with Cherry and Blanton. That evidence was misplaced so was not available for Baxley's 1970s investigation.
The FBI rediscovered the lost evidence in 1997. Jones seized on the new evidence and began building a very comprehensive case on Cherry and Blanton that included a number of witnesses. President George W. Bush allowed Jones to stay on to complete his prosecutions of Cherry and Blanton in the early 2000s for the bombings.
After leaving the Department of Justice, Jones had a successful private practice. In 2017, Sen. Jeff Sessions, R-Alabama, left his seat to accept a position as Trump's attorney general. Jones ran in the special election for the seat, narrowly defeating former Chief Justice Roy Moore, a Republican, in the December special general election. Jones remains the only Democrat to win any statewide election in Alabama since Lucy Baxley in 2008.
In the Senate, Jones was honored by the U.S. Chamber of Commerce as the most bipartisan senator in the body. Jones served on the Senate Committee on Banking, Housing, and Urban Affairs; the Senate Committee on Health, Education, Labor and Pensions; the Senate Committee on Armed Services; and the Senate Special Committee on Aging.
Jones was an early endorser of Biden, who is a decades-long friend, and campaigned vigorously for him in the Alabama Democratic primary when the election was very much still in doubt.
Jones's controversial decision to vote to convict Trump on both counts during his impeachment trial and his vote not to confirm both Justices Amy Coney Barrett and Brett Kavanaugh likely doomed any hope that he had of being re-elected in very red Alabama, the eighth-most pro-Trump state in the country. But it did not hurt his standings with Senate Democrats.
Jones had little chance of beating popular former Auburn University head football coach Tommy Tuberville in a presidential election year with Trump at the top of the ticket. Tuberville is now Alabama's senator-elect.
Jones has had a close working relationship with Sen. Richard Shelby, R-Alabama, as well as moderate Republican Sen. Susan Collins of Maine with whom he jointly sponsored several pieces of legislation. Jones's confirmation would likely be very non-contentious and sail through the confirmation process even if Republicans do maintain control of the Senate after two Jan. 5 runoff elections in Georgia.
Clean water advocates want a comprehensive water plan for Alabama that creates jobs
Under new leadership, a plan for preserving clean water and fair access to it may be within reach in Alabama.
Environmentalists are optimistic about making progress on water resource issues and the state's climate change preparedness under the incoming administration of President-elect Joe Biden and next Congress, particularly because the president-elect is indicating that economic gains go hand-in-hand with protecting the environment.
"It's really exciting to see the Biden administration put jobs in the same conversation with their climate and environmental policies, because for too long there has been that false argument that jobs and the environment don't go together — that you can't have a regulated business sector and create jobs," said Cindy Lowry, executive director of Alabama Rivers Alliance.
On a recent post-election call with other advocates, Lowry said that the current policy outlook reinforced the importance of voting. There have been some steps forward for conservation during the presidency of Donald Trump, she said, like the president's signing of the Great American Outdoors Act in August, but the administration has prioritized industry interests.
Under new leadership, a plan for preserving clean water and fair access to it may be within reach in Alabama.
"We have spent so much time and energy as a movement trying to defend and basically just hold the line against so many of the rollbacks, and now we can focus on moving forward on certain areas," Lowry said.
Julian Gonzalez, a clean water advocate with the nonprofit Earthjustice in Washington D.C., said on the call that the incoming Congress will be the "most environmentally aware Congress we've had." Still, the real work remains.
"Everything needs to be one conversation, and you should be able to go call your Congressperson and say, 'How are you going to fix America's water problem?' and they should have an answer, but right now that's not the case," Gonzalez said.
For Alabama's water advocates, priorities are what to do with coal ash, how to prepare for droughts and flooding, improvements to water and wastewater infrastructure and providing relief to communities that have been affected by environmental degradation.
While production of coal ash has reduced due mostly to market-driven decreases in the burning of coal, enough facilities still use it that Alabama is developing its own permitting process and regulations for storing it. The Biden administration can provide leadership on the issue, Lowry said.
While many people associate water issues with drought, Lowry said the topic encompasses much more than that. Pipes that contain lead need to be replaced. There's plenty of water, she said, but the state needs a comprehensive water plan that prepares communities for drought management, especially as more farmers use irrigation, which uses more water.
Her organization has been working toward a state plan that can ensure fair access to water without depleting the environment of what it needs to remain stable.
With the increased frequency and intensity of storms being attributed to climate change, water infrastructure will need to be upgraded, Lowry said. Many communities rely on centralized treatment centers to handle their wastewater, and many of those facilities are overburdened and experience spills. Storms and flash floods push old pipes and at-capacity centers past their breaking points — pipes leak or burst and sewage pits overflow.
Lowry said that there has been some progress in recent years on funding infrastructure upgrades in communities and states. It's a more bipartisan conversation than other environmental issues, and communities that have been hit hard by multiple storms are starting to have new ideas about how to rebuild themselves to better withstand the effects of climate change.
Still, Alabama's preparedness efforts are all reactionary, which is why a comprehensive water plan is a priority, she said.
"Policies like that — proactive policies that are really forward-thinking about how we will make decisions if we do run into challenges with our environment — are something that this state has not been very strong on," she said.
Lowry hopes for more emphasis on environmental justice, with official agencies working more with local municipalities to provide relief to communities hurt by pollution and weather events. Such problems are characteristic of the Birmingham area, where Lowry is based, and the Black Belt.
She wants to see stronger permitting processes for industry projects and easier access to funding for cleanups in communities that need them. North Birmingham activists have been trying for years to get a Superfund site there on the Superfund National Priorities List.
There is no one-size-fits-all solution to address these problems, Lowry said. Having multiple avenues for access to funding is important so that all communities have options. Smaller communities can't always pay back loans, so they need access to grants.
Lowry emphasized that new jobs must be created without exacerbating climate change. Although Alabama tends to look to heavy industry for economic gains, she said she's hopeful that a different approach by the Biden administration will trickle to the state level.
Lowry also said that conversations about climate change in Alabama have to be put in terms of what is happening in Alabama.
For her and other environmentalists working in the Deep South, it's all about relationships and establishing trust. The environment becomes a less partisan issue when you focus on the basics, she said, because everyone wants clean water.
"I've found it much more easy to have conversations with elected officials at the state level in places like Alabama, where people do kind of grow up a little closer to nature and conservation, and [by] just kind of meeting people where they are," Lowry said.