Sewell, Roby speak at dedication of Troy's John Lewis Hall
The rededication marked a chance for the university to cement his legacy with a building on campus.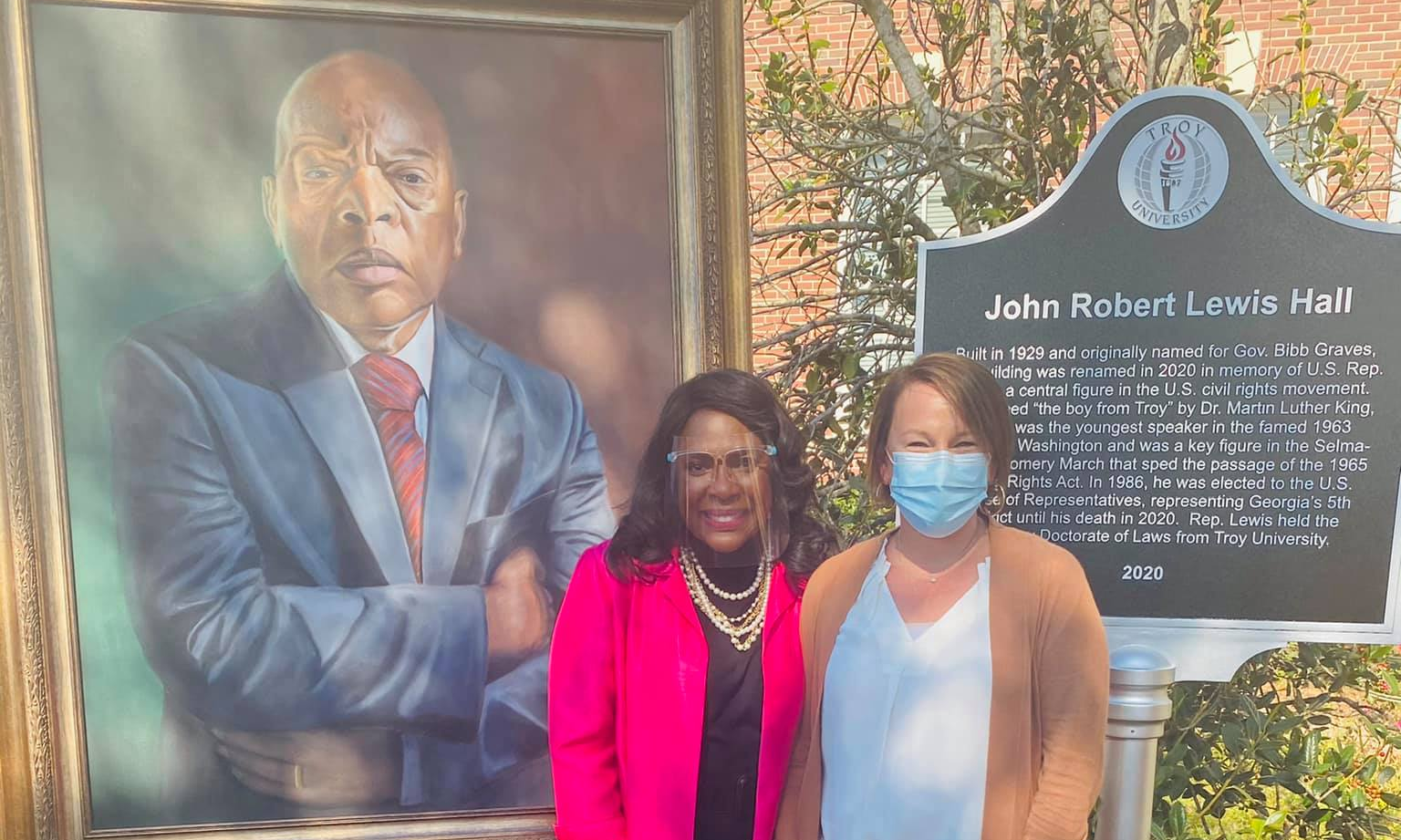 Troy University last week dedicated a hall to Troy native the late Congressman John Robert Lewis. Speakers at the event included U.S. Reps. Martha Roby, R-Alabama, and Terri Sewell, D-Alabama. Also speaking were Lewis's nephews.
Roby said: "Last week, I had the honor to attend the dedication of John Robert Lewis Hall at Troy University. Not only was it a significant occasion for the people of Troy University and the Troy community, but it was also a very special moment for the entire state of Alabama. His legacy will be remembered by all for years to come."
Sewell said: "Honored to be at Troy University for the naming of the John Robert Lewis Hall! What a befitting honor for John, my dear friend and mentor. Gone but never forgotten! Rest in Power!"
Lewis's nephew talked about the importance of "good trouble."
Hundreds gathered in the legendary civil rights icon's home county to celebrate the naming of an academic building in his honor. Lewis was born to a family of sharecroppers near Troy. He was denied attendance at the university in 1957 because of segregation.
He spent decades fighting segregation, most famously at the Selma to Montgomery Voting Rights march, where he was beaten by state troopers, local law enforcement and others.
"To see this happen in his hometown of Troy, in a city where he was once denied his basic right to education, he would have been overcome with pride and gratefulness," said Jerrick Lewis. "My uncle would have been proud to have his name displayed on this building, and he would've been proud of this university for showing the world what it truly stands for: unity and equality over hatred."
Troy University's Board of Trustees voted unanimously in August to rename Bibb Graves Hall after the congressman, who died in July at age 80.
"It is the right thing to do to name this building for a great man," said Troy Chancellor Dr. Jack Hawkins Jr. "I am proud of our Board for making that decision. On July 25, we honored John Lewis for a day. Today, we honor him for an eternity."
The university had honored Lewis with a memorial service on July 25, but the rededication marked a chance for the university to cement his legacy with a building on campus.
Troy University honored Lewis with an honorary doctorate during his lifetime. Lewis was the youngest speaker at the Civil Rights rally in Washington, and when he passed away earlier this year he was the last speaker at that event to die.
"On behalf of the family, I'd like to thank Dr. Hawkins and Troy University for being the perfect example of change and progress," said Ron Lewis, another of Lewis' nephews.
"He was known as the conscience of Congress," Roby said. "He was a true American patriot. We had the great privilege of serving with John."
"No one represents the resilient spirit of the state of Alabama, the city of Troy and Troy University like the 'Boy from Troy'," Sewell said.
Trustee Lamar P. Higgins said the building represents a man who paved the way for others.
"If it weren't for John Lewis, Lamar Higgins wouldn't be here today," Higgins said. "If it weren't for John Lewis, a lot of great things about this country would not have happened. We're grateful for all that he has done."
Board of Trustees President Pro-Tem Gibson Vance said he hopes TROY students learn from Lewis' example in the years and decades to come.
"We hope they'll be inspired by this man to go out into the world and make it a better place," Vance said.
Bibb Graves, for whom the building was previously named, played for the University of Alabama's first football team, commanded the Alabama National Guard on the Mexican border in 1916 and served as a colonel in World War I. He organized the American Legion in Alabama and was the governor of Alabama during most of the Great Depression serving from 1927 to 1931 and again from 1935 to 1939.
But he was a Ku Klux Klan member, running for office in the 1920s at the height of the Klan's popularity, but Graves was very liberal for the South at the time. He was a staunch opponent of eugenics sterilizations, a New Deal Democrat who supported Roosevelt's efforts to grow the role of government, ended the state's convict leasing system and condemned forced segregation in Birmingham. Graves spoke at the founding meeting of the Southern Conference on Human Rights, a conference of southern liberals attended by both white people and Black people during the height of segregation.
Clean water advocates want a comprehensive water plan for Alabama that creates jobs
Under new leadership, a plan for preserving clean water and fair access to it may be within reach in Alabama.
Environmentalists are optimistic about making progress on water resource issues and the state's climate change preparedness under the incoming administration of President-elect Joe Biden and next Congress, particularly because the president-elect is indicating that economic gains go hand-in-hand with protecting the environment.
"It's really exciting to see the Biden administration put jobs in the same conversation with their climate and environmental policies, because for too long there has been that false argument that jobs and the environment don't go together — that you can't have a regulated business sector and create jobs," said Cindy Lowry, executive director of Alabama Rivers Alliance.
On a recent post-election call with other advocates, Lowry said that the current policy outlook reinforced the importance of voting. There have been some steps forward for conservation during the presidency of Donald Trump, she said, like the president's signing of the Great American Outdoors Act in August, but the administration has prioritized industry interests.
Under new leadership, a plan for preserving clean water and fair access to it may be within reach in Alabama.
"We have spent so much time and energy as a movement trying to defend and basically just hold the line against so many of the rollbacks, and now we can focus on moving forward on certain areas," Lowry said.
Julian Gonzalez, a clean water advocate with the nonprofit Earthjustice in Washington D.C., said on the call that the incoming Congress will be the "most environmentally aware Congress we've had." Still, the real work remains.
"Everything needs to be one conversation, and you should be able to go call your Congressperson and say, 'How are you going to fix America's water problem?' and they should have an answer, but right now that's not the case," Gonzalez said.
For Alabama's water advocates, priorities are what to do with coal ash, how to prepare for droughts and flooding, improvements to water and wastewater infrastructure and providing relief to communities that have been affected by environmental degradation.
While production of coal ash has reduced due mostly to market-driven decreases in the burning of coal, enough facilities still use it that Alabama is developing its own permitting process and regulations for storing it. The Biden administration can provide leadership on the issue, Lowry said.
While many people associate water issues with drought, Lowry said the topic encompasses much more than that. Pipes that contain lead need to be replaced. There's plenty of water, she said, but the state needs a comprehensive water plan that prepares communities for drought management, especially as more farmers use irrigation, which uses more water.
Her organization has been working toward a state plan that can ensure fair access to water without depleting the environment of what it needs to remain stable.
With the increased frequency and intensity of storms being attributed to climate change, water infrastructure will need to be upgraded, Lowry said. Many communities rely on centralized treatment centers to handle their wastewater, and many of those facilities are overburdened and experience spills. Storms and flash floods push old pipes and at-capacity centers past their breaking points — pipes leak or burst and sewage pits overflow.
Lowry said that there has been some progress in recent years on funding infrastructure upgrades in communities and states. It's a more bipartisan conversation than other environmental issues, and communities that have been hit hard by multiple storms are starting to have new ideas about how to rebuild themselves to better withstand the effects of climate change.
Still, Alabama's preparedness efforts are all reactionary, which is why a comprehensive water plan is a priority, she said.
"Policies like that — proactive policies that are really forward-thinking about how we will make decisions if we do run into challenges with our environment — are something that this state has not been very strong on," she said.
Lowry hopes for more emphasis on environmental justice, with official agencies working more with local municipalities to provide relief to communities hurt by pollution and weather events. Such problems are characteristic of the Birmingham area, where Lowry is based, and the Black Belt.
She wants to see stronger permitting processes for industry projects and easier access to funding for cleanups in communities that need them. North Birmingham activists have been trying for years to get a Superfund site there on the Superfund National Priorities List.
There is no one-size-fits-all solution to address these problems, Lowry said. Having multiple avenues for access to funding is important so that all communities have options. Smaller communities can't always pay back loans, so they need access to grants.
Lowry emphasized that new jobs must be created without exacerbating climate change. Although Alabama tends to look to heavy industry for economic gains, she said she's hopeful that a different approach by the Biden administration will trickle to the state level.
Lowry also said that conversations about climate change in Alabama have to be put in terms of what is happening in Alabama.
For her and other environmentalists working in the Deep South, it's all about relationships and establishing trust. The environment becomes a less partisan issue when you focus on the basics, she said, because everyone wants clean water.
"I've found it much more easy to have conversations with elected officials at the state level in places like Alabama, where people do kind of grow up a little closer to nature and conservation, and [by] just kind of meeting people where they are," Lowry said.