UAB doctor to public on surging COVID-19: "Don't give up on us. We're tired."
The head of UAB's emergency management committee said hospitals across the state are seeing increases in COVID-19 hospitalizations.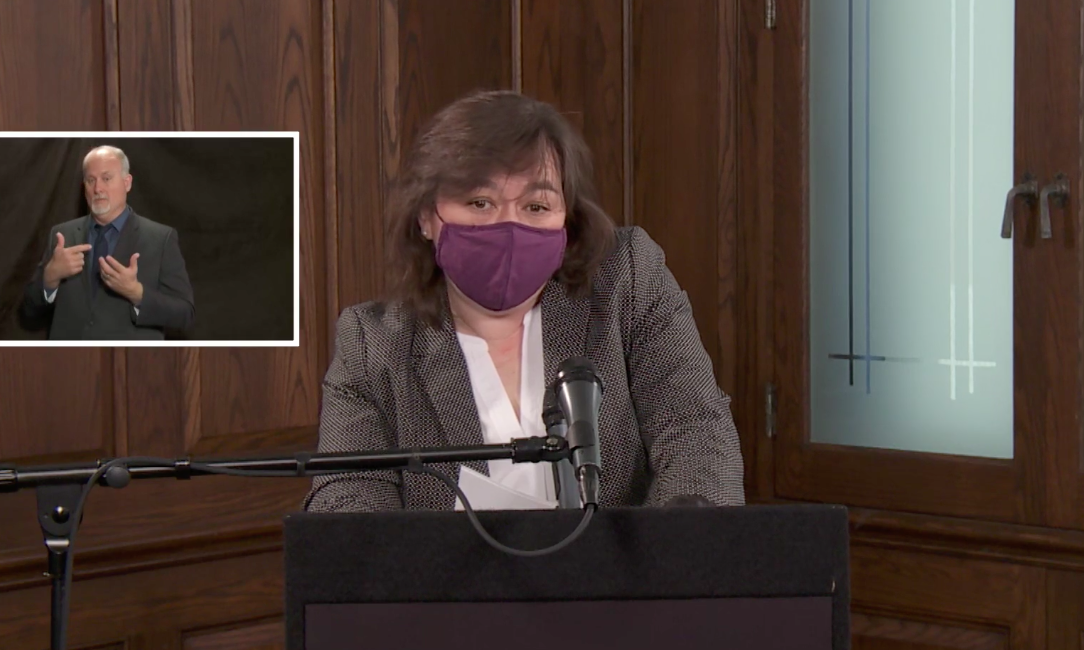 A UAB physician pleaded with the public Friday to wear masks and practice social distancing, as hospitals across Alabama are filling up with COVID-19 patients and public health officials prepare for what could be a series of deadly surges after upcoming holidays. 
"Don't give up on us. We're tired," said Dr. Sarah Nafziger, co-chair of UAB's Emergency Management Committee, speaking during a press conference Friday. 
Nafziger said hospitals across the state are seeing increases in COVID-19 hospitalizations and explained that the extra care those patients require takes a toll on hospital staff. 
Hospitals are also discussing the possibility of having to order postponements of elective procedures as coronavirus hospitalizations continue to increase, Nafziger said. UAB has once again begun converting hospital beds meant for other patients for use by COVID-19 patients, she said, explaining that doing so can strain the hospital's equipment and staffing resources. 
"Until recently, we've been very successful in keeping the employee cases down to a minimum," Nafziger said, but added that community spread of the disease has impacted the hospital's workers and they're beginning to see staffing shortages as a result. 
"This is why it is so important that we all do our part. To be responsible. Stop the spread of the virus," Nafziger said, pleading with the public to wear masks and practice social distancing. 
"We're not gonna quit on you. We're gonna be here for you. We're gonna take care of you, so please do your part to help us stop the virus so that we can be available to provide all the care that you need. Not just care for COVID," Nafziger said. 
Alabama added 2,463 coronavirus cases on Friday, and hospitalizations reached 1,329. The state hasn't had that many coronavirus patients in hospitals since Aug. 13, during the summer surge. Huntsville Hospital's coronavirus hospitalizations were a record-high 235 on Friday. 
The state's 14-day average of new daily cases was a record-high 1,976 on Friday, and the percentage of COVID-19 tests that were positive, averaged over two weeks, was nearly 23 percent. Public health experts say it needs to be below 5 percent or there isn't enough testing being done and cases are going undetected. 
Alabama's average new reported COVID-19 deaths over the last week is also a record-high of 31. As of Friday, 3,451 people have died from the disease in Alabama, 17 percent of which have been reported within the last month.
Dr. Mark Wilson, Jefferson County's health officer, speaking to reporters Friday said the county has had more than 30,000 cases and is approaching 300 coronavirus deaths. 
"These are people that are loved. It's a really sad fact going into our holiday season," Wilson said. 
Wilson said the county is averaging more than 300 new cases per day, which is three times the level Jefferson County had in September, "and it is now the highest number per day that we've had since the beginning of this pandemic," he said.
Through contact tracing, it's clear the rising cases are due to private gatherings, such as parties, receptions and outbreaks within households. He cited recent modeling from Georgia Tech that estimates that with Jefferson County's current numbers if 10 people gathered there would be a one in five chance one of them would spread coronavirus. 
"Fifteen people gathering, that's one in four who can spread the virus. If there's a large gathering, like 50 people, there's a two out of three chance that one of the people in that group is going to spread COVID-19," Wilson said. 
"The rules have not changed. We still know that mask-wearing, social distancing, hand sanitation and avoiding these larger gatherings that are not from your own household are still the most effective ways to keep this virus from spreading," Wilson said. 
Wilson said gathering indoors, in an area with poor ventilation and with people not wearing masks "is simply not a good idea right now." Wilson said while two vaccines look promising, and the first shipment could soon arrive, supplies will be limited and will go to health care workers most at risk.
 "Vaccination for the general public is still a ways off," Wilson said. "Several months. Maybe even into the late spring or summer." 
Dr. Micheal Saag, infectious disease professor at UAB, speaking during the briefing said the state is seeing a "spike" not a surge.
"The number of new cases, just in the last couple of weeks, has been staggering," Saag said. "I don't use that word lightly." 
Saag said many predicted a surge would come after Thanksgiving and Christmas, "but what we didn't anticipate was the spike before Christmas and before Thanksgiving." 
Cases during a spike are followed by hospitalizations and deaths, Saag said, and if people don't change behaviors the concern is there will be continued spikes after the upcoming holidays. 
"And I'm a little bit overwhelmed, to be honest with you, at what that might look like," Saag said. 
Saag urged the public to wear masks, avoid crowds and gatherings of more than five to 10 people, which is especially important around the holidays. 
"I've gotten comments from a lot of you who said 'How can you tell me what to do on my Thanksgiving in my home?'" Saag said. "I'm really not telling you what to do. I'm simply saying that we know our current situation, and we know what works in terms of protecting ourselves."
Finance director: Alabama expects to spend nearly all of $1.8 billion in CARES Act funds
"I think we'll be down to less than $10 million, and hopefully less than that," the state finance director said.
Alabama has until Dec. 30 to spend the $818 million that remains of $1.8 billion in federal CARES Act money allocated to the state, or the remaining funds revert back to the federal government, but the state's finance director believes that's possible, for the most part. 
"I think we'll be down to less than $10 million, and hopefully less than that," said Alabama State Finance Director Kelly Butler, speaking to reporters Wednesday. 
With new daily COVID-19 cases continuing to break records in Alabama and coronavirus hospitalizations reaching record levels this week, many have expressed concern that Alabama could leave millions on the table at a time when the money could do the most good. 
It's not clear if lawmakers in Washington D.C. will agree in time to extend the deadline for states to spend the cash, and Butler said Wednesday that state officials had hoped the extension would come to pass but aren't banking on it. 
"The reality is, if we're going to be able to get the money out the door, we can't wait on that any longer," Butler said. "So we've got to put the pedal to the metal and assume that December 30 is a hard cutoff, and that's the way we're operating." 
Butler explained that almost all of the CARES Act money to various state programs and entities are reimbursement programs, meaning those entities must show they spent the money on coronavirus-related expenses, as required by the federal government, then ask the state for reimbursement. 
"This is particularly true for local governments, state government agencies, hospitals," Butler said. 
Butler also explained that despite the many needs, the federal money comes with substantial limitations. 
"There is a perception out there that this money can solve everybody's problem, and can be used for everything that people want it to be used for," Butler said. "And the reality is that the Treasury guidance, particularly the audit guidance issued by the Treasury, it just does not allow us to do everything that everybody wants us to do, and the penalty, if we use the money outside the bounds outside the law and the regulations, is that the state has to repay the money." 
Gov. Kay Ivey on Nov. 23 allocated $3.6 million in CARES Act funds to food banks statewide, Butler noted, and another $2 million to a program that provides counseling for veterans with PTSD. 
"We have money out there for hospitals, nursing homes. We are in constant communication with them," Butler said. "We have done before this latest grant program, we've done one small business grant program, a faith-based organization grant program, a nonprofit organization grant program, a medical provider grant program, an agricultural producer grant program, so we haven't stopped since May." 
Asked whether any of the federal aid has gone to the Alabama Department of Public Health to help set up the administration of COVID-19 vaccines, Butler said the state has allocated more than $30 million to the Department of Public Health, but most of that was done before it was clear Alabama could get a vaccine this month. 
Butler said until recently it wasn't thought a vaccine would be available before the end of the year, and that "up until recently, it was not something that we were allowed to spend money on." 
"We have allocated a small amount to a company in Huntsville called Aclinnate Genetics for vaccine education, particularly in the African American community throughout the state," Butler said. 
There remains the possibility of reallocating unspent money to other programs, Butler said, as has been done twice before. That requires conversations between Butler, Gov. Kay Ivey and legislative leadership Butler said, adding that he anticipates at least one more reallocation before the deadline. 
"Our plans are to, as I've said daily, evaluate the programs and somewhere around the middle of this month, sort of do a final tally and go back to the Legislature and ask for reallocations so that we can allocate money to things that and programs that might need it," Butler said. 
One possibility would be to allocate additional money to the state's unemployment trust fund, Butler said. As much as $287 million could be reallocated to the fund, he said. 
"Health care, with the virus continuing, is also another definite possibility," Butler said. 
Asked about concerns some local governments and other groups have had that the entities don't have the money to spend, to then ask for reimbursement, Butler said that he has heard those concerns but that federal guidelines connected to the CARES Act funding are strict. 
"The reality is the Treasury guidance and the CARES act, we believe, prohibit us from sending the money out upfront," Butler said. "And it's just not something we believe we can do." 
Butler said the state has worked closely with local municipalities and groups, including the Black Belt Foundation, to help them apply for reimbursements and get the money returned quickly. 
A reporter asked about as-of-yet unpaid reimbursement requests of more than $850,000 from the Madison County Commission from August, and Butler said the state does have a backlog of requests, and that while the program was established on May 28, many local governments waited until August to submit applications.
Butler then said that he's been told the Madison County Commission's requests were being processed Wednesday and the commission should see that money soon. 
Butler said the state has received word from the U.S. Treasury that as long as those reimbursement requests are turned in before the Dec. 30 deadline "we will have a two to three month period to work out those prior bills as long as they were expenses incurred before December."