An East Alabama man identified by the Alabama Political Reporter as one of the persons of interest in a now-infamous photo taken in the halls of the Capitol Building during the pro-Trump insurrection on Jan. 6 has been arrested and is in federal custody, according to the news station WRBL.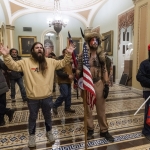 No, this Capitol insurrectionist isn't antifa, but he is from Alabama
Some claimed the tattoo was a communist symbol as evidence antifa "infiltrated" Trump supporters Wednesday.
In the photo, he's seen with what appeared at first to be a hammer and sickle tattoo on his hand that many, including Congressmen Louie Gohmert, R-Texas, used as evidence to direct blame towards supposed antifa infiltrators. In fact, the tattoo was a symbol from a video game that had nothing to with communism or antifa, and APR identified him as a man from Montgomery, who lives in Auburn, with a penchant for right-wing conspiracy theories.
Federal and local authorities arrested the man, 23-year-old William Watson, alleging that he violated the terms of his bail by traveling to Washington D.C. to attend the rally and attempted insurrection at the Capitol last Wednesday. It's unclear what federal charges he might face for his alleged role in the storming of the Capitol building.
Watson was taken into custody without incident around 1:45 p.m. on Monday afternoon at a home along Samantha Court in Auburn, according to WRBL. Federal authorities and Auburn police were present when Watson was led from the house in handcuffs after a Lee County Judge revoked his bond on prior drug charges.
At this time, APR has not been able to identify any federal court filings for his case.
Despite this rush to divert blame to antifa, Watson's tattoo was later shown to be a symbol known as the "Outsider's Mark," originating from the 2012 video game Dishonored. One of the game's developers, Harvey Smith, also dispelled rumors that it was a communist symbol. The FBI said Friday that there is no evidence antifa infiltrated pro-Trump rioters last week during the insurrection.
According to the Opelika-Auburn News, law enforcement was able to identify Watson by this distinctive hand tattoos, as well as posts he made to a social media account, showing that he had violated the terms of his bond by leaving the state. APR used the same methods to identify Watson in our reporting last week.
Watson had previously been arrested July 2, 2020, in Lee County on drug-related charges, being released later on a $103,000 bond.
"On or about January 6, 2021, protestors stormed the United States Capitol building during the certification of the Electoral College vote. Video surveillance from inside the Capitol Building recorded protestors' images inside the building, including images of the Defendant dressed in a yellow sweatshirt standing next to a man with a horned hat," said Lee County District Attorney Jessica Ventiere in a motion filed Monday revoking Watson's bond:
"Authorities identified the Defendant. The Defendant has distinctive tattoos on his hands, which are visible in the images from the Capital. Additionally, the Defendant made a social media post including a photo of his participation and comments regarding one of his tattoos. Pursuant to Rule 7.3 of the Alabama Rules of Criminal Procedure, a mandatory condition of release includes a requirement that the Defendant may not 'depart from the state without leave of court.'"
Watson, after discovering he was being labeled as a communist infiltrator on social media, posted on Snapchat, apparently in an attempt to dispel the rumors. Others online also wrongly identified him as "Jason Tankersley," a white supremacist.
"They wanna call me Antifa because I have a video game tattoo on my hand and I was pleading for peaceful discourse," Watson wrote in the Snapchat post, which was posted to Twitter and verified by APR. "Let em say what they will. The fake news won't win against the thousands of patriots who recorded today."
On his Instagram account, he regularly posted conspiracies related to the election and COVID-19, reposting videos from the conspiracy peddler Alex Jones and InfoWars. Shortly after we published our story, his Instagram was taken down. In one video, he claimed to have a disability that exempted him from wearing a mask at the Auburn restaurant Niffers. Other videos clearly support Trump.
Last week, D.C.'s Metropolitan Police Department released photos of rioters sought for unlawful entry, vandalism and other crimes related to the riots, the photo of Watson being among those presented as persons of interest.
It's not yet clear whether Watson will be extradited to Washington to face charges in the District of Columbia.